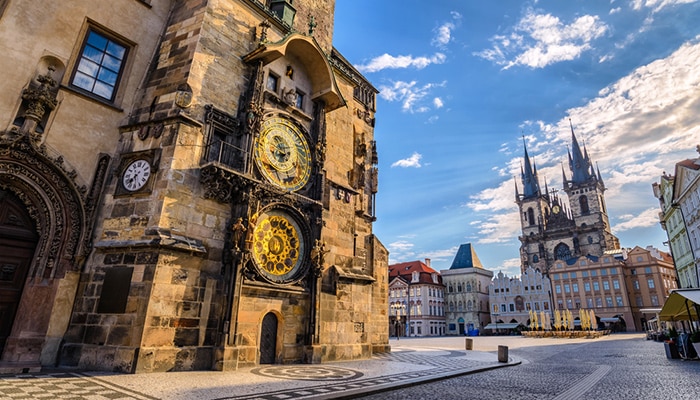 Munich and Prague might be 295km apart and in different countries, but they're not all that different. Both are mad for beer – the first has the annual Oktoberfest, the second is a mecca for lovers of Czech pilsner. Both boast handsome medieval-era cores with grand churches. Both are among the bucket-list towns of Central Europe.
This guide can help you fit them into a single trip. It outlines all the popular ways you can go from Munich to Prague, with details on how much it will cost, how long it will take, and what are the most comfortable ways to travel.
Munich to Prague by train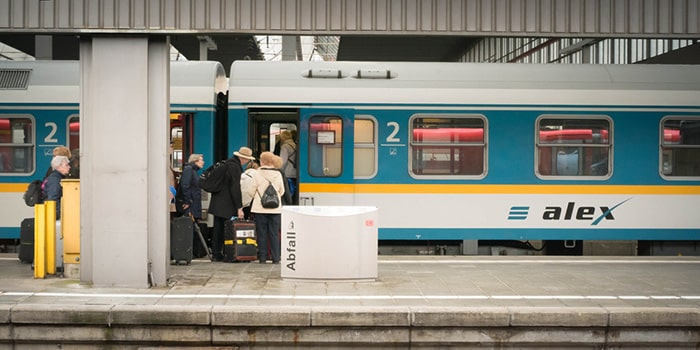 Time – 5.5 hours
Price – From $17
Comfort – 4/5
There are now up to seven trains each day from Munich to Prague. They are run by the Bavarian regional Länderbahn railway network in conjunction with Czech Railways, and help you cross the border from Germany into the Czech Republic from the home of Oktoberfest to the birthplace of Franz Kafka in just over 5.5 hours. There's no need to change trains anywhere along the way. It's just a straight ride from station to station with a couple of stops in Regensburg and Plzen.
The locomotive itself is typically made up from a mix of ALX trains (the Länderbahn offering that are also known as Alex trains) and CD (Czech Railways) compartments. They are quite different, but all come with onboard air conditioning, features like in-seat plugs and WiFi, and catering service. There's usually at least one 1st Class cabin available for extra on the ALX side of the train.
A montage of lush Bohemian hills and remote Bavarian forests is the viewing for folk who take the train from Munich to Prague.
If you're after some pretty views of Central Europe, the train from Munich to Prague won't disappoint. The journey takes you through the eastern reaches of gorgeous Bavaria to the Czech border. Once you're past the handsome fairy-tale town of Furth im Wald, you'll be treated to vistas of dense Bavarian forests, followed by green hills in western Bohemia. There's also a chance to see the elegant Art Nouveau interiors of Plzen station en route.
If all that's tempted you to make the trip to Prague by train from Munich, then let's talk price. Put simply: Booking early is key to scoring the best deals. You can even find tickets for as little as $17 per person if you get searching on 12Go.co at least 90 days prior to traveling. If not, expect to pay the standard Prague Special fare of 39 EUR ($43).
Munich to Prague by bus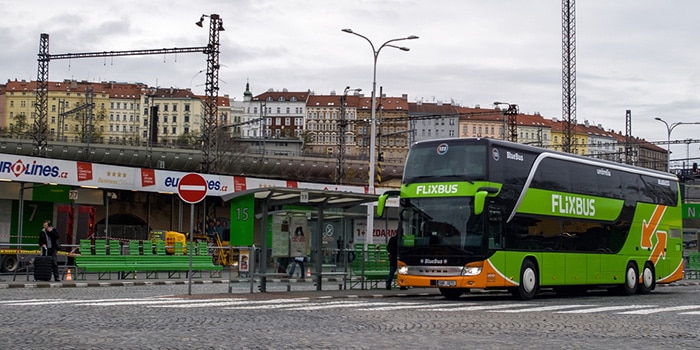 Time – 4.75-5.5 hours
Price – From $17
Comfort – 3/5
The route from Munich to Prague is one that's followed by thousands of backpackers each year. A lot of them will skip the train and go for the bus instead. One reason for that is that prices tend to stay lower for longer on the coaches than on the railways. To put it another way, you could still score a bargain if you book via 12Go.co in the weeks immediately before your travel date – something to the tune of $17 is normal.
The bus is a reliable fall-back choice if you find that the trains are just too pricy, with rates that stay nice and low, even in the run up to departure.
But it's not all about the price. Buses are also regular and reliable. Major operator Flixbus is the most popular choice to go with on the route. It offers up to 12 departures each day (at least during the peak summer season) from different spots in Munich. Some are normal-speed, others are express. All will get you to the Czech capital in between 4.5 and 5.5 hours, without the need to change vehicles or wait around for connecting buses along the way.
One of the great things about choosing the coach is that you get an array of different starting points. Munich central bus station (officially the ZOB Munich) is the obvious place to begin – it's just down the road from the Munich Hbf train station. However, you could also leave from Munich Fröttmaning, located on the north side of the city, closer to the airport. For arrivals, there are services to Prague ÚAN Florenc (the main station in Prague), quieter Prague Zličín near the Václav Havel Airport, and the railway station to boot.
Munich to Prague by plane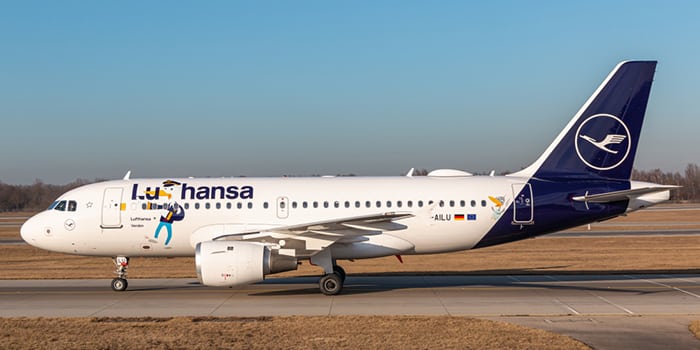 Time – 50 minutes (flight only)
Price – From $90
Comfort – 4/5
With under 300 kilometres separating Prague from Munich, opting to jet from one city to the next might seem a little overkill. However, taking to the air still proves popular among travelers aiming to connect onto longer-haul flights out of Prague's Václav Havel Airport, business travelers on a fly-in, fly-out trip to Czechia, and globetrotters who don't like wasting precious sightseeing time. The reason? with a short flight time of 50 minutes and quick access to both airports, planes are usually the fastest way to get from A to B…
You can squeeze journey times to under four hours if you choose to make the quick hop in the air from Munich to Prague.
You can expect total journey times to add up to around four hours or so. That's thanks to the speedy train line that can whisk you to the terminals from downtown Munich in 50 minutes (cost: $13 per person) and an efficient check-in area at MUC airport. After landing, a taxi from arrivals to the historic Old Town of Prague takes just 35 minutes (cost: around $30 for the whole car).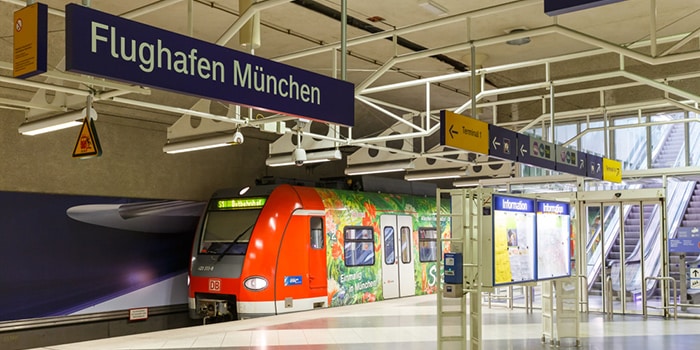 Lufthansa – the German national flag carrier – are currently the sole operator on the route. They are a highly rated airline, with modern planes and a great safety record. Sadly, base fares with Lufthansa no longer include baggage as standard, so you can either upgrade from Economy Light or pay a nominal 25 EUR ($28) fee to add some luggage into the hold. More generally speaking, booking early helps to keep costs low – we'd say get searching for tickets on 12Go.co at least 60-90 days prior to take off.
---
There's certainly no shortage of ways to get from Munich to Prague. Whether you whiz through the skies of Central Europe or opt for a scenic railway odyssey across the Czech border, you're in for a trip filled with frothy beers, Slavic dumplings, and sightings of one of the largest castles in the world. Enjoy!
---
Munich to Prague FAQ
What is the cheapest way to get from Munich to Prague?
Usually it's the bus that beats all on the price front. However, we'd say be sure to use 12Go.co to compare the cost of all modes of transport. Perhaps there's a scorcher of a flight deal on offer, or maybe you could score early-bird train tickets for as little as $17 per person. You simply won't know if you don't check.
What is the fastest way to get from Munich to Prague?
Flying is still the quickest way to go from Munich to Prague. Because the trains aren't high speed, they take over five hours, while even express buses take over 4.5 hours. Planes, meanwhile, need only 50 minutes in the air to bring you down onto Czech soil, which adds up to total travel times of 3.5-4 hours on most occasions.
What is the best way to go from Munich to Prague?
There's something special about the train. Stunning views of the Bavarian and Bohemian countryside are on offer to travelers who hitch a ride on the tracks running north-eastward from Munich to Prague. In addition, the trains are comfy, with air conditioning and onboard catering (including Czech beer on tap!). They also don't have anywhere near the carbon footprint of their aviation counterparts.
How much is a train ticket from Munich to Prague?
The cost of tickets varies depending on the date you book. Get over to 12Go.co something like 60 days before you travel to find fares that could be as low as $17 per person. Come later and you might need to pay as much as $43 for the standard ticket.
How long is the train ride from Munich to Prague?
It's just over 5.5 hours from start to finish. Bear in mind that number counts the whole ride from city centre to city centre. There's no need to get a lengthy transfer from the airport terminal at the end of this one. Simply hop on the metro or stroll from the platforms and you could be within easy reach of your hotel.
Is it better to fly from Munich to Prague or take the train?
We would probably throw in with the train. Yes, flying is faster, but speed isn't everything, especially when there are great tracts of gorgeous Bohemian backcountry and wild German forest to see if you travel overland. And that's not even mentioning reduced carbon emissions and the price, which can be as low as $17 on the railways (provided you book in advance using 12Go.co).
How useful was this post?
Click on a star to rate it!
Average rating / 5. Vote count: