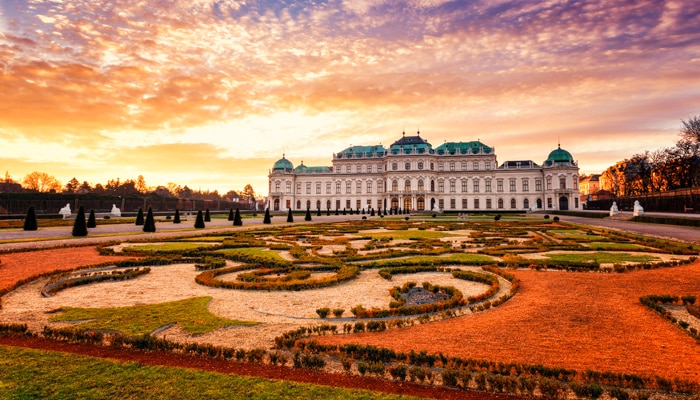 The 170-mile journey from Prague to Vienna will take you right through the heart of Central Europe. The pine forests of Bohemia turn into the undulating green hills of Moravia as you move south from the Gothic castle spires of the Czech capital. Soon, the eastern end of the iconic Alps will mark the horizon. They keep watch over a city of elegant palaces and opera houses, atmospheric cafes and Baroque mansions: Vienna.
This guide runs through all the ways you can travel on the route, with details about those romantic train links and budget-saving bus connections alike.
Prague to Vienna by train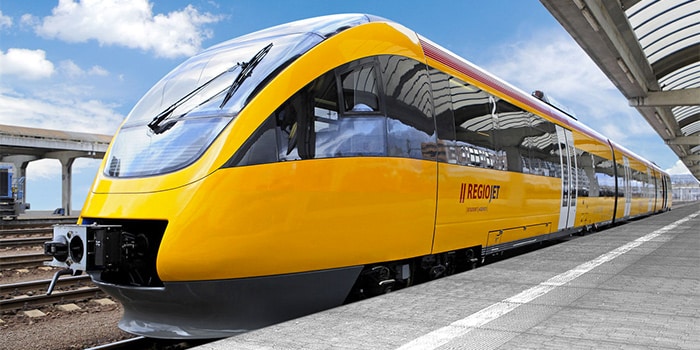 Time – Just over 4 hours
Price – From $18
Comfort – 5/5
There's something nostalgic and adventurous about taking the train from Prague to Vienna. Rolling out of the big Praha Hlavní Nádraž station, you'll soon be cruising through the southern reaches of the Czech Republic, where the region of Bohemia runs into the region of Moravia. They are characterised by pretty hills and soft contours, with pockets of pine forests framing bucolic farmlands. It's pretty awesome stuff.
As far as departures go, you've got a Viennese whirl of options. The Railjet links are the most common. They start as early as 4.44am and run every two hours after that until 6.44pm. A newer service called RegioJet means there are an additional four connections going at 5.20am, 9.20am, 1.20pm and 4.20pm.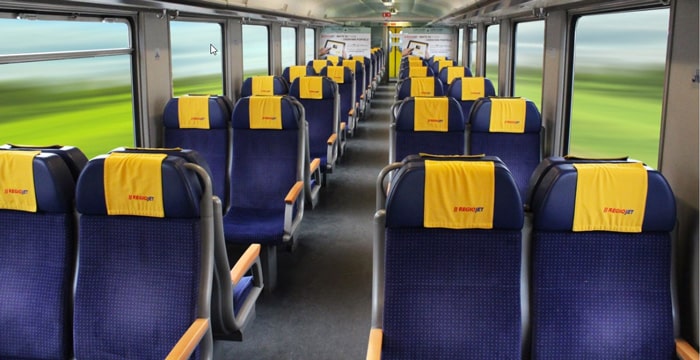 Travel through stunning landscapes of green hills, forests and meadows on the train between Prague and Vienna.
There are a few differences to note between the style of the trains themselves. The Railjets are operated by Czech Railways and OBB. They have just two classes: 1st and 2nd. Both include a mix of table and dual unidirectional seating, not to mention access to an onboard bar serving local Czech beers. RegioJet have extra classes. They range from basic to business, which will cost more but comes with complimentary Illy coffee, WiFi connections, and even at-table service. There are also dedicated children's cars with interactive games and TV screens.
In total, the journey by rail from Prague to Vienna takes a tad over four hours. That makes it comparable to flying from city to city when you factor in transfer times to the airport and waits in departures. It's also a convenient option because you can book everything ahead of time. Use 12Go.co to book tickets easiest and expect to pay around $18 for a second-class or basic fare.
Prague to Vienna by bus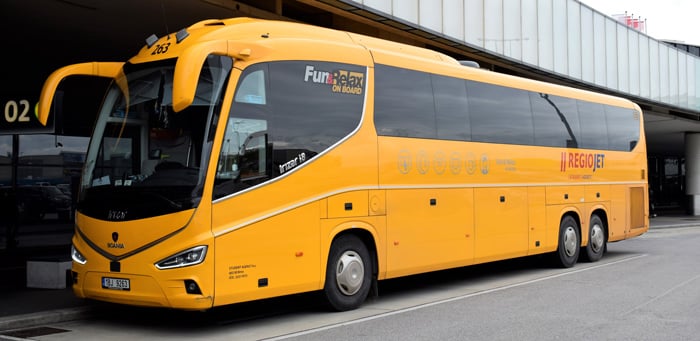 Time – 4.5 hours
Price – $15+
Comfort – 4/5
The bus is probably the most economical option running the route between Prague and Vienna. With tickets starting at just $15, it's perfect for travelers looking to leave euros in the bank for those frothy Austrian beers and shopping sprees on the Naschmarkt. It's always wise to book early, though. Tickets can sell out fast, especially during the height of the summer. But more on that later…
Time wise, you're not looking at much more than the trains. In fact, buses take just shy of five hours before rolling into either the Vienna International Busterminal (VIB for short) on Erdbergstrasse or Vienna Central Station close to Südtirolerplatz. All services leave from the main Florenc Central Bus Station, located around 20 minutes' walking from the Prague Old Town, or a 15-minute bus ride on the number 207.
There are several coach companies to pick from, but the bulk of travelers will go with either RegioJet or Flixbus. The first is a well-known regional operator with buses leaving Prague at 7am, 11am, 3pm and 6pm. You can book tickets in advance with them via 12Go. Flixbus, meanwhile, has a continent-wide network with modern vehicles running between many of Europe's bucket-list cities and towns.
Prague to Vienna by plane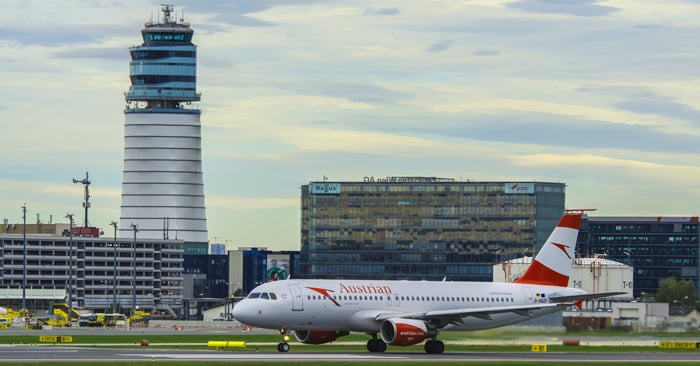 Time – 50 minutes (flight only)
Price – $130+
Comfort – 5/5
The spires of Prague Castle and the grand colonnades of the Viennese Hofburg might only be around 4.5-5 hours' driving apart, but Austrian Airlines still offer direct flight links between the two (as many as four per day, in fact). In the air, the connection takes a mere 55 minutes. Of course, you're looking at total travel times that are much longer than that, what with faffing around at the airports and transfers to and from the terminals. Still, it's a comfy and reliable way to go from capital to capital.
A flight from Prague to Vienna takes under an hour to touchdown in the Austrian capital, but you'll pay extra and need to organise travel to the airports on both sides.
The major downside is the cost. With average fares sitting at the $130 level for flights between Prague and Vienna, this probably isn't the option to run with if you're on a backpacker budget. That said, you can usually score some good deals by booking at least 90 days in advance. Do that by heading over to 12Go.co, entering your travel dates and hitting search.
To reach the airport on the Prague side, you can hop on any number of buses that link with metro lines C and B (tickets for the whole journey cost about $2.50). However, it's way comfier and simpler to plump for a private taxi – they'll set you back about $25-30 from the Old Town. From Vienna International Airport, make for the train that goes straight to Wien Mitte station. Tickets cost a little over $4 for the ride.
Prague to Vienna by car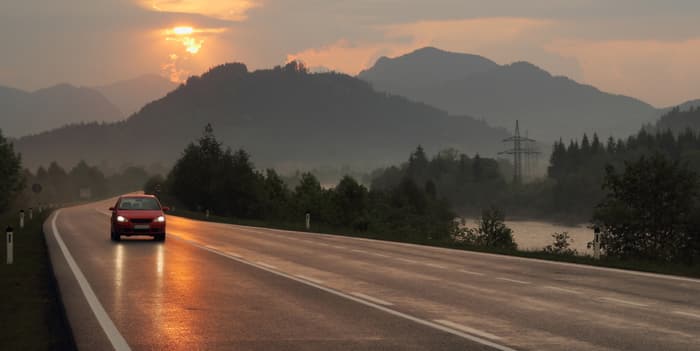 Time – 3.5 hours
Price – $23 on tolls, $260 for the car rental
Comfort – 5/5
There are fast, efficient highways linking the Czech capital with the Austrian capital. They roll south-east from Prague along the E50 motorway, wiggling through low mountain chains and wooded valleys for around 120 miles before hitting the second city of Brno. There, the route switches southwards onto the E461 that goes all the way to the border. Once you cross into Austria – and there shouldn't be any waiting because both countries are a part of the free-travel Schengen Zone – it's possible to take the A5 all the way to Vienna.
Driving from Prague to Vienna gives you the freedom to venture out to hidden and intriguing sights in the south of the Czech Republic.
From start to finish, the drive can be as short as 3.5 hours. But remember: That's without a single stop. The real bonus of having your own wheels is being able to pull over and enjoy the view whenever it takes your fancy. We'd totally recommend spending a little time exploring the winelands of Southern Moravia, the Neo-Gothic UNESCO palace in Lednice, and the vibrant student city of Brno along the way. With all those involved, you can easily turn this one into a day-long adventure through some of the more off-the-beaten-path corners of Central Europe.
If you're not cruising down to Czechia with your own wheels, you'll need to organise a rental car. That can be done online through RentalCars.com. Just bear in mind that you will need to pay extra surcharges on the daily hire rate for crossing international borders and dropping the car off in a different location to where you collected it. You'll also need to purchase vignettes to show that you've paid the tolls for the motorways in both Austria and the Czech Republic. Happy driving!
---
To make the 170-mile hop from Prague to Vienna is to cross swathes of Europe covered in vineyards, rustic farm fields and pine forests that roll to the horizon. It also means swapping a beer-soaked capital for another that's steeped in Habsburg history and home to grand 18th-century palaces. It's a trip you won't forget in a hurry!
---
Prague to Vienna FAQ
What is the cheapest way to get from Prague to Vienna?
Backpackers on a shoestring budget might want to opt for a coach connection between Prague and Vienna. The cheapest tickets on those can be priced at a wallet-friendly $15, but expect to pay extra if it's the middle of the summer, popular holiday dates, or a premium service. A good way to know if you're definitely getting a bargain by going on the bus is to check out 12Go.co, where it's a cinch to compare the cost of road and rail transportation.
What is the fastest way to get from Prague to Vienna?
Flights take a meagre 55 minutes to whiz over the Moravian winelands from Prague to Vienna. But remember that going by air also means 1.5 hours in the departure halls, and around one-hour transport to and from the terminals. The upshot? The train might prove even quicker. It can get you from the shadow of Prague Castle to the foothills of the Austrian Alps in just over four hours. For the best prices and to check schedules, head over to 12Go.co.
How long is the train ride from Prague to Vienna?
Four hours on the tracks is all it takes to go between Prague and Vienna. And boy is it a pleasant four hours! You've got vineyards and arcadian Czech countryside to watch out the window. You've got local Czech and Austrian beers to taste from the onboard train kitchens. It's hardly a chore…
How much is a train ticket from Prague to Vienna?
The cost of your seat on the train will depend on when you travel, what class you travel in, and what train you choose to travel on. You can compare and contrast all those by using 12Go.co. Generally speaking, tickets start around the $18 mark for second-class seats on the Czech Railways and OBB service. However, you can pay more than triple that for a deluxe space in business class on the comfortable RegioJet lines.
Is the train ride from Prague to Vienna scenic?
It sure is. We'd recommend having the camera at the ready as soon as you leave Prague – the rustic Czech backcountry soon takes over and you'll be gazing out at green fields of maize and grass, hops plants and wild forests. The further south you go, the more vineyards will appear. That's when you know you've entered the region of Southern Moravia, a designated wine area. Across the Austrian border, you might even be able to make out the Vienna Woods and the foothills of the famous Alps in the distance to the west.
Is there a high-speed train from Prague to Vienna?
Nope. This part of Europe doesn't have the lightning-fast TGVs of France quite yet. But that's actually good news. It gives you more time to enjoy the views of the Czech countryside and dust off those train beers. What's more, the journey by rail is hardly ridiculously long. You can expect travel times of around just four hours before you pull into the big Vienna Hauptbahnhof station.
How long is the bus ride from Prague to Vienna?
The bus adds about an hour to the time it takes to travel between Prague and Vienna by train. So, you'll be on the road for just shy of five hours if you opt for the coach. You'll also still get to enjoy pretty views from the windows, and you might even save some euros along the way. Head over to 12Go.co to compare and contrast the cost of tickets on the buses. It's even possible to book them online months in advance of traveling.
How useful was this post?
Click on a star to rate it!
Average rating / 5. Vote count: