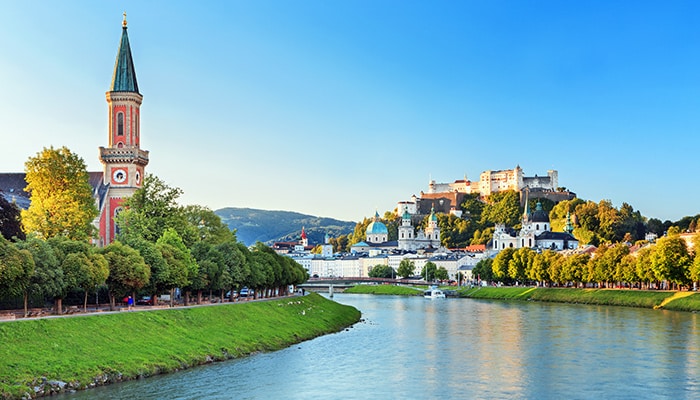 So, you're looking to trade those proud Habsburg palaces and manicured city parks for the snow-capped outline of the Austrian Alps? A trip from Vienna to Salzburg promises to do just that in a couple of hours. There might be 160 miles of rolling forests, winding rivers, and soft hills between them, but these two destinations are linked by road, rail and even planes.
This guide runs through all the options you can take to complete the route and get hopping those Mozart concerts, glistening highlands lakes, hiking trails, historic castles and the onetime filming locations of The Sound of Music…
Vienna to Salzburg by train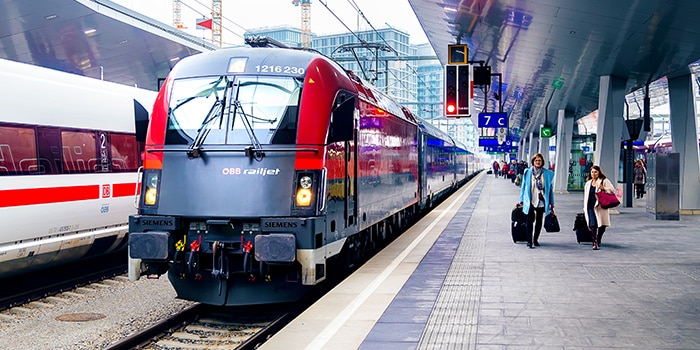 Time – 2 h 22 min
Price – $20.50+
Comfort – 4/5
The train from Vienna to Salzburg cuts straight across the heart of eastern Austria. It'll transport you from the great palaces of the old empire to the foothills of the Salzburgerland Alps in a little under 2.5 hours, which makes it a pretty fast way to travel. What's more, there are as many as three departures each hour during the day, so you shouldn't find yourself stuck with the strudels in the Austrian capital without any way to escape.
Austrian trains are comfortable, too. On this route, you can either pick the sleek Railjet services run by the national railway company, OBB, or the private WESTbahn trains. The first are new and clean, with two-two seating in Economy Class and faux leather-backed chairs in 1st Class. The second are double-decker trains with lots of room, although the dining is limited to vending machines (OBB offers a catered service with warm meals and Austrian beer!). All OBB trains go from big Vienna Hauptbahnhof. All others start at Wien Westbahnhof.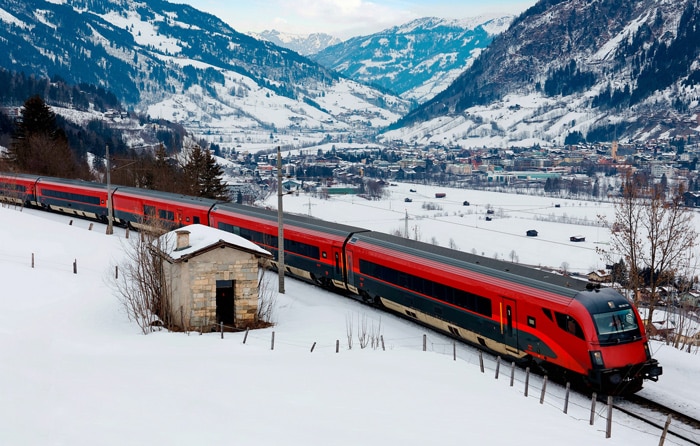 Trains to Salzburg take you through the countryside of Upper Austria, skirting the Alps to the south.
The views that roll out from the train tracks on this trip might not be as dramatic as in the western portion of Austria, but they are pleasant enough. Around Vienna, you'll see the pine-clad Wienerwald woods, followed by the rolling farms of Upper Austria, and the courses of the Danube River. Things get better as you arrive into Salzburg, when the mountains begin to peak on the horizon, and you can see the passes reaching across the Salzach River into Bavaria.
Tickets for any sort of train travel in Austria are always cheaper when purchased in advance. On this route, you'll see considerable differences between early-bird fares and last-minute fares – they'll spike from 19 EUR ($20.50) per person to more than 55 EUR ($59) per person. If you're unsure what time you want to leave the capital, you might want to stick with WESTbahn's trains, which sell for $36 but aren't limited to a specific departure.
Vienna to Salzburg by plane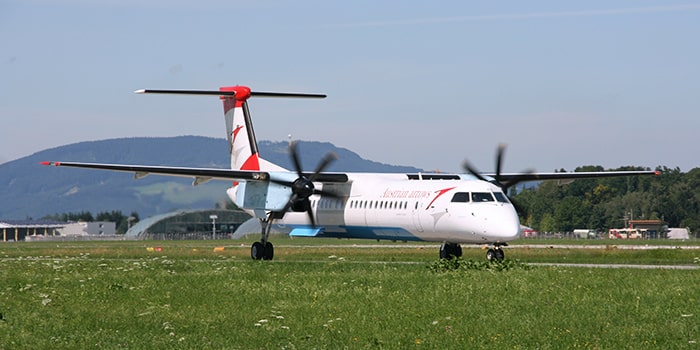 Time – 50 minutes (flight only)
Price – $60+
Comfort – 3/5
It takes a mere 50 minutes to hop from Vienna to Salzburg when you board a flight, making the airplane the quickest way to go if you're calculating from runway to runway. There are just three nonstop departures on offer each day, starting at just before 10am, with the last two at a little after 5pm and just before 10pm. They're run by national flag carrier Austrian Airlines out of the Vienna International Airport, using small intercity planes.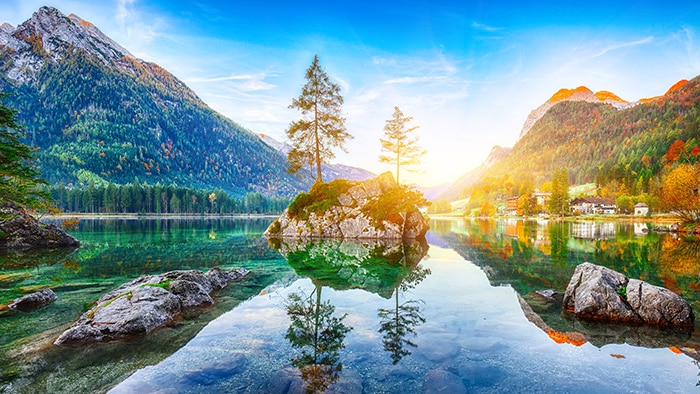 A flight isn't the simples or cheapest way to go from A to B, but could be a good option if you want to bypass the city to see the surrounding mountains.
Total travel times by air are probably going to be much slower than the trains if you're heading for Salzburg's atmospheric Altstadt – think in the region of three or four hours thanks to transfers and check-ins and whatnot. But not all travelers are looking to hit the city centre. Some are aiming for the glimmering lakes of the Berchtesgaden National Park over in Germany, or the Austrian Hochkönig range near Hinterthal. For those, Salzburg Airport is well placed just to the west of town, with car hire points and good access to regional motorways.
To get the best deals on flights between Vienna and Salzburg, always book via 12Go.co as soon as you know your dates and times of travel. That's important because tickets can skyrocket in price as demand increases, taking the cost of seats to over $100 apiece. You'll also have to tack on the cost of extra baggage if you're bringing luggage. That's $19.50 with Austrian, although sports equipment and larger bags cost a lot more.
Vienna to Salzburg by taxi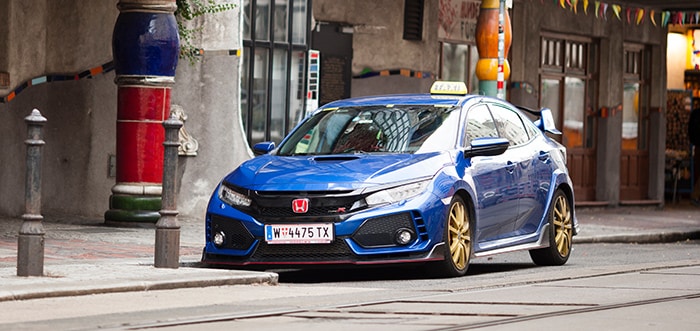 Time – 3 to 4 hours
Price – $325+
Comfort – 5/5
Riding a taxi from Vienna to Salzburg is just about as easy as it gets. This luxurious way of traveling means you'll have a pickup in the Austrian capital wherever you want, at whatever time you'd like to go. That's great news if you simply can't be bothered to lug your bags to the Hauptbahnhof to catch the train, or plan on jetting into Vienna Airport and want to get on the road westwards as soon as possible.
A taxi is a good fallback option if you have some cash to spare and want to get the trip done with minimal hassle.
In addition to convenience, taxis have the upside of being super-comfy. Plan it right and book with a reputable company and you're probably looking at spacious minivans or plush car models, all with upholstered seats and powerful air conditioning. You'll also be able to ask to stop whenever you like along the way, and will be dropped at any hotel or spot in Salzburg once the journey's done.
Downsides? The price. Yep, this is certainly the most expensive way to trade the coffee shops of Vienna for the Mozart concertos of Salzburg. Most quotes start at around $325, but you'll probably need to pay extra if you want to travel late in the night, early in the morning, or along more scenic routes that aren't the motorway.
Vienna to Salzburg by car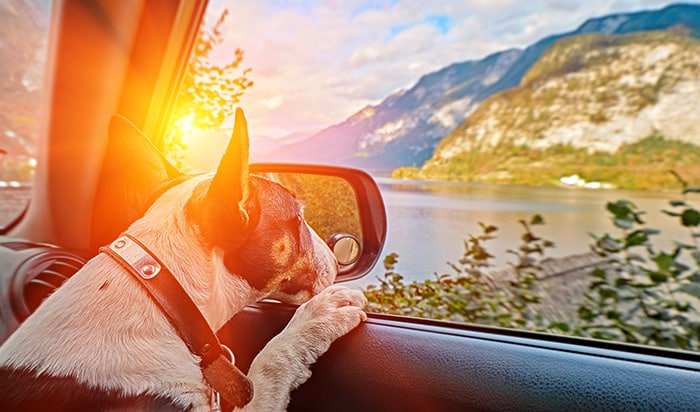 Time – 3 to 4 hours
Price – $90+
Comfort – 5/5
Sure, you can finish the drive from Vienna to Salzburg in just three hours if you hit the E60 motorway and go straight via St Pölten and Linz. But where's the fun in that? A much more entertaining and scenic route leaves the capital south-westwards and takes you deep into the foothills of the eastern Austrian Alps. For that you need to look for the E59 (S6) route that goes through Leoben. Have the camera ready and charged, because it showcases the majestic mountains of Styria and then the irresistible Salzkammergut region, where you'll want to be certain to make a pitstop in the chocolate-box village of Hallstatt!
And if that's still not enough to tempt you to take to the roads, how about the price of car hires? They're around just $90 for a whole day's driving in a modern car with a major rental company when booked through RentalCars.com! On top, you'll need to check for surcharges for one-way travel, but the transport is still sure to be less than a taxi. Just bring your driver's license and a credit card, and think about add-on insurance and extra frills like tyre chains if you're visiting Austria during the snowy winter.
Vienna to Salzburg by tour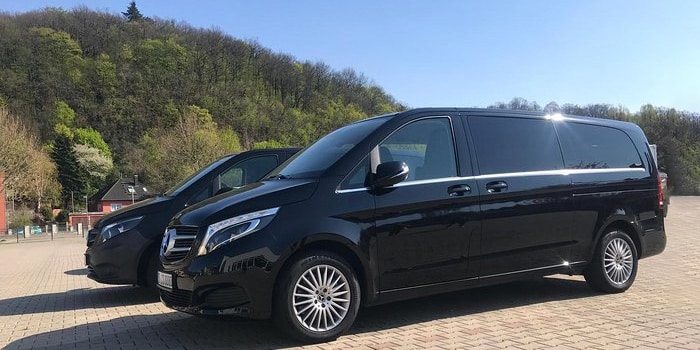 Time – All day
Price – $140+
Comfort – 4/5
There are some seriously good tours that can whisk you away from the bustle of Vienna to the cobbled lanes of old Salzburg in a single day (and even back again). They're not the cheapest way to do the trip by any stretch (you're probably looking at about $140 for the whole shebang), but they will include a whole load of Austrian culture, sightseeing and nature to boot. And you'll get a pick-up right in the lobby of your hotel!
Day tours between the two cities are typically run in small, 12-seater minivans with air conditioning and plenty of legroom. However, they rarely just whiz westwards to Salzburg without making some stops. That might mean a morning amid the gorgeous winelands of Wachau or the emerald pastures of Styria. Then you get a guide to take you around Salzburg itself, on an itinerary that invariably includes a glimpse of the gorgeous Mirabell Palace and Mozart's House.
---
The way from Vienna to Salzburg is a way that should tempt any traveler interested in seeing the top cultural sights Austria has to offer. Oh, and it brings you close to the stunning Alps, where castles and glistening lakes lurk in the valleys. Nice.
---
Vienna to Salzburg FAQ
What is the cheapest way to get from Vienna to Salzburg?
Trains reign supreme on this route when it comes to budget. There are no cheaper buses to contend with, so their early-bird ticket cost of just $20.50 is about as wallet-friendly as it gets. Be sure to book in advance using 12Go.co if you want to pay that little, though – the cost of seats on OBB's services especially can creep upwards nearer departure.
What is the fastest way to get from Vienna to Salzburg?
Yes, flights are only 50 minutes, but that doesn't consider the time you'll need to get to Vienna International Airport and then back onto the cobbled streets on the Salzburg side. With those tacked on, it's likely that train travel comes in as the quickest option, particularly if you manage to score one of the fast 2h22 services out of Wien Hauptbahnhof on 12Go.co.
What is the best way to travel from Vienna to Salzburg?
That's really up to you. The train is comfy and pleasant, with smooth riding and nice views of Upper Austria. However, there's certainly something to be said for renting your own car and hitting the countryside. If you have time to spare, that could mean embarking on an adventure through the wonderful regions of Styria and the Salzkammergut.
How long is the train ride from Vienna to Salzburg?
The fastest trains are just 2h22 from station to station. We'd recommend you book those as far in advance as you can, though, because tickets will increase in cost. Use 12Go.co to compare the prices of different departure times and even buy online.
Can you do a day trip from Vienna to Salzburg?
Anyone who's eager to sing the Sound of Music songs and see the photogenic town of Hallstatt should be sure to consider a daytrip from Vienna to Salzburg. It's a cheaper option than a private taxi but offers loads of Austrian culture in the regions that separate the two cities, not to mention tours of the Salzburg centre, where Mozart's erstwhile house is nestled beneath a soaring castle.
How useful was this post?
Click on a star to rate it!
Average rating / 5. Vote count: