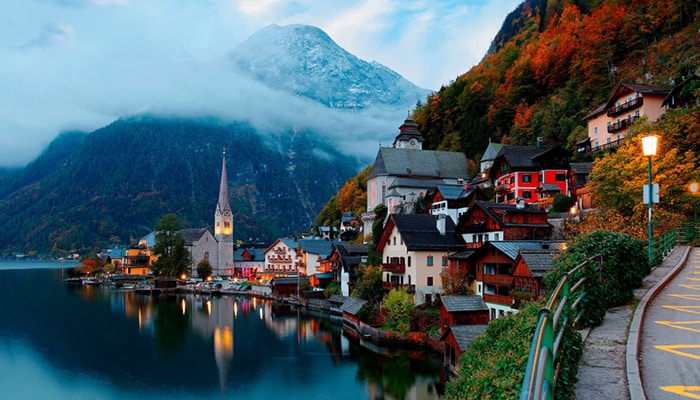 If you're going to Austria in search of charming, chocolate-box mountain towns topped by the outlines of the Alps and awash with wooden chalets blooming with flowers, Hallstatt is somewhere you should certainly be looking to visit. It's actually not too hard to get to if you're based in the city of Vienna.
The two destinations are just over 135 miles apart, although you'll need to remember that the Wienerwald forest and the peaks and lakes of the Salzburger Land sit in the way. The upshot? The trip is around three to five hours. This guide runs through all the options for getting from A to B, including information on price, convenience, and – important in Austria – the most routes to take.
Vienna to Hallstatt by train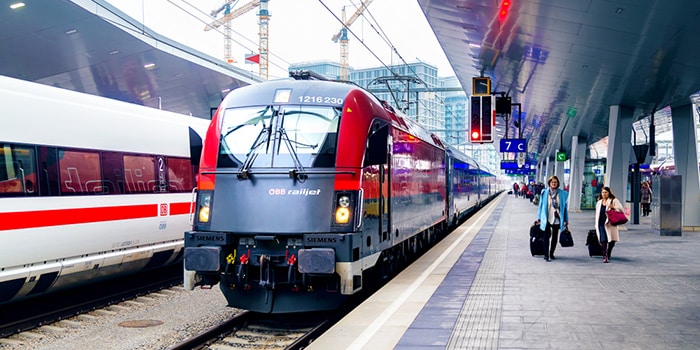 Time – 3.2 hours
Price – $21
Comfort – 5/5
The most common way to swap the Baroque palaces of Vienna for the fairy-tale cottages of Hallstatt is by train via Attnang-Puchheim. The quickest connections on the route take in the region of 3.2-3.5 hours, but that's assuming your changes go smoothly (as they usually do in Austria). If you're planning a daytrip, you'll want to leave early, so look to the first departures from Vienna in the morning – those are either 6.55am or 5.42am, depending on what operator you go with…
The first step of the journey is a high-speed OBB RailJet out of Wien Hauptbahnhof. That runs westwards for two hours, stopping in St Polten and Linz, before coming to the small town of Attnang-Puchheim that sits on the northern edge of the Austrian Alps. It's also possible to catch the slightly cheaper Westbahn train on this leg of the trip, leaving from Vienna Westbahnhof. Both services have 1st- and 2nd-class options. However, OBB has the best onboard catering.
The train is a fun and scenic way to go from Vienna to Hallstatt, though you will need to make a change of locomotive along the way.
Arriving in Attnang-Puchheim, you'll need to swap to a regional OBB line that links directly to Hallstatt Bahnhof. This is the most scenic portion of the trip. You'll rattle on the railway southwards through meadows and forests, encountering pretty Alpine towns like Bad Goisern and Bad Ischl en route. The crescendo comes with the section along the edge of Hallstatt Lake itself, which is where the train stops. To complete your arrival in the town, you'll need to hop on a cross-lake ferry. They go all year round and cost 3 EUR ($3.35) per person.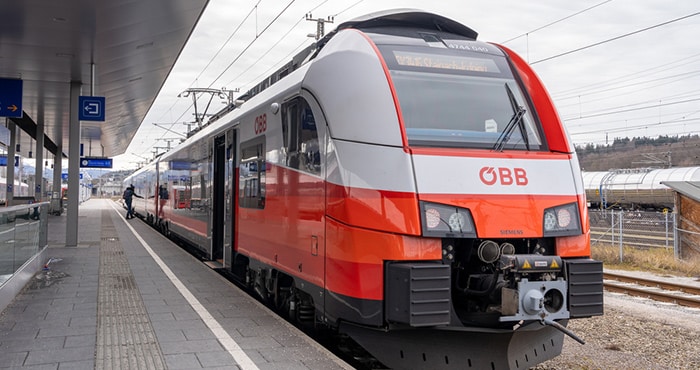 Tickets for Austrian trains are always cheaper if booked in advance. To do that, get over to 12Go.co and get searching as soon as you know when you want to visit Hallstatt. Thankfully, the discount sparschiene fares that are the cheapest are often available up to six months before the travel date. Westbahn services can usually only be booked up to seven weeks prior to going.
Vienna to Hallstatt by scenic train

Time – Just over 4 hours
Price – $21
Comfort – 4/5
Taking the scenic route over the Semmering Railway is a sure way to add a dash of drama to the journey from Vienna to Hallstatt. It's not too different to the normal train link, only there's an extra changeover (two in total) and the whole jaunt takes about four hours, instead of three. We'd say that extra time is well invested, though. You'll get to ride a UNESCO World Heritage Site across 25 miles of stunning mountain scenery – think rolling pine forests, carved peaks, and handsome viaducts aplenty!
The eye-wateringly wondering Semmering Railway section on the way to Hallstatt is a ride you're not likely to forget!
Tempted? The trip will go like this: A train from Wien Hbf down to Leoben, taking two hours; an hour-long ride to Stainach-Irdning; a quick change to a final section that takes you all the way on to Hallstatt Bahnhof. We'd recommend having the camera on full charge. The scenery starts around just 30 minutes after leaving the capital and doesn't let up until you get to Hallstatt, which will also demand plenty of photographs on its own!

Changeovers on this line are super-easy. It's often just a stroll from one train door to the next, as arrivals and departures have been designed to match up. You'll be arriving into Hallstatt Bahnhof. That's sat on the far side of the water from Hallstatt itself, so factor in an extra $4 for the ferry across. The cost for the train starts at around $21 per person, but those are advance fares that are only on offer to those who book early using a service like 12Go.co.
Vienna to Hallstatt by car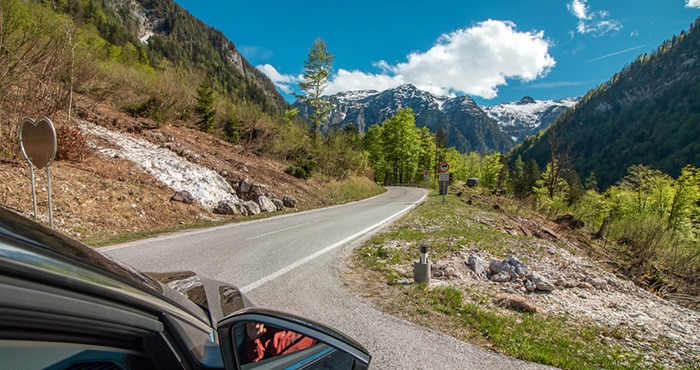 Time – 3.2 hours+
Price – $90+ (for a three-day rental)
Comfort – 4/5
Because there's such a lovely swathe of countryside between Vienna and Hallstatt, lots of travelers will be tempted to make the hop from city to small alpine town by car. It's a good way to go if you're one for adventure, because the long route on the S6 via Leoben and then through the valleys to Bad Aussee is surely up there with the most breathtaking drives in the country. It takes you between the jagged peaks of the Gesäuse National Park and the ranges of the Upper Austrian Limestone Alps, before wiggling into the lake lands around Salzburg. Going that way takes around 3.5 hours, while the main E60 motorway is only a little shorter (around 3.2 hours).
If you don't have access to your own car, rentals from RentalCars.com are easy to come by in Austria. You're looking at paying around $95-120 for a three-day rental in the height of the summer. Bear in mind that's for a vehicle that's both collected and dropped off in Vienna. Traveling in one direction, perhaps through to Salzburg, will cost extra. Also be wary of parking in Hallstatt. It can be hard to find during peak seasons. The best places to look are in the tunnel leading into town and at the base of the funicular lift.
Vienna to Hallstatt by organised tour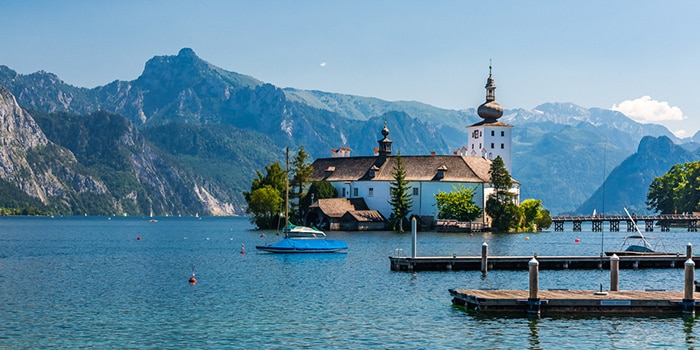 Time – All day
Price – Approximately $135 per person
Comfort – 4/5
Another way to make the move from Vienna to Hallstatt (and back again) in a single sitting is to book onto an organised tour. These run all throughout the year, but are far more frequent from spring onwards. They typically include transport from the grand cityscape of the Habsburgs to the quaint mountain village by minibus, which takes around three hours in total. Some packages also work in interesting stops along the way, to let you see historic castles and beautiful lakes in the greater Salzkammergut.
The key here is to shop around for an itinerary that really takes your fancy. Some will be basic transfers with a guide (they are likely to cost less). Others will be full-fledged tours that last from early morning until evening, including rides on the funicular to the Skywalk lookout point and trips to the famous Dachstein Giant Ice Cave. The good news is that most tours involve a pickup at your hotel in Vienna, or at least at a central location in the heart of the capital.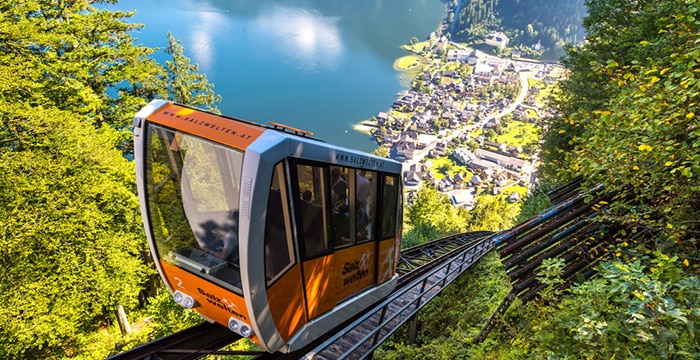 ---
Vienna is only a few hours to the east of the famous village of Hallstatt. That means a quick drive or a few changes on the train is all that's needed to whisk you away to the heart of the Salzburg Alps, where hearty mountain cabins mingle with beer taverns in the shadow of jagged peaks. Exciting, eh?
---
Vienna to Hallstatt FAQ
What is the cheapest way to get from Vienna to Hallstatt?
To keep costs as low as possible, it's wise to book onto the train from Vienna to Hallstatt as early as you can using 12Go.co. It's likely to be the cheapest way to travel from A to B, but only if you manage to score the discount fares that are on offer several months before departure.
What is the fastest way to get from Vienna to Hallstatt?
Convenient connections on the main trainline going west from Vienna to Salzburg and beyond mean that you can reach Hallstatt in just over three hours from the Austrian capital. That's provided you don't miss your onward service in little Attnang-Puchheim. To check all schedules and prices, be sure to head over to 12Go.co today.
What is the best way to go from Vienna to Hallstatt?
We think the train is the most tempting way to travel. However, that doesn't necessarily mean the fastest train. Just add an extra hour to the length of your journey and go via the iconic UNESCO Semmering Railway. You'll enjoy one of the most scenic rides in all of Europe, with mountains, lakes, viaducts and rolling forests for company.
How much is a train ticket from Vienna to Hallstatt?
If you manage to score one of the reduced fares that are on offer in advance of travel with OBB railways, you can get tickets to take you all the way from Vienna to Hallstatt for just $21 per person. To be in with a chance of those, you'll need to get over to 12Go.co and get searching right away to beat the crowds.
How long is train from Vienna to Hallstatt?
The quickest train link on the line from Vienna to Hallstatt is just over three hours. That's going through the station at Attnang-Puchheim with a change onto the regional service to Hallstatt Bahnhof. The scenic route via Leoben and Stainach-Irdning is longer but prettier – it takes a little over four hours.
Can you do a day trip from Vienna to Hallstatt?
You sure can. In fact, a lot of people say an organised tour is the single best way to visit the little mountain town on the lakeside. It makes it easy to get to (usually with a private minivan transfer) and can come with lots of extras, like access to the Dachstein caves and tickets for the town's panoramic gondola. It all depends what you want from your trip.
How useful was this post?
Click on a star to rate it!
Average rating / 5. Vote count: