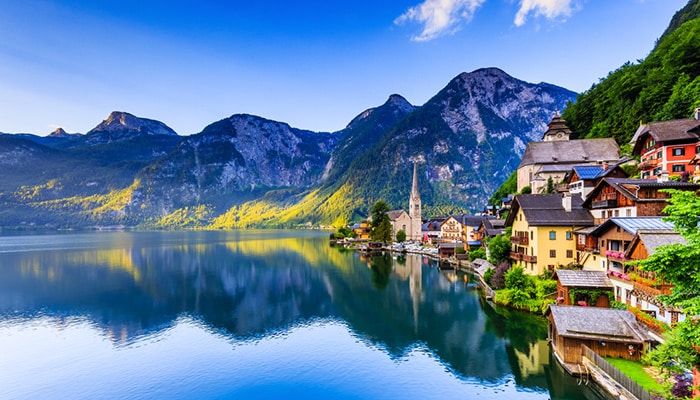 Hallstatt is a real fairy-tale town. Flanked by the green summits of the Salzkammergut, it's a medley of gingerbread houses with steep gables and wood-carved balconies, all strung lazily along the edge of a mirror-like lake.
Wanderlust stoked? Good. The trip in from the nearby city of Salzburg is easy to make. It's just 31 miles in distance, but adds up to over 43 miles by road – that's after you've factored in all the mountains and alpine meadows that lay in the way. This guide runs through all your options, including the picturesque trains and the scenic local buses.
Salzburg to Hallstatt by train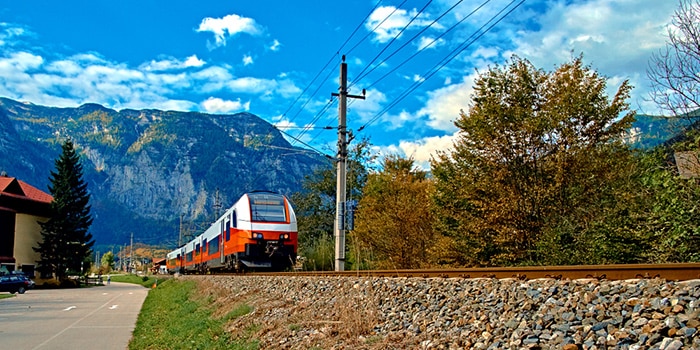 Time – 2.5 hours
Price – $10+
Comfort – 4/5
There's nothing like rattling down the railways into the Austrian Alps to discover the charming little village of Hallstatt tucked under a wall of dramatic mountains. Sure enough, it's the scenery of the train ride that makes it the most popular way to get in from Salzburg. The second half of the trip weaves through a seriously stunning corner of the region, skirting the gushing Traun River and great pockets of pine forest and alpine highland as it goes.
Catching the train means riding the mainline first and then changing to a regional service for a trip into the Salzburger Alps.
But views aren't the only reason you'll want to consider the locomotive. Ticket prices can be as low as $10 per person. To get those, be sure to book at least a couple of months in advance of your alpine jaunt using 12Go.co, when the discount Sparschien fares are still on offer. Oh, and the trains are comfortable, offering a ride on the lovely OBB Railjet, and then a second leg on the regional train through Attnang-Puchheim to cute Hallstatt Bahnhof.
Total trip times are in the region of 2.5 hours, which includes around 10 minutes' waiting at Attnang-Puchheim when you need to change. It's also worth noting that the regional service won't take you to the centre of Hallstatt itself. It goes to a station just over the far side of the lake, from where a ferry costing 3 EUR ($3.20) completes the journey. That can actually be a gift, because the views on the approach to the town from the water are hard to beat.
Salzburg to Hallstatt by bus and train
Time – 2 hours+
Price – $15+
Comfort – 4/5
It's possible to fuse train and bus connections through the wonderful Salzkammergut to create a journey that's both fast and stunningly pretty. Basically, you're looking to make the most of the convenient bus links between Salzburg city and the town of Bad Ischl, and then the regular trains that pass through there on their way to Hallstatt Bahnhof. Thankfully, the timetables for both match up well, so hopping from road to rail shouldn't be tricky.
Leg one takes you out of Salzburg to the east, following the 158 road past Fuschl and St Gilgen on the gorgeous Wolfgangsee. Bus 150 does that regularly, starting at 5.55am (later on Sundays). Once you arrive at the end station in Bad Ischl, you need to stroll straight through the entrance to the station to the platforms used by trains bound for Hallstatt. It's about 20 more minutes on those to the stop you need, where you can connect with the lake ferry across to the picturesque town.
Salzburg to Hallstatt by bus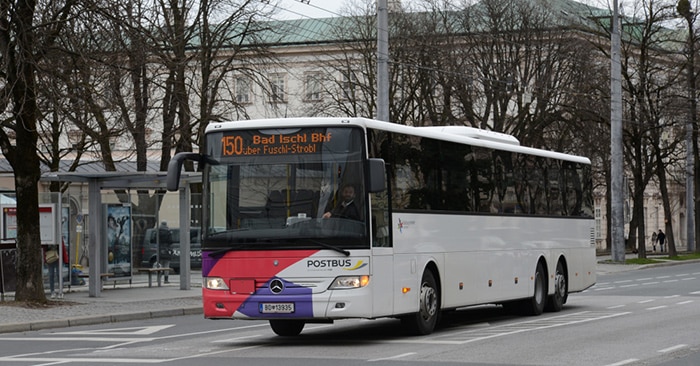 Time – 2.2 hours
Price – Around $16
Comfort – 3/5
You'll have to hop three buses to get from Salzburg to Hallstatt in a single swoop. Don't worry, they each have schedules that are timed to match up well, and are all pretty fast. In fact, even with a trio of changes, you can do this one in less than 2h20 minutes (that's so long as all those changes do match up, of course!). What's more, the buses arrive right into Hallstatt's centre, so there's no need to add on another leg to catch the cross-lake ferry here.
You can enjoy gorgeous views and save a little time if you're willing to take buses all the way from Salzburg to Hallstatt.
The first step is to head down to Busbahnhof Salzburg, which sits right next to the train station on the north side of the city centre. There, you catch the 150 bus all the way to the end of the line: Bad Ischl. The next step is the onward connection to Hallstatt Gosaumühle station on Bus 542, followed by a final 10-minute leg to Hallstatt Lahn (the station closest to the village itself). You're likely to find that the platforms for each connecting service are located right next to each other, so there's little stress going from one to the other.
We'd say get in there early and try to secure a seat on the left-hand side of the buses leaving Salzburg. The moment the city is in the distance, you'll find yourself weaving through flowering meadows that could be plucked from The Sound of Music, and glistening alpine lakes like the Fuschlsee and the Wolfgangsee. It's seriously lovely countryside and you'll want a good view!
Salzburg to Hallstatt by car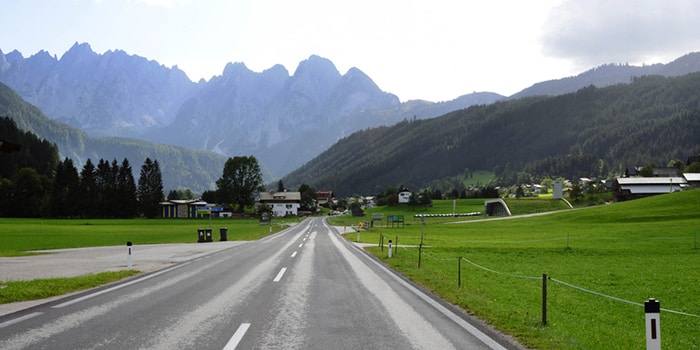 Time – 1.25 hours
Price – Around $30 per day
Comfort – 5/5
Driving is a truly memorable way to make the trip from Salzburg to Hallstatt. The route takes you through some of the most gorgeous scenery in the whole of Austria. You'll pass crystal-clear alpine lakes and quaint villages bursting with summertime bougainvillea. You'll see cow-spotted pastures and lovely meadows, snowy mountaintops and cascading forests of pine and fir. On top of all that, it's the fastest way to go from A to B. Provided you're not tempted to stop, you can do the whole thing in just over one hour from start to finish.
A car can help you explore the stunning Salzkammergut region to the full on the way down to Hallstatt.
Directions are easy. You start on the 158 going east out of Salzburg city. It weaves along the side of the Fuschlsee and the Wolfgangsee, where you can pull over for a swim in the lakes if you like. After that, you go past the Rettenkogel and Bleckwand summits by Strobl, through Bad Ischl and finally south on the 145 into Hallstatt itself. It's best to look for parking in the tunnel and by the funicular car base station on the way into the village, which is about five minutes by foot from the centre.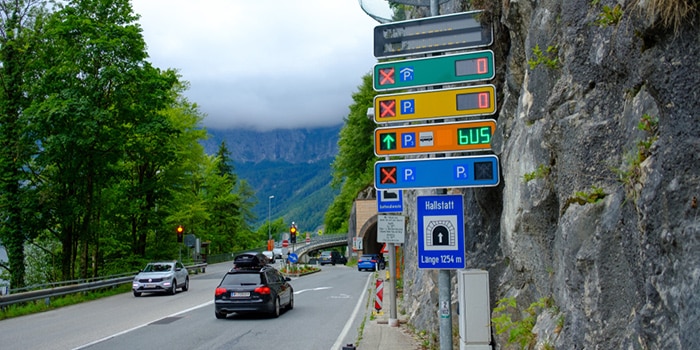 RentalCars.com has some top-notch deals on offer if you don't already have your own wheels but are certain you want to do the trip to Hallstatt by road. You're looking at around $30 per day in total. That's for a collection and drop off in Salzburg itself – Hallstatt is too small to have any car-hire kiosks or rental points.
Salzburg to Hallstatt by organised tour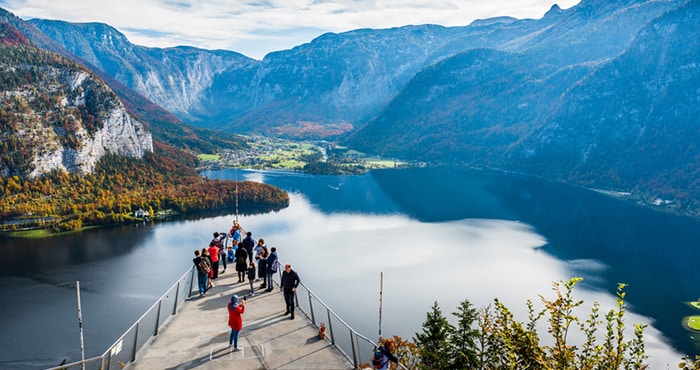 Time – Half-day or full-day tours available
Price – From $60 per person
Comfort – 4/5
Hallstatt's handsome church spires, Baroque chapels, and flower-strewn cottages have made it a real favourite for travelers looking to see the best of Austria. Consequently, there's no shortage of companies offering planned tours of the town from Salzburg, which is the nearest major city. They usually last either a whole day or half a day, and can cost anything from $60 per person to over $300. Transport is typically done in private minivans with air conditioning.
Most itineraries include at least some free time to wander the quaint heart of Hallstatt and see the lovely lakeside walking areas. Popular additions that will crank up the price include the soaring Welterbeblick Skywalk, which offers sweeping panoramas of Lake Hallstatt and the surrounding mountains, and the enthralling Dachstein Giant Ice Cave, where you'll wonder at sparkling stalactites formed by frozen water deep underground.
Salzburg to Hallstatt by taxi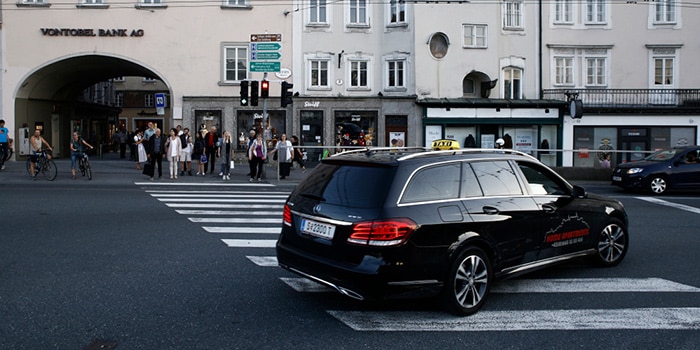 Time – 1.25 hours
Price – $190+
Comfort – 5/5
One way to enjoy the drive from Salzburg to Hallstatt without having to get behind the wheel yourself is to book a private taxi transfer. They aren't cheap, with starting prices sitting at around the $190 mark! However, they are fast. It's a quick 1.25 hours' journey from town to town, along well-kept and beautiful Austrian roads.
That's as speedy as it would be if you had your own car, only a taxi brings the added bonus of a drop off in the centre of the handsome village on the lake, not to mention a pickup wherever you want in Salzburg itself. There's no need to search for parking spaces; no need to worry about how you'll get from your hotel to the bus station to start the trip. Nice.
---
Anyone who's ever glimpsed a postcard of the kitschy little village of Hallstatt will know why it's such a popular destination. Hemmed in by high peaks and forests, it's an escape from the real world, offering steep-roofed cottages, pretty chalets, and the atmosphere of a true alpine paradise. It's a trip you certainly won't regret making from nearby Salzburg!
---
Salzburg to Hallstatt FAQ
What is the cheapest way to get from Salzburg to Hallstatt?
If saving money is the number-one aim, we'd say take the train from Salzburg to Hallstatt, only be certain you book well in advance. Searching and buying tickets on 12Go.co nice and early – at least 60 days before you want to hit the mountain town – means you could score discount fares of just $10 per person, each way.
What is the fastest way to get from Salzburg to Hallstatt?
The roads offer the fastest route to Hallstatt from Salzburg. They carve the most direct course through the Salzkammergut region, clocking up a distance of just over 43 miles in total. The upshot? Either booking a taxi or driving yourself will trump all other transport methods when it comes to journey times, taking around 1.25 hours in total.
What is the best way to go from Salzburg to Hallstatt?
Lots of travelers enjoy the bus-train combo. It's affordable (tickets for the whole trip cost about $15 per person) and it's easy, with changeovers that are scheduled to match up. But, more importantly, it's seriously scenic. You'll see the green-blue waters of the Wolfgangsee whiz by on the bus and get to cross lovely Lake Hallstatt by ferry after hopping off the train.
How much is a train ticket from Salzburg to Hallstatt?
Book early with 12Go.co and you might just be surprised at how cheap the train can be. It's possible to score tickets for as little as $10 per person way in advance. To put into perspective how good a deal that really is, know that costs might increase to nearly $32, which is the rate of the standard fare.
How long is the train from Salzburg to Hallstatt?
It's not just one train, but two. The first is a city-to-city Railjet going eastwards to Attnang-Puchheim. The second is a regional train to Hallstatt itself. Together, they take around 2.5 hours in total, including changeovers at the stations. You can book them both online using 12Go.co today.
Is there a bus going from Salzburg to Hallstatt?
There's no direct bus link from Salzburg to Hallstatt. However, it's still easy to hop buses to get from A to B on this route – schedules are planned precisely to help people do just that. Use 12Go.co to book tickets for three buses in total, going through Bad Ischl and Hallstatt Gosaumühle before arriving in Hallstatt proper.
How useful was this post?
Click on a star to rate it!
Average rating / 5. Vote count: