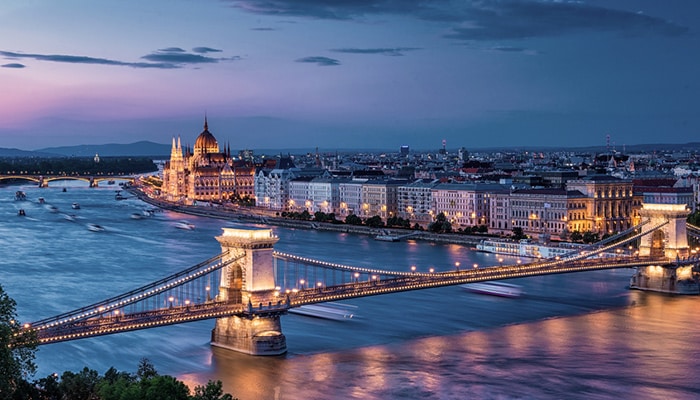 Vienna and Budapest are linked by much more than just railway lines, riverways and cycle tracks. These were the dual capitals of the vast Austro-Hungarian Empire. One of the mightiest powers of Central Europe, it reigned supreme from 1867 to 1918. Today, you can still spy out remnants of the grand Habsburg crown in both, from the beautiful Baroque palaces of Belvedere to the soaring spires of Buda Castle. The upshot? It's never hard to get from one place to the other.
There's just over 130 miles between them in a straight line, with planes, trains, buses and even boats offering to help you cover it…
Vienna to Budapest by train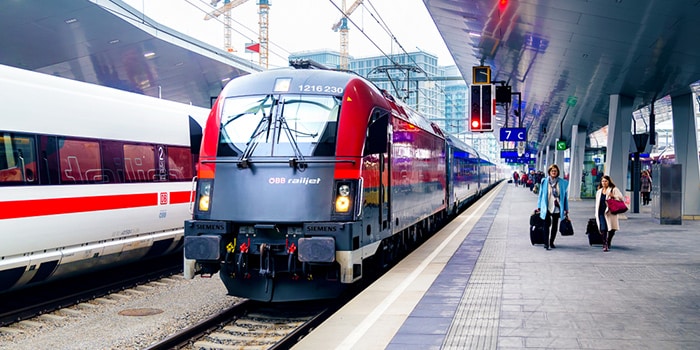 Time – 2 h 40 min
Price – $20
Comfort – 4/5
There are as many as 12 trains from Vienna to Budapest every day, starting at just before 7am and finishing after 7pm. That's music to the ears of Eurail and Interrail holders, who can hop from one capital to the other without dropping a single dime. Those of us who will need to purchase tickets can usually get them in advance on 12Go.co for around the $20 mark, or for about $43 if bought at the station.
Backpackers and business travelers alike take the train from Vienna to Budapest, thanks to its regular schedule and reliability.
Departures alternate between Austria's own OBB Railjets and the Hungarian-run EuroCity locomotives. The first are the most stylish, touting air-conditioned carriages that have WiFi, in-seat plugs and plush headrests, not to mention an onboard bar serving Austrian beer and hearty food. The latter are a taste of more classic European train travel, complete with retro 90s upholstery and six-seater compartments. A couple of Romanian services also do the route, but they focus on sleeper berths for longer-distance travelers.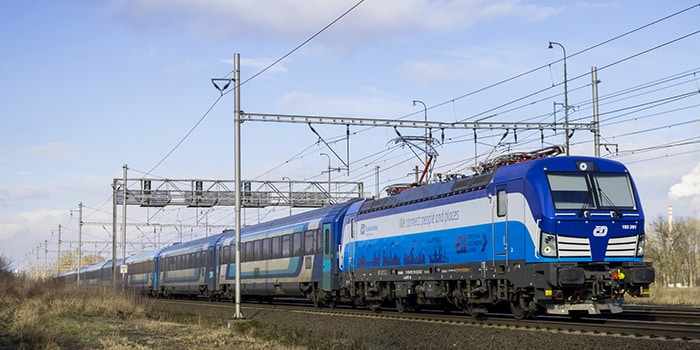 The trip clocks up travel times of just under 2h40. It starts at the modern and vibrant Wien Hauptbahnhof and finishes at the grand Budapest Keleti station (be sure to look for the chess-playing locals and the soaring vaulted ceilings there). Along the way, you'll skirt the south side of the Danube, weaving through a patchwork of soft countryside and low hills topped by windmills. It might not be the most dramatic scenery going, but it does offer a glimpse at the rural outback of western Hungary.
Vienna to Budapest by bus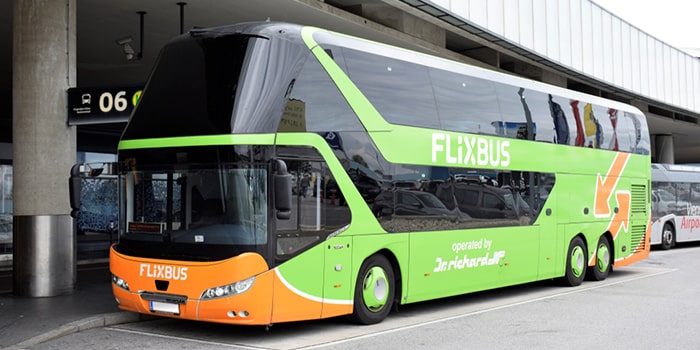 Time – 2.5 to 3 hours
Price – $10+
Comfort – 3/5
Buses take just about the same amount of time as trains to go from Austria's biggest city to Hungary's. The route can be a tad more circuitous, though, because some will make a pitstop in Bratislava along the way. That's perfect for checking off another European capital, but not great if you're in a hurry. However, popular cross-European coach provider Flixbus now offers oodles of direct bus links from town to town. And they come with pretty attractive price tags of just $10 when booked in advance on 12Go.co.
Buses are a wallet-friendly way to do this trip, offering regular departures from multiple stations in Vienna.
Thankfully, Flixbus also have a fleet of modern, clean, and comfortable coaches. They'll get you on the ground in Hungary with your back intact and some good shots in the camera, using reclining seats with ample legroom and wide windows. You'll be especially grateful for the last bit when you're rolling through the farm fields and wooded hills around Budapest itself – the most scenic part of the drive along highway E60.
There are varying options when it comes to choosing start stations and end stations. It's possible to begin your trip at the bustling international coach interchange at Vienna Erdberg. You can get on at Vienna Central Station (great for travelers connecting from train services across Austria). Or, you can plan your pickup at Vienna Airport (handy if you're stepping right off a flight and can't wait to tuck into the goulash).
Vienna to Budapest by boat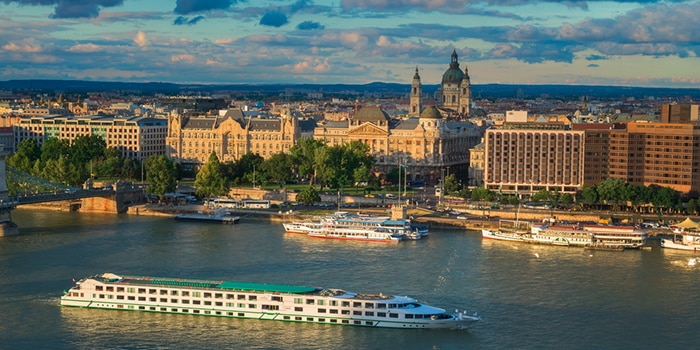 Time – 2 to 15 days
Price – Starting around $1,000 per person
Comfort – 5/5
One of Europe's longest and most famous rivers links Vienna with Budapest: The Danube. In total, the waterway clocks up more than 1,700 miles in length, but the stretch from Austria's capital to Hungary's capital represents just a fraction of that. In fact, because the two cities are so close – just 130 miles as the crow flies – it's possible to go from one to the other entirely on the water.
Boat cruises down the Danube are a luxurious and indulgent way to go from city to city.
However, the days of public hydrofoils are now well and truly gone. There was a fleet of Communist-era boats running the route each day, but services were stopped in 2017 due to outdated vessels and a dwindling passenger base. These days, the only way to sail your way eastwards is to book onto an organised boat tour of the Danube…
There are plenty of those. There are options tailor-made for romantic duos who want to enjoy meals onboard ship. There are sightseeing packages that have stops at the Baroque palaces of Bratislava (the capital of Slovakia) along the way. Some can last two days, others can be as much as 10 days. You'll need to check that the trip you go for includes west-to-east travel, because that's the way from Vienna to Budapest. Also don't expect it to come cheap – tickets can be as much as $2,000+ per person for the longer cruises!
Vienna to Budapest by plane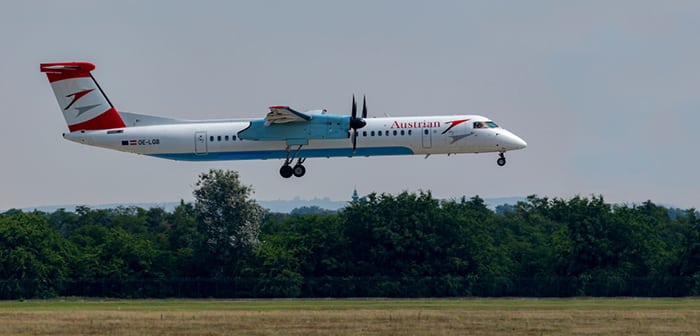 Time – 45 minutes (flight only)
Price – $60+
Comfort – 4/5
They might only be a little over 200km apart, but Vienna and Budapest are still joined by a flight route. The connection is run by Austrian Airlines four times each day, with departures spread between 10am and 9.25pm. In-air, the trip takes a mere 45 minutes, but whole journeys typically take anything from three to four hours when you count the time needed to get to Vienna Airport on the urban train, transfers into Budapest's centre, and waits before boarding.
Prices can be high, with standard fares sitting at over $121 (a hefty amount for such a snappy flight!). However, some bookers who manage to get in there early or during a flash sale might be able to get some better bargains to the tune of around $60 a seat. Be sure to go a-looking for them on 12Go.co as soon as you know your dates of travel.
Vienna to Budapest by taxi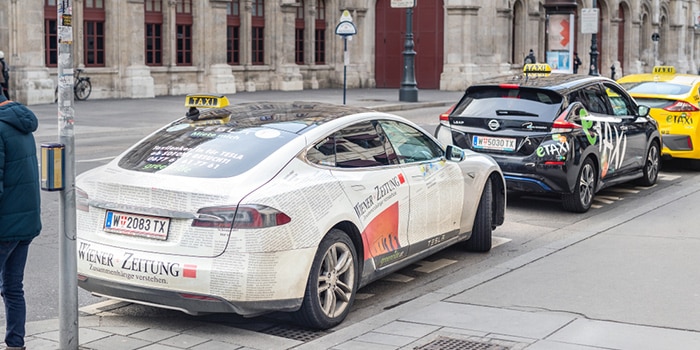 Time – 2.5 hours
Price – $300
Comfort – 5/5
If money's no object and you're wanting to ditch the Austrian pretzel houses for the goulash kitchens of Hungary as fast as possible, a taxi could be what you're after. Yes, the cost of the whole trip can be over $300, but that's for the entire vehicle. What's more, you're looking at travel times of just 2.5 hours, and maybe even less. You'll also save extra time before and after your ride, because drivers will pick you up wherever you nominate in Vienna and drop you wherever you want in Budapest.
Vienna to Budapest by bicycle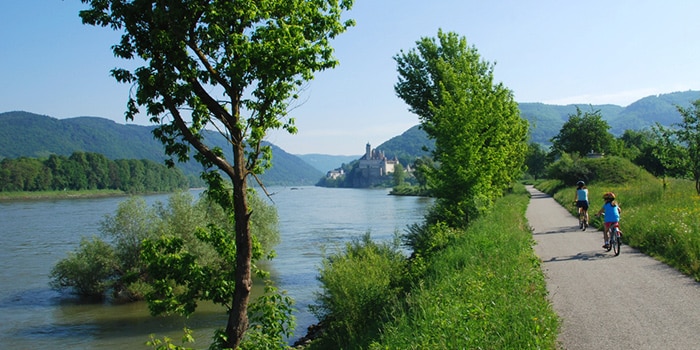 Time – Around 8 days
Price – $200+ for spending money
Comfort – 2/5
For lovers of everything two-wheeled, the cycle track between Vienna and Budapest might just be too hard to resist. It follows the course of the Danube all the way from city to city. That means some seriously gorgeous vistas of the high Hungarian hills in Duna-Ipoly National Park, along with a whiz-in, whiz-out tour of the famous Danube Bend. Most travelers take seven or eight days on the adventure, with unmissable stops at the grand basilica of Esztergom and the fairy-tale town of Szentendre.
---
Linked by shared emperors and history, by riverways and roads, the two great European cities of Vienna and Budapest are easy to get between. You can make the trip a multi-day cycling tour of the Danube basin, or smash the whole thing in just a matter of hours. The choice is yours.
---
Vienna to Budapest FAQ
What is the cheapest way to get from Vienna to Budapest?
Buses still reign as the top budget choice for shoestring travelers looking to go to Budapest from Austria's capital. They have tickets that start at an amazing $10. To score those super-cheap prices, it's important to shop around to find deals with well-known providers like Flixbus using 12Go.co.
What is the fastest way to get from Vienna to Budapest?
There's probably no faster way to go from city centre to city centre than in a taxi from Vienna to Budapest. Having a driver at your beck and call might cost over $300, but will shorten the trip to just 2.5 hours. That's less than the train, though only by 10 minutes, and less than flying when you factor in extra hours spent at the airport and in transit to the terminals.
What is the best way to travel from Vienna to Budapest?
We'd say it's the train. Reliable, relatively fast, and pretty cheap ($20) when booked in advance on 12Go.co, it's a trip on comfy OBB or Hungarian locomotives that'll have you stepping into a world of goulash and bubbling spa baths (yep, Budapest has both of those!) after just 2h40!
How much is train from Vienna to Budapest?
The cost of the train will depend on how good you are at catching the early-bird deals. Search more than 60 days in advance of going and you might be in line to bag a reduced fare of just $20 per person. Leave it later than that, or book after the cheaper seats are all sold out, and you're looking at rates of over $40!
How far is Budapest from Vienna by train?
The length of the line that runs from Vienna to Budapest is 130 miles in total, crossing the Austrian-Hungary border and shooting straight through some pretty countryside before arriving at Keleti station. With the fastest trains on them, that equates to a travel time of just under 2h40.
How long is the bus ride from Vienna to Budapest?
It's around 2.75 hours on some routes, which is comparable to the slower trains. However, there are buses that will take upwards of three hours. It all really depends on where you leave from and what coach company you go with. It's possible to weigh up all schedules and ticket prices using 12Go.co.
How useful was this post?
Click on a star to rate it!
Average rating / 5. Vote count: