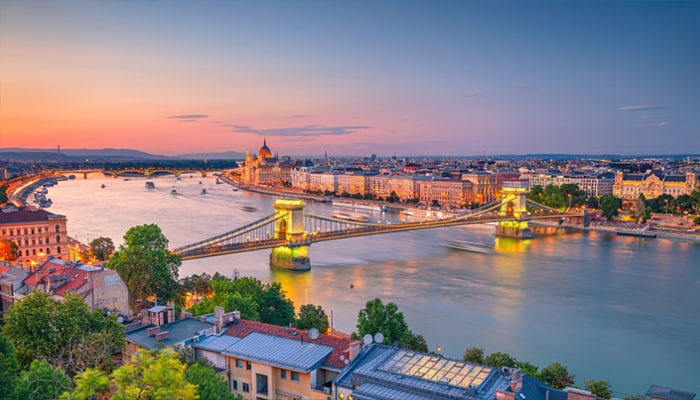 Prague has a maze-like Old Town guarded by one of the biggest castles in the world. Budapest has a gritty nightlife quarter of ruin bars and a grand Neo-Classical palace that once housed the Habsburg emperors.
Joining those together on the same itinerary is now possible for travelers keen to explore the jewels of Central Europe. That's thanks to rail, air and road connections, which can help you make the 280-mile hop from one capital to the other in as little as a few hours. Read on to find out more…
Prague to Budapest by train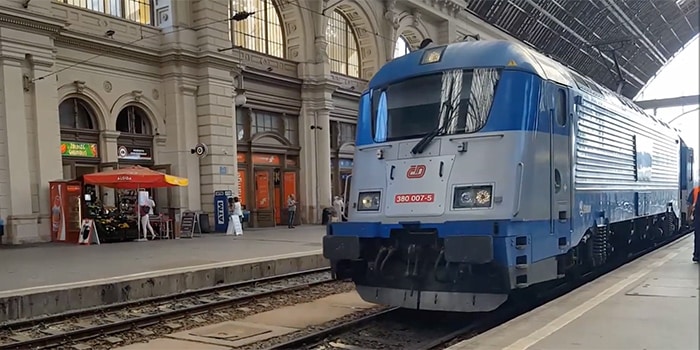 Time – 6.5 hours
Price – $23+
Comfort – 4/5
If you're up for an adventure across the very heart of Central Europe, there's no better way to travel to Budapest than by train from Prague. A long and winding line links these two historic capitals, covering more than 300 miles as it weaves through the highlands of Czechia and into the Danube basin. There are seven departures each day, with the first leaving from Praha Hlavni at 5.44am and others rolling southwards in roughly two-hour intervals after that.
Virtually all the carriages on the route will be of the relatively modern Czech EuroCity type. They have a duo of classes, although there's not too much difference between the two-one orientation of First Class and the six-seater compartments of Second Class, particularly if you're lucky enough to score a whole car to yourself.

Keep your eyes peeled for the high hills and grand basilica that keeps watch over the Danube Bend in northern Hungary – it's a highlight of the train trip!
In terms of scenery, there's one real highlight of this trip: The Danube Bend. It starts with the great dome of Esztergom Cathedral (one of the most impressive and important churches in all of Hungary) and ends with the forests on the south side of the Duna-Ipoly mountains. There's no option to get off the train there, but you don't have to, because the views from the railway are actually some of the best in the region. To make the most of them, we'd recommend requesting a seat (reservations are 4 EUR extra at the time of booking) on the left-hand side of the carriage. Much of the rest of the trip is spent crossing the plateau of Bohemia and Moravia, where fields of hops and wheat roll to the horizon.
It's pretty important to book well in advance of making the trip if you're keeping an eye on the budget. That's because forward fares on Czech Railways services from Prague to Budapest cost just $23 per person, while on-day purchases could cost you as much as $72 for precisely the same seat! Thankfully, you can check all departure times and rates remotely using 12Go.co today.
Prague to Budapest by sleeper train
Time – 10.5 hours
Price – From $42
Comfort – 4/5
There's a single night train service running the rails from Prague to Budapest each evening. It rolls out of Czechia's capital from Hlavni at 9.56pm and doesn't arrive in Hungary's capital until 8.35am. Yes, that means it takes a few hours extra than conventional daytime train links, but that's actually the point – passengers will wake up fresh and early for a whole day's exploring Buda Castle or the Grand Boulevard, all without having had to fork out cash for a night in a hotel.
The sleeper train can whisk you from Prague to Budapest while it's dark, so you arrive in Hungary's great metropolis raring to go.
Talking of cash…the cost of the night train starts at a mere $42 per person. Be warned that those are the advance fares, which become available only three months prior to the scheduled departure time and then sell out fast. You'll have to get in early and book them using a service like 12Go.co to beat the crowds, particularly if you're going to be hopping around Europe in the popular summer months.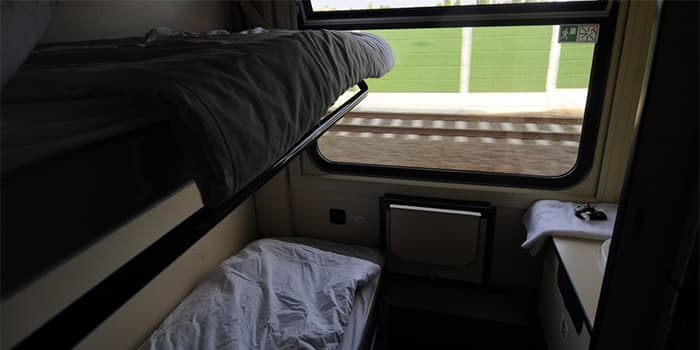 Of course, you can also up the cost of the ticket by choice. The cheapest sleeper fares are for the six-bed couchettes, which are hard-bottomed beds arranged in three tiers in quite cramped compartments. They do the job, but aren't the height of luxury. More money could buy you a place in a Standard Sleeper private room with just two beds, or a Deluxe Sleeper, which comes with the added frill of an ensuite shower!
Prague to Budapest by plane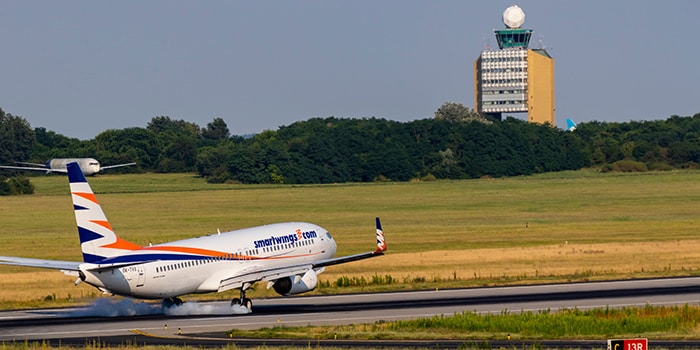 Time – 1 h 5 min (flight only)
Price – $27+
Comfort – 4/5
Perhaps you're in a hurry to hit the ruin bars of Budapest's Jewish Quarter? Maybe you haven't got much holiday to squeeze in Prague Castle and the great complexes of historic Buda Hill? You'll definitely want to consider booking a flight if time is a concern. It's the fastest way to complete the trip by a mile, with average travel times of just over an hour in the skies (about three or four hours total when you factor in trips to and from the airports).
A flight is the fastest way to go between Prague and Budapest, getting you on the ground in Hungary in just over an hour.
There are as many as four departures each day on the route, usually starting in the early morning and then staggered from midday into the late evening. They're run by a spread of different airlines. The priciest is typically the premium Polish flag carrier LOT, while the cheapest seats come with Irish low-coster Ryanair and Czech-owned budget company Smartwings. Those who book early using 12Go.co might be surprised to find tickets for as little as $27, though that's sure to get more expensive closer to take-off, and most likely won't include any checked baggage.
Your arrival point in Budapest will be the city's major Budapest Airport. From there, you can pick from a whole cascade of different transportations into the city centre. The dedicated express buses take around an hour to complete the transfer, costing 2.7 EUR ($3) each way. The train link takes half that and also costs around 2.7 EUR ($3).
Prague to Budapest by bus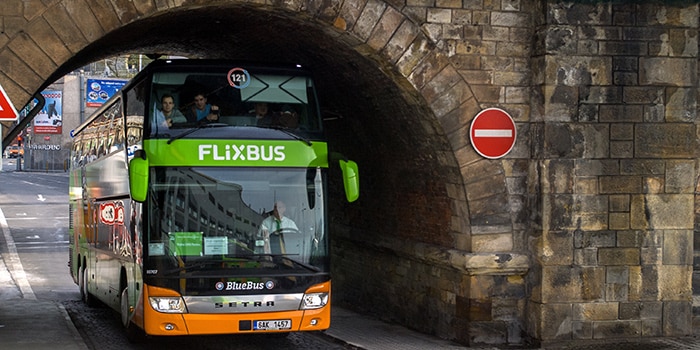 Time – 6 to 8 hours
Price – $17
Comfort – 3/5
The bus might not have the same allure as the train, or be as comfortable, but it's a solid choice for travelers who want to keep costs down. It's also a reliable option, with tens of various departure times throughout the day heading from Prague's large Florenc Central Station down to the capital of Hungary. Lots of those run the route direct, which means there's no need to change coaches as you go, with average driving times in the region of 7-7.5 hours.
Companies like Flixbus can be real bargains, offering some of the cheapest tickets for the trip between Prague and Budapest.
We'd recommend booking as early as you can and looking out for the best-known names in the business. One fine example is well-rated Flixbus, who are consistently competitive on the price front (base fares hover at just $19.50 per person), and come with as many as 30 individual trip options throughout the day, some of which travel through the night.
Your arrival point in Budapest is likely to be either Népliget or Kelenföld. They are both linked to the city's metro network, although both are also a few miles from the heart of the downtown, so you'll need to add on about 20 minutes to get to the main sights after stepping off the bus.
No matter if you bus your way to Budapest or whiz across the skies of Central Europe in a plane, this trip is a journey from one bucket-list city to another. Get ready to enjoy smoky goulash and stunning Art Deco bathhouses in Hungary's capital once you're on the other side…
---
Prague to Budapest FAQ
What is the cheapest way to get from Prague to Budapest?
The bus still comes up trumps for travelers on a budget. Tickets are often under $20, especially when you manage to book in advance using 12Go.co. That said, we'd also say check trains and planes. They can both be surprisingly cheap. For example, some airlines offer to whisk you to Budapest for just over $27. Meanwhile, a bargain night train can cut out the cost of a hotel, meaning you could save even more in the process of traveling.
What is the fastest way to get from Prague to Budapest?
Flying is the fastest ticket to the land of goulash and steaming spa baths for sure. The flight time from Prague to Budapest is just a whisker over one hour. Tack on the time it takes to get to the terminals, check in your bags, and navigate security, and you're looking at journeys of about four hours maximum.
Is there a high-speed train from Prague to Budapest?
Not really. However, the trains aren't painfully slow. They travel at a good pace across Bohemia and Moravia, but then stop a couple of times along the Danube before reaching Budapest. You're looking at travel times of around six or seven hours in total, which is just a few hours more than the plane when you add on the length of airport transfers and things.
How much is the train from Prague to Budapest?
The advance-purchase price of a train to Budapest from Prague sits at an attractive 21 EUR ($23) per person. That's the cheapest you'll get it for, because fares only increase the closer you get to departure. For the night train, it's possible to get a couchette sleeper for about $42, but those also mean buying tickets early via 12Go.co.
Is there a night train from Prague to Budapest?
There sure is. It's just one service each night, but with plenty of space in both six-bed couchettes and two-bed private rooms. The night train takes just over 10 hours to complete the trip, getting you into Budapest's big Keleti Station at 8.35am. It's the perfect choice if you're keen to dodge paying for a hotel and want to roll into Hungary nice and early on. During the summer months, we'd say book online in advance using 12Go.co to be certain of your place.
Is it better to fly from Prague to Budapest or take the train?
With a difference of almost three hours in the travel times between trains and planes, it all really depends on how much of a hurry you're in. There are two particularly scenic sections on the line between Prague and Budapest, through Moravia and then along the Danube Bend. It would be a shame to miss them if you're not following a tight schedule. However, on the flip side, planes can occasionally be as cheap as the locomotives but take just one hour to get you from runway to runway.
How useful was this post?
Click on a star to rate it!
Average rating / 5. Vote count: