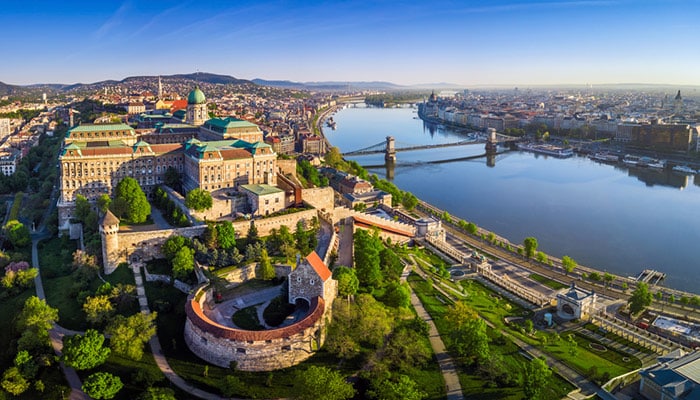 Draped over the hills and plains that roll around the Danube as it snakes through central-north Hungary, Budapest is the only real metropolis in the country. It's the heart and soul of the Magyar nation; a town of rambunctious ruin bars and wild nocturnal districts, of grand Habsburg-era palaces and stoic castles. The whole place is audaciously built on a series of sulphuric hot springs. They give Budapest its famous Art Deco bathhouses and spas, which are must for any first-time visitor. Beyond that, you'll get to glimpse the sprawling Hungarian parliament, wander UNESCO fortresses, and sample some of Europe's most hedonistic nightlife.
These days, Budapest is brimming with Airbnbs. From the happening Jewish Quarter to the historic Inner City, you'll find all sorts of places – think penthouse flats with castle views next to budget backpacker hostels. This guide aims to reveal some of the most enthralling neighbourhoods in the Hungarian capital, along with some of the hottest Airbnbs there are up for grabs right now. Let's begin…
In this Airbnb guide to Budapest: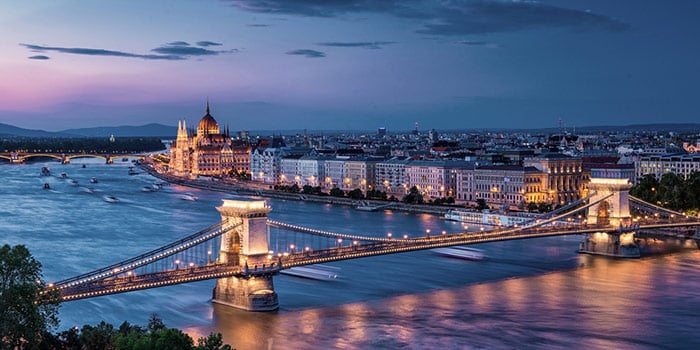 Is Airbnb legal in Budapest?
There's long been talk of regulating the Airbnb market in Budapest. But it's likely that travelers won't have to worry a bit, because all the mooted changes to the service are due to be the responsibility of property owners, not their guests. The platform remains 100% legal in the city, so feel free to get a-booking that dream apartment overlooking the Buda Hills. Some things to remember: You might be asked for a form of ID and could need to pay the city's tourist tax upon check-in. But that's just the same as in any traditional hotel.
Where should I stay in Budapest Airbnb?
Budapest can be split into two. On the western banks of the Danube is Buda. That's the home of the great Castle District (1) and green Taban (2), a place to scale citadels and stroll leafy parks overlooking the river. To the east is the main sprawl of the city: Pest. Go there to find the rollicking clubs of the Jewish Quarter (3), the proud Neo-Classical blocks of the Inner City (4), and the tourist hotspot of Terézváros (5). Újlipótváros (6) is an alternative that's growing in popularity, touting local vibes and some excellent brunch cafés.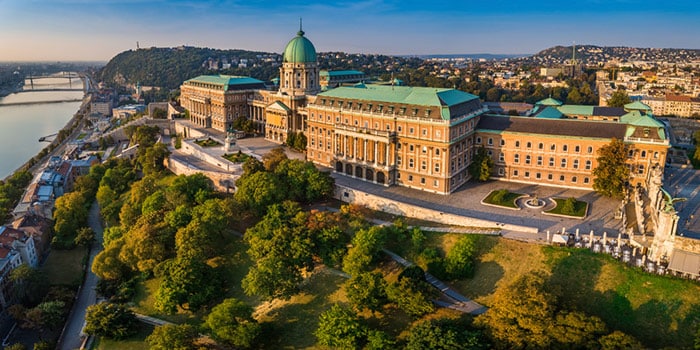 Castle District
Pros
Loads of sightseeing
Loads of history
Good views across Budapest
Cons
Very touristy
Disconnected from the lived-in part of the city
The Castle District is the grandest in Budapest. It's also known as District I, which should give you an idea of just how important its landmarks are. Among them is the UNESCO royal complex of Buda Hill, an erstwhile home of powerful Hungarian kings and queens, not to mention the emperors of the mighty Habsburg dynasty. The bulwarks of Fisherman's Bastion are another historical must, but also offer sweeping views of the snaking Danube River, while the beautiful Matthias Church is sacred ground that's seen the consecration of monarchs in its time. Downsides of Castle District are the prices and the distance from the buzzy quarters of Pest across the river.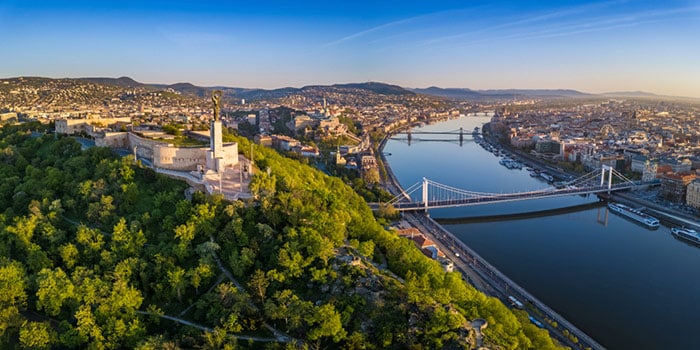 Taban
Pros
Lookout points
Quiet streets
Romantic
Cons
Disconnected from livelier Pest
No nightlife to speak of
Staying on the west banks of the Danube but shifting a little south of Buda Castle can whisk you to the tree-studded hills of Taban. A compact area, it's known for its great Citadella – a veritable symbol of the whole of Budapest that has unrivalled panoramas across the downtown. It's below that where you'll find the Airbnbs, tucked into the quieter side streets around the grand and opulent Gellért Thermal Bath. To sum up – this is a fine area for those in search of some peace or romance in Hungary's largest city.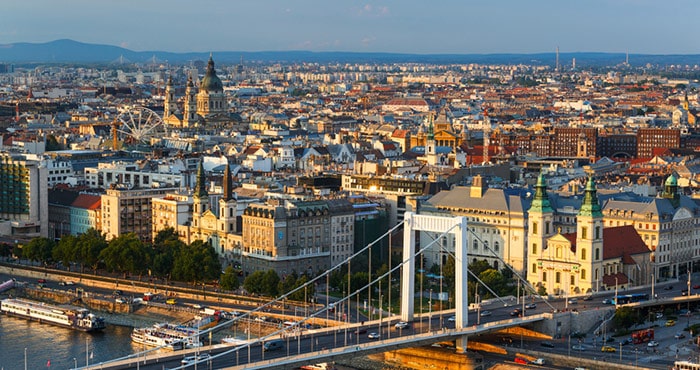 Inner City
Pros
Charming streets of cobblestone
Grand Neo-Classical architecture
Good access to Buda and Pest (both sides of the city)
Cons
Quiet a low-key nightlife
Unappealing riverside area
The Inner City – or District V – is a symphony of Neo-Classical architecture that dashes along the side of the Danube. It's a lovely place to wander, what with cobbled streets and café-filled plazas. The south-east edge of the hood hosts the iconic Central Market Hall, which is among the city's largest food courts. The riverside, meanwhile, has views of Budapest's great Liberty Bridge, along with plenty of outfitters offering Danube cruises. At night, the quiet side roads offer up the occasional surprise, in the form of jazz bars, blues venues and vintage speakeasy pubs.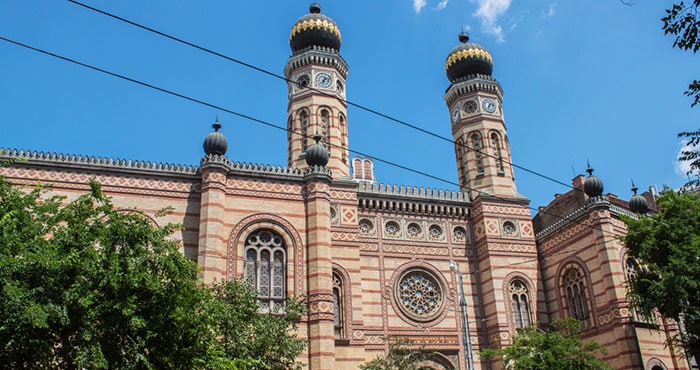 Jewish Quarter
Pros
The nightlife
The variety of restaurants
Amazing Jewish heritage sites
Body-packed goulash kitchens mingle with open-air food courts in the Jewish Quarter. The area is smack bang in the middle of the Pest half of the city, and comes with arguably the biggest array of tourist-friendly eateries and cafes there is. Mainstay sights are a little thin on the ground, but you won't want to miss the Dohány Street Synagogue (it's got a striking Holocaust memorial and sports a Moorish-Gothic design). More than anything, the Jewish Quarter is famed for nightlife. Many of Budapest's (in)famous ruin bars make their home here, with beatnik drinking holes, smoky mezzanines, and curious interiors scrawled with graffiti everywhere you look.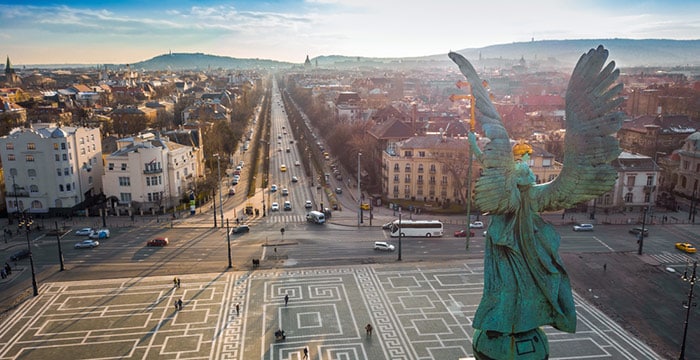 Terézváros
Pros
Great museums
Lots of landmarks and sights
Well-linked to the whole of the city
Cons
Lots of car traffic
Big boulevards and blocks that make it hard to walk around
This forever-busy cut-out of central Pest anchors on the gorgeous park-fringed avenue of Andrássy út. That's the vena cava of the capital as a whole, running all the way from the lawns and boating lakes of the City Park to the transport hub of Deák Ferenc tér. Some of the most intriguing tourist draws reside within the boundaries of Terézváros, including the haunting Terror House (a museum that chronicles the dark days of Stasi rule in Hungary) and eye-watering Heroes' Square (a majestic plaza topped with UNESCO statues that honor the seven Magyar tribes).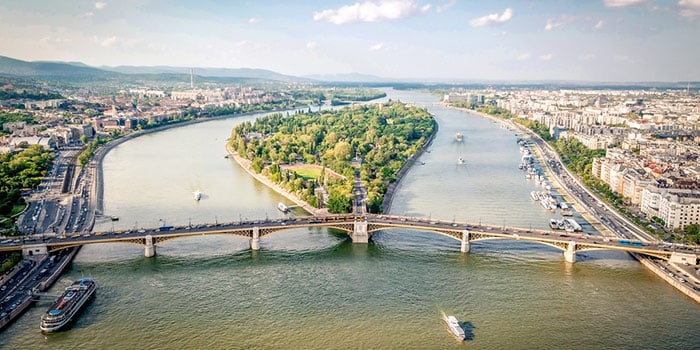 Újlipótváros
Pros
Central but quiet
Live with the locals
Fantastic cafés
Cons
No major landmarks
Not the biggest selection of Airbnbs
Once a workaday residential quarter, Újlipótváros – sat a little to the north of the colossal Hungarian Parliament Building – is slowly becoming something of a hipster favourite. The café culture of the main city is taking hold in these parts, and the streets seem enlivened by another boho roastery or Belgian beer bar every month. Proximity to Margaret Island on the Danube means you're never short of somewhere to go and chill, while Újlipótváros also boasts some of the most peaceful but still-well-connected Airbnbs in town.
Best Airbnbs in Budapest
Best Airbnb apartment in Budapest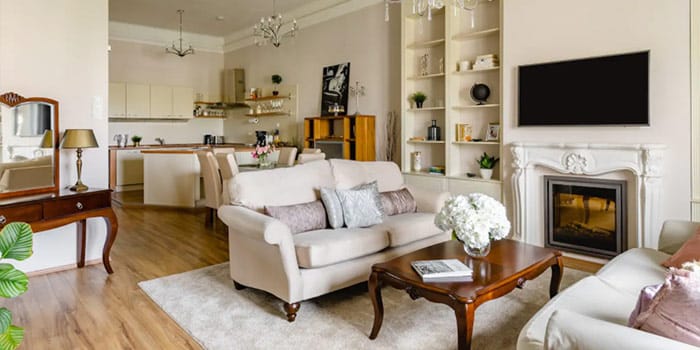 Breathtaking View and Hundred Square Metres of Exclusive Experience
Soaring ceiling heights and sprawling master bedrooms combine to give real space and luxury in this grand Plus listing that sits right on the side of the Hungarian Parliament Building – seriously, you can see it from the window! A fully-equipped kitchen is in the offing too, but all eyes are on the sumptuous living space, which has a vintage fireplace and classical furnishings.
Best Airbnb house in Budapest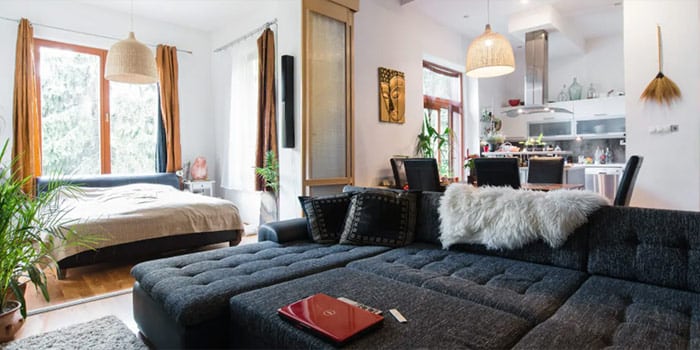 Modern House with Balinese Garden
In the far back reaches of the quiet Taban area on the chilled Buda side of the river, this two-bedroom house offers something a little different. Interiors are big, and anchor on a chic living room with a pull-down home cinema. Outside, things take a turn for the oriental, what with a leafy garden and a Balinese-style swimming pool.
Best Airbnb for families in Budapest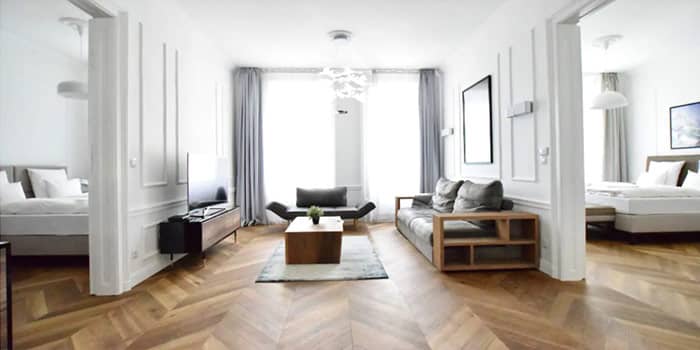 Luxury Apartment 104
There's an air of stripped-down minimalism to this deluxe apartment at the northern end of the atmospheric Inner City. That means visiting families can easily settle in and make their mark, all while enjoying private bedrooms (there are three in total) and lots of room to spread (the property clocks up 130 square metres). Towels, linens, and WiFi are all included, and airport transfers can be organised on request.
Best Airbnb for large groups in Budapest

Parliament View Terraces
There's plenty of pizzazz about this four-bedroom pad on the main boulevards running between Terézváros and the river. Sleeping areas are souped-up with zingy tropical prints and Frida Kahlo-style colours, while Pop Art dresses the halls and lounges. For big groups there's good news: The place has capacity for 16 guests, along with a huge dining room with elongated table.
Best Airbnb for budget stays in Budapest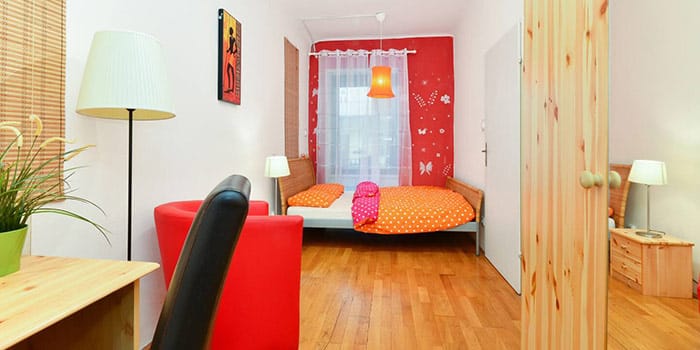 Cozy Private Room with the Town's Finest Offerings
Whoever said budget hostels have to be grimy? Well…they certainly haven't visited the sleek Miller Hostel of Budapest. Highly rated for its bright and airy rooms, it lists private doubles on Airbnb. The interiors are whitewash and real-wood floors with a touch of bold modern art and colour. Guests can also access a self-catering kitchen and dining area.
Is Airbnb cheaper than hotels in Budapest?
It's likely that you'll save a whole bunch of Hungarian forints by plumping for an Airbnb over a conventional hotel stay. Why? For starters, there are loads and loads of listings on the service these days, so you're bound to find one that's easy on the travel budget. What's more, you can make use of multi-room flats to divide up the cost of a stay between your entire party. Then come the hefty weekly and monthly discounts that are regularly offered by Airbnb hosts – anything between 25% and 50% is possible!

That said, if you're keen to be pampered from check-in to check-out, it might be a better idea to focus on classic hotel establishments. Airbnbs are more hands-off and private. They don't come with lobby bars and sumptuous breakfast buffets like, say, the Three Corners Hotel Anna. Book that and you'll also enjoy frills like daily room cleaning and air conditioning throughout.
Budapest promises sleepless parties in boho-chic ruin bars, immersive Communist history, grand bathhouses, and imposing castles, all topped off by hundreds of enticing Airbnb rentals.
How useful was this post?
Click on a star to rate it!
Average rating / 5. Vote count: