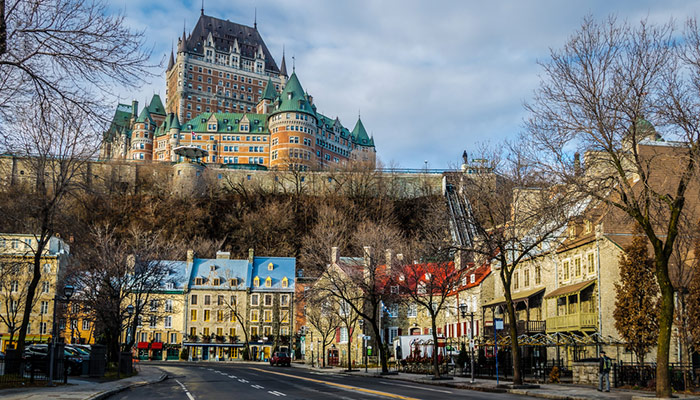 Quebec is one huge cut-out of Canada. It's the largest province and the second most-populous of the lot, sometimes feeling like a whole continent unto itself. The adventure potential is hard to overstate. This land rolls from the Alpine-esque valleys of the Haute-Gaspésie all the way to the ice-blasted tundra that crashes into Ungava Bay up north. Ski fields, roaring waterfalls, huge lakes – it's all there, waiting to be discovered. Of course, most visitors stick to the parts of Quebec we all know. They include the hockey-mad cityscape of Montreal and its poutine kitchens, along with UNESCO-tagged Quebec City and its chateaux spires. All of that comes wrapped in a unique culture that's part French, part Canadian, passionate about wine, fiercely proud, and extremely welcoming.
The arrival of Airbnb in Quebec has seen the coming of all sorts of enticing short-term rentals. From escape-the-Rat-Race chalets on the lakesides of Chibougamau to cool downtown homes in Montreal's beating core, you'll catch all sorts on the platform. This guide aims to offer some inspiration for your Quebec trip by revealing some of the top destinations in the province and some of the best Airbnbs overall. Let's go…
In this Airbnb guide to Quebec: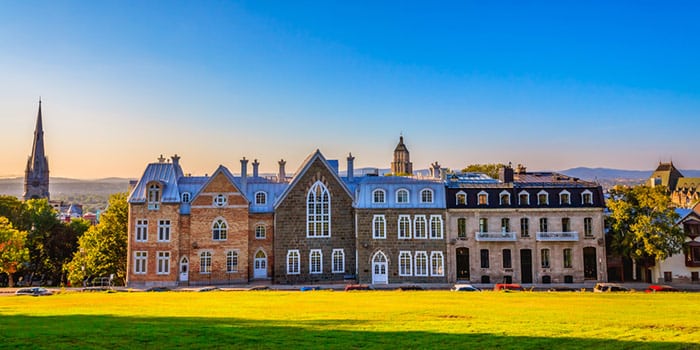 Is Airbnb legal in Quebec?
There have recently been some changes to the rules on renting Airbnbs in Quebec. They mean that every host must register with the provincial authorities before using the online sharing platform. All that only applies to short-term lettings – AKA: Properties that are rented for periods of less than 31 days at a time. The good news is that none of that should have an effect on how you use Airbnb as a traveler. You can still go a-searching for your deluxe ski lodges at the foot of the Mont-Tremblant slopes or your cool Quebec City condo, though you might now be asked to pay a small lodging tax on top of the total cost of the stay (it's usually around $2-3 per night).
Where should I stay in Quebec Airbnb?
Most travelers will look at Quebec and mark their first port of call right on the happening metropolis of Montreal (1). It's a cracking place to begin, with fantastic museums and immersive historic districts. Quebec City (2) is also worth a look in, for its 500-year history and acclaimed foodie scene (we hope you like bouillabaisse!). Outdoorsy travelers might be more drawn to the untamed wilds of the Gaspé (3) peninsula, where whales splash in the Atlantic and big mountains are dashed by old-growth forests. Mont-Tremblant (4) is Quebec's premier ski destination, but also a haven for hikers in the warmer months, while Gatineau (5) is a fine gateway to the Canadian capital over the provincial line in Ontario. Finally, you've got the well-to-do town of Magog (6) in the Eastern Townships, which are Canada's answer to the rustic villages of New England (yep, they're stunning in the fall).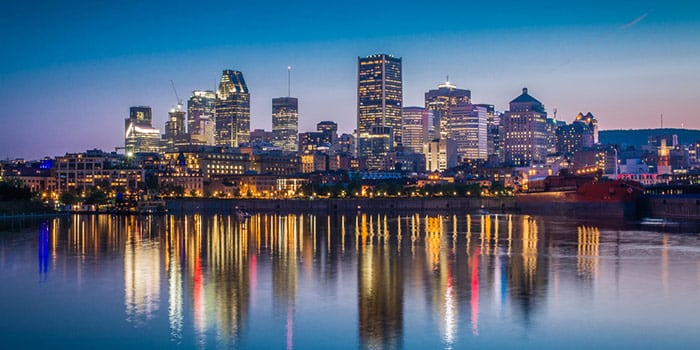 Montreal
Pros
Loads of cultural events
Dining and nightlife
A major business hub
Cons
There are better places for nature lovers
Can be really expensive
Montreal is Quebec's mainstay tourist draw and its largest city. Straddling a wide section of the St Lawrence River, it's a beating, buzzing metropolis that has a formidable yearly festival line-up, from the International Jazz Festival in June to Montreal Gay Pride in August. There's history in the immersive 18th-century streets of Old Montreal, backed up by a boho café culture on the slopes of yuppie-fav Mont-Royal. It's also the province's major business hub, so the likely first stop for working travelers.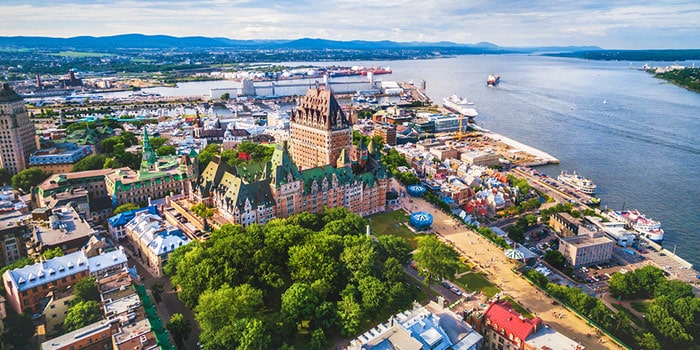 Quebec City
Pros
Stacks of Quebecois history
Enchanting neighborhoods
French-influenced dining
Cons
It's very expensive
Gets busy in the summer months
Crowned by the Harry Potter spires of Le Chateau Frontenac (a glorious hotel raised back in the 1880s by the Canadian Pacific Railway), Quebec City is the provincial capital and the place where it all began for Quebec. You can still explore the area first settled by Samuel de Champlain way back in 1608 by delving into the fairy-tale Place Royale, which looks like it's been plucked straight from some romantic French village on the Dordogne. Most travelers spread their time between the grand parks and buildings of the Haute-Ville and the more enchanting Basse-Ville, so look for an Airbnb in those to be in the middle of it all.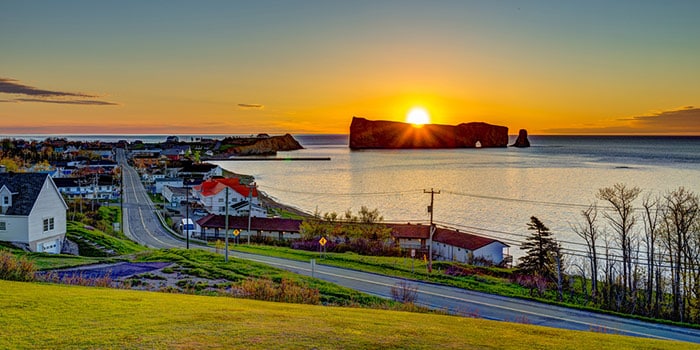 Gaspé
Pros
Loads of outdoors adventure
Stunning coastline
Beautiful mountainscapes
Cons
Hard to get to – it's far out east
Changeable weather
The Gaspé, short for Gaspésie, juts out from the eastern end of Quebec into the wild Atlantic Ocean. It's an untamed corner of the province, beset by hulking hills and ancient pine forests that rise like spears around the lakes and the meadows. The coastline is particularly spectacular, especially at the point where the jaw-dropping Percé Rock emerges like a sleeping giant from the Gulf of St Lawrence. You can go boating to see gannet colonies and spot whales, or walk salt-washed bays without another human in sight in those parts. The inland Gaspésie is dominated by the Chic-Chocs Mountains – an off-piste ski mecca by winter, a hiking haven by summer.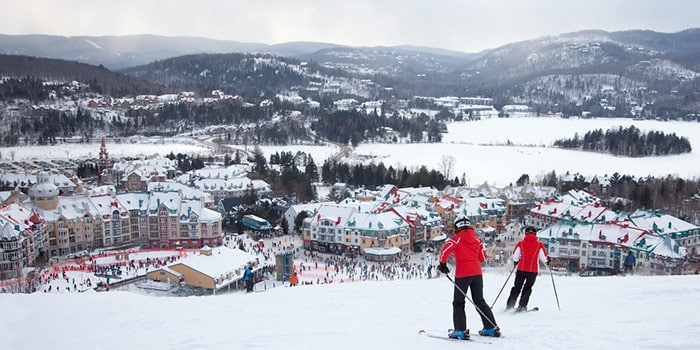 Mont-Tremblant
Pros
Skiing!
Endless hiking options for the spring, summer, and fall
Easy to reach from Montreal
Cons
Really pricy in the height of the winter season
Town is divided in two: The ski resort and the town center
A quick 1.5 hours' drive up the main 15 highway from Montreal can whisk you to the famous ski town of Mont-Tremblant. It's the most accomplished ski field in the province, boasting 102 individual pistes over 645 meters of vertical descent. If you're here to hit the slopes, be sure to search for an Airbnb in the Pedestrian Village at the base of the lifts. It's actually around four miles north of Mont-Tremblant town itself. Summertime sees the whole place transform into a hiker's paradise, with ramblers coming to explore the vast Parc de Mont Tremblant reserve.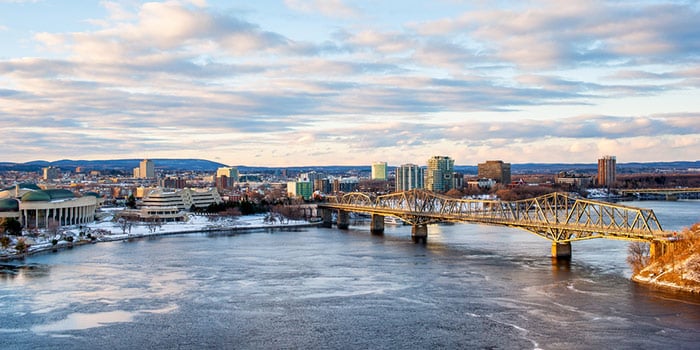 Gatineau
Pros
Close to Ottawa
Small-town charm
Lots of cross-country skiing
Cons
It's a bit too small for some people
No major landmarks and sights
Gatineau is just about as close as it's possible to get to Ottawa without actually hopping across the provincial line into Ontario. It's only the bends of the Ottawa River that divide it from Canada's capital, which means you get all the benefits of urban life while still enjoying distinctly small-town vibes. Yep, this one's about charming neighborhood cafés and enjoying broiling bouillabaisse in traditional Francophone taverns, all in the vicinity of the wiggling Nordic ski paths of Gatineau Park, and the bohemian art town of Wakefield. It's also a great base for business travelers who don't want to stay right in the thick of things in downtown Ottawa.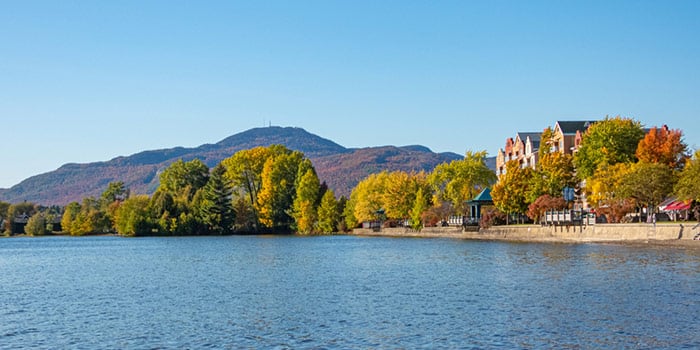 Magog
Pros
A fine place to escape the buzz of Montreal
Great wine
Charming countryside villages
Cons
This area is always expensive!
Gets really busy in the fall – the prime forest-watching season
Magog is a favorite escape for Montrealers looking to taste the laid-back life of the Quebecois country. Hemmed in by waterways and lakes, it sits just south-east of the big city, amid a string of charming villages known collectively as the Eastern Townships (the Cantons de l'Est). Affluent and lovely, they include Eastman and Knowlton, where the vibes are palpably New England, in both the surroundings and the Airbnbs. Magog itself is a bit more upmarket than most, with grand mansions lining its quaysides, golf courses in abundance, and vineyards aplenty.
Best Airbnbs in Quebec
Best Airbnb apartment in Quebec

Le St-Alexis Old Montreal Loft
Score yourself a truly bohemian urban pad by booking this stylish loft in the depths of Old Montreal. The town's best nightlife and most enthralling streets are right outside, but there's also plenty of enchantments within, from the exposed-brick walls to the retro furnishings. We particularly like the bathroom, which reveals some of the historic building work and entwines that with walk-in showers and big mirrors. Very cool indeed.
Best Airbnb house in Quebec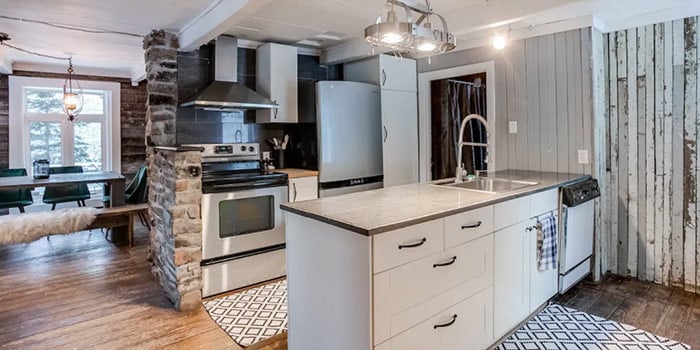 Pretty little Canadian cabin
The name sums this one up. It's pretty: Just check out those painted eaves and Alpine wood walls. It's Canadian: The lakes and woods and ski runs of Mont Blanc and St-Agathe are the neighborhood. The inside belies the rustic exterior, with a fitted kitchen and a breakfast bar, an open log hearth, and a beautiful outdoor deck for those post-hike meals al fresco.
Best Airbnb for families in Quebec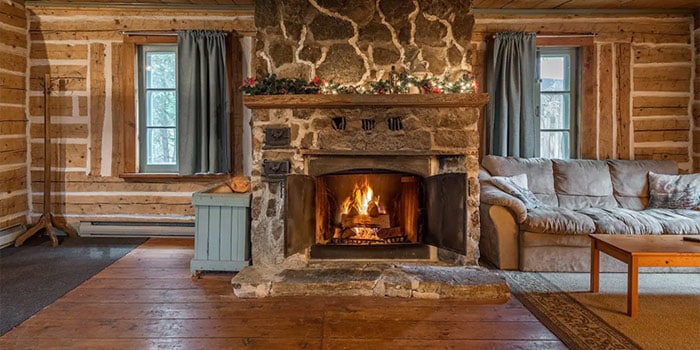 Ancestral Wooden Chalet – St-Gabriel de Brandon
Cozy hardly does this one justice. It's simply magical at every turn, from the crackling log-fire hearth to the book-filled bedroom and its crooked floorboards and low-hanging eaves. Located in the bucolic lake lands and hills north of the St Lawrence River, it's a fine country escape for the whole family. When you're not hiking or boating, you can be snuggled up with Netflix on the large flat-screen TV. The property sleeps seven across four bedrooms.
Best Airbnb for large groups in Quebec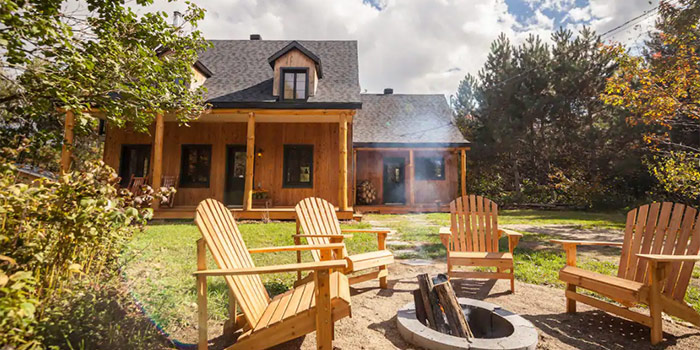 Chic Chalet des Chutes
This lovely chalet can fit up to 12 guests at any time. It boasts a large, grassy garden with a fire pit, a cozy lounge warmed by a log fire, and a big kitchen that's totally open plan. There are five individual bedrooms in all, and the location means you'll be close to the wonderful Chutes Mont-à-Peine Regional Park – home to waterfalls and ancient forests.
Best Airbnb for skiing trips in Quebec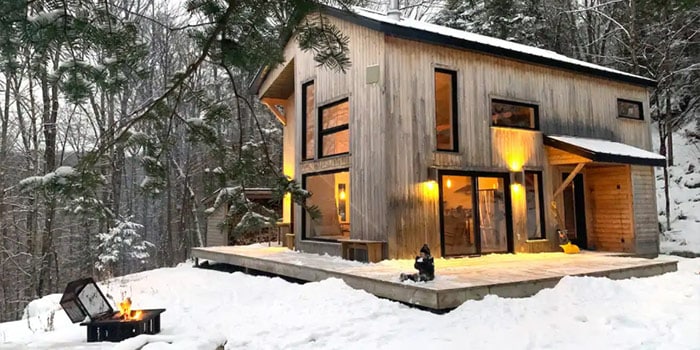 Lumineuse Petite Maison Scandinave en forêt
A ski lodge with a difference is what's on offer at this forest-shrouded pad near Mont-Tremblant. Built in the style of a Nordic cabin, it's clad in rough timber and surrounded by the wild woods. Inside, it's uber-modern and stylish, with big windows and a come-sit-by-me wood stove. The ski runs of the main resort are only seven minutes' drive away, too.
Is Airbnb cheaper than hotels in Quebec?
There's a good chance that it will be. Quebec isn't known for its cheap hotels, and destinations like Montreal and Quebec City can be downright expensive in the middle of summer when there's a festival on. That's why Airbnb is always worth a look in. These sorts of stays don't come with the same hands-on service as hotels, which means they'll often cost less per night. They also allow you to pack in more people, which means you can divide the cost of one Airbnb rental between five or 10 guests, rather than booking multiple suites.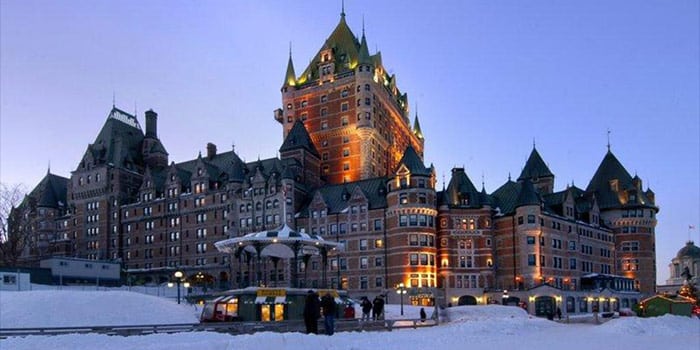 The downside is that you won't be pampered from the moment you check-in. That's a luxury reserved to managed establishments and resorts. The uber-famous Fairmont Le Chateau Frontenac Hotel can certainly deliver on that front. It's arguably the most iconic hotel in North America, with four stars and a gorgeous faux-Gothic design. Inside, there's a pool, a health center, and a grand dining room. Wowza.
Whether you're planning to ski the pistes of Mont-Tremblant or explore the historic walks of 500-year-old Quebec City, this guide to the best Airbnbs in the province is a great place to begin.
How useful was this post?
Click on a star to rate it!
Average rating / 5. Vote count: