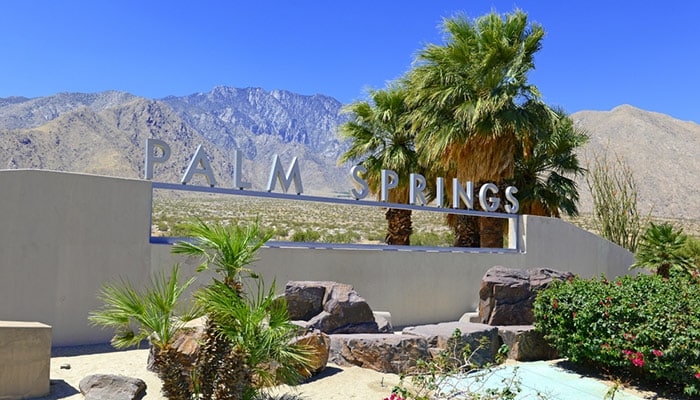 Gleaming like a desert oasis in the dusty reaches of the Coachella Valley, Palm Springs is one of the last pitstops for that West Coast R&R as you head into the Wild West from LA. It never disappoints. The onetime stomping ground of Elvis and Sinatra, this star-studded retreat of swaying palm trees and rolling golf courses is the perfect place to go for some serious chill time in the Golden State. The hotels are all pool-ready and packed with cool cocktail bars. There are retro diners and drinking holes by the bucket load. You can hike the rugged Tahquitz Canyon and the ranges of San Jacinto, drift over the peaks on panoramic gondolas, or launch expeditions to the strange Joshua Tree National Park. Crack out the sunscreen and ready the swimwear, because this one's going to be a real adventure…
There are some legendary hotels and resorts in this corner of California, some of them dating back to the time of the Rat Pack. However, an Airbnb in Palm Springs could be a fine alternative, especially if you like the sound of extra privacy and some lower nightly rates. That's where this guide comes in. It offers insights into the best areas for an Airbnb in this Cali chill town in the desert, and some tips on the top properties on offer today.
In this Airbnb guide to Palm Springs: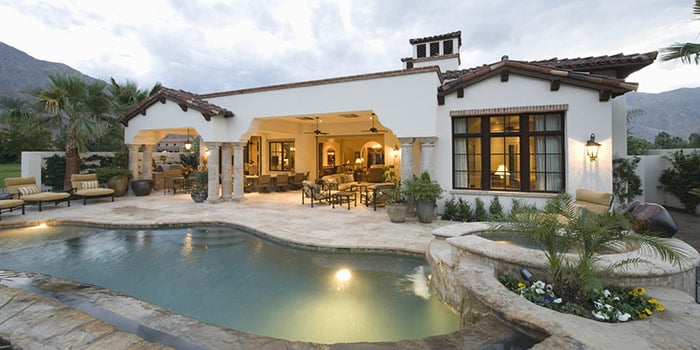 Is Airbnb legal in Palm Springs?
Airbnb is totally legal in Palm Spring. Like in most of the USA's top vacation spots, there are some regulations on what qualifies as a short-term rent. What's more, the local tourism authorities cap the number of nights every property can be rented at around 30-40 each year. All of that's the responsibility of the host, though. If you are really worried, you can always drop them a message to double check that they have the right registration papers and whatnot. Then it's simply all about seeking out that perfect desert shack or cool motel suite beneath the palm trees and the San Jacinto peaks.
Where should I stay in Palm Springs Airbnb?
We'll start our search for the best Airbnb areas in Palm Springs at the famous Historic Tennis Club (1), which is where it all began for this Rat Pack resort back in the 50s. The Downtown (2) beckons just on the edge of that, with its diners and casinos and clubs – the beating heart of Palm Springs. Midtown (3), meanwhile, is to the east, offering a less-expensive corner with lots of motels. Big-name celebrities straight out of Hollywood have long been vacationing in the luxury mecca of Old Las Palmas (4) to the north, but other A-listers will prefer the privacy that comes with The Mesa (5) and the exclusive Andreas Hills (6), which sit further south in the seclusion of the canyons and mountains.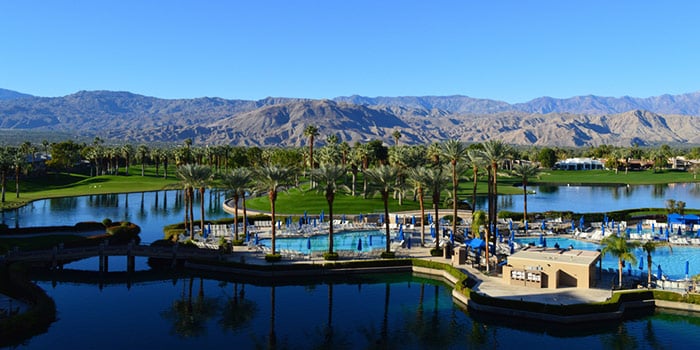 Historic Tennis Club
Pros
Very prestigious
Upscale dining
Fantastic spas
Cons
Very expensive
Dominated by luxury hotels
The Historic Tennis Club is the old core of Palm Springs and, just as the name implies, the most venerable part of the resort. It's got 11 registered landmarks and those iconic streets topped by tropical trees and flanked by whitewashed villas. The anchor of it all is the grand Palm Springs Tennis Club, which has hosted A-listers in its opulent lobby bars and quintet of whirlpool spa baths since opening in the 1930s. Boutique hotels are the norm, high-class haute cuisine is on the menu, golf and pampering are the activities of the day…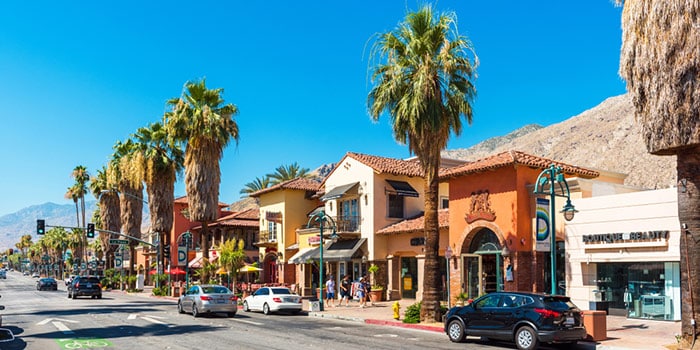 Downtown
Pros
The shopping hub of Palm Springs
Lots and lots of dining
Great nightlife
Cons
It's always busy
Mainly hotels, so not too many Airbnbs
Downtown has led the charge of Palm Springs's 21st-century regeneration. It's now the beating hub of the resort, with the creative retail precincts of the Uptown Design District and the eclectic shopping of VillageFest's nightly bazaars topping the bill. There's dining by the bucket load – check N Palm Drive for hearty Americana diners and BBQ joints alike. The nightlife is bumping too, what with mega casinos and tequila lounges rubbing shoulders. Basically, it's the place to be if you want to feel the energy of Palm Springs.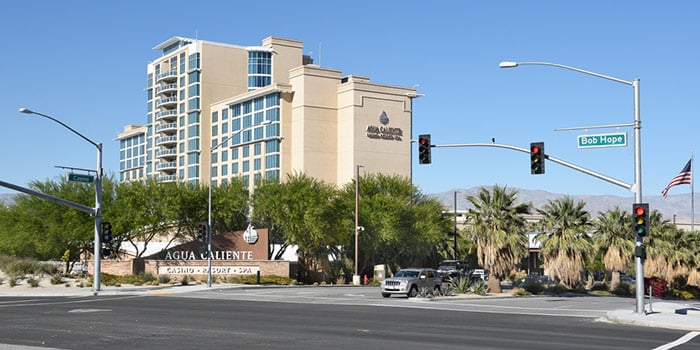 Midtown
Pros
Affordable
Quiet
Bargain shopping
Cons
You'll probably need a car to make the most of your trip
A bit ugly
Midtown might be right next door to its vibrant compadre in Downtown but it's a much less in-your-face affair. Awash with low-rise motels and drive-in strip malls, it's not about glitz and glamour but rather lived-in blocks that roll to a more laid-back feel. It's all the cheaper for that, too, and you can often find some of the best bargains on Airbnbs in these parts. You'll also find affordable shopping, some famous casinos, and a huge convention center.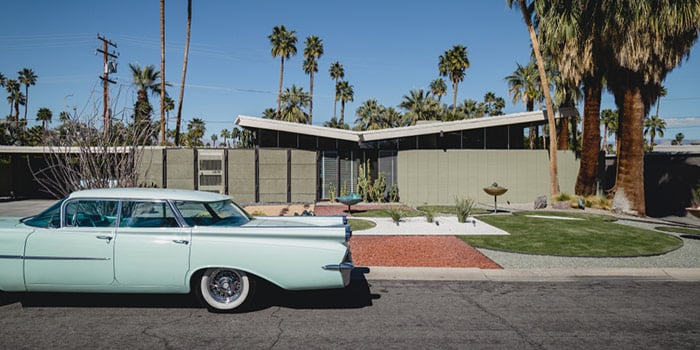 Old Las Palmas
Pros
A celebrity favorite
Close to vibrant Downtown
Stunning rental options
Cons
It will cost to stay here!
A little cliquey
Old Las Palmas twinkles and shines to the north end of Downtown with its stunning villas and estates. It's the old playground of the rich and famous, and a reputed holidaying spot for the likes of di Caprio and others. So, be sure to bring along the celeb-spotting glasses and get ready to delve into one seriously chic mix of properties. It's essentially an enclave of cacti-sprouting villas with pools and elegant 50s houses shimmering in white! The liveliest part of the quarter is along North Palm Canyon Drive, where it sort of intersects with the happening concept stores of the Uptown Design District.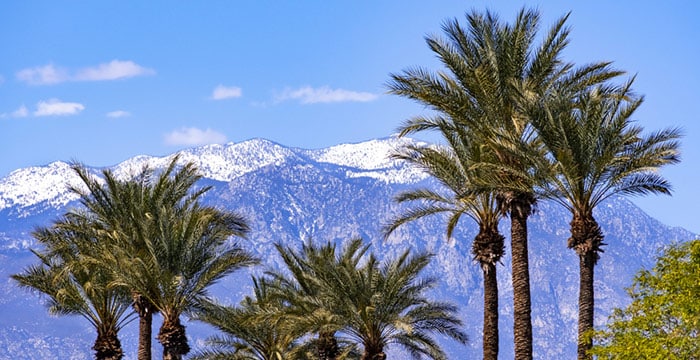 The Mesa
Pros
Peaceful neighborhood
Charming homes with a Mexican feel
Close to the wilds of San Jacinto
Cons
A little posh for some
Doesn't get as much sun as the rest of the valley
This charming wedge of south Palm Springs sits in the shadow of muscular Mount San Jacinto. It's at once residential and filled with fun, offering Airbnbs in characterful adobe homes that mimic the age-old Mexicana traditions of the Californian desert. Many of them have been developed into luxurious pads with a modern rancher feel, swimming pools, and huge living spaces. The blocks are largely peaceful, but the buzz of E Palm Canyon Drive is just a short walk away.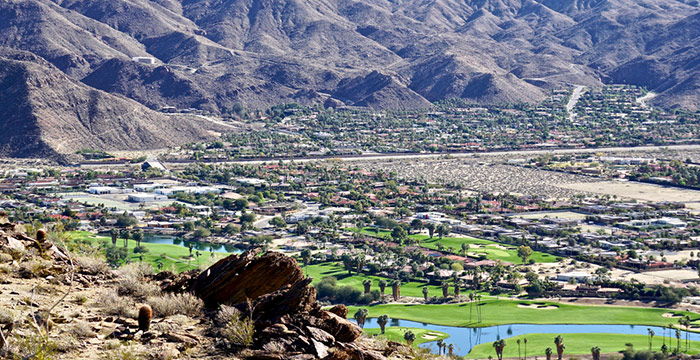 Andreas Hills
Pros
Jaw-dropping views
Luxurious Airbnbs
Close to the mountain trails
Cons
Very expensive
Really quiet compared to the center of town
If you're drawn to Palm Springs by the promise of dramatic vistas across the San Jacinto Mountain and hiking in the Californian canyons, you could do a whole load worse than an Airbnb in the lovely Andreas Hills. (It's got loads of trailheads and is super close to the nature reserves.) Once a wild area of ranchers, it's also now considered one of the most upscale areas of the city. The cul-de-sacs are quiet and pretty, with handsome mansions that overlook the manicured greens of the prestigious Indian Canyon Golf Course. It won't be cheap, but it will be luxurious.
Best Airbnbs in Palm Springs
Best Airbnb apartment in Palm Springs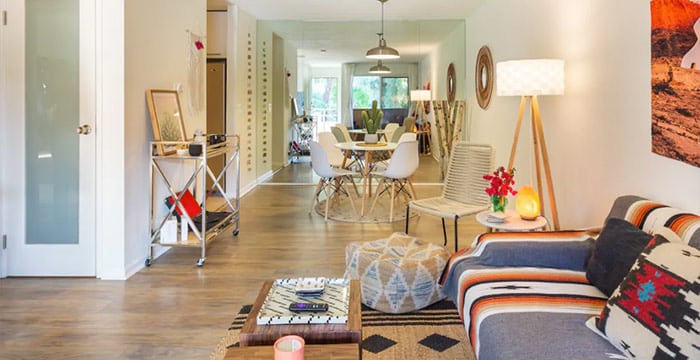 Palm Springs Five Minutes to Downtown
A one-bedroom getaway pad in the dusty desert to the north of Palm Springs, this Airbnb Plus oozes style and character. There are touches of locally inspired art – think cacti prints and murals of the great Wild West canyonlands – along with some quirky retro pieces that hearken back to the heyday of the 1950s. It's also conveniently located right next to Palm Springs International Airport.
Best Airbnb house in Palm Springs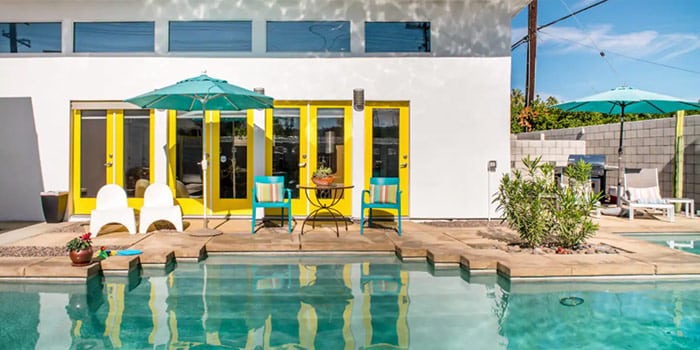 Relax Poolside at a Colorful Oasis
Kick back, grab a cold mojito, and stretch out on the polished concrete terraces that roll around your private pool – that's all a possibility in this uber-cool home rental. It's small and compact, with enough space for two guests. But there's stacks of character packed into that, what with daffodil-painted folding doors and a 1970s-inspired kitchen-diner. There are also bikes included in the price.
Best Airbnb for families in Palm Springs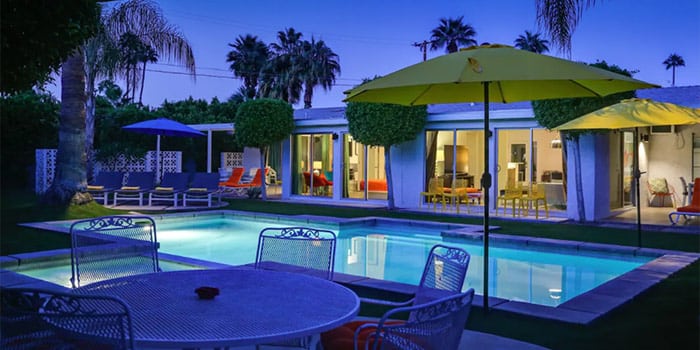 Palm Springs Poolside Retreat
this highly rated pad in the Midtown area of Palm Springs not only gets you right into the heart of the resort, but it also offers a few welcome frills for cooling off in the Coachella heat – we're talking a large outdoor pool and plenty of shaded lazing areas in the garden. It's the ideal size for a family crew, spreading across four separate bedrooms that have space for up to eight guests.
Best Airbnb for large groups in Palm Springs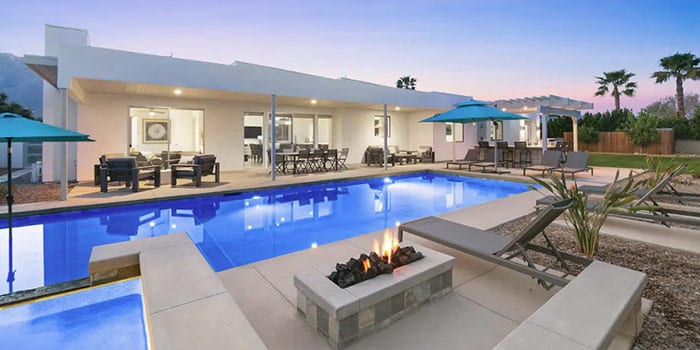 Roxy Palm Springs
The Roxy villa is a real blast from the past. It looks back to the age when Palm Springs was a jet-setter escape in the desert, sporting a sleek Bauhaus look and a gorgeous pool in the grounds. Mod cons bolster it for use in the 21st century. They come in the form of a cutting-edge outdoor BBQ kitchen and bar, along with an inset fireplace and a huge designer kitchen with a breakfast isalnd.
Best Airbnb for boutique stays in Palm Springs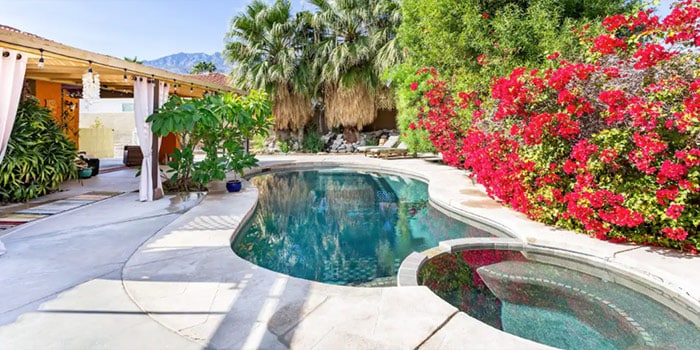 Soak up the Poolside Relaxation at a Tiki Island Retreat
There's a new breed of edgy boutique B&B in Palm Springs. This Airbnb listing offers a room in one of them, which channels an exotic Polynesian Tiki vibe to create a tropical oasis in the midst of the resort. The Carib-cool interior is lovely, but it's the outside pool and lush garden that really makes it a special pick.
Is Airbnb cheaper than hotels in Palm Springs?
Palm Springs isn't the cheapest place to vacation in the Golden State. However, you can often save a packet of dollars for the casinos and the green fees by choosing an Airbnb over a classic hotel. The reason for that is mainly down to the fact that these pads rarely come with the same hands-on level of service and pampering you get in a more traditional stay. They're also usually self-catering, so there's less money spent on nights out, and you can get bigger pads to share the cost with more people.

They aren't the best option if you're keen on being looked-after and want the height of hotel service, though. To get that, you could fork out a little more and opt for somewhere like The Saguaro Palm Springs. It's a huge resort that anchors on a central pool and comes shaded with lanky palm trees. Guests can pick from a range of suites that have sweeping mountain views and enjoy frills like room service and an on-site bar.
Whizz out of LA and leave the Pacific Ocean in the dust. Palm Springs is calling, complete with gorgeous golf clubs and soaring mountains and retro resorts dating back to the age of Frank Sinatra.
How useful was this post?
Click on a star to rate it!
Average rating / 5. Vote count: