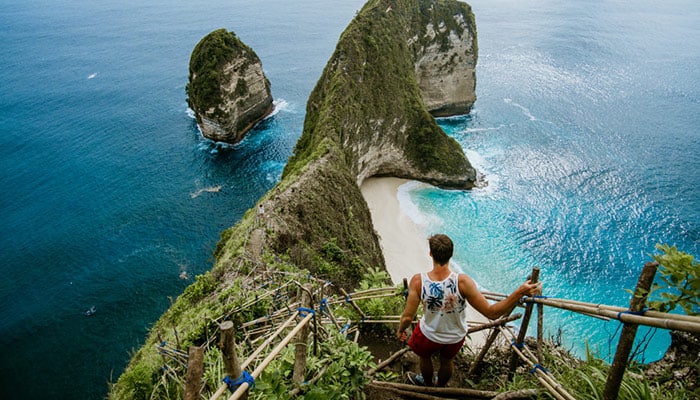 A jewel-shaped island in the heart of the Indonesian archipelago, Bali is unquestionably the country's biggest holiday destination. It beckons surfers with gnarly reef breaks and glassy rollers between Kuta and the Bukit Peninsula. It tempts culture vultures with mystical and ancient Hindu shrines. It calls to foodies with peanut-topped gado gado salads and tempeh skewers and kopi luwak coffee (the most expensive on Earth, apparently). Yep, Bali is a land where you can laze on the beachfront, carve up waves, hike smoke-belching volcanos, be pampered in spas, and party the nights away. It's whatever you want it to be.
Airbnb in Bali offers a whole load of rental options and accommodation types between the surf-washed beaches and the emerald rice paddies of the so-called Isle of the Gods. They run the gamut from budget-friendly hostels to chic pads with fibre internet aimed at digital nomads. There's also an abundance of family villas with pools and chic apartments close to the happening walks of areas like Kuta and Seminyak. Let's take a closer look…
In this Airbnb guide to Bali: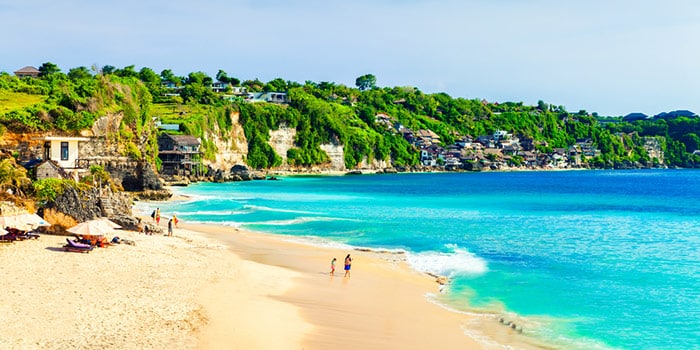 Is Airbnb legal in Bali?
There are no laws against using Airbnb on the island of Bali. Go ahead and get booking those deluxe villas down by the shores of Kuta. Start searching for your timber-built cabanas amidst the misty jungles of Ubud. The local government does ask that all owners register their properties. But that's on them, not you. It's also easy to check that everything's above board. The information will either be noted in the description of the listing online, or you can simply message your host to double check. Also bear in mind that you might be asked to present an ID on arrival and pay a local tourist tax, just as you would in a hotel.
Where should I stay in Bali Airbnb?
Bali is a big island. Most travelers set their sights on the south coast. Famous resorts and surf towns there include Kuta (1) – the liveliest of the lot – and Seminyak (2) – mainly reserved for luxury seekers. There's also Canggu (3) a tad further west, where digital nomads and flashpackers are the resident crowd. Those dreaming of the iconic surf breaks that bless Bali's coastline throughout the year should look to Bingin Beach (4) and the Bukit Peninsula that's even further south. Alternatively, there's the eco-friendly Airbnb offering amid the yoga studios and art galleries of Ubud (5), the romantic stays in Lovina (6) up north, and the less-trodden beach villas around Padangbai (7). More five-star luxury awaits over in Nusa Dua (8), close to arguably the most beautiful sands on the whole isle.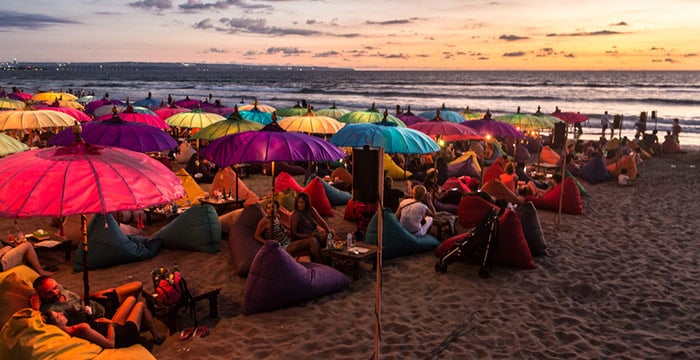 Kuta
Pros
Nightlife
Cheap
Great for learning to surf
Kuta is the heady, hedonistic hub of south Bali. The stomping ground of partiers, Aussie surfers, backpackers, and stag dos, it's the place to go if you're looking to let loose and spend your evenings glugging bucket cocktails and beers. The town is a maze of winding alleys barely big enough to fit the stream of scooters that purr this way and that. Much of it is dominated by traveler hotels and warung (traditional Indonesian kitchens), along with ramshackle markets that sell knock-off fashion wear and surf gear. Talking of surf…Kuta Beach is famed around the globe as one of the top spots to learn the sport, thanks mainly to its small and manageable waves. After ocean sessions, the action shifts to Legian Road, where Sky Bar and the Engine Room rumble until the early hours.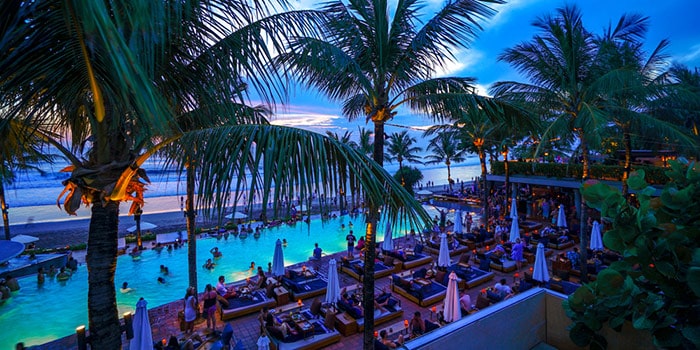 Seminyak
Pros
Stylish bars and restaurants
Lively beachfront with decent surf
Cool sunset bars
Cons
Expensive
Extremely touristy
Skirt the Bali coastline north-west from Kuta and you'll soon come to the refined and luxury enclave of Seminyak. This is where the backpacker pubs drop off and chic Balinese spas and five-star hotels begin to adorn the streets. It's long been a vacationer's mecca, mainly for the yellow-sanded beachfront that goes for a whopping 2,000 metres along the shore. That's laced with uber-cool beach bars that become a hubbub of life at the sunset hour. It's also a good surf spot for beginners and intermediates.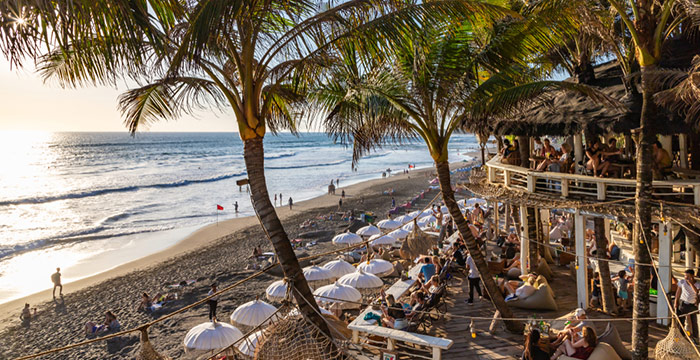 Canggu
Pros
Awesome cafes
Great long-term Airbnb options
Co-working hubs aplenty
Cons
Packed with digital nomads
Hard to get around without a scooter
Canggu seems to have been ordained as the heir apparent to Thailand's Chiang Mai sometime in the last decade, crowning it as the digital nomad hub of Southeast Asia. Cue countless Scandi-cool cafés and organic eateries serving chia-topped poke bowls and veggie burgers. Cue oodles of artisan bakers, co-working hubs and roastery cafes. The district extends a long way inland, through an ever-dwindling patch of rice paddies. However, the hub of it all is Batu Bolong Beach, which touts some great surf points and a happening nightlife scene.