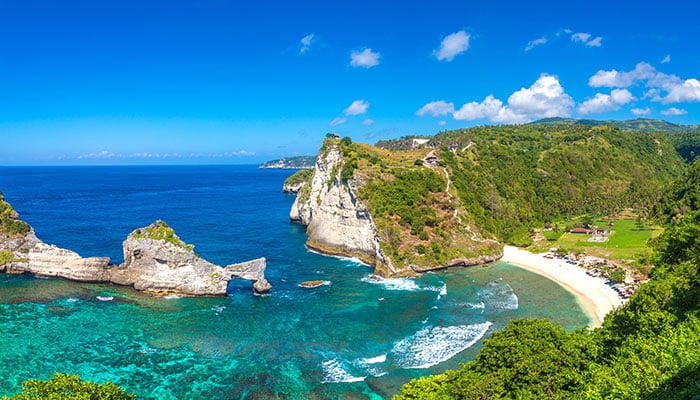 Nusa Penida is something of a wilder, chilled little bro of Bali. It has plenty up its sleeve. From visions of Instagram-famous Kelingking Beach to the glorious white sands of Pandan, meetings with manta rays to rustic eco stays in the jungles. All that keeps a steady stream of travelers coming over from the bustling Isle of the Gods. Bali is the only real jump-off point for exploring Penida's hidden riches.
The popularity of the route, and the fact that it's only 15 miles as the crow flies, means that planning your trip between the two isles shouldn't be much of a chore. Just bear in mind that journey times can change a lot depending on where in Bali you set out from. Let's take a look at all the travel options…
Bali to Nusa Penida by Speedboat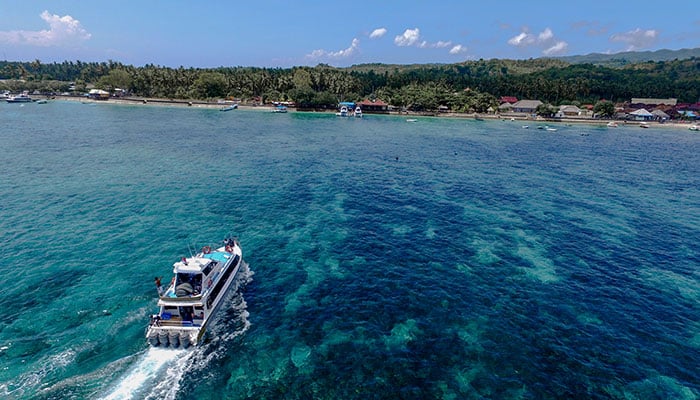 Time – 30 minutes (crossing only)
Price – $12+
Comfort – 4/5
Speedboats now dominate the route between Bali and Nusa Penida. They've fully taken over from the slower boats, which is good news all around since the older vessels not only took a whole load longer to get from port to port but weren't the safest way to travel anyhow – tales of capsizings and leaky hulls used to be commonplace. No more! New, nifty vessels now connect the two islands nearly 30 times per day, with departures starting as early as 3am and finishing after 5pm. You'll be spoiled for choice.
There's a hodgepodge of different companies to pick from. They're all pretty much the same in terms of service and all use similar vessels. Some do score better when it comes to punctuality, though – the boats run by El Rey Fast Cruise, Golden Queen, and Idola Express seem to get from A to B without too many delays. Those looking to take the earliest ferry in the day to get over to Penida before the crowds arrive will be limited to departures with Semaya One. The last departure of the day is run by Angel Billabong.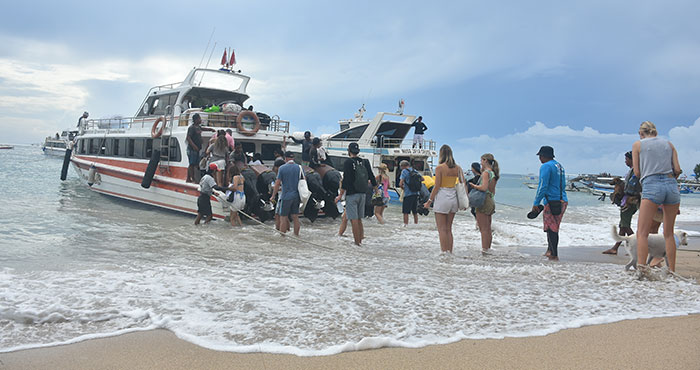 Speedboat connections link Bali's east-coast ports with Nusa Penida 28 times per day, with connections from the very early hours onwards. 
One of the main things to consider is where you want to leave Bali. There are only two ports on the menu. The first, and the one that hosts 90% of the departures for Nusa Penida, is Sanur. That's on the east coast of the island, within easy striking distance of Denpasar and the major resort strip of Kuta and Seminyak. However, there are also around two or three departures out of the port in Padang Bai, which is better if you're exploring northern Bali, Ubud, or connecting to Penida from the Gili Islands. Arrivals are mostly into Penida's Banjar Nyuh Harbour, but check that because some boats will go to Sampalan Beach on the north coast or private speedboat piers elsewhere on the island.
The ride on the fast boats is comfy enough but can get a bit wobbly in rougher seas. That shouldn't be a dealbreaker, though – the trip is a mere 20-40 minutes in total. All boat companies have the same baggage policy, allowing up to 30kg per passenger. Your luggage will usually be stowed under waterproof coverings on the roof of the vessel for the duration of the ride.
To sum up, if you're in a real rush to see T-Rex beach and dive under the reefs at Toyapakeh over on Nusa Penida, then be sure you book the speedboat. That's best done online and in advance using 12GoAsia since these quick boats are now the main way to get across from Bali and can get booked up fast in the peak season or during national holidays. More practically speaking, bagging a ticket for a specific time means you'll be able to rock up at the port and skip those long queues at the kiosk. 
Bali to Nusa Penida by Taxi and Speedboat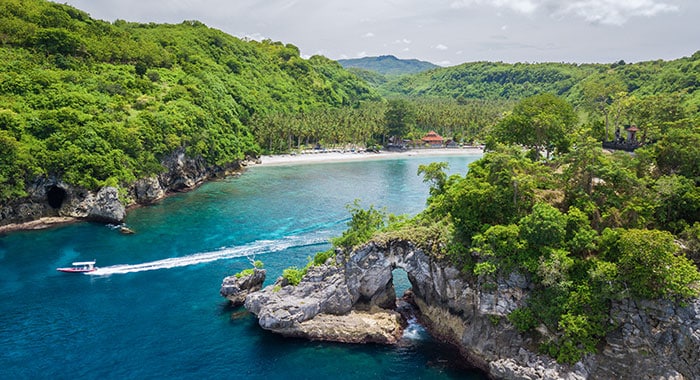 Time – 45 minutes+, depending on where you start your trip from
Price – $16+
Comfort – 4/5
While there are plenty of daily links out of Sanur and Padang Bai to whisk you across to handsome Nusa Penida, getting to the port in the first place can present a whole different challenge. Yep, Bali is a big place. It spans over 75 miles from end to end and over 55 miles from north to south. The upshot? You might need to do a little legwork to reach the boats, depending on where on the Isle of the Gods you're bedding down.
Consider where you're staying in Bali, as that affects the price and length of the trip to Nusa Penida. 
Thankfully, transfer-boat combo tickets are on sale from outlets like 12GoAsia. They can help smooth out the trip from key resort areas. Take the planned link from the surfing hub of Uluwatu. For the combined price of around $16 per person, it includes a taxi ride to the port in Sanur and the speedboat link across the strait. 
Sadly, you can't pre-purchase those combo packages from all corners of Bali. Travelers looking to get over from places like Ubud, Lovina, Medewi, or Canggu will need to negotiate their own taxi or bus transfers across to the east coast quays. That can crank up the price and add anything from 20 minutes to three hours to the total journey time (we did say Bali is a big place!). 
Bali to Nusa Penida by Organized Tour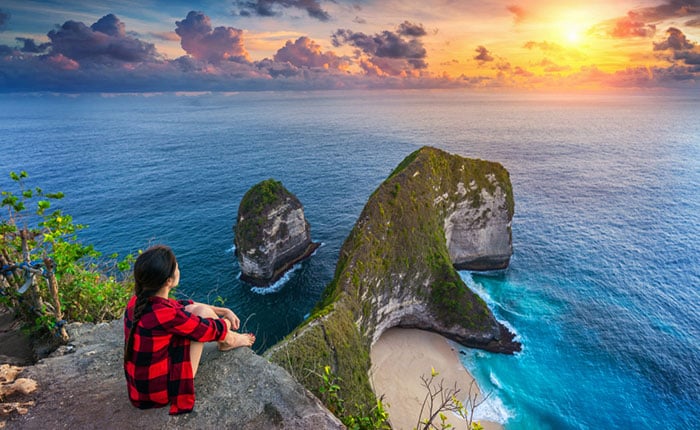 Time – Up to a full day
Price – $80+
Comfort – 5/5
One of the best ways to check off all the bucket-list delights of Nusa Penida without having to deal with the ins and outs of speedboat booking and port transfers is to pick a private tour. These are perfect if you're based in Bali and don't want to lug the bags to a new island. They can last anything from three hours to a whole day and usually include a convenient pick-up right at the lobby of your hotel on the Bali side, so long as it's within a certain distance from where the boats depart.
Not keen on the idea of packing your bags and lumping them over to Nusa Penida? Book a tour and see the island in a single day, complete with an easy pick-up from your hotel in Bali.
The most comprehensive packages usually leave the Isle of the Gods around 7am in the morning and get to Nusa Penida before the hordes of day trippers who rely on the public boats. They'll quickly set to touring some of the most incredible locations on the island, from the Robinson Crusoe lagoon of Atuh Beach to the photogenic lookout point at Kelingking Beach. Other tours focus on specific activities, like diving with manta rays and reef snorkeling.
With all that thrown in the mix, private tours to Nusa Penida are sure to cost more than just the boats. Expect to pay upwards of $80 per person for this enthralling trip, and probably over $150 per person for the full-day options. Always check reviews before booking – not all tour operators are well-rated or even ethical.
---
Nusa Penida is one of the most eye-watering isles in the whole of Indonesia. It's become Insta famous for its ivory-white beaches and turquoise seas, but it also offers a slower pace of life than next-door Bali. These days, it's super simple to hop across the strait and enjoy all that this chilled destination has to offer. That's because a whopping 28 or more speedboats make the trip each day, getting from port to port in as little as 30 minutes. Alternatively, book yourself onto a private tour of Nusa Penida to add snorkeling with manta rays and visits to secluded paradise beaches into the mix.
---
How useful was this post?
Click on a star to rate it!
Average rating / 5. Vote count: