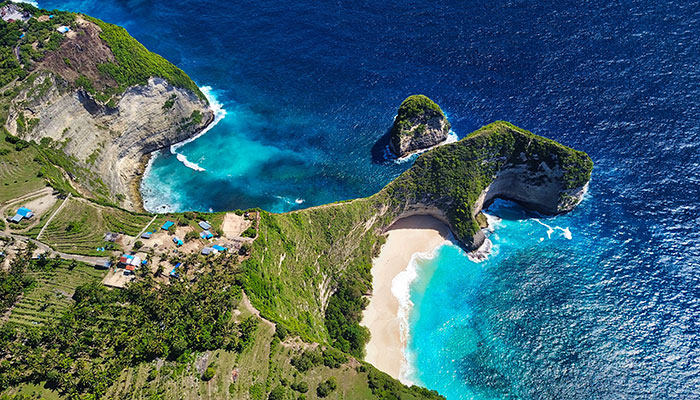 Sanur is the best port to leave from if you want to escape Bali for a couple of days of exploring the jaw-dropping island of Nusa Penida. The vast majority of the public ferries that connect the two run from the pier in Sanur. This bustling resort is on the southeastern side of the Isle of the Gods.
You won't have to travel far, either – they lie only 13 miles apart. The boat journey takes under an hour. There's plenty on the menu when you alight on the other side, from glistening white-sand beaches, shrouded by gnarled cliffs to multi-colored coral gardens teeming with fish schools and whale sharks. Let's look at the various ways you can complete the journey…
Sanur to Nusa Penida by Speedboat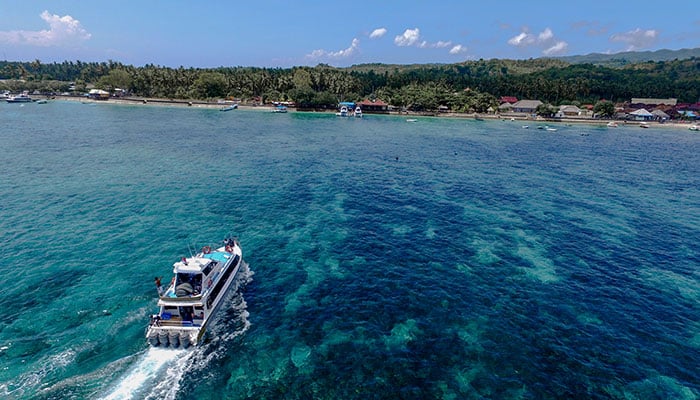 Time – 30 minutes+
Price – $8+
Comfort – 4/5
You'll hardly have time to finish a peanut satay skewer if you opt to take the speedboat between Sanur and Nusa Penida. These fast boats offer to run the route in as little as 30 minutes from A to B. That's a whole load quicker than the older, larger vessels that used to do it, which is one of the main reasons that speedboats are now the only real option. That, plus they are comfier, more economical, and a lot safer, so it's good news all around.
Travelers will be spoiled for choice when it comes to picking a departure time. A whopping 24 ferries make this trip every single day, and that may increase even more in the peak of the Bali dry season (May to September). Services tend to begin nice and early, so you can hop on the 7.30am boats if you really want to beat the crowds to the reefs of Toyapakeh and make it to T-Rex Beach for that prized Instagram shot. Not an early riser? No worries – speedboats leave almost every 15-30 minutes after that, right up to 5.20pm in the early evening.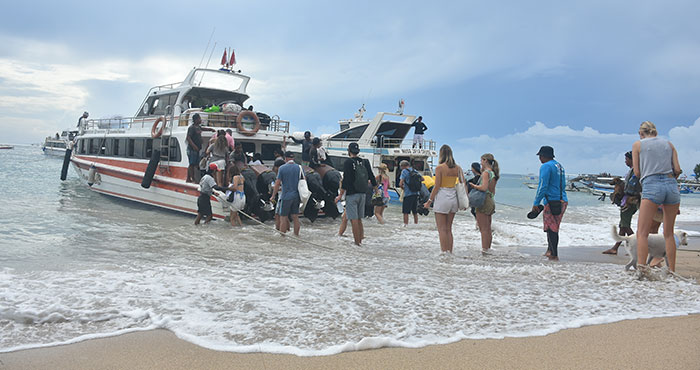 The speedboats can't be beaten when it comes to timings – they offer to swap Bali for Nusa Penida in as little as 30 minutes each way.
The vessels are pretty much the same across the board. They generally have space for 80-120 passengers per ride. All seating is indoors (there's no walking around on these zippy wave eaters!), with windows to gaze out from as Bali fades into the distance. Most companies operating services on the route are relatively highly rated, but some do stand out from the crowd: Idola Express, El Rey Junior Fast Cruise, and Angel Billabong. You can compare and contrast all of those, see the whole Sanur-Nusa Penida boat schedule, and book online with ease using 12GoAsia – it's one of the largest ticket platforms in the whole region.
When you do come to reserve, it's very important to check where your chosen boat drops you on the Penida side. Not all speedy connections go to the same place. Most will arrive at the Banjar Nyuh Harbour in Toyapakeh. Others go to Buyuk Harbour on the north coast, or even straight to the sparkling sands of Sampalan Beach, also on the north coast. Also bear in mind that tickets for the boats don't include a transfer to the port in the first place. It will be up to you to make your own way to Sanur in the morning. That's easy if you're already staying there but can add up to three hours' transfer if you're based in the farthest-flung corners of Bali.
Sanur to Nusa Penida by Taxi and Boat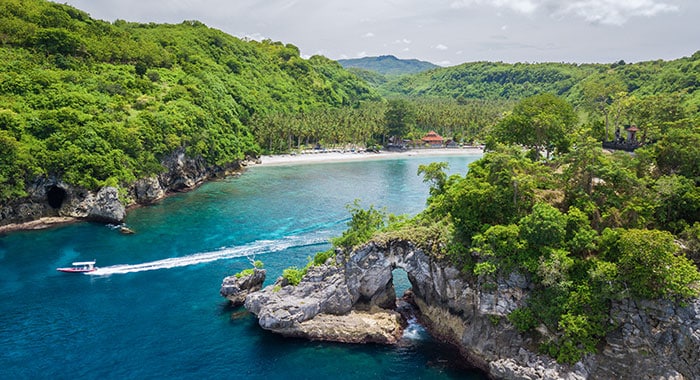 Time – 30 minutes on the boat, but up to 3 hours for the taxi
Price – From $16
Comfort – 3/5
There's no doubt that Sanur is the very best port in Bali for kick-starting that Nusa Penida adventure. It has by far the highest number of boats whizzing across the strait each day. However, Sanur itself might not be where you're staying on the Isle of the Gods. Yes, it offers sleek resort hotels and reef-fringed beaches, but there's a good chance you'll look to begin your trip from the likes of Ubud, Kuta, Uluwatu, or even further afield.
There are some transfer-boat options on offer but not all that many, which means you might need to organize your own connection to the port in Sanur, to begin with.
If that's the case, then check to see if there are any taxi-boat combo tickets on offer. They are available from some of the most popular destinations on the south side of the island, especially around the Bukit Peninsula. If not, then you'll need to organize the first leg of your trip – the one to Sanur port – yourself, which can take anything from 20 minutes to over three hours if you're staying up on the dolphin-swimming north shore of Bali.
The good news is that you can still pre-book your speedboat ticket to Nusa Penida using 12GoAsia to ensure you won't have to join any long queues when you do finally arrive at the port. Just be sure to match up your transfer with the departure time of your chosen vessel. Most companies recommend passengers arrive at Sanur port at least an hour before the planned leaving time.
Sanur to Nusa Penida by Organized Tour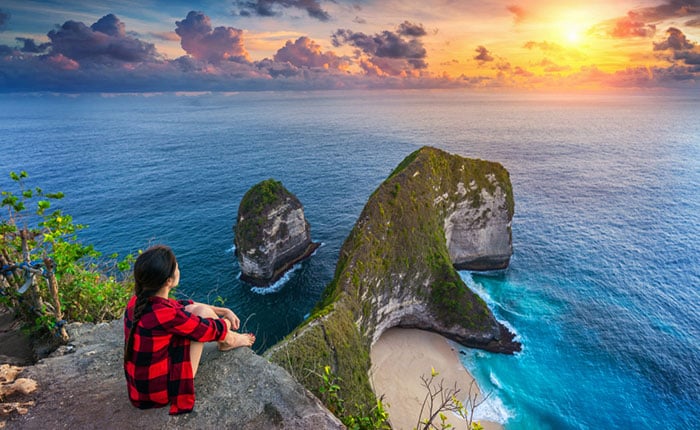 Time – Some last all day long, others just 3 hours
Price – $85+
Comfort – 4/5
There is an option to see Nusa Penida in all its sun-splashed, white-sand, azure-sea glory without actually having to lump all your luggage over and book a hotel. Cue the day tours. These run all year round but increase in frequency during the dry season (May to August), taking passengers out of Sanur port on private vessels to whizz around a series of the most eye-catching attractions on the smaller island before returning later in the day.
Take a day tour to see Nusa Penida's cotton-white beaches and verdant cliffs in a whirlwind sitting before being taken back to your hotel in Bali by evening. 
There are lots to choose from. Some last only a few hours and focus on a single activity, such as snorkeling with the rainbowfish and brain corals along the Toyapakeh reefs. Others last from 7am until 6pm, to showcase the top draws of Penida, from the glistening cave lagoon of Angel Billabong to the amazing T-Rex Beach. Generally speaking, the longer you go for the higher the price. Expect to pay over $150 per person for the most comprehensive tours of all.
All travel is done on the same high-speed boats that run on the commercial lines between the two destinations. However, tickets on tours aren't on sale to those who simply want to transit from Sanur to Penida, so you might find that there are fewer people on board and the ride is a little comfier. What's more, organized tours out of Sanur will often include a morning pick-up at your hotel on the Bali side, provided that it's within a certain proximity to the port.
---
It's easy to see why Nusa Penida makes it onto so many Bali bucket lists…the island is the little brother of the Isle of the Gods but it's also way more relaxed and easy-going. There are off-the-beaten-track beaches surrounded by high cliffs and fronted by pristine coral reefs. The sands are whiter than you find anywhere in Bali itself. The snorkeling is nothing short of epic. Getting over shouldn't be hard if you're staying near the big port and pier in Sanur on Bali's southeastern edge. There are something like 24 boats per day, taking a mere 30 minutes to complete the trip. Get a booking right now on 12GoAsia.
---
How useful was this post?
Click on a star to rate it!
Average rating / 5. Vote count: