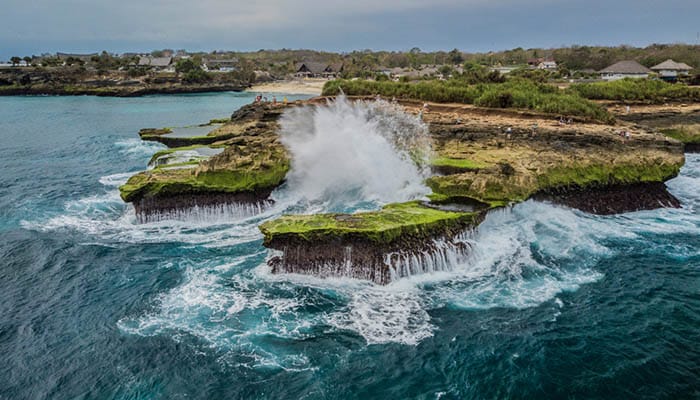 Little Nusa Lembongan lies just under 10 miles off the southeast coast of Bali. For years it's been something of a chilled baby bro to the Isle of the Gods, offering snorkeling in colorful reefs, boat trips to frothing surf breaks, and rustic bamboo cabanas by the shore.
Things are changing, though. There's now a clutch of boutique resort hotels for honeymooners, plus slick coffee joints selling roastery flat whites. Nevertheless, it remains a fine escape from the busy strips of Kuta and Nusa Dua, and getting across has never been easier – there are now loads of fast boats and even private day tours on the menu. Let's take a look…
Bali to Nusa Lembongan by Speedboat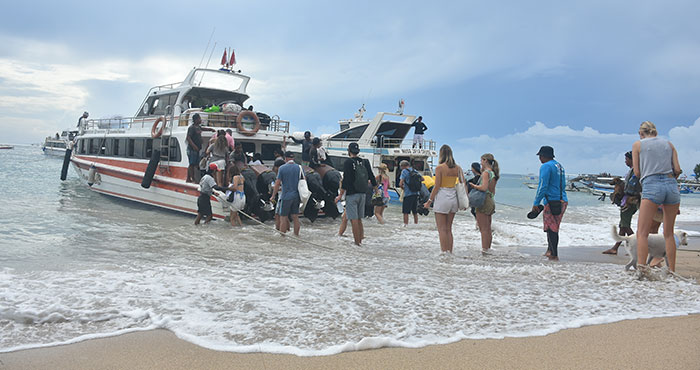 Time – 30 minutes
Price – $9-12 per person
Comfort – 4/5
Ask 10 people how they got to Nusa Lembongan and at least nine of them are likely to say the speedboats. To put it another way: This is now the most established mode of transport for swapping the Isle of the Gods for the next rock over. Long-time travelers in the region will breathe a sigh of relief at that news since there was once a fleet of rickety old vessels running the route. They were pretty darn uncomfortable, took ages, and hardly had the most favorable safety ratings.
So, it's speedboats to the rescue! These days, there are a whopping 20+ services every day. They take between 25-35 minutes to complete the journey. That equates to about an hour's total travel time when you factor in the half hour that's needed to sort out ticketing and get boarding done at the port. You have a good range of companies to pick from, too. The best-rated of the lot is probably Dream Beach Express and Arthamas Express, though Eka Jaya and Tanis Lembongan are also considered relatively reliable.
Speedboat trips from Bali to Nusa Lembongan can hardly be faulted, taking just 30 minutes to get you from port to port and costing up to $12 per person.
Most of the speedboats here are small 20- or 30-person vessels with two rows of seating in a single half-covered deck. However, Eka Jaya runs larger, ferry-style boats that still manage to maintain the same high velocities, only they come with airconditioned indoor cabins and open-air top decks (though they're known to pump out chart music up there, so be ready for that!). If it's windy and there's lots of swell in – as there often is in the Bali Sea – then be prepared for a rough ride; speedboats aren't the best at staying stable on the waves.
We'd say that the main thing to consider before you book your tickets, which can now be done 100% remotely and online on 12GoAsia, is what port the various boats leave from. Sanur in southeast Bali is by far the most popular choice. It's easy to get there from all of the surf towns on the Bukit Peninsula and the resort hotels of the Kuta-Seminyak strip. Some services also leave Padang Bai and Serangan. Expect different ferry companies to go to different ports on the Lembongan side; some on the east coast, most on the west. The good news is that Lembongan itself is pint-sized and easy to travel across once you're on the ground, so reaching the hotel of your choice should never be too much of a chore.
Bali to Nusa Lembongan by Taxi and Speedboat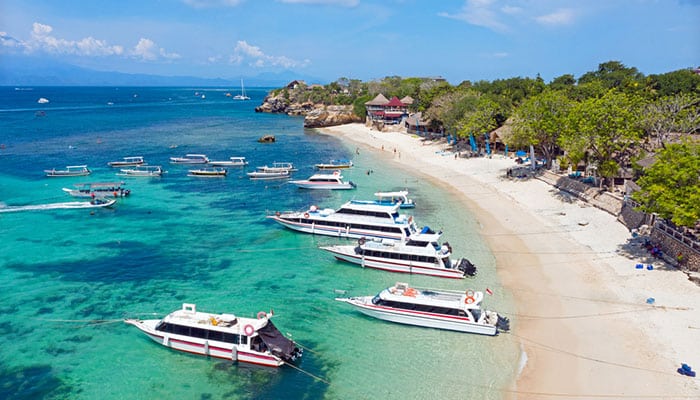 Time – 45 minutes to 4 hours, depending on where you start from
Price – $15+
Comfort – 3/5
The abundance of taxi providers in Bali means that you should be able to connect with virtually any of the boats that go to Nusa Lembongan, no matter where you're staying on the island. Sadly, combo boat and taxi tickets aren't currently available online, so you'll have to negotiate rates for the transfer to the port when you're on the ground – it's always a good idea to ask at your hotel front desk, and don't be scared of haggling! You can also book taxi transfers separately on 12GoAsia.
You might need to tack on a taxi transfer to the ports before you get Nusa Lembongan bound, depending on where you're staying in Bali.
Naturally, the cost of that initial taxi drive to the jetty will depend on where you're coming from. As a ballpark figure, you'll pay 300,000-400,000 IDR ($19-26) for a ride down from Ubud to Sanur, around the same to get to the port in Padang Bai from Ubud, and about 200,000 IDR ($14) from the resort district of Kuta. It should also go without saying that transfers from places like Amed and Lovina far away on the north coast of Bali, will cost multiple times that. Taxis from Bali's big Ngurah Rai International Airport to the nearest port (which is Sanur) also tend to be more – expect to pay about $22 for one of those.
However much you fork out for the ride to where the boats go from, the second leg of this trip will be the same. It's on one of the high-speed boats that cross the strait to Lembongan in 30 minutes. As we've already mentioned, they can be booked online via 12GoAsia. That's not only convenient and easy but also helps when it comes to matching up taxis with departure times.
Bali to Nusa Lembongan by Organized Tour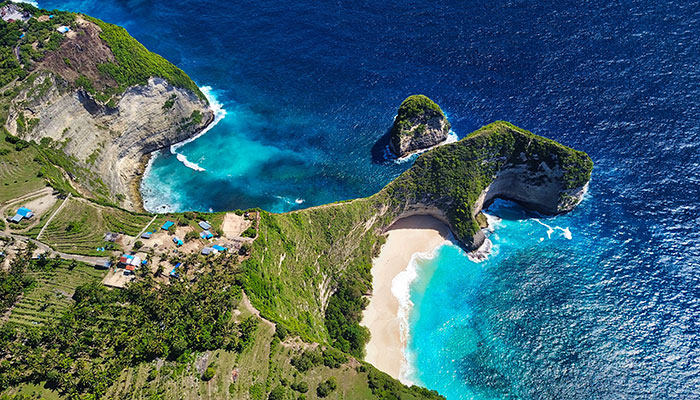 Time – Half a day to multiple days
Price – From about $60 per person
Comfort – 4/5
These days, Nusa Lembongan is one of the premier tour destinations out of south Bali. There are umpteen operators offering packages long and short to the island. They start at around $60 for the most basic itineraries and run into the hundreds of dollars for multi-day tours that include food and accommodation, and even onward travel to Nusa Penida and Ceningan (the next islands over). Really, it's about shopping around to find the trip that includes all the activities and stops you want to make.
Choose the day tour option to check off the delights of Nusa Lembongan in a single day, all fully guided and with pickups at the door of your hotel in Bali.
To give just a taster of what's on the menu, most day-long trips to Nusa Lembongan will include snorkeling jaunts to gorgeous Dream Beach, a stop at Mangrove Point to see if you can spot the manta rays there, and a traditional Indonesian lunch at one of the family-owned warung on Jungutbatu Beach.
Just remember that the day-tour option isn't a solution if all you're after is to travel across to Nusa Lembongan and then be left to your own devices. These packages usually include a pickup at a hotel in south Bali, transport to the boats, and the crossing itself (also on speedboats). But they're also fully guided and include return trips to the Isle of the Gods later in the evening. They're better if you want to base yourself in Bali and see Lembongan in one quick jaunt during your holiday.
---
Nusa Lembongan beckons travelers to its coral reefs, manta-filled mangrove swamps, and rustic warung from Bali, one of Indo's most popular islands that's only 12 miles or so to the west.
Since the older, slower boats have been retired on the route, a new fleet of quick speedboats has taken over. The upshot? It's possible to hop the strait to white sands and emptier surf breaks in less than 30 minutes these days. Get to book your tickets now using 12GoAsia.
---
How useful was this post?
Click on a star to rate it!
Average rating / 5. Vote count: