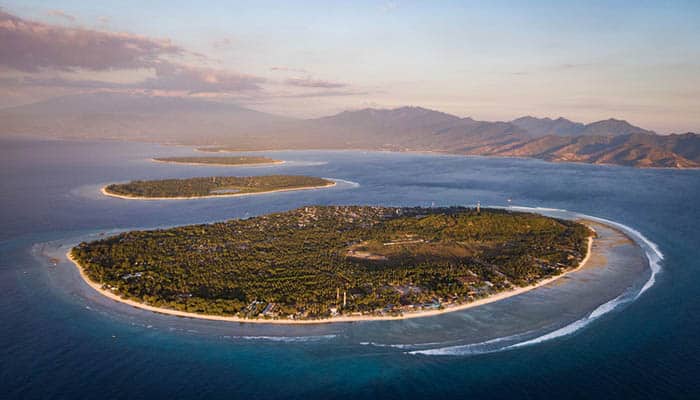 The Gili Islands are a trio of tropical gems that speckle the seas just off Lombok, the large island that's right next door to Bali. They each have a different character. There's Gili Air, for the yogis and the meditation buffs. There's Gili Meno, primed for honeymooners. There's Gili Trawangan, for the partiers and hedonists looking for some of the wildest nightlife in Indonesia.
At just 21 miles from the famous Isle of the Gods at the shortest point, the Gilis make an obvious next stop after touring the temples of Ubud and riding the waves of Kuta. This guide will run through all your various travel options, from fast boats to flying.
A Thrilling Speedboat Adventure from Bali!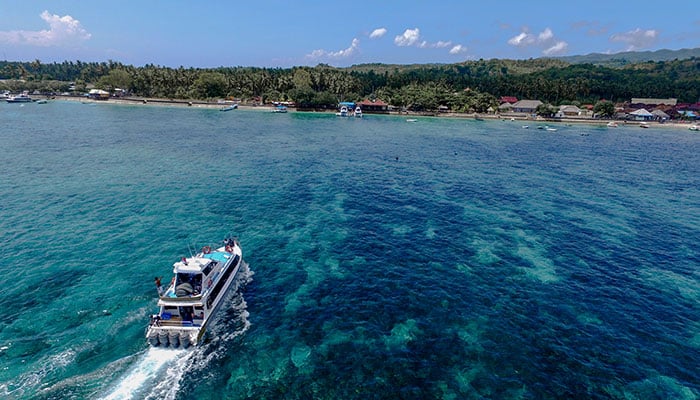 Time – 1.5-2.5 hours
Price – $25+
Comfort – 4/5
Our advice? Don't look any further than the speedboats for your trip from Bali to the Gili Islands. This is now the favored way to move from pretty much anywhere on the Isle of the Gods to the archipelago just across the strait. It's easy to see why – they are fast, relatively comfy, and good value for money, costing around $25 per person. They also leave from various ports up and down the eastern side of Bali, making it easy to plan your trip from key tourist towns such as Ubud, Seminyak, and Uluwatu.
The fastest speedboats of the whole bunch tend to go out of Padang Bai harbor. That sits almost midway up the east side of Bali and is the closest of all the ports to the Gilis themselves. The upshot? You only need to travel a smidgen over 42 miles in total, so you could be hopping out onto the powdery white sands of Gili Air in just 1.5 hours. Leaving out of Padang Bai is great if you're starting your trip from Ubud, but not so good if you're in the main resort area of south Bali, between the Bukit Peninsula and Legian. If coming from there, you could connect with the boats that leave from Jalan Pemelisan or Sanur. They do take longer, though – around 2.5 or three hours at sea is normal.
Speedboats leave from three or four different ports on the eastern side of Bali to connect with the Gili Islands in less than two hours in some cases.
Speedboats on this route are smaller vessels that seat between 20 and 40 people in all. They tend to have rows of seating arranged in sets of two or three along a duo of aisles and are usually semi-open to the air, which is a gift when the ocean breeze kicks in! Rides are generally comfy from start to finish. But be warned that rougher swells can make it a bit of a bumpy one. What's more, speedboat schedules can be heavily affected by storms and adverse weather conditions, so last-minute cancellations in the wet season aren't unheard of.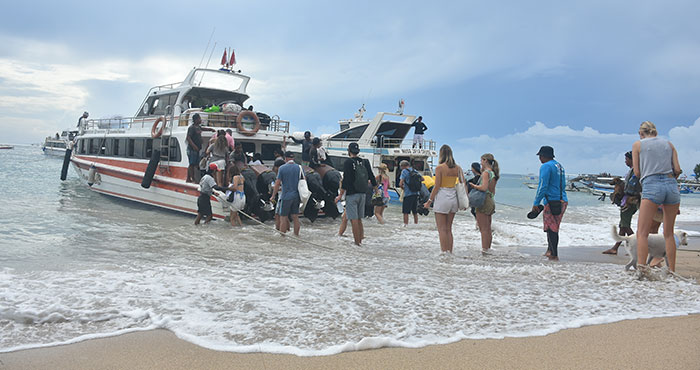 There are now loads of different boat operators looking to whiz you over the Bali Strait to the glowing sands of the Gilis. The highest rated among them are Semaya One (who depart from Sanur) and Gili Getaway (who leave from Serangan). Golden Queen Fast Boat is the highest-rated company that leaves from Padang Bai. Any veteran traveler here will tell you that ports can be hectic places in Indonesia, which is why we'd 100% recommend booking your ferry ticket online before you travel. That's doable via 12GoAsia, which also has a handy comparison page where you can weigh up all the various departure times throughout the day.
Set Sail to Gili Islands by Public Ferry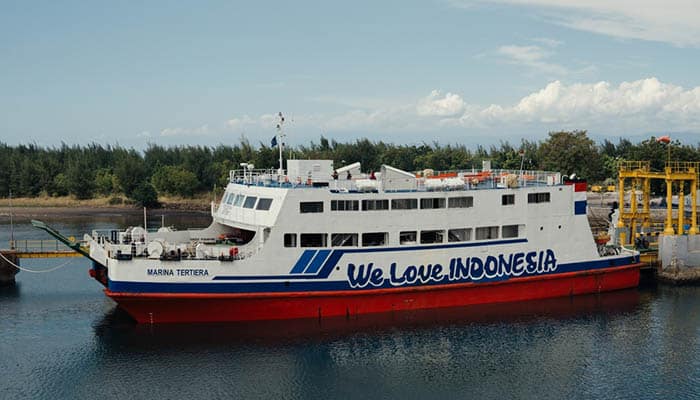 Time – 6 hours+
Price – $20
Comfort – 2/5
There's a public ferry that links Bali with the neighboring island of Lombok, from where you can plan overland and short-ferry hops onwards to the Gilis. It's super cheap, costing a mere $3 for the boat crossing and something like $15 for the extra travel to the paradise islands. The thing is, travel times can bloat to a mega six hours or more since this is a very slow connection across the water. What's more, delays are infamously common and there have even been questioning marks over the safety record of the vessels!
The slow ferry option is a long and arduous route, which means long changeovers, six-hour boat crossings, and haggling for tickets – it's not the best travel choice but might be an adventure.
To be frank, we wouldn't even consider this choice unless you were looking to stay for some time in southern Lombok along the way. That might not be a bad idea – there's epic surfing around the bays of Kuta and Serangan there, along with rustic rice paddy towns on the southern slopes of Mount Rinjani to see.
Tempted? The first step is to get to Padang Bai. That's where the boat departs from and where you'll need to buy your tickets. The crossing takes you to Lembar in southwestern Lombok. Next, you should book taxi or minivan transfers direct to the port at Bangsal in northwestern Lombok, from where short boats connect to all three Gili islands in 15-20 minutes.
Bali to Gili Islands by Plane, Bus, and Boat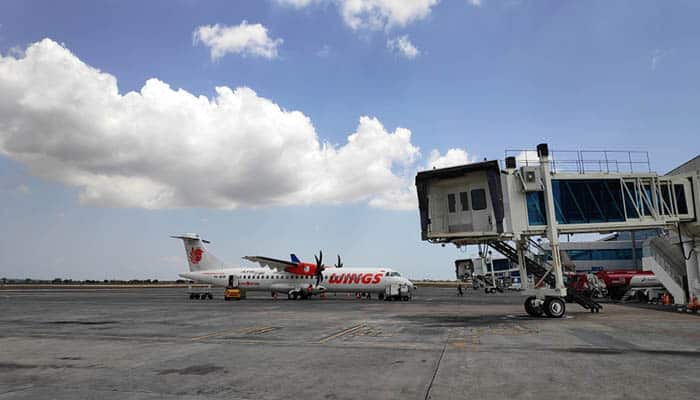 Time – Around 4 hours in total
Price – Around $100in total
Comfort – 4/5
The only other option open to travelers looking to hop from the Isle of the Gods to the Gilis is a combo of flights and bus-boat transfers. It's actually a lot simpler to put together than it might sound, especially since all your legs – from the planes to the overland travel – can now be reserved online with a few clicks on 12GoAsia. Overall, it's probably a bit more hassle than simply boarding a speedboat, but does offer some novelty and means you can dodge long crossings on rough seas during the rainy season.
If you really don't like the idea of boats across the sometimes-rough Bali Strait to the Gilis, check out the flights, which cost more but leave all the time.
The first leg will be on one of the 12 daily flight departures that run from the domestic terminal of Denpasar Airport on the Bali Side out to Praya Airport in Lombok. It's a mega-short flight, taking only 40 minutes in the air in all. Once on the ground, you'll need to find yourself a taxi or van connection to the port, which is about 1.5 hour drive to the northwest in Bangsal. That's where you'll hop on a boat to get to your Gili of choice. Boats leave roughly every 15 minutes for either Gili Air, Gili T, or Gili Meno.
Because you'll be flying on part of the trip here, it's likely to come in as the most expensive way to go. True enough, the cost of airfare between Bali and Lombok on its own is usually around $75 per person. Add in the price of the boats and buses and you're looking at paying in the region of $100 total.
---
Hammocks strewn between coconut palms, yoga studios on the shoreline, fish-teeming reefs, and party nights as the sun sets over Bali in the distance – this is the order of the day on the Gili Islands, an archipelago of pure perfection that sits a mere 20 miles from the Isle of the Gods at the shortest distance. With all that in mind, it's hardly a surprise that you'll find over 40 speedboats going between the two destinations each day, plus travel options on short-haul flights and slower public ferries to boot.
---
How useful was this post?
Click on a star to rate it!
Average rating / 5. Vote count: