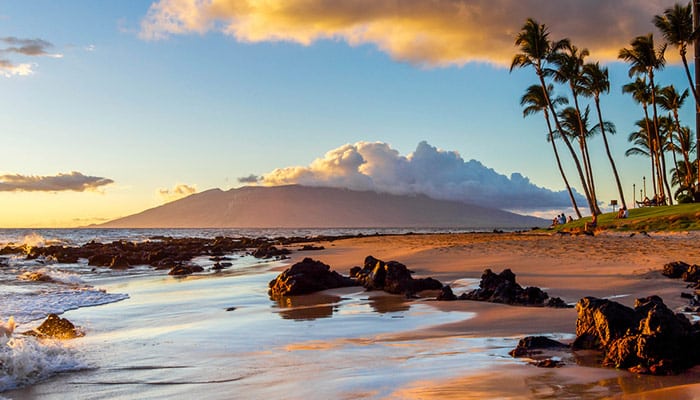 Just a mention of the name Maui is usually enough to get any sun seeker's or surf lover's wanderlust valves a-ticking. This member of the Hawaiian chain has long represented that dream destination; a land of sparkling gold sands and stooping coconut palms that meet the pearly blue waters of the Pacific Ocean in style. But there's a wild side to Maui, too. It comes through in its volcano-scarred backcountry – just check out the Mars-like landscape of Haleakala – and in the wild hills of the West Maui Forest Reserve – a lush swathe of rainforests and waterfalls and bogs. Whether you come to boldly explore all of that, ride your first waves, or for a simple bout of hard-earned R&R, you can rest assured that this one has you covered.
The last few years have seen Airbnbs in Maui rise to become a fine alternative to traditional hotel resorts. Not only do they offer a little bit more privacy, but they can also be easier on the bank account, which is super-helpful in what's now one of the USA's top vacation hotspots! This guide can help you get to grips with the best areas to look for Airbnb rentals and in seeking out the finest individual rents on the island right now.
In this Airbnb guide to Maui: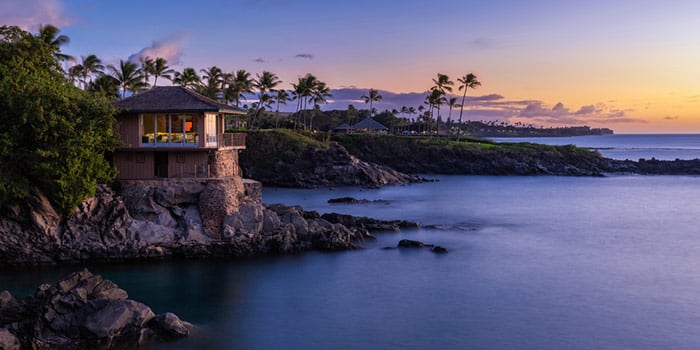 Is Airbnb legal in Maui?
There's an estimated 16,000 Airbnbs in operation in Maui. They're the ones that have been okayed for use as short-term rentals (stays of less than six months at a time) in designated hotel zones. The upshot? There are stacks of legal condos and flats up for grabs in the most popular parts of this aloha island, especially around the beach-fringed hotspots of Kihei-Makena and West Maui. You will also find some Airbnbs on offer outside the tourist zones. Those are the ones that need to apply for special permits to run legally. It's easy to check if they have them – simply message the host via the online platform and ask.
Where should I stay in Maui Airbnb?
A trip to Maui should always involve a jaunt to the island's wonderful beaches, and there's hardly anywhere better for that than Kaanapali (1), where you'll find a cove that was once hailed as the prettiest in the whole of America. To the north comes the luxury escape of Kapalua (2), which caters to golf pros and jet setters looking to be pampered. Kihei (3) is a destination for all sorts of travelers, offering beginner surf spots and midrange hotels by the shore. Further south, Wailea-Makena (4) is another deluxe getaway with its own top-class golfing hotels. The town of Lahaina (5) is the kingpin of the west coast. It's likely you'll pass through there on your way to your Airbnb on this side of the isle, but you could also stick around if you want nightlife and shopping. Adventure-hungry globetrotters will want to look east, to Hana (6), which sits amid misty rainforests and dramatic coast vistas where the jungles tumble into black-rock ocean reefs.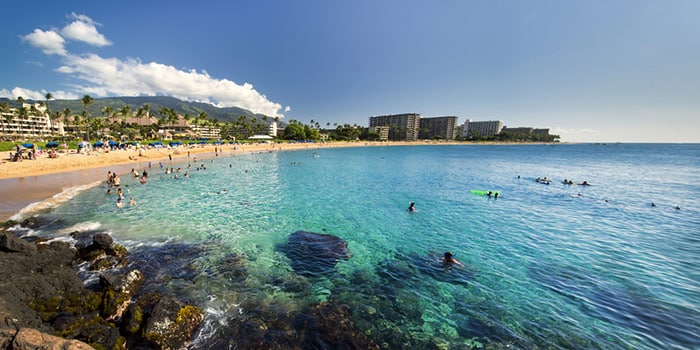 Kaanapali
Pros
The perfect all-round holidaying location
Great beaches
Interesting Polynesian culture
Cons
A bit too developed for some
Often crowded, especially in the main season
Ask 100 travelers where on Maui they're dreaming of visiting and a large chunk won't hesitate to say Kaanapali. This glimmering run of daffodil-tinged sand is now one of the island's most enticing areas. It's famed for the picture-perfect paradise that is Kaanapali Beach (once crowned the very best in the whole of the USA!). However, it also has longer Black Rock Beach, where you can witness ancient Polynesian Tiki torches being lit in the evenings, and almost unrivaled access to the West Maui Forest Reserve. If in doubt, aim here – you won't be disappointed.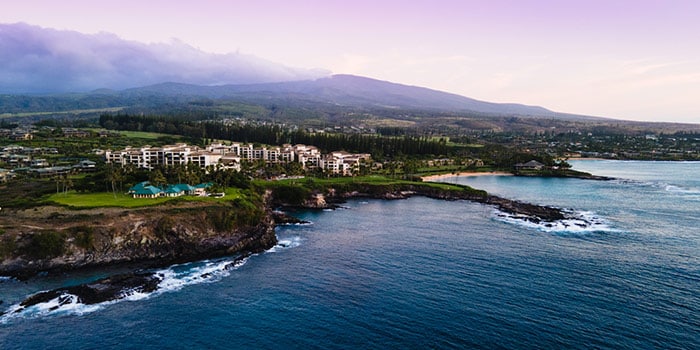 Kapalua
Pros
Luxury
Fantastic golf courses
Upscale shopping and dining
Cons
You'll pay a premium to stay here
High demand for accommodation from December to March
If money's not an object and you're looking for some serious R&R on Maui, consider heading up to the luxury enclave of Kapalua. A 20-minute drive out of Lahaina, this resort complex whisks you away to a land of elegant spas and PGA-rated golf courses. There are designer boutiques selling chic sportswear and new club sets mingling with high-class condo hotels. The cream of the lot spill down to beaches like Kapalua Bay, where you'll have sugar-perfect sand and views over to the rugged isles of Moloka'i and Lanai in the distance.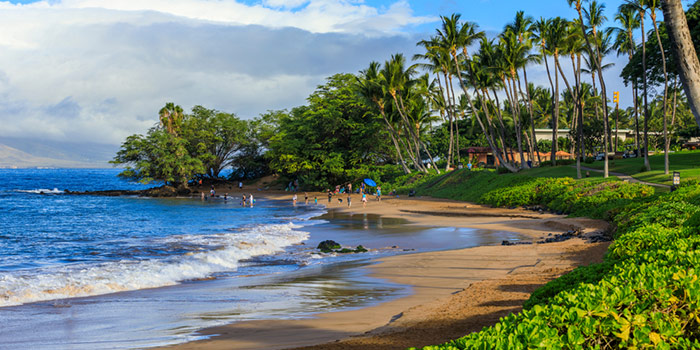 Kihei
Pros
Balmy winter temperatures
Not much wind in the winter
Lovely beaches
Cons
Prices spike from December onwards
Crowded at peak times
Kihei is the heart of the Maui west coast. It tucks into the end of Maalaea Bay, where the mountains act as a bulwark to the trade winds to keep the mercury high in the winter. For that reason, it's one of Maui's major snowbird escapes, and there are Airbnbs and hotel resorts right by the coast to cater to the demand between December and March. There's a good mix of what most folk are after from a vacation in Hawaii: Kamaole Beach's shimmering sands and snorkeling, the light surf swells of Kihei Cove, oodles of whale watching outfitters – the list goes on.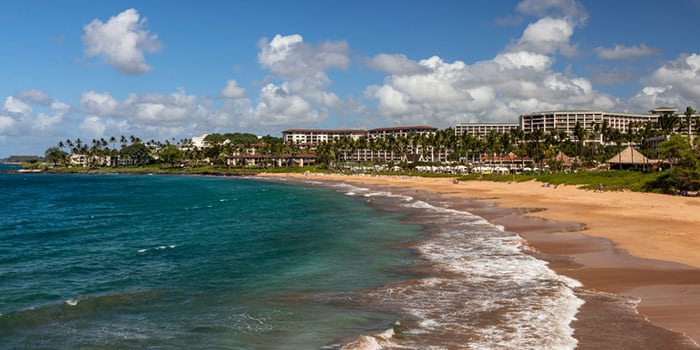 Wailea-Makena
Pros
Golf courses
Gorgeous weather
Great beaches
Cons
A little over developed at points
The price is high
The combined districts of Wailea-Makena enjoy a place in one of the sunniest, driest parts of Maui. Together, they represent one of Hawaii's top planned resort communities. There are a whopping five separate golf courses here, many bearing the names of pros, along with all manner of deluxe condos and fairway-view villas with swimming pools. Thankfully, the beaches that first drew in the developers are still protected at the Makena State Park, and they're still meccas for snorkelers and swimmers to boot.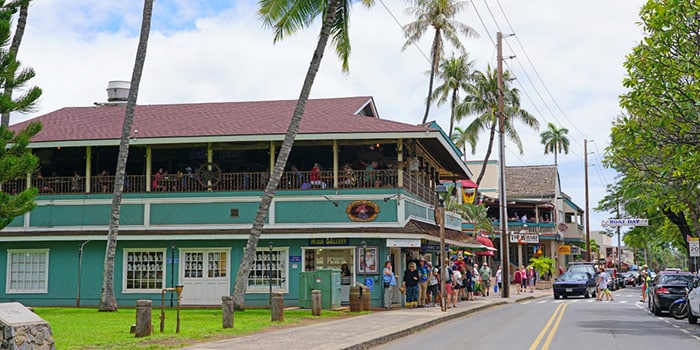 Lahaina
Pros
Family attractions
Major transport hub
Good nightlife
Cons
Gets really busy in the main season
Loud on the weekends
Lahaina is part cultural center, part transport town and gateway to the famous resort areas of Kapalua and Kaanapali, which stretch out northwards from here. It has a steady stream of visitors because of its tactical location, but also because of mainstay attractions like the Adventure Park Maui and the immersive Plantation Museum. Front Street is the liveliest quarter. It comes fringed with upscale surf-turf eateries and aloha coffee bars, and boasts perhaps the most vibrant nightlife scene on the island. The town is also a prime base for launching boat charters or hiking expeditions (the West Maui Forest Reserve rises just to the east).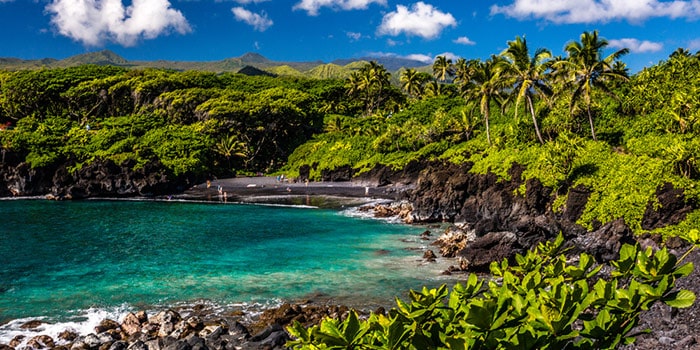 Hana
Pros
Lush, green area
Stunning scenic drives
Great for adventurers
Cons
More rainfall
Difficult to get to
Ditch the crowds and escape from the resort strips of the west coast by heading over to Hana. This small little settlement is the only real town of the eastern shoreline. It's the starting point of the iconic Hana Highway, which zigzags around the lush coast hills for 40 miles on its way to Haiku-Pauwela. The whole of that, and Hana itself, is blessed by oncoming easterly trade winds that bring extra rainfall and humidity, creating a lush land of hibiscus flowers and tropical plants. That combines with emptier beaches to give Maui's most Robinson Crusoe experience, which comes alive on stunning coves like Wai'anapanapa and by the gushing waterfalls of Pua'a Ka'a. It's the perfect spot for adventurers and off-the-beaten-track travelers.
Best Airbnbs in Maui
Best Airbnb apartment in Maui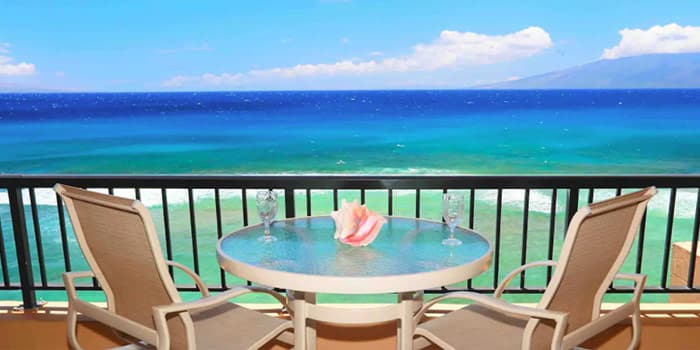 Amazing Sunsets
There's nothing that can prepare you for the jaw-dropping views on offer from the terrace of this gorgeous Kaanapali apartment. You'll be gazing straight out at the shimmering Pacific Ocean, with patches of rock reef and frothing waves visible from the comfort of your own patio. The pad sleeps three in total and is set out as a convenient studio with a double bed and a fitted kitchen.
Best Airbnb house in Maui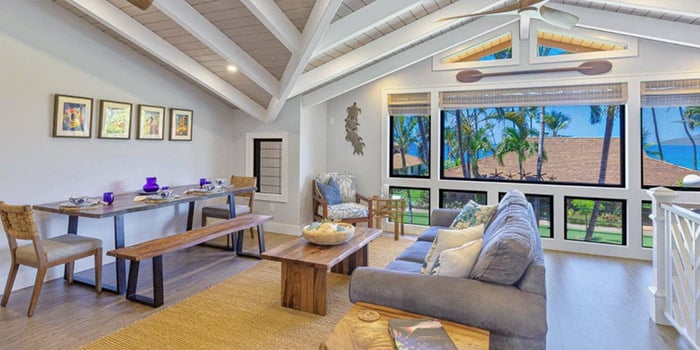 Imagine Yourself Enjoying This Beautiful Contemporary Coastal Home!
De-sand the feet using the cool outdoor shower before delving past the crossed palm trees on the porch and into this lovely house up in Lahaina. It's set on a charming cul-de-sac with its own grassy frontage only a stone's throw back from the Pacific. Inside, there's space for six guests, a beautiful lounge-diner, and a master bedroom with his-and-hers sinks.
Best Airbnb for families in Maui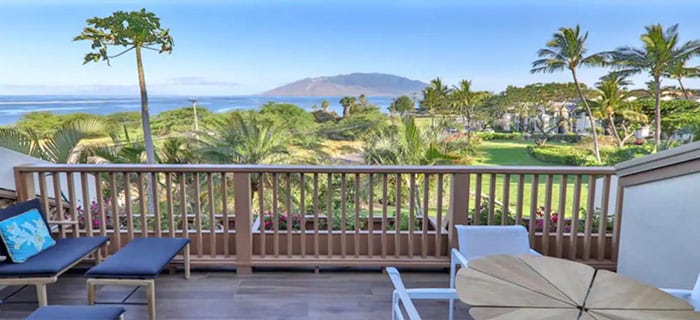 Maui Dream Place
Part private home rental, part hotel, this six-person condo could just be the perfect option for you and the family this year. It's near the fantastic beaches of Kihei, boasts its own huge lounge with a flat-screen TV and surf-inspired artworks, along with an oversized kitchen complete with breakfast bar. The main upside is the big al fresco patio, where you and the little ones can gather to watch the sunset each evening.
Best Airbnb for large groups in Maui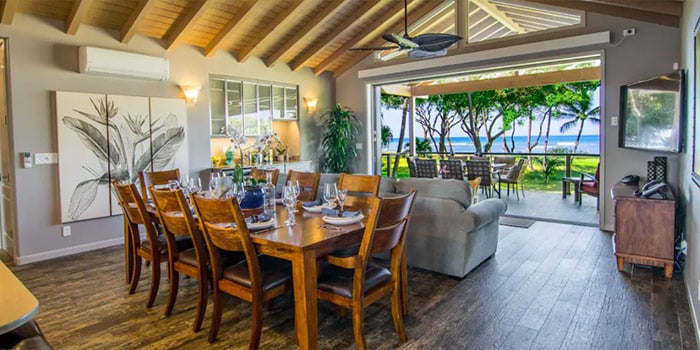 Private Beachfront Luxury Villa
You'll fling open the French doors and reveal a grassy garden scented by hibiscus trees each day at this sprawling villa. It spills out onto a secret beachfront on the west coast, complete with peeling waves and stone reefs. Inside, you'll discover a dedicated bar with a wine fridge, a big dining space, and a master bedroom that has sliding glass walls for eye-watering views of the Maui shore.
Best Airbnb for natural stays in Maui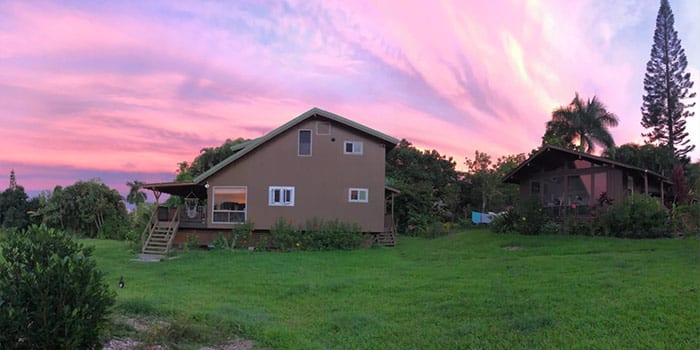 The Farm Cottage – At Olamana Organics
Set in the heart of a five-acre organic fruit farm, this get-away-from-it-all cottage will take you over to the greener side of Maui. It's close to Hana and the amazing Hana Highway on the east coast, where it channels natural timber materials and toned-down colors to help you feel at one with nature.
Is Airbnb cheaper than hotels in Maui?
Maui isn't the cheapest vacationing spot in the USA. In fact, it can be downright expensive, especially if you want to come with the snowbirds during the winter months (December to March is typically the high season). Thankfully, it's not unusual to find that Airbnbs cost less than their hotel counterparts. That's mainly because they don't come with the same hands-on service, but also because you can get larger places that fit more travelers and let you share the cost of your trip. It's also common to find that long-term lets of over a month have pretty generous discounts, which is great news if you're thinking of hitting the Aloha State for a little longer this year.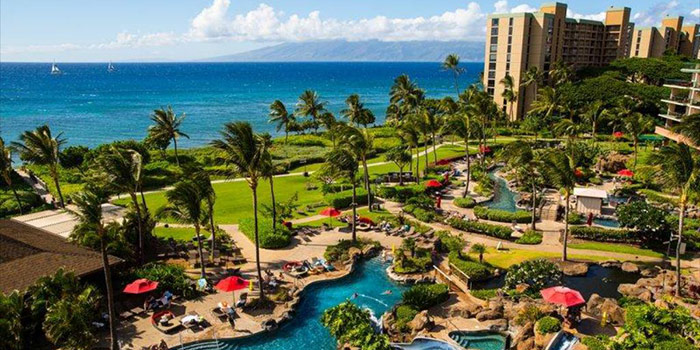 Travelers who want to be looked after and pampered from the moment they set foot under the West Maui mountains might be better off sticking to what they know. Hotels give more attention to detail and more dedicated services, like daily housekeeping and on-site tour booking. Establishments like the Honua Kai Resort & Spa are good options for a whole host of different folk. That one has a prime beachfront location in Kaanapali, huge outdoor pools, and its own spa facility. Nice.
Prepare to wax down the surfboard and kick back on the beaches of Makena. The stunning Hawaiian island of Maui is waiting…
How useful was this post?
Click on a star to rate it!
Average rating / 5. Vote count: