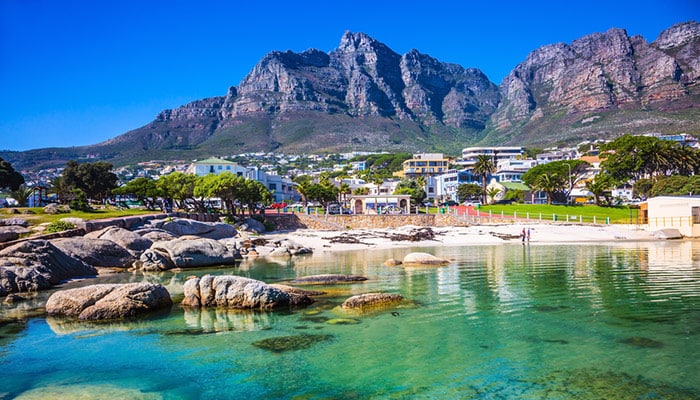 Huddled around bluffs of stone and fynbos shrub near the wave-splattered Cape of Good Hope, the legislative capital of South Africa is one seriously jaw-dropping metropolis. Pearly blue seas whipped up by surfers roll in below as the soaring lookouts of Table Mountain command the horizon. It's as if the city has sprouted from the landscapes and woven its way into the fabric of the geography. Delve into the town itself and you'll need to be ready for a cricket-mad mass of culture and human energy. From the ice-cream-painted façades of Bo-Kaap to the winelands of Stellenbosch, it's a place that oozes class and character. It's also the perfect starting point for that most legendary of South African drives: The Garden Route.
Opting for an Airbnb in Cape Town means you can live like a local during your time in this fascinating city. There are lots on offer. Perhaps you can score some luxury with an uber-sleek penthouse that opens onto 180-degree panoramas of False Bay? Maybe you'd prefer a serviced apartment with its own swimming pool a few steps from the sea? Or are you after a compact inner-city pad that puts you near the South African kitchens and cricket grounds? Whatever it is, this guide has you covered…
In this Airbnb guide to Cape Town: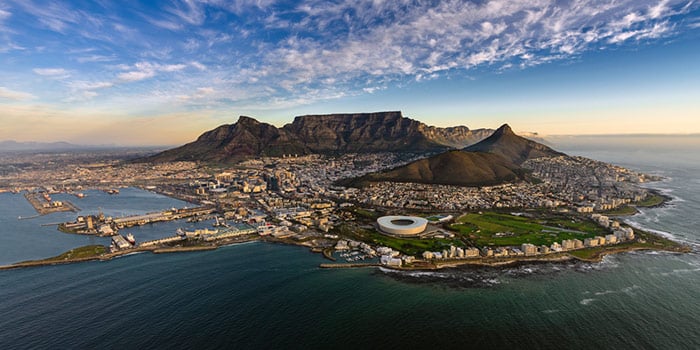 Is Airbnb legal in Cape Town?
Airbnb is 100% legal in Cape Town. Scratch that – it's positively encouraged. Local authorities recently eased restrictions on short-term lettings so that people could open up their homes on the sharing platform without going through too much bureaucracy. The result has been a huge boom in listings, and a noticeable upsurge in the quality of the places that are available. Of course, all that could change in the future, but for now you can feel free to browse and book and get excited about your own pad in the salt-washed wine city of South Africa!
Where should I stay in Cape Town Airbnb?
You can strut your stuff on the edgy V&A Waterfront (1) amid the modern-art museums and boutique shops, or consider straying to De Waterkant (2), where there are sleek malls – both are Cape Town's main shopping areas. Straddling them is the City Centre (3), with its high-rise businesses and chain hotels. For character and culture, Bo-Kaap (4) is the obvious choice – an old Malay Muslim enclave on the slopes of Signal Hill. Towards the coast, there's Sea Point (5) and its deluxe array of modern condominiums (perfect for families) or – to the south – Muizenberg (6), a surfer's dream on white-sand beaches. Finally, the upcoming East City Precinct (7) promises a glimpse of Cape Town's newfound hipster edge.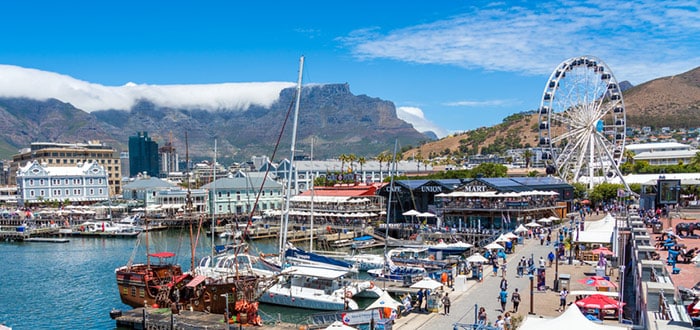 V&A Waterfront
Pros
Fantastic shopping options
Top-class attractions
Nice array of gastronomy
The V&A Waterfront – or the Victoria and Albert Waterfront if you want its full moniker – is the real kernel of downtown Cape Town. Oozing style and class, it hosts a modern mall where Italian designers and French haute couture flash their stuff, all within eyeshot of the ramshackle Oranjezicht City Farm Market – a weekly bazaar of African foods and flavors. The area is also a tourist hotspot. It hosts the immersive and sobering exhibits of the Nelson Mandela Gateway to Robben Island, the Zeitz MOCAA gallery, and more cocktail bars than you could pine after. First-time visitors are sure to love it.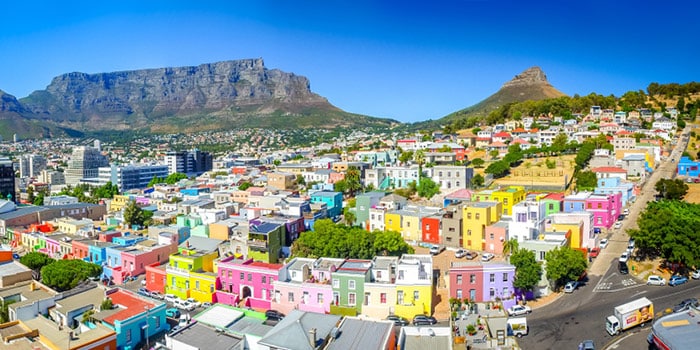 Bo-Kaap
Pros
Colorful area – literally!
Good guesthouses and B&Bs
Interesting Islamic heritage
Cons
Gentrification is changing the area fast
Can be very touristy in midsummer
Bo-Kaap is one of the most iconic districts of Cape Town. You'll instantly know you're there thanks to the multi-colored homes, all painted in blazing shades of pink and yellow and turquoise. They cascade down the eastern sides of Signal Hill in a waterfall of bright hues, eventually meeting at busy Buitengracht Street. Bo-Kaap is the center of Cape Town's Muslim community. Mosques are common sightings, and you can discover fascinating Islamic relics in the Iziko Bo-Kaap Museum.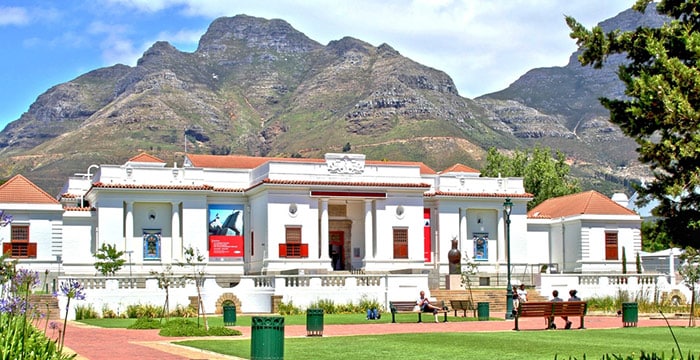 East City Precinct
Pros
Upcoming area with new things all the time
Independent art galleries
Some designer Airbnbs
Cons
Not the biggest selection of short-term lettings
Highway running through the middle of the area

There's a real revival going on in the East City Precinct. Driven by an influx of digital nomads and creatives from across South Africa and the globe, this part of Cape Town is being transformed from gritty suburb (one with a pretty dark apartheid past, no less) to self-proclaimed design district. It's anyone's guess where it will end, but shiny new condo buildings a la Bangkok are popping up in the blocks while roastery cafés take charge at ground level. Wander the streets and you'll also get quirky galleries showcasing 3D paper art, leather workshops, and concept interior design stores.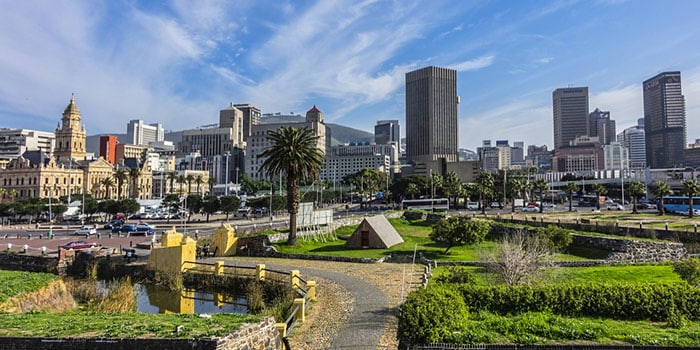 City Centre
Pros
Top museums
Upscale dining
Close to everything
Cons
Lots of traffic
A little soulless for some
The Cape Town City Centre spreads all the way from the base of Signal Hill to the waterside on the Atlantic Ocean. The locals divide it up into a few smaller areas, but the vibe is pretty similar throughout – big, bustling, businesslike. This is where the tall condos take over and the high-rise enterprises command the skyline. The blocks are filled with famous names like Radisson Blu and Park Inn. You'll find all sorts of dining, from fast-food to sleek Japanese kitchens. Oh, and there are some enthralling museums, like the Iziko Slave Lodge and the prestigious Iziko South African Museum.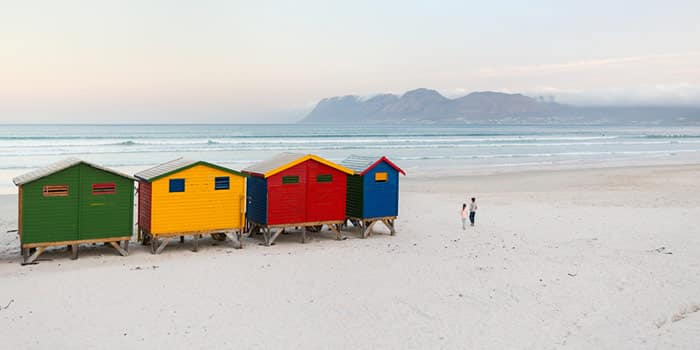 Muizenberg
Pros
Excellent surfing
Relaxed town
Gorgeous beach
Cons
Quite far from the city center
Shark attacks are known to occur
You'll need to travel about 30 minutes out of central Cape Town to reach Muizenberg. It's worth it if you're pining after a surf on your South African trip because this is the wave-riding epicenter of the city. Spread out along False Bay, it enjoys reliable sets of right-hand point breaks and loads of beach breaks. There's also a chilled surfer vibe to the whole area. The beach itself is lovely, with powdery white sand and vibrantly painted changing boxes. We won't mention the sharks…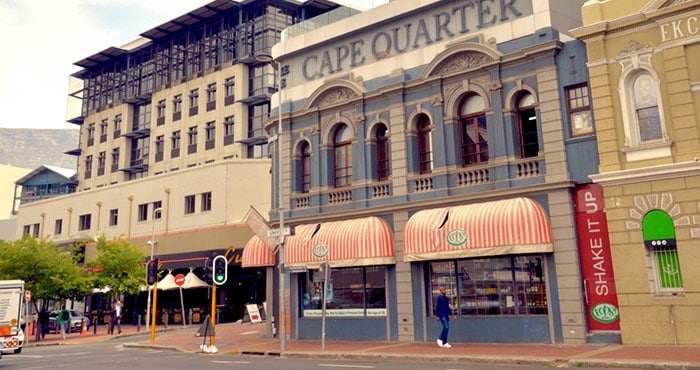 De Waterkant
Pros
Stylish area with lots of shopping
Close to the heart of the city
Deluxe Airbnbs
Back in the downtown area of Cape Town is De Waterkant, a sleek and stylish shopping precinct that's risen to become one of the city's most upscale areas. It's anchored on a large lifestyle and shopping mall called Cape Quarter, which hosts bespoke audio-tech shops and concept gift stores and the like. The eating is noticeably curated – expect Turkish grill houses and artisan bakers. Airbnbs in De Waterkant tend to be pretty lux, too, with rooftop pools and ocean-view terraces being the norm.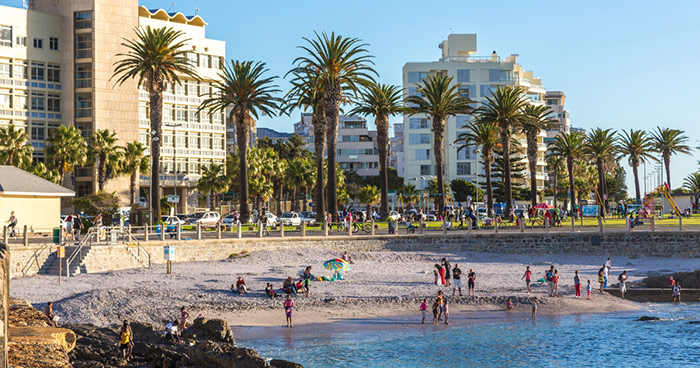 Sea Point
Pros
Views of the ocean
Urban beaches
Stylish dining
Cons
Rentals won't be cheap in Sea Point
Not many big-name attractions
Sea Point is one of the most sought-after zip codes in the whole of Cape Town. Spreading down six miles of coastline on the far side of Signal Hill, it's got mountains to its back and the sloshing Atlantic waves to its front. That's the perfect place to find condo blocks with flats that have stunning views. They're all joined up by a lively promenade awash with joggers and walkers, oodles of urban parks, and even a series of white-sand beaches. One thing: You'll pay for the luxury of being here.
Best Airbnbs in Cape Town
Best Airbnb apartment in Cape Town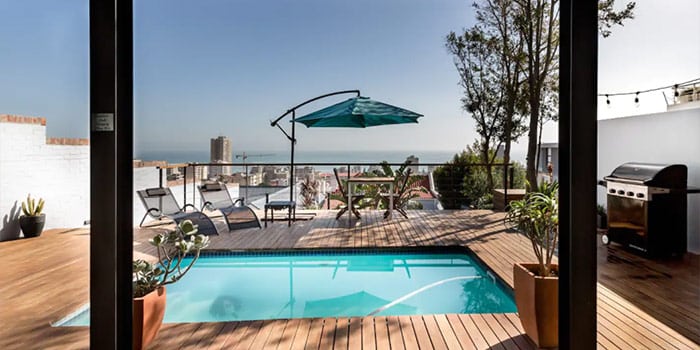 Breathtaking Ocean Views With Private Pool, Deck and Garden
There's something undeniably alluring about the understated style of this uber-cool flat in Sea Point. As the Atlantic Ocean crashes against the glimmering beaches below, you can take a plunge in the outdoor pool or soak up the sun on the terraces. Inside, you'll find polished concrete rolling through uncluttered interiors to a lounge that has its own panoramic balcony.
Best Airbnb house in Cape Town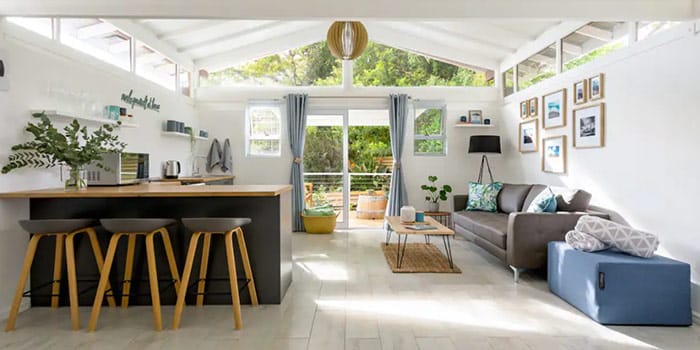 Kai Cottage
Hidden behind Table Mountain National Park on the way to the waves and sands of False Bay, Kai Cottage beckons all sorts of travelers to its cozy interiors. There's a whiff of the safari hut and a touch of New England style about it, what with whitewashed walls and timber beams. The whole place is rich in eye-pleasing finishing touches, like woven seagrass rugs and a beautifully understated Scandi kitchen bar.
Best Airbnb for families in Cape Town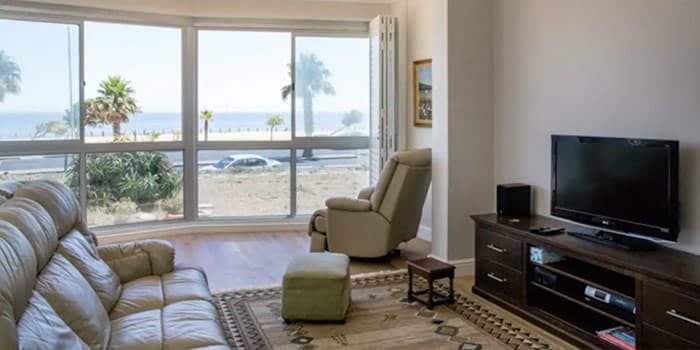 Sea Point Views on Beach Road 3 Bedroom 3 Bathroom
We think the Sea Point area and its charming parks and beachfronts is downright perfect for families visiting Cape Town. That's precisely where you find this three-bedroom pad. It boasts a big kitchen with a floating island for those breakfasts together, along with a seven-seater dining table, and a master bedroom that's got ensuite for mum and dad.
Best Airbnb for large groups in Cape Town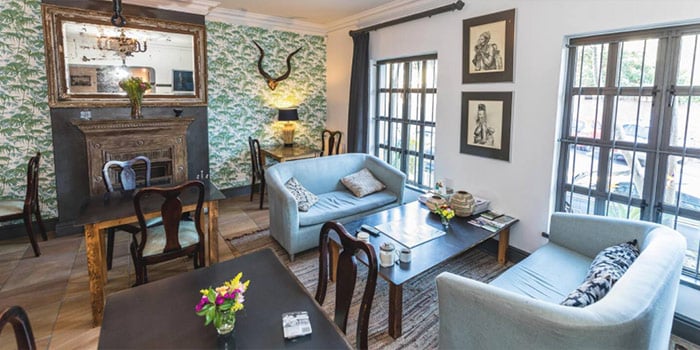 Lovely House with Rooftop & Pool
A carved-wood fireplace, impala antlers jutting from the walls, novelty wallpaper – these are just a few of the quirky touches you can expect to find at this characterful property in the stylish lifestyle quarter of De Waterkant. It's a doozy for big groups of travelers, what with space enough for 15 guests over six bedrooms. Oh, and you get a small rooftop plunge pool to boot!
Best Airbnb for beach stays in Cape Town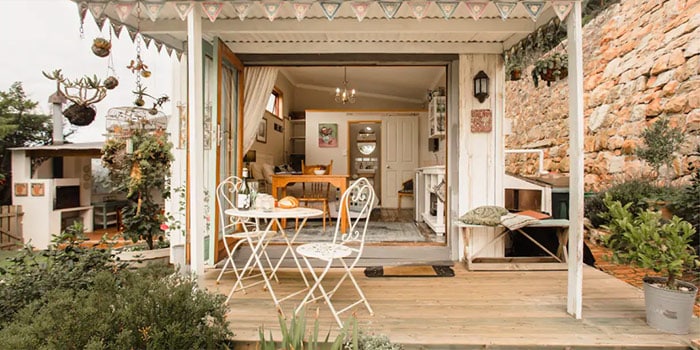 The Amberley Annex – Garden hideaway near beach
Whisk yourself away to the white-sand beaches of False Bay by picking this gorgeous annex in Muizenberg. Fusing touches of Victorian charm with cozy South African coast styles, it's a romantic place to be based near the coast. Surfers are also sure to love the location, what with surf shops and reliable breaks sitting just a short walk away!
Is Airbnb cheaper than hotels in Cape Town?
Cape Town isn't pricy when it comes to Airbnbs. There's actually a good chance that you'll find short-term lets in the city on the shore that smash the rates of comparable hotels, especially if you come for long-term trips of up to 30 days, when there are sometimes hefty reductions of 50% or more off the total. It's also a good idea to go for larger properties that let you share the price with all the people you're traveling with. There are loads of them in Cape Town, especially in upscale residential areas like Sea Point.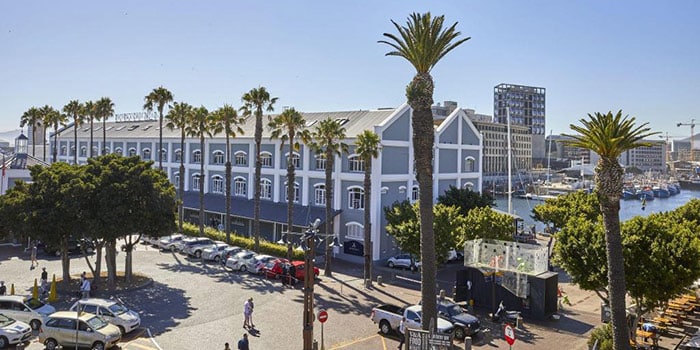 Don't book an Airbnb expecting to have the sort of hands-on service you get in a hotel, though. These are far more private pads with a focus on personal space. The award-winning Victoria and Alfred Hotel will offer much more in the way of pampering. It's got stunning suites with views of the V&A Waterfront area, along with a health facility, saunas, and enticing on-site Mediterranean restaurants.
Cape Town is one of the chart-topping sights of South Africa for a whole host of reasons. From the eye-watering lookouts of Table Mountain to the glinting beaches of False Bay and the enthralling cottages of Bo-Kaap, it's got so much to see and do.
How useful was this post?
Click on a star to rate it!
Average rating / 5. Vote count: