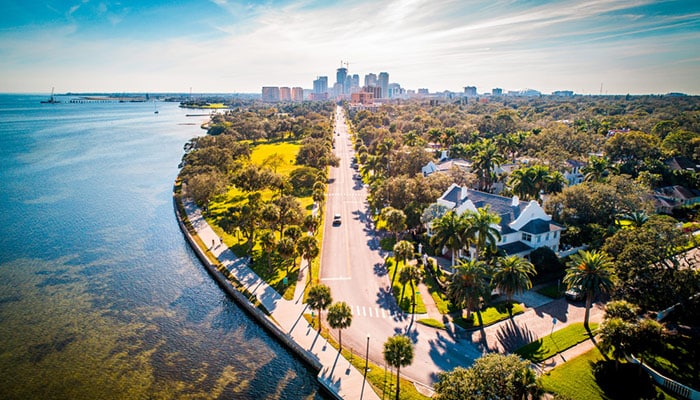 Oh, Florida – a subtropical jewel at the very end of the US. Split between the gulf coast and the Atlantic Ocean, this appropriately named Sunshine State manages to pack in a whopping 1,350 miles of shoreline. That ranges from the endless golden strands of spring-breaker Daytona to the mangrove-fringed coral isles down south to the wetland hammocks of the west, with oodles of come-laze-on-me quartz sands and glitzy beach towns thrown in for good measure. On top of that, this corner of the country boasts world-famous family attractions. They include the loop-de-looping rollercoasters of The Walt Disney World Resort and the gator-snapping wetlands of the Everglades National Park to name just two. It's hardly a wonder it's a vacationing mecca!
The Sunshine State has more Airbnbs and short-term holiday rentals than you can shake a Key Lime Pie at! From the beachside pads of Clearwater to the salt-washed cottages of the Florida Keys to the family villas and their shimmering pools up in Orlando, there's something on the menu for all sorts of traveler. This guide aims to help you get a feel for the state, the various towns, cities, and resorts where Airbnbs are most popular, and even suggests some of the top lettings to pick from in the land of the glinting Gulf of Mexico and the rolling Everglades.
In this Airbnb guide to Florida: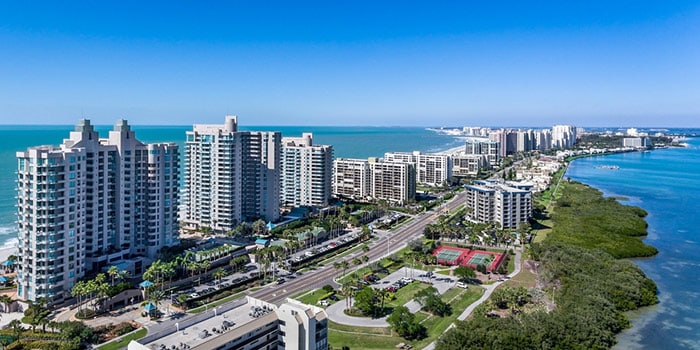 Is Airbnb legal in Florida?
Airbnb is completely legal all over the state of Florida. There might be some bylaws in bigger cities and individual counties governing the use of short-term lets, though. Those could mean tighter restrictions on what you can rent out and for how long each year. Generally, that has zero impact on the experience of the traveler. Ensuring everything's in line with local requirements is the responsibility of owners and hosts. All you have to do is start browsing the beach towns and the buzzing esplanades for the perfect rental and click book. Florida awaits…
Where should I stay in Florida Airbnb?
Florida certainly has no shortage of top-class vacation hotspots. Officially the second most-visited state in the USA, it starts things with the powder-white sands of Panama City Beach (1) on the Panhandle atop the Gulf of Mexico. Cruising the west coast can bring you to the R&R mecca of Clearwater Beach (2) and its adjoining town of quirky restaurants and bars. Tampa (3) is a major city in its own large bay, with some fascinating historic areas, cigar emporiums, and even a few theme parks. Chic Naples (4) takes us back to the coast with quartz sands and designer shopping – it's the resort of choice for A-listers in Florida, and there are Airbnbs to match. Further south in the tropics come the Florida Keys (5), which are all mangroves, reefs, and Caribbean-styled towns. Miami (6) kicks off the Atlantic Coast with its high-energy party districts. Then you've got the theme park haven of Orlando (7), one of the world's top family vacation destinations, and historic St. Augustine (8), infused with Spanish colonial charm.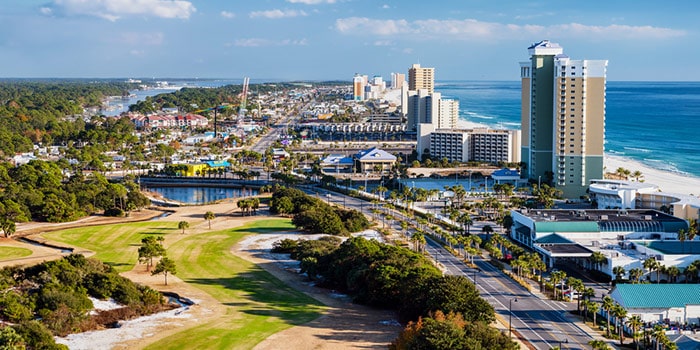 Panama City Beach
Pros
Plenty of beachfront to go around
Loads of affordable condos
Spring break wildness
Cons
The town isn't very pretty
Gets pretty rowdy during spring break
Panama City Beach is the capital of a region known as the Emerald Coast. It lives up to the name with miles and miles of unspoiled shoreline on the Gulf of Mexico, all washed by waters that are teeming with dolphins and tinged a lovely shade of greenish blue. Known affectionately as, simply, PCB, to its loyal cohort of followers (and there are lots of them!), the resort is a drawn-out strip of high condominiums and villa complexes, most with their own pools. The beach is never far away. The spring break parties can get off the hook. But there's lots for families, too, especially along Thomas Drive and Front Beach Road.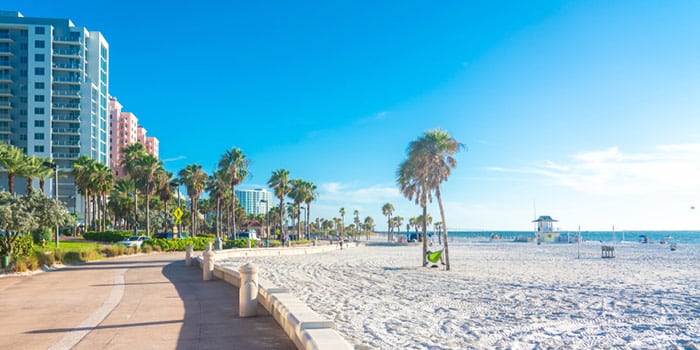 Clearwater Beach
Pros
Lots of beach activities
One of the best-rated beaches in Florida
Reliable winter sun
Cons
It's looking a bit dated these days
Not great in the storm season
Clearwater Beach is one of the most popular pitstops on the Florida gulf coast for seekers of winter sun and pristine sands. It's consistently rated as one of the most beautiful beachfronts in the state. Cloud-white powder and seas of pure turquoise see to that. It also exudes proper vacation vibes. Snowbirds flock to the condos and the villas of the barrier isles close to Clearwater town from November to March for all manner of rest and relaxation, from sunbathing by the poolside to dolphin spotting, golf, and boat charters.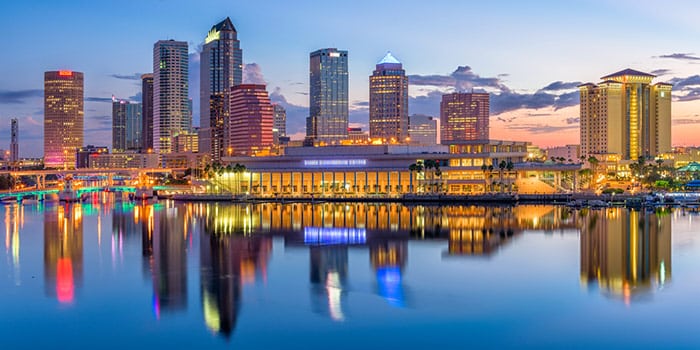 Tampa
Pros
Latin American heritage
Good access to lovely gulf beaches
A cheaper alternative to Orlando
Cons
It's a bit gritty in parts
You'll need a car to reach the coast

Set deep inside Tampa Bay midway down the west coast of Florida, Tampa is one of the lived-in, working cities of the Sunshine State. It's elevated itself to become a hub for yachters (there are marinas galore) and urbanites in recent decades, touting a vibrant Riverwalk, the acclaimed Florida Aquarium, and the adrenaline-pumping rollercoasters of Busch Gardens (a good choice if you don't want to deal with the bustle of Orlando). Tampa's other big draws come in the form of historic Ybor City, a onetime Latin American enclave of rejuvenated Cubano cigar factories, and the proximity of stunning beaches like Clearwater (west) and Coquina (south).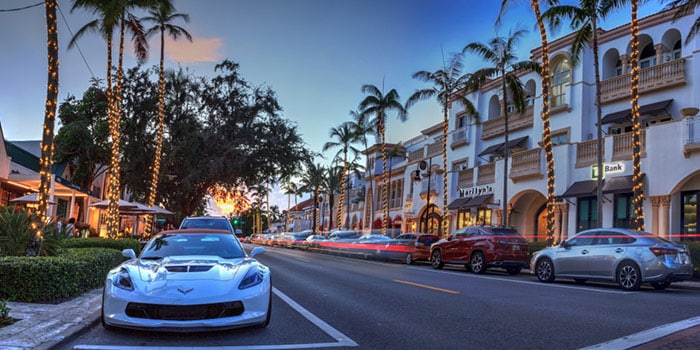 Naples
Pros
Designer shopping
Lovely beaches
Upmarket eating and drinking
Cons
Naples is very expensive
A little posh for some
Not to be confused with its Italian namesake, Florida's Naples comes with a long run of quartz beachfront on one side. It's considered by many to be one of the true stand-out sands of the west coast. However, it's not the only reason to come. Naples is also a jet-setter mecca with stacks of upmarket charm. Pricy it may be, but you'll also get designer shopping by the bucket load, fine-dining seafood eateries, sleek cocktail joints, and some seriously luxurious Airbnb rentals.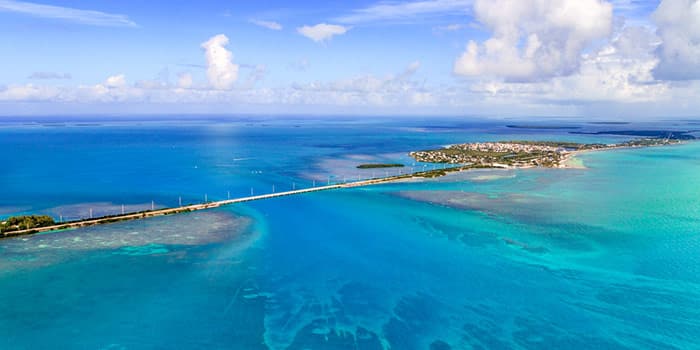 The Florida Keys
Pros
Relaxed pace of life
Parties in Key West
Snorkeling and marine safaris
Cons
It's as far south as you can go in Florida – the drive is long
The beaches aren't the best
Unfurl the hammock and crack a coconut, because the Keys are where the Sunshine State gets really sunny. They're more Caribbean than American, as they stretch in an arc of 42 isles from the end of Miami to a mere 90 miles shy of Cuba. Favorite spots for visitors here are Key West – a rambunctious party isle that has rum bars and Hemingway history and colonial-era forts – and the Dry Tortugas – now a national park that's uninhabited by humans but a favorite among sea turtles. Aim for here if you want rickety cabins by see-through lagoons and stooping palm trees.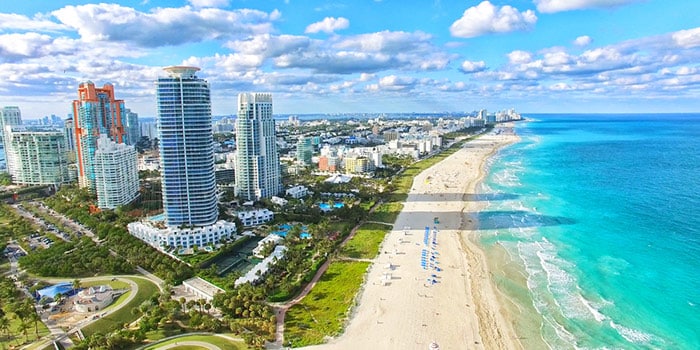 Miami
Pros
Miami Beach is always fun!
The culture of Little Havana
Shopping and nightlife
Cons
It's a super-busy city
Airbnbs can be expensive in some areas
The iconic Magic City of Miami is a major tourist draw and one of the most enthralling cities in the United States. Miami Beach is the jewel in the crown. It runs along a sun-splashed barrier isle on the Atlantic, unfolding with Art Deco bars and hip hotel restaurants by a volleyball-bouncing coastline that's forever peppered with beautiful people. You won't want to miss the city itself, though. That hosts Little Havana's cigar-scented Cuban jazz joints and the stylish shopping precincts of Coconut Grove. Miami is also the perfect base for breaking away to the Everglades National Park – one of Florida's true natural treasures.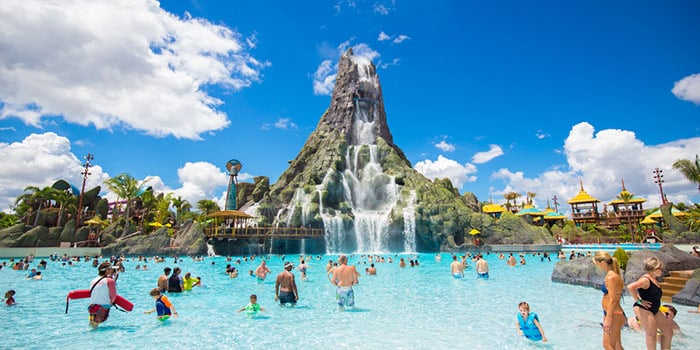 Orlando
Pros
The theme parks – of course!
Loads of family Airbnbs
Downtown Orlando is fun too
Cons
Quite far from the Florida beaches
High demand for Airbnbs here, so book early!
It's likely that most people who come in search of an Airbnb in Florida will be looking to score somewhere near Orlando. The reason? This is the self-proclaimed Theme Park Capital of the World. It's home to a sprawling cluster of resorts that includes Disney's Magic Kingdom, Epcot, the Animal Kingdom, the Hollywood Studios – need we go on? They all string along International Drive and Buena Vista to the south of the city. Further north is Downtown Orlando, a vibrant nightlife and dining hub, and Winter Park, where you'll get a glimpse of a truly upscale vacation resort with boutique shops and elegant cafés.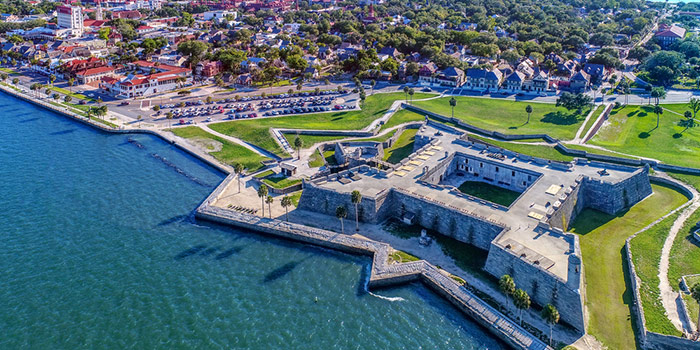 St. Augustine
Pros
Charming historic buildings
One of the oldest cities in the US
Popular among retirees
Cons
You'll need public transport or a car to reach the beaches
Not for spring breakers
St. Augustine reigns as one of the oldest continuously inhabited cities in the whole of the United States. It's steeped in the history of Spanish explorers and feared pirates out the Caribbean, and has one huge fortress to show for it. The preserved old town area centers on St. George Street, where antique shops and Ye Olde World-style taverns abound. This is the perfect destination for getting stuck into Florida's colonial history. It's also a favorite among the retiree crowd, especially thanks to the proximity of Ponte Vedra Beach and its country clubs.
Best Airbnbs in Florida
Best Airbnb apartment in Florida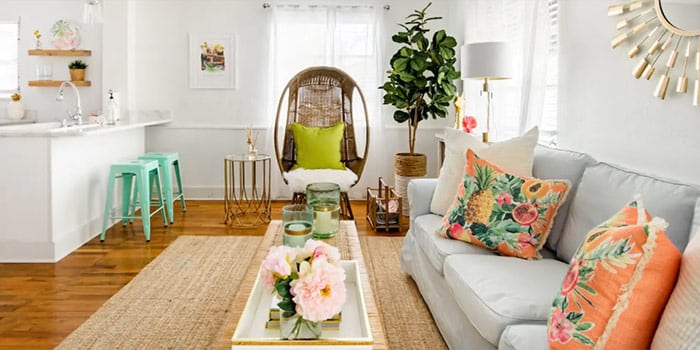 Get a Little Glam in a Retro Palm Beach-Style Boudoir
You'll be right in the beating heart of Florida, up amid the sleek boutiques of Winter Park just north of Orlando, if you choose this stunning Plus listing. A self-contained flat with space for two guests, it packs in a kitchen of whitewashed surfaces and a pretty lounge complete with seagrass rugs and retro egg chairs. Put simply: It's super stylish and cozy.
Best Airbnb house in Florida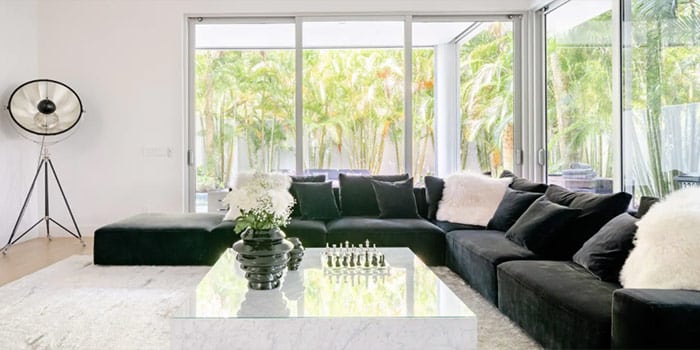 Sophisticated Poolside Oasis in Delray Beach
There's something truly unique about this uber-modern, uber-slick home in Miami. Entirely curated interiors packed with designer touches mean you get minimalist living spaces and bedrooms throughout. Then comes the palm-topped garden area with its blooms of tropical ferns, all converging on a stunning swimming pool inspired by the villas of Bali. 
Best Airbnb for families in Florida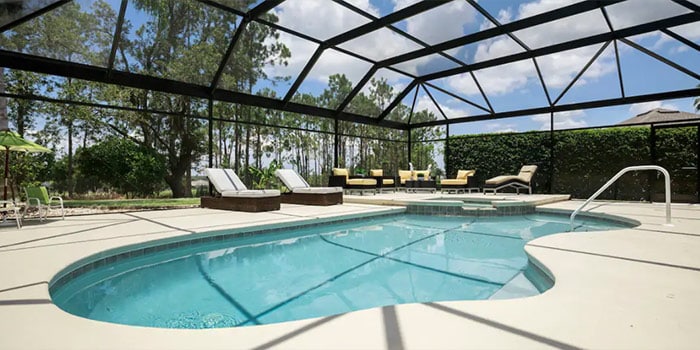 Stunning Sunset Villa
Not far from the wild rollercoasters of the Disney Resort and Universal, but remote enough to have rolling Florida flatlands and pine forests as the backdrop, this stunning mansion is the perfect getaway for families. It's got a bright and airy interior with a huge kitchen-lounge complex. All that spills into a covered patio with its own pool and sunning terraces. What more could you want?
Best Airbnb for large groups in Florida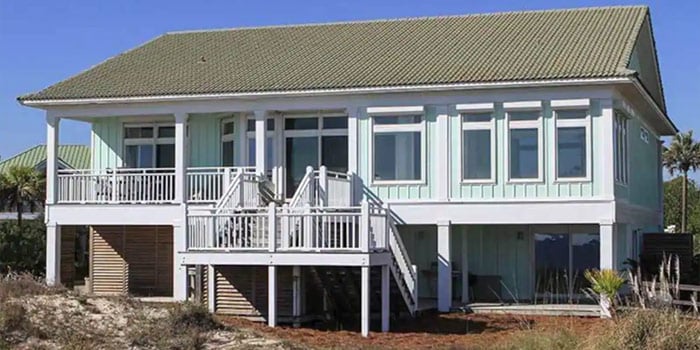 Beachfront on St. George Island Beachin' It Right
Escape the crowds of Florida's major resorts and beach towns by whisking you and the whole crew out to St. George Island. It's a gorgeous swathe of gulf-side sand with dunes of oats and seagrasses behind it. That's the setting for this charming coast house, built entirely from timber and fronted by a sprawling deck with views over the water.
Best Airbnb for quirky stays in Florida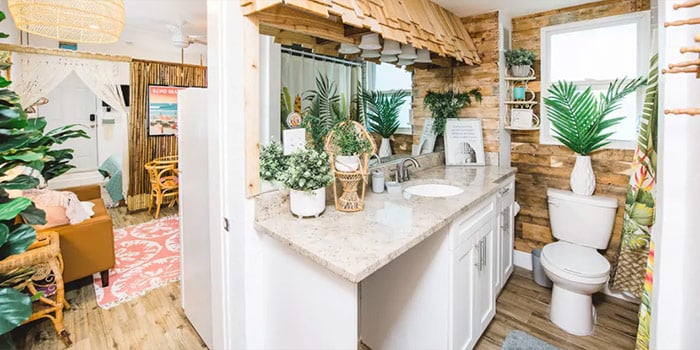 Beautiful Bali Surf Shack is steps to the beach
You can transport yourself to the tropical isles of Indonesia by picking this quirky Airbnb. It's a standalone rental in a tiny house, which means everything's pretty compact but still very private. Inside, you get a mix of bamboo cladding and wood-slat walls, wicker light fixtures and beach paraphernalia. There's even a shimmering pink surfboard mounted on the wall! The rental is in a super position, just behind the white sands of Sunset Beach near Tampa.
Is Airbnb cheaper than hotels in Florida?
It's hard to say if Airbnbs in Florida will come in cheaper than a traditional hotel. It all really depends on what you want. For example, the most luxurious short-term rentals – think private swimming pools and huge tropical gardens – will cost more, while location can crank up the price considerably. To keep costs down, you could consider ditching popular and upmarket places like Miami and Naples in favor of less-trodden parts of the Sunshine State. You can also usually save by choosing a larger Airbnb with extra sleeping capacity and then sharing the total between more people. Finally, it's possible to get enticing discounts on long-term stays or on trips during the rainy season (sometimes in the region of 50% or more!).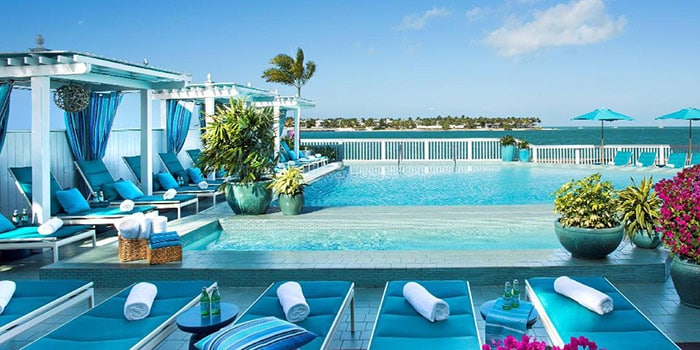 One thing to remember is that an Airbnb isn't a hotel. You don't get that hands-on service and attention. If that's what you're after, consider picking something like the Ocean Key Resort & Spa. It's perched on the edge of Key West amid the tropical isles at the south of Florida, with dining decks on the Atlantic Ocean, a huge private pool, and rooms inspired by the Caribbean.
Be sure to check this guide to Airbnbs in Florida if you're dreaming of the glinting quartz-stone sands of the Gulf of Mexico, the roaring rollercoasters of Orlando, the fashionable walks of Miami Beach, or anything in between this year.
How useful was this post?
Click on a star to rate it!
Average rating / 5. Vote count: