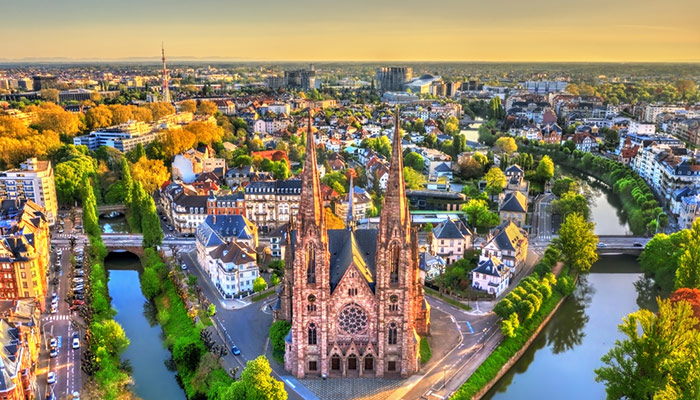 Strasbourg has that tempting Alsatian blend of Germanic culture and French pizzazz. The capital of the region, it hosts some of the most important EU institutions of all, from the European Court of Human Rights to the Council of Europe. They bring life and energy to the town, which might otherwise have been a kitschy throwback to the Middle Ages thanks to the immersive Grande Île – a vast historic quarter with UNESCO World Heritage Site pedigree and some of Europe's most enchanting half-timbered architecture. Throw in magical Christmas markets scented with cinnamon breads and vin chaud, Roman relics in amazing archaeological museums, student-filled café bars, and proximity to the Alsace wine route, then you might just have found that perfect next city break.
One way to explore Strasbourg from the perspective of a local is to go for an Airbnb in the city. These are short-term flat or house rentals that offer a little extra room and privacy than your usual hotel. They're also often great value for money. This guide delves into the thousands that are currently available in the town and even reveals some of the hottest individual Airbnbs that Strasbourg can muster…
In this Airbnb guide to Strasbourg: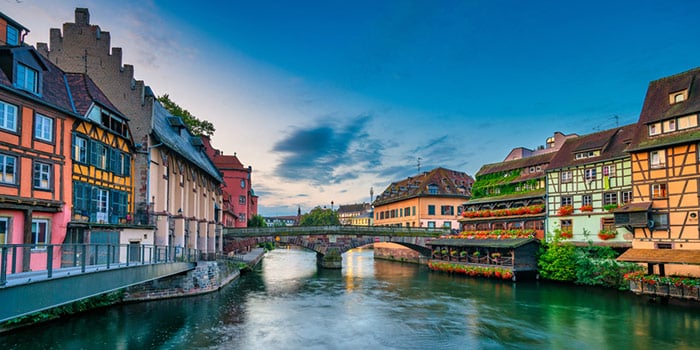 Is Airbnb legal in Strasbourg?
Airbnb is legal in Strasbourg, just as it is in the rest of France. The local government has recently added a few restrictions. They basically mean that it's not possible to rent out a single property in the city for any more than 120 days each year. That should have little effect on the way you use the platform, apart from, maybe, reducing the number of flats in the Grande Île at peak periods. Still, there's lots to choose from, so don't be deterred if Airbnb seems like the thing for you. Just be aware that you also might be asked to pay a tourist tax (known locally as a taxe de séjour) – that's typically around 1.5 EUR per person, pe night.
Where should I stay in Strasbourg Airbnb?
Strasbourg swings between the historical and the modern from street to street. To taste the medieval past of the town, you'll want to be staying in the Grande Île (1). That's the World Heritage core, and also plays host to the indelibly romantic Petite France (2) area – a clutch of canals and half-timbered guild houses from the 1600s. Krutenau (3) lies to the southeast of all that, offering something fun and lively for students. Further south again is Neudorf (4), a rejuvenated industrial area packed with new shopping malls and quirky Airbnbs. If you head north of the old city, you'll enter the prestigious neighborhoods used by the EU institutions. They're good for working trips, starting with Neustadt (5), ending with the Orangerie (6).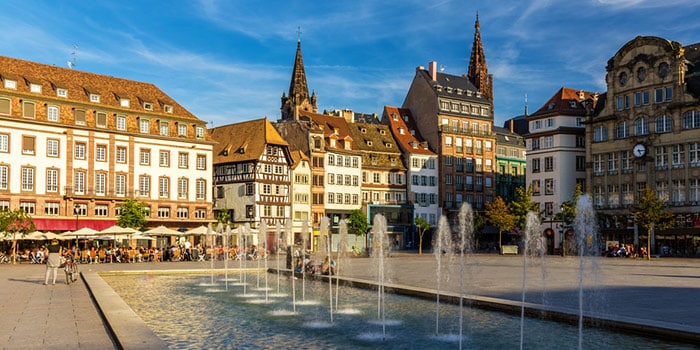 Grande Île
Pros
Strasbourg's most historic area
Vibrant squares
Gorgeous churches
Cons
Busy in summer and at Christmas
Airbnbs usually cost more
Hailed by UNESCO as one of the finest examples of medieval building work in Europe, the Grande Île is the beating heart of Strasbourg. It sits – as the name implies – on a large island in the middle of the city, with a canal ringing one side and the Ill River meandering around the other. The whole thing is centered on Place Kléber, a grand plaza that hosts festive Christmas markets by winter and quirky craft markets by spring. There's a symphony of old churches, topped by the soaring Strasbourg Cathedral and its mighty Gothic spires, along with a web of interlinked lanes and alleys filled with bistros and bars. It's a great place to be based but accommodation rates tend to be a tad higher.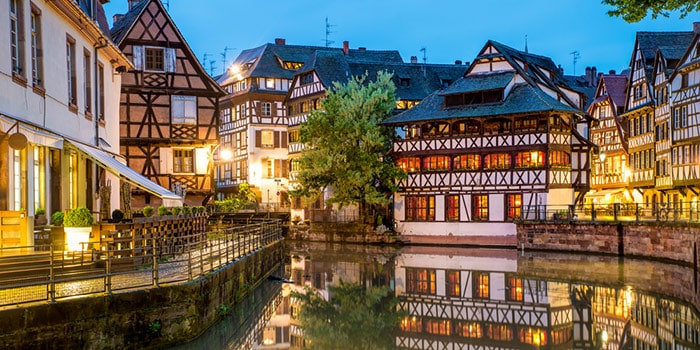 Petite France
Pros
Really romantic area
Fantastic for photographers
Cozy Airbnbs
Cons
Gets pricy
It's a tiny area, which means there aren't too many Airbnbs
Officially speaking, Petite France is a part of the Grande Île. However, we think it's worthy of a mention on its own because it's unquestionably the most enchanting corner of the city center and Strasbourg's most-photographed area to boot. Also called the Quartier des Tanneurs, the district hugs the locks of a gurgling canal to reveal a chocolate-box selection of half-timbered homes dating from the 1500s and the 1600s. They're best seen with a dusting of snow in the colder months or strewn with blooming flowers in the springtime. Airbnbs here tend to be cozy and quaint, but also quite pricy.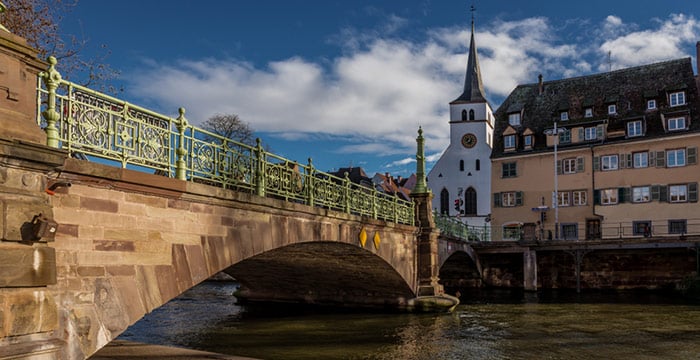 Krutenau
Pros
Vibrant area
Great nightlife
Great for younger travelers
Cons
Not the best for families
Can be loud on weekends
Krutenau fizzes with life. That's mainly thanks to the presence of the huge Strasbourg University campus to the east. The constant influx of youthful residents from there has gifted the district a creative array of gastropubs and tattoo parlors, ethnic eateries riverside bars. Things will get lively here at 5pm on Friday nights, when the local professionals clock off and hit the drinking holes – the buzziest areas are Rue de la Krutenau and Rue de Zurich. However, you can also get a hit of local culture courtesy of the Alsatian Museum.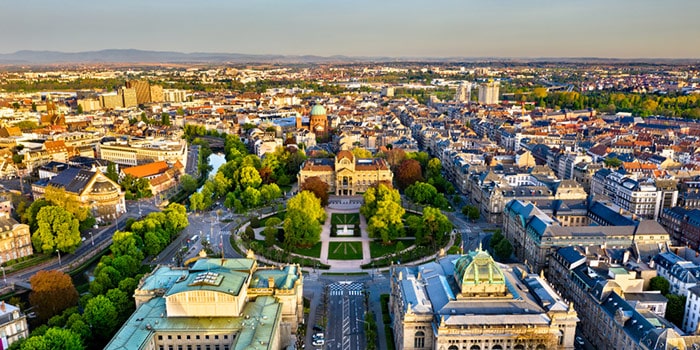 Neustadt
Pros
Elegant Prussian architecture
Pretty urban gardens
Some good museums
Cons
A little boring
Very few Airbnbs
Neustadt gives a taste of the German influence on Strasbourg. In fact, the area is also known as the German Quarter. Get ready to see grand Prussian architecture, with Neo-Classical peristyles butting up to manicured urban parks – it's more Bavaria than Bergerac! The accommodation scene is mainly deluxe hotels catering to EU diplomats when parliament is in session, so don't expect oodles of Airbnbs. The main attractions in the district are the Place de la République gardens and the National Theater. (Oh, and don't confuse Neustadt with hip and happening post-industrial Neudorf – they couldn't be more different!).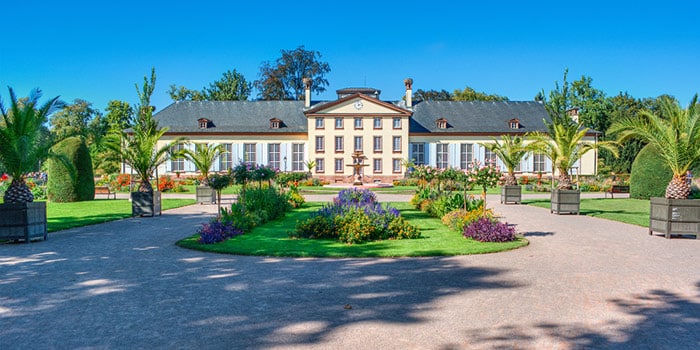 Orangerie
Pros
Important EU institutions
One gorgeous park!
Some lovely canal-side paths
Cons
Not much for culture buffs
Mainly for the EU parliament
Politicians will know the Orangerie well. Hosting the Council of Europe and the European Court of Human Rights, this is one darn important corner of the town. The stunning Parc de l'Orangerie is the anchor of it all. That's a vast 17th-century garden with flowerbeds and a boating lake, measuring over a kilometer from end to end. We'd probably still recommend staying elsewhere if you've come to see the sights, but the Orangerie is perfect if you're visiting Strasbourg on EU-related work.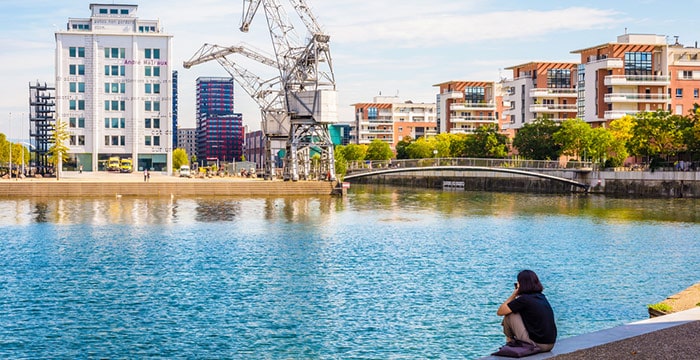 Neudorf
Pros
A fun alternative area
Intriguing museums
Shopping
Cons
Quite far from Strasbourg's historic core
Some parts of Neudorf are still industrial
Neudorf might have started life as a mechanized industrial zone, but this corner of southeastern Strasbourg is now shining with a newfound confidence. The canals and the depots have been revitalized – many now host groundbreaking French-German startup companies or hands-on science exhibits like the ones at Le Vaisseau. Old barge canals now come laced with designer shopping malls like Rivetoile and stunning waterside Airbnbs. There are also pockets of prettiness, thanks to the Art Nouveau treats and art-house cinemas on Route du Polygone.
Best Airbnbs in Strasbourg
Best Airbnb apartment in Strasbourg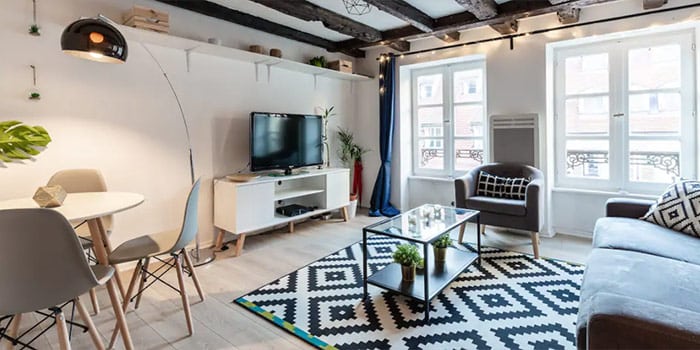 Cozy Apartment -Strasbourg City Center Hypercentre
The timber-lined ceilings of this cozy and historic flat in the Grande Île are just the start. The place is hemmed in by some of the city's oldest streets and lovely canal scenes. It also has a designer lounge with a flat-screen TV, a convenient fitted kitchen, and a pull-out bed that ups the sleeping capacity from two to four.
Best Airbnb house in Strasbourg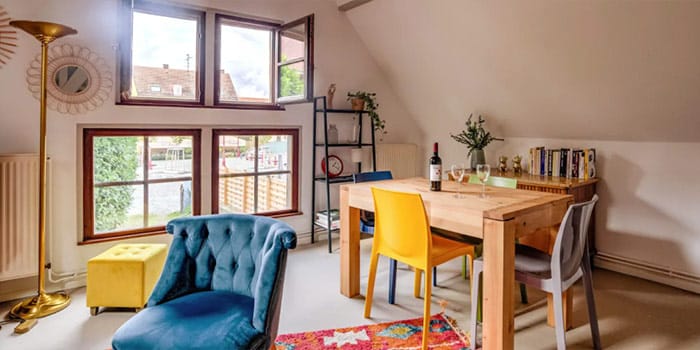 Typical and Beautiful Alsatian House With Parking
In the suburb of Schiltigheim on the far northern fringes of Strasbourg is where you'll find this spacious and inviting home. From the outside it really looks the part, with half-timbered walls and tall chimney stacks looming over wooden eaves. Inside, it's a colorful and modern mix of open-plan furnishings and slickly done bathrooms that is just perfect for both family and friend groups.
Best Airbnb for families in Strasbourg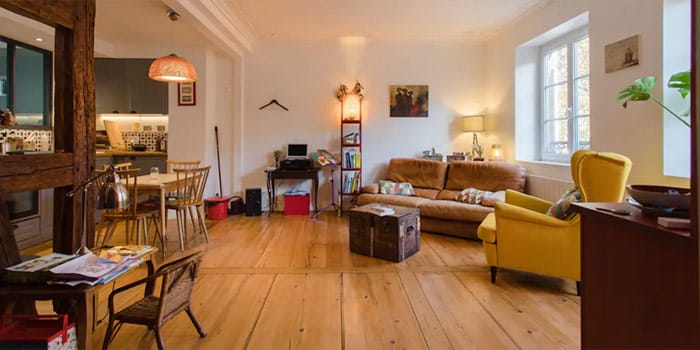 Appartement De Charme
There's a real home-away-from-home feel to this apartment in the lively district of Krutenau, a short hop from the immersive old city of Strasbourg. The younger visitors, especially, are sure to love the bunk bed sleeping area – it's done out like a quirky treehouse on the top! Parents, meanwhile, can make use of a large open-plan kitchen-diner and a sumptuous double master room with ensuite.
Best Airbnb for large groups in Strasbourg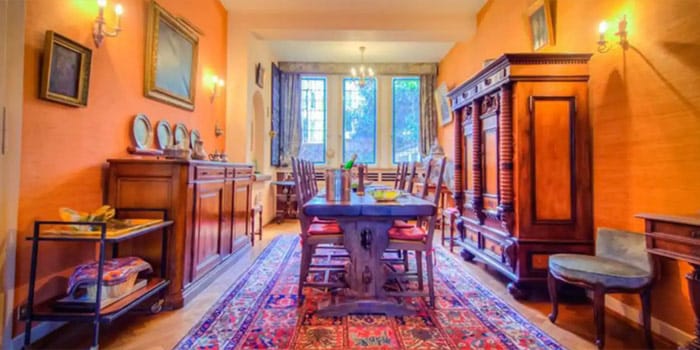 Maison Bourgeoise
The Maison Bourgeoise lives up to its name with some elegant interior design and furnishings. You'll be left feeling like Alsatian royalty in the plush dining room, where carved crockery cupboards overlook a huge timber table that looks like it's been plucked from a castle somewhere. There's also a sun-kissed garden and six individual bedrooms with a total capacity for up to 12 guests at any one time.
Best Airbnb for romantic stays in Strasbourg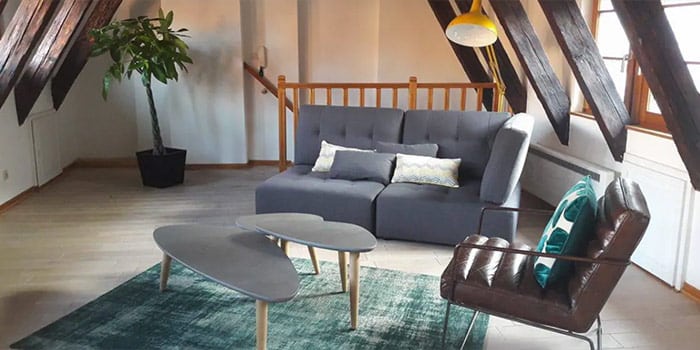 Charmant appartement – Petite France
A little bolthole for just the two of you that's tucked down a weathered-stone alley in the Petite France neighborhood – what could be more romantic than that? Just a step outside the door and you'll be immersed in the city's canal-carved district of flower-blooming bistros. The place itself is also pretty slick, with neat Nordic furnishings and views over the rooftops.
Is Airbnb cheaper than hotels in Strasbourg?
Airbnb is considered a fine alternative to hotels in Strasbourg, and one of the main reasons is the price. These short-term rentals often have lower nightly rates than hotels of comparable quality. They manage that by whisking travelers away to lesser-known neighborhoods outside of the UNESCO-tagged Grande Île, to more local areas where you won't pay a premium just because you're staying in a tourist hotspot. The other great thing about Airbnbs in Strasbourg is that they're often self-catering (get ready to save some cash by shopping in the rustic Alsace markets and cooking for yourself!) and can host bigger groups (that means sharing the overall price between more people.)

But what's the downside to booking an Airbnb? There aren't many, but the lack of hands-on service is one. With their focus on privacy, you won't get the frills associated with hotels. We're talking things like an on-site concierge, daily housekeeping, and on-demand room service. So, if you want to ring the front desk to bring up the charcuterie board, consider booking into the Hotel Rohan. In a handsome Alsace-style building, it converts into a noir boutique hotel inside. There's also a gorgeous street-front café area where you can sit and watch the world go by.
Delve into the web of idyllic canals and the half-timbered Alsatian buildings by booking a dream Airbnb in the enchanting medieval city of Strasbourg this year.
How useful was this post?
Click on a star to rate it!
Average rating / 5. Vote count: