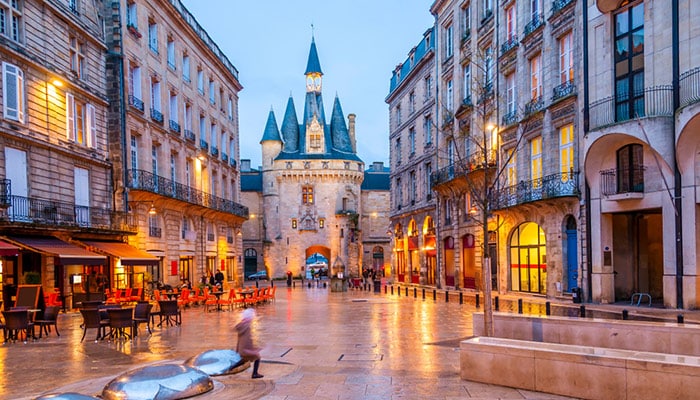 Bordeaux is a sublime showcasing of French grandeur and elegance. Manicured parks and plazas of perfect symmetry combine in its UNESCO-tagged center to produce somewhere that looks good in any light, any weather. There are palaces and ancient abbeys and even Roman ruins to pique the interest. Then you get onto the gastronomy. In a city that's encompassed by one of Europe's most prestigious wine-growing regions, you can just imagine what that entails! It's also possible to use Bordeaux as a base for exploring the length of the gushing Garonne River and the wave-based Atlantic coast, fusing surfing trips with wine tasting in elegant chateaux.
An Airbnb in Bordeaux is a perfect way to get somewhere unique and private for your trip to France's sixth-largest city. There are now thousands of the short-term lettings on offer across the town, ranging from budget rooms to beautiful French villas with swimming pools and pine-scented gardens. This guide can help you pick out the best in the very best areas…
In this Airbnb guide to Bordeaux: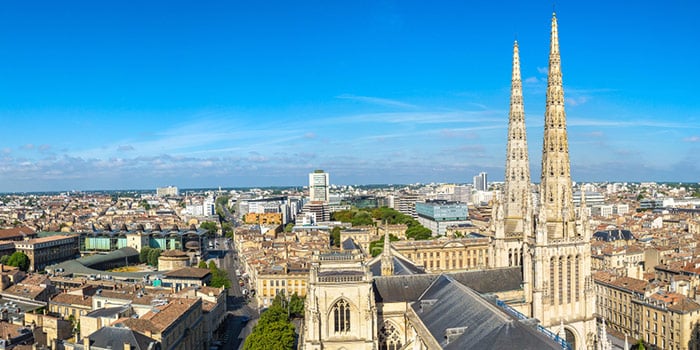 Is Airbnb legal in Bordeaux?
It sure is. You can book whatever rustic French villa or grand 19th-century townhouse you wish in the city of Bordeaux. The local authorities only ask that hosts register their properties and have a short-term letting license. That won't have an impact on the way you use the platform. One thing that is worth knowing, however, is that you might be asked to pay a local tourist tax. It's capped at around 1.5 euros a night and is typically collected in cash upon arrival.
Where should I stay in Bordeaux Airbnb?
Most people will want to be based in or near the gorgeous district of Vieux Bordeaux (1). Also known as Saint-Pierre (1), it's the epicenter of the UNESCO city and where much of the heritage can be explored. To the north of that is Downtown Bordeaux (2); a tad more modern, though still infused with history. North again is Chartrons (3), which is now sprouting modern bars and jazz joints along its happening quaysides. Southwards from the old center along the river heralds the area of Capucins – Victoire (4), which is much loved for its farmer's markets and Moroccan dining. Next to that is the Gare Saint-Jean (5), where some of Bordeaux's best nightlife will be popping off on the weekend. You also might want to widen your Airbnb search to include the greater Bordeaux region around the Garonne Valley (6), where some lovely rustic villas beckon bigger groups and families who want to get away from it all.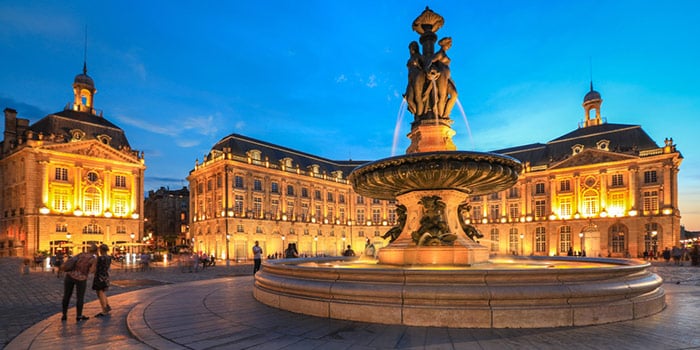 Vieux Bordeaux/Saint-Pierre
Pros
Gorgeous architecture
UNESCO heritage
Loads of history
Cons
Very touristy
Winding streets can be hard to navigate
This is the area of Bordeaux that paints the postcards. Totally re-jigged in the 18th century, it bears the regal architecture of that age. Places like the stunning Place de la Bourse and its reflective fountain ponds are testimony to that, as are the aged merchant mansions of Rue Fernand-Philippart. Artistic masterpieces beckon from the Musée National des Douanes in these parts, as do old churches like the Gothic Saint-Pierre cathedral. It's an immersive area with a UNESCO World Heritage designation that will keep the camera a-clicking.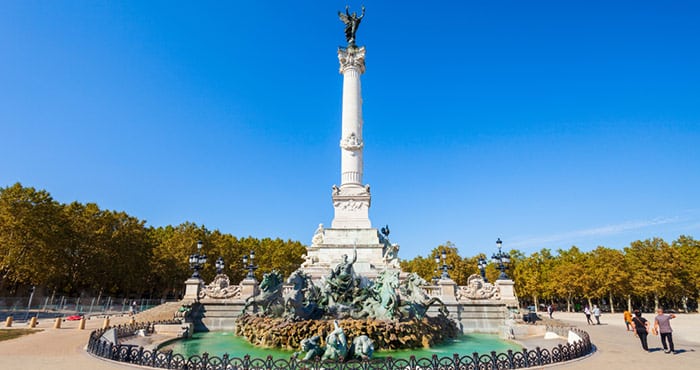 Downtown Bordeaux
Pros
Good for lots of different types of traveler
Cheaper than the old center
Shopping
Cons
Perhaps the busiest part of the city
Huge area that can be exhausting to navigate
Downtown Bordeaux encompasses countless blocks stretching northwards from the historic core of the city. It really is huge, but also packs in plenty for families, solo travelers, backpackers – you name it. The key gathering points are the massive Quinconces Square and its towering Monument aux Girondins, and Place Tourny, where major banking buildings give way to long boulevards dotted with high-street shops and boutiques. We especially like the hidden history sites (check out the half-ruined Roman theater of Palais Gallien) and the green spaces of the Jardin Botanique.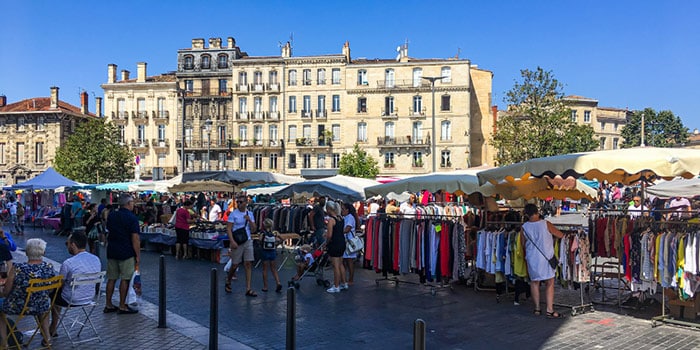 Capucins – Victoire
Pros
Café culture
Great Moroccan food
Excellent market
Cons
A little gritty in parts
Not so many major landmarks
Going south of Vieux Bordeaux along the Garonne River takes you to the immersive quarter of Capucins – Victoire. Very lively and famously multicultural, it's got lots of pedestrianized alleys and squares. Those, in turn, bring oodles of al fresco sidewalk cafés that smell of strong coffee and crispy French pastries in the mornings. The focal point of it all is the Saint-Michel Basilica, which hosts a buzzy market each week beneath its medieval buttresses. There's also a strong Moroccan link, so expect fantastic tagine eateries and mezze platters.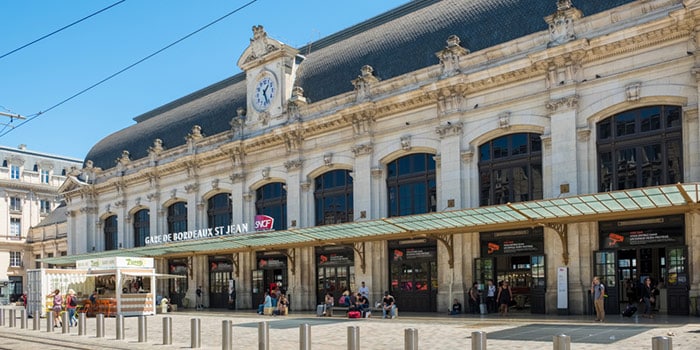 Gare Saint-Jean
Pros
Good transport links to the region and the rest of France
Some of the best nightlife in the city
A local's area
Cons
Quite far from the sights of Vieux Bordeaux
Trains can be noisy
Gare Saint-Jean is a thriving nightlife and transport hub that pulls you yet further south along the riverside from the UNESCO area of Vieux Bordeaux. The energy is mainly centered on the strip of Quai de Paludate. That runs parallel to the water at the eastern end of the district, awash with distilleries, wine bars, clubs and more. Gare Saint-Jean feels a little more like a local's quarter than many of the others on this list, especially in the side streets south of the station.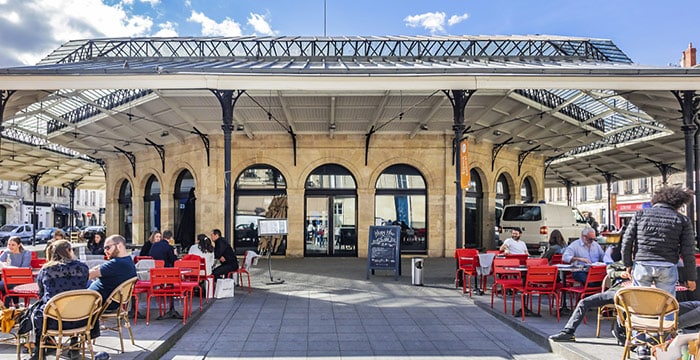 Chartrons
Pros
A favorite among the locals
Lovely areas near the canals and river
Eclectic dining
Cons
It's a bit of a trek to the historic areas
There aren't lots of Airbnbs – yet!
Ask any Bordeaux local where they go to dine and drink on the weekend and the odds are that Chartrons will have a mention. One of the northernmost parts of the downtown, it's an upscale district with leafy streets and canal-side watering holes. The nightlife comes thanks to the quayside walks on the northern part of Chartrons, which can go from early afternoon until well past 2am on sunny summer days. The heart of the area is Cours Portal, though, which drives northwards through strips of Chinese take outs and artisan burger kitchens.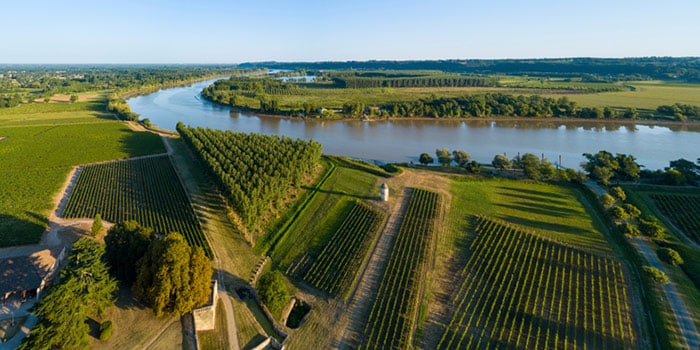 Garonne Valley
Pros
Rustic and remote
Luxurious Airbnb villas
A famous wine region
Cons
It's nearly an hour's drive from downtown Bordeaux
Expensive properties
The Garonne Valley isn't a neighborhood of central Bordeaux at all. It's a cut-out of the greater Bordeaux region that begins right on the doorstep of the south-eastern suburbs. We've listed it here because it hosts the sort of rustic, characterful French villas and farmhouse conversions that many people come in search of in this corner of the country. Some are a mere 35-minute drive from the historical sights but have sweeping gardens and private pools to boot. This part of the area is also a haven for cycling, canoeing, and – of course – wine tasting.
Best Airbnbs in Bordeaux
Best Airbnb apartment in Bordeaux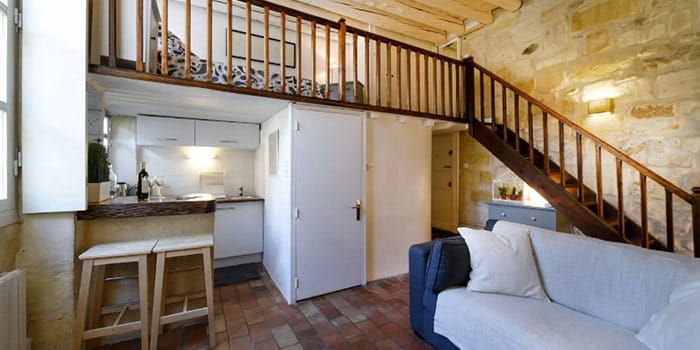 Stone Studio in the Old Bordeaux
This compact studio flat really captures the charm of Vieux Bordeaux. In the very midst of the atmospheric UNESCO city, on bustling Rue des Faussets, it's completely done in traditional French stone. That gives the interiors and impressive grandeur, like a chapel or a long-forgotten kingly court room. Highlights include the imposing fireplace and the oak-topped kitchen area.
Best Airbnb house in Bordeaux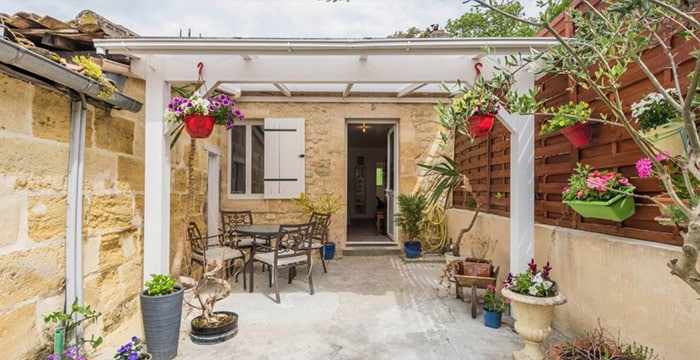 Charmante Maison à 5mn de Bordeaux
Bag a whole house of over 50 square meters by heading to the eastern outskirts of the city and this grand mansion. It sports the rough-stone walls of authentic southern French villas and opens into a gorgeous kitchen area with a large breakfast island. There's just a single bedroom, but a stylish lounge with retro touches, and a patio with a coffee table for those al fresco morning brews.
Best Airbnb for families in Bordeaux

4 Bedroom Town House – 2 terraces
With four separate bedrooms, a living room, and big outdoor deck spaces, this townhouse could be the perfect thing for your family trip to Bordeaux this year. It sits just to the west of the immersive heart of Vieux Bordeaux and its UNESCO draws, but also packs in all the mod cons you might need with the kids in tow – cable TV, WiFi.
Best Airbnb for large groups in Bordeaux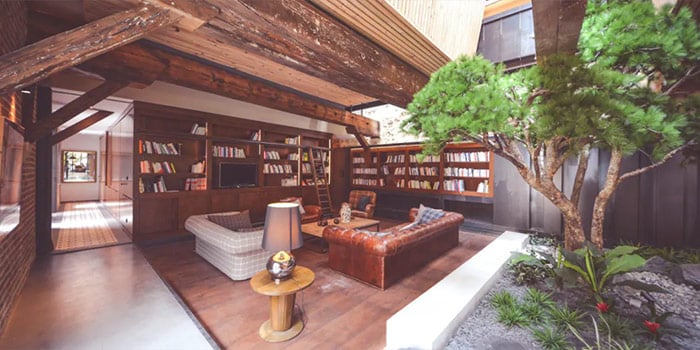 Splendide Chai 700 m2 Bordeaux
There's really nothing that can prepare you for the sheer opulence of this pad in the Chartrons neighborhood on the north side of the city. For a start, it encompasses a mind-blowing 700 square meters. That includes splendid lounges under pine-carved beams, library areas, and sumptuous dining halls with dedicated wine fridges. There's a touch of eastern mysticism about it all too, what with twisted trees and Zen gardens added to the inside. The place can sleep 14 in all, across six particularly lovely bedrooms.
Best Airbnb for country stays in Bordeaux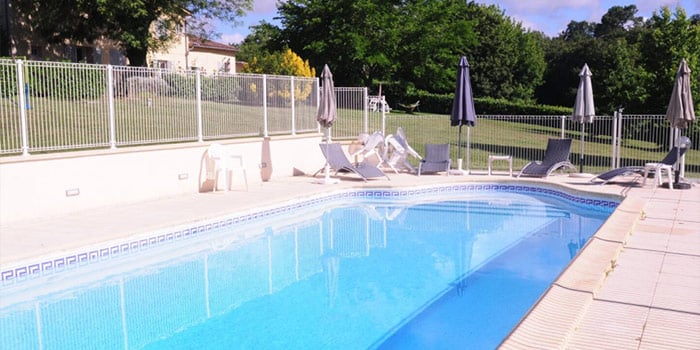 La Métairie Près De Bordeaux
If you're pining for an escape into the winelands of the Bordeaux backcountry, be sure to widen your search to the surrounding region, which is precisely where this stunning villa awaits amid the forests and fields. It's a classic French villa stay with sprawling estate grounds and an enticing outdoor pool. It sleeps five in all, so is perfect for either groups or families. A car is a must, and the city is about 40 minutes away in total.
Is Airbnb cheaper than hotels in Bordeaux?
There's a really good chance that you'll save a whole stack of euros by picking an Airbnb in Bordeaux instead of a hotel. In fact, Airbnbs are known for their good price tags, especially when you factor in the savings you can make by sharing the place with extra people (some of these short-term rents can host groups of 15 or more!). Many of them are also self-catering, which means there's also scope for cutting what you spend out in the bistros and restaurants of the city.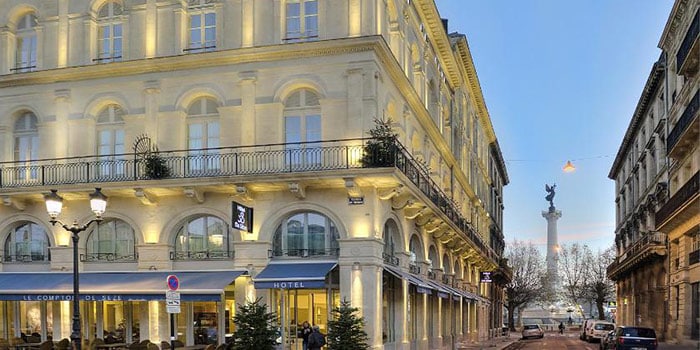 One instance where it's almost certainly better to go for a hotel is if you're wanting to be pampered from the moment you jet into south-western France. Airbnbs are all about privacy. They won't have frills like an on-site concierge or daily housekeeping, at least not most of the time. For that, we can recommend somewhere like the Hotel de Seze & Spa Bordeaux Centre. Right in the thick of the city, it's a grand dame of a hotel with its very own spa and some suites with sweeping rooftop views.
Bordeaux works its magic with tasty wines and grandiose palazzos and haunting Gothic churches topped by gargoyles. You can score yourself a home away from home in the midst of it all with help from this guide to the city's top Airbnbs.
How useful was this post?
Click on a star to rate it!
Average rating / 5. Vote count: