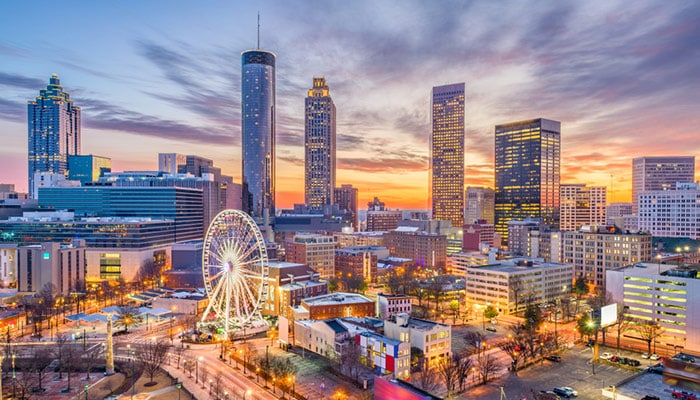 Welcome to The South, of which Atlanta is the de facto capital. One of the fastest growing cities in the USA, this sprawling town is bold, cultured, and brimming with fun. You'll fill your days with fizzing drinks at the World of Coca-Cola (a whole museum dedicated to the country's most iconic soft beverage) or unravelling the rich and proud history of the Civil Rights Movement (Martin Luther King Jr was born in Atlanta in 1929). There's Cajun food and chicory-scented Southern BBQ joints on the dining front, along with huge mainstay attractions like the Georgia Aquarium, the CNN Center, and the Fernbank Museum – look out for the massive dinosaur bones! On top of that, Atlanta offers rumbling jazz bars and access to Civil War battlefields, wild national forests, and the outdoor parks around soaring Stone Mountain. Who's in?
An Airbnb in Atlanta could be the perfect pick if you're after those homey vibes during your visit to the city. Short-term rental pads offer a little more privacy than a classic hotel. What's more, they range from the basic and the budget-friendly to the downright opulent in this metropolis, so you're sure to find something to suit.
In this Airbnb guide to Atlanta: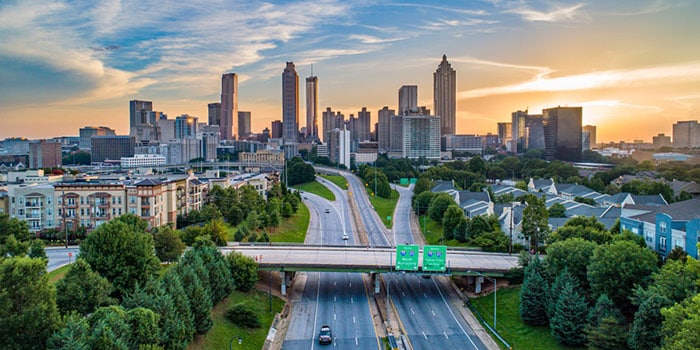 Is Airbnb legal in Atlanta?
Every Airbnb host in Atlanta needs to comply with local regulations. They vary quite a lot across the different wards of the city. In some areas, there are limits on how many days of the year each property can be rented. In others, only a certain percentage of all the properties around can be used for Airbnb purposes. All rentals will have to be registered and should display their reg number on their online page. Of course, none of that really makes a difference to you as a traveler. You're free to look at any pad from Little Five Points to the Downtown and book whatever you please. We'd recommend double checking with the host that everything's in order, though. That's easy to do via the 'contact host' feature.
Where should I stay in Atlanta Airbnb?
You can't go wrong if you aim for the much-loved blocks that surround Centennial Olympic Park (1). That's the heart of Atlanta, and a great place to go if you want to check off major pulls like Coca-Cola World. Midtown (2) is chicer and livelier, with a mix of top-class dining and drinking, although it does tend to cost more. Sweet Auburn (3) is perfect if you're coming to Atlanta on the hunt for Civil Rights history – it was where Martin Luther King Jr was born! Downtown (4) is a fine location for business travelers, but also has a hint of nightlife and good proximity to most of the city's main attractions. For music and bohemian bars, head to Little Five Points (5). To escape to a historic suburb with more rustic Southern charms, consider Cabbagetown (6).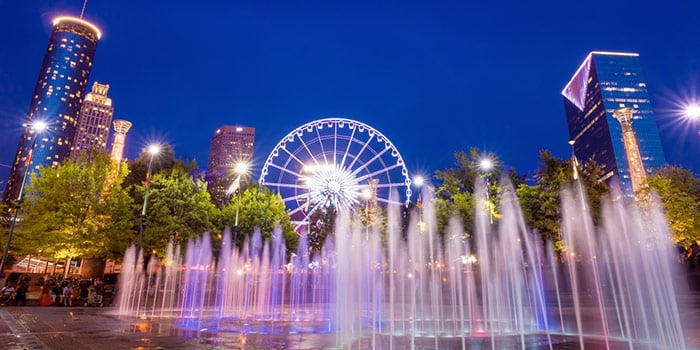 Centennial Olympic Park
Pros
Surrounded by loads of attractions
Nice parkland
Family friendly
Cons
Gets busy with tourists in summer
There's not an overload of Airbnb options
Every first-time visitor to Atlanta should know about Centennial Olympic Park. This 22-acre plot of greenery in the middle of the city is one of the main attractions around. It was laid out during the 1996 Olympic Games and it's now hemmed in by the big-name draws. They include the enthralling World of Coca-Cola, the Georgia Aquarium (watch out for the sharks!), and the Chick-fil-A College Football Hall of Fame (a must for sports buffs). The area also sprouts congress centers and the CNN Studios, so there's a bit of a business-media edge to boot.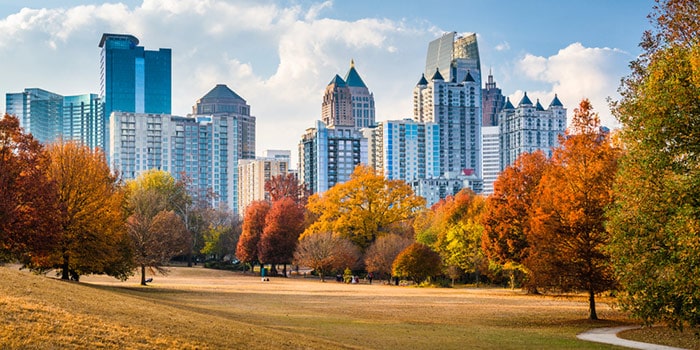 Midtown
Pros
Very vibrant area
Good bars
Some interesting museums
Cons
Not too much historic charm
A little busy
If Centennial Olympic Park has the top tourist draws, Midtown has the swagger. Yep, this happening quarter that stretches up Juniper Street and Peachtree Street is the chillout spot of choice for many Atlanta locals. They come to seek out soaring rooftop bars and vibrant beer gardens under the gaze of the skyscrapers. There's also a good smattering of things to see, whether in the historic green lawns of Piedmont Park or the vast collection rooms of the High Museum of Art.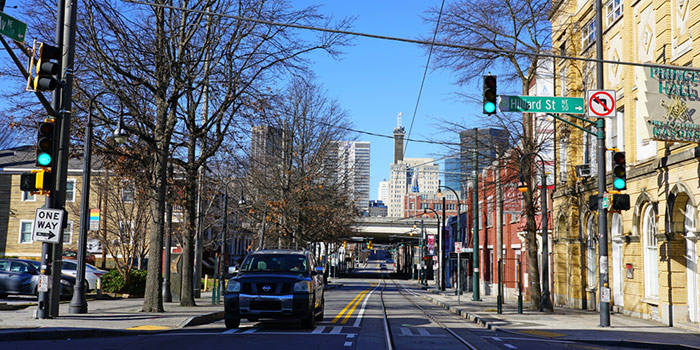 Sweet Auburn
Pros
American history
Good range of eating
Museums and institutions
Cons
Not much in the way of nightlife
Not as well linked to the attractions in the center
Sweet Auburn is famed as the onetime home of the revered Civil Rights leader Martin Luther King Jr. He was born, brought up, and preached in the quarter, so, as you can imagine, it's an area that's steeped in moving American history. Stops like the King Center and the house where he lived as a child are musts. On top of that, Sweet Auburn is a pretty part of town, with charming Antebellum buildings and an enticing gastronomy scene focused on Edgewood Ave – expect everything from sourdough pizza take outs to spice-scented Southern BBQ cooks there.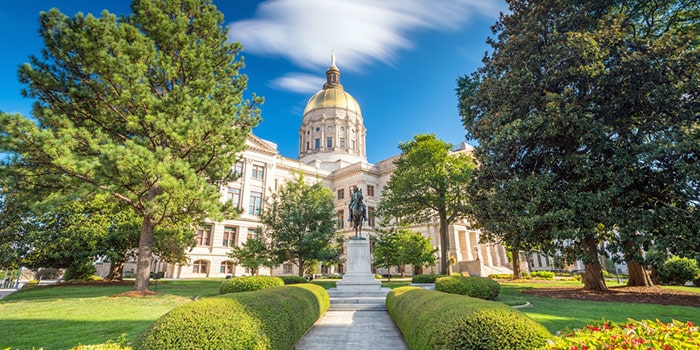 Downtown
Pros
Right in the heart of the city
Some interesting sights
Good transport links
Cons
Can be hard to find Airbnbs
It's a bit business-like
Downtown is the commercial core of the city and a place where life bustles to and fro throughout the week. Banking HQs and global busines offices coalesce between the streets, which are adorned with handsome 20th-century blocks along the Fairlie-Poplar District. South Downtown gets a little more tourist-friendly, offering up the blocks of Five Points and the golden dome of the exquisite Georgia State Capitol. The one major downside is that Airbnbs can be pretty tricky to come by in this important corner of town.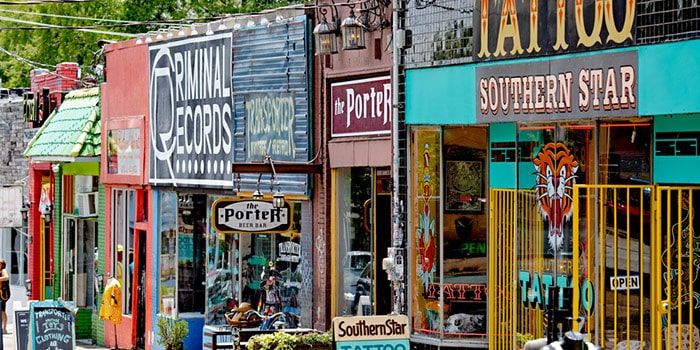 Little Five Points
Pros
Arguably Atlanta's best nightlife
Great live music
Alternative shopping
Cons
Loud on the weekends
Not the most family friendly area
Little Five Points is a happening corner of the Atlanta center. It's the city's answer to NY's Greenwich Village, with bohemian cafés, beatnik bars, and antique shops covering its clutch of blocks, which all spread out along Moreland Avenue NE. However, it's after dark that Little Five Points really comes into its own. The area is known as the live-music hub of Atlanta. Famous alternative venues like The Vortex rock late into the evening here, while microbrew pubs and whisky bars hide down the side streets.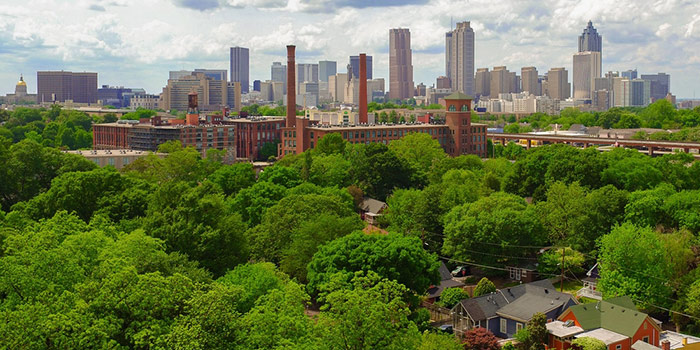 Cabbagetown
Pros
Lots of atmosphere
Historic streets
More chilled vibes
Cons
A little far out from the center
Close to the train lines
The joy of Cabbagetown lies in the fact that it was once on the outskirts of Atlanta. Of course, the sprawl of the suburbs has now engulfed it, but the core clutch of rustic 19th-century farm buildings, mills, and old inns still offers plenty of character. It's all timber-clad homes with white-painted porches, azalea-dotted avenues, and stoop cottages with wooden gables. Carol Street is the part to aim for if you want Southern-food gastropubs and welcoming American diner-cafés.
Best Airbnbs in Atlanta
Best Airbnb apartment in Atlanta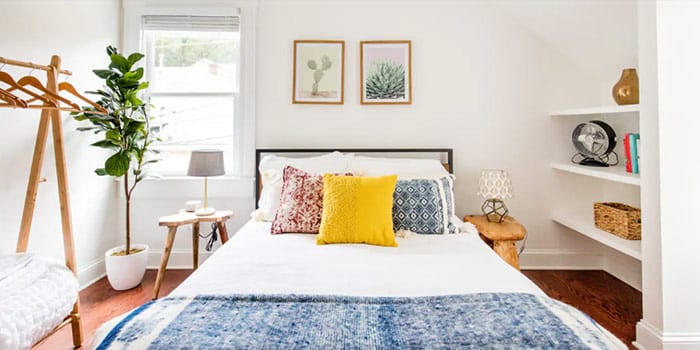 The Old Fourth Flat, a Bohemian Dream Retreat
Imbued with touches of 1950s retro and dashes of contemporary charm, this cozy bolthole flat is the perfect little Atlanta getaway for couples looking to explore the unofficial capital of The South. Real-wood parquet floors run through a kitchen adorned with metro tiles, while the lounge has a freestanding sofa and even its own acoustic guitar. Location wise, you'll be just north of Sweet Auburn, in the historic blocks of the Old Fourth Ward.
Best Airbnb house in Atlanta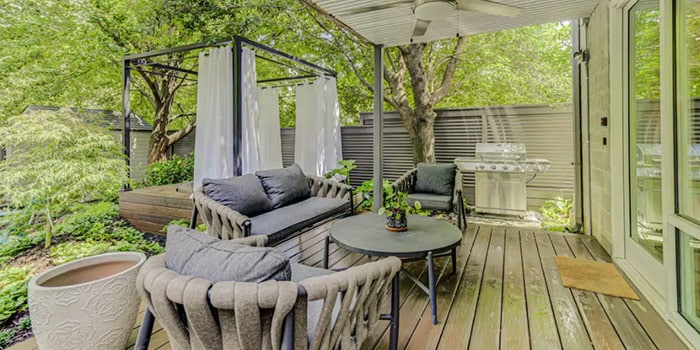 Amazing Zen Garden Unit with Relaxing Hot Tub
Sat just on the edge of the history-rich area of Sweet Auburn, this deluxe property boasts a gorgeous gravel garden with its own deck and shaded hot tub. But there's more, because the interiors include a designer kitchen and lounge area with its own 70″ flat-screen TV (yep – 70″). In total, it's got two bedrooms, each with a large double.
Best Airbnb for families in Atlanta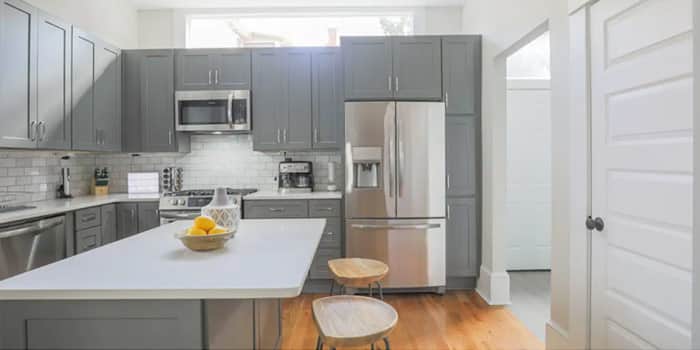 Historic Craftsman Walking Distance Best of Atlanta
Marrying the stylish and the convenient, this nine-person pad on the fringes of chilled Cabbagetown could be the perfect home away from home for family visitors. On trend, it's got cool, Scandi living areas and a huge kitchen with breakfast bar that speaks of understated elegance. There are three separate bedrooms with doubles, along with one pull-out sofa bed.
Best Airbnb for large groups in Atlanta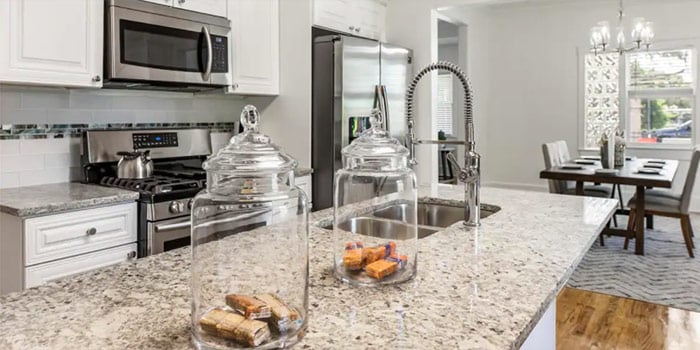 Large Home Near Mercedes Benz Stadium
Tucked into a quiet residential neighborhood on the southern end of Atlanta, this sprawling family home can sleep up to 12 guests over five individual bedrooms. It's got oodles of square meterage for spreading out and cranking up the R&R. Highlights include a stunning, marble-clad kitchen, a grassy garden, and a modern lounge with wall-mounted TV.
Best Airbnb for quirky stays in Atlanta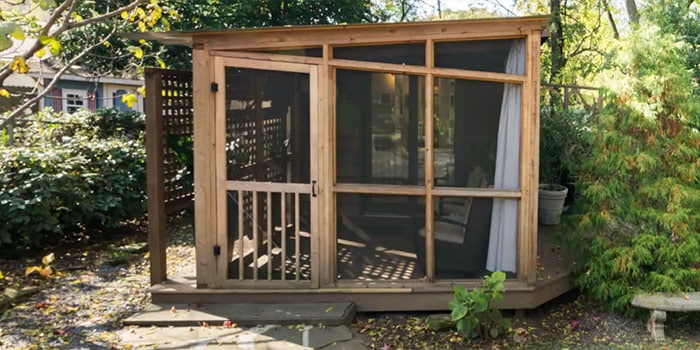 Tiny Urban Cottage in Artsy Cabbagetown Neighborhood
You'll get a real feel for rustic Cabbagetown by escaping to this hidden timber cottage in the southern district. It's small and compact, so perfect for loved-up duos on a romantic trip to the city. A small porch that's shaded by clusters of hardwood trees gives way to a whitewashed interior that's unexpectedly modern, complete with a walk-in shower and large double bed.
Is Airbnb cheaper than hotels in Atlanta?
It's really common to find that Airbnbs cost less than hotels in Atlanta. That's largely because they don't offer the same level of hands-on service. And it's not just the nightly rates that can be a treat for the budget. Booking larger places to house everyone you'll be traveling with means you can divide up the cost of your stay between more people. What's more, many Airbnbs in Atlanta are self-catering pads, which means potential savings when it comes to dining out.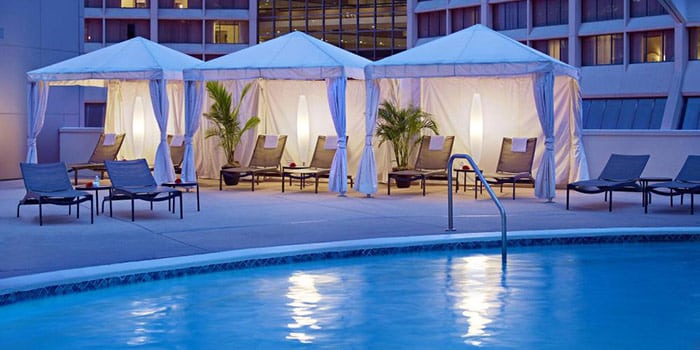 The downside here is that you won't get the same level of personalized care that you do in a hotel. If you're keen to feel that legendary Southern welcome, you could be after somewhere more like the Atlanta Marriott Marquis. That will get you into the very middle of the city, right by the big-name draws of Centennial Olympic Park. Oh, and it boasts a striking architectural design, pools indoors and out, and a private fitness center.
Smell the hickory wood on the smoky Southern BBQs, see where Coca-Cola was born, and tour historic areas that were pivotal in the Civil Rights Movement, all from the comfort of a lovely Atlanta Airbnb.
How useful was this post?
Click on a star to rate it!
Average rating / 5. Vote count: