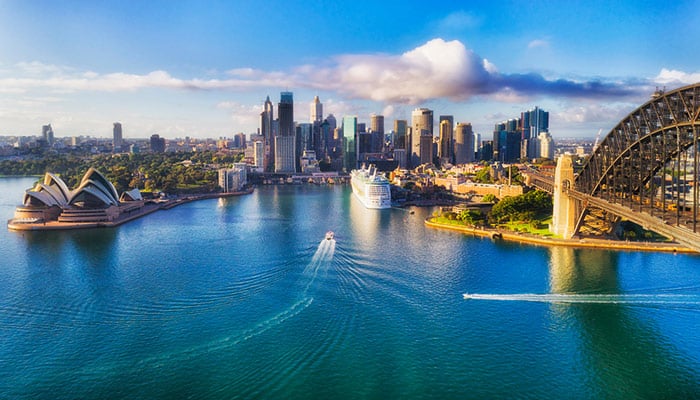 Sydney is the sun-kissed city of New South Wales. With one foot in the Tasman Sea and the other in the Blue Mountains, it's surrounded by some of Australia's most eye-wateringly wonderful natural features. But before you can explore them, you'll have to pull yourself away from the buzzing mass of neighbourhoods and sights that make up Sydney itself. That might be harder than you think. The downtown core is gilded with great monuments like the Sydney Opera House and the happening gastronomic quarters of Darling Harbour. There are pubs and backpacker bars aplenty in The Rocks historic area, and boho brunch joints in Darlinghurst. Then comes the coast, where shimmering beaches and surf breaks spread from Bondi to Manly. No wonder this is the bucket-list chart-topper of Oz!
Sydney has the biggest array of Airbnb options of any city in Australia. That should hardly come as a surprise, considering it's also the most-visited destination in the country. Still, that's good news for travelers, as everything from chic penthouse pads to private rooms to rent in family homes in the suburbs are up for grabs via the platform.
In this Airbnb guide to Sydney: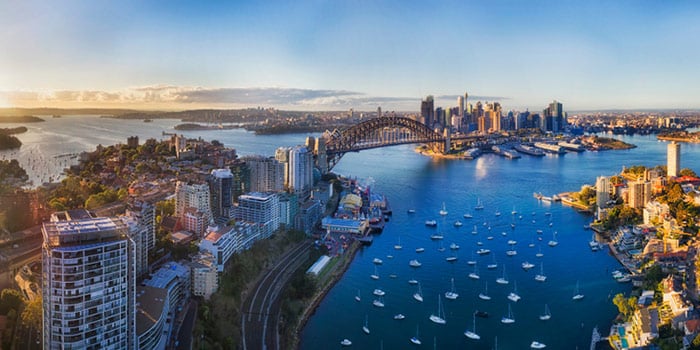 Is Airbnb legal in Sydney?
The New South Wales government has been tightening restrictions surrounding all short-term rentals in the last few years. The most recent change gave boards of property owners the right to outlaw Airbnb-style lets in particular complexes, provided it was voted on by the majority of members. Other restrictions make it difficult to list your property if it's not your primary place of residence. So far, there's little to change the way travelers can visit Airbnbs in Sydney, but the number of listings is dropping because of the new legislation. There is also talk of instituting a short-term rental code of conduct, which could bring penalties to guests who stay in illegal lettings. We'd always recommend checking and double checking all this with your prospective host before you go ahead and book.
Where should I stay in Sydney Airbnb?
Sydney finds its anchor in the skyscraper-topped CBD (1), where workers come to punch in for the nine-to-five before enjoying buzzy nights in the bars and eateries. Close to that is The Rocks (2), which hosts vintage Victorian pubs and some of the town's best backpacker hostels. The duo of Surry Hills (3) and Darlinghurst (4) ooze hipster feels with a bumping nightlife scene to match. Then you've got Newtown (5), where the students love to get things rolling on a Friday evening. To be close to the shoreline, you could opt for famous Bondi (6) – uber-cool and lively – or more relaxed Manly (7) – further afield but more chilled.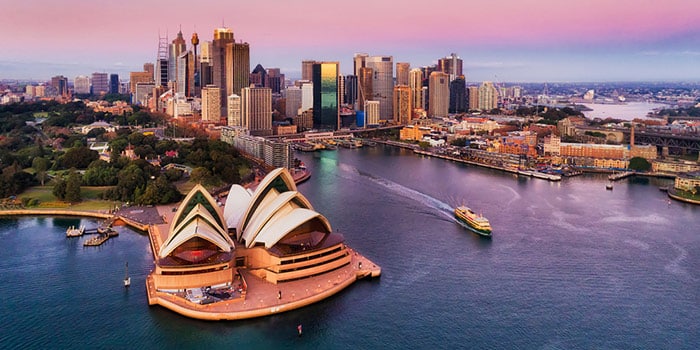 CBD
Pros
Always lively
Loads of bars and restaurants
Close to major sights
The CBD is the engine room of the New South Wales economy. From Monday to around Friday midday (yep – midday!) it buzzes with businessfolk. Then, everyone clocks off and they get on the beers, as they locals like to say. That's why there are bars by the bucket load here, from 1930s speakeasies to old Victorian pubs to chic new gin bars with cocktails you've never even heard of. The CBD is also perfect for getting out to see sights like the Sydney Opera House and strutting between the shops of the Sydney Harbour.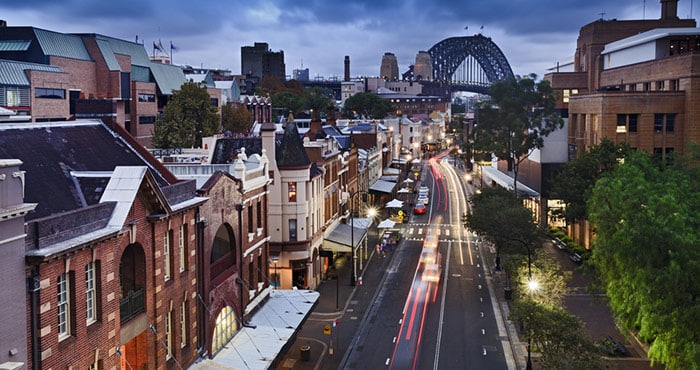 The Rocks
Pros
Old and characterful pubs
Real close to Sydney Opera House
Good backpacker scene
Cons
Touristy area
Can be loud on weekends
The Rocks is the given name for a small cut-out in the very middle of Sydney's downtown. It's the most venerable quarter of the metropolis, which spreads out from the side of Sydney Harbour Bridge into tightknit alleys and lanes that crisscross each other. Filled with action and energy, it's a top place to go hunting for backpacker bars and hostels. There's also a fantastic weekend market, a quirky busker scene, and some of the oldest pubs in the whole of Australia.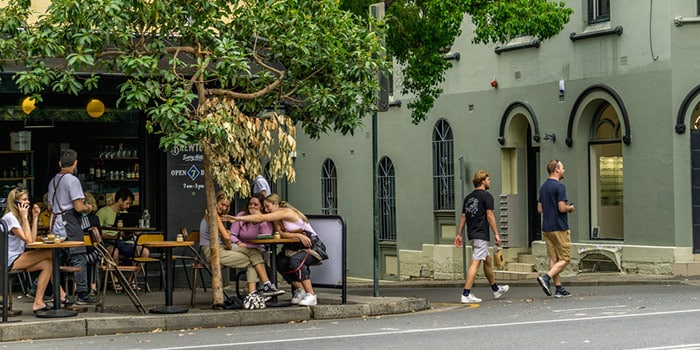 Surry Hills
Pros
Fantastic coffee
Creative culinary scene
Well connected to local transport
Cons
A little gentrified for some visitors
Can be expensive
Surry Hills is southeast of the CBD, where it clutches the terminus of the train lines at Central Station. Once a gritty district for the town's industry workers, it's now riding the wave of inner-city rejuvenation. Cue edgy brunch and brew establishments like the Paramount Coffee Project, where the menus read spicy Asian broths and single-origin beans. There are art-house cinemas, vintage clothes shops, cool photography boutiques, along with some of the most hipster Airbnb rentals in town.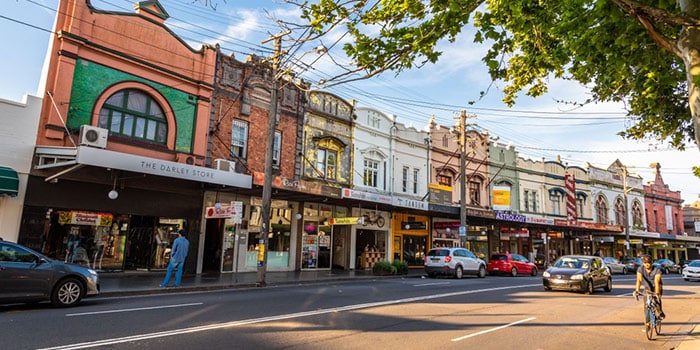 Newtown
Pros
Local vibes
More off-beat nightlife
Low-key but top-quality dining
Cons
Not great for families
A little far from the mainstay sights
Newtown is another area that showcases the edgier side of Sydney. It's a little trip from the sights of the CBD, but you sacrifice proximity to the landmarks for bona fide local vibes. That means rollicking live-music pubs with buzzy beer gardens. It means vinyl record emporiums in old-school buildings, next to bumping student bars with attractive happy-hour deals. The streets are lively and filled with places to shop and dine, but Newtown is unashamedly tailor-made for the younger crowd.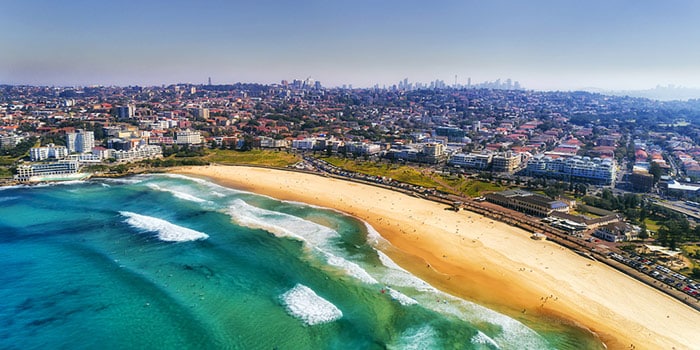 Bondi
Pros
The surf
The beach
A sea-view Airbnb, if you're lucky!
Cons
Expensive
Very busy in the summer
Bondi – and its namesake beachfront – hardly needs any introduction. This is where Sydney meets the sea in grand style. A shimmering stretch of gold-tinged powder that slopes into a lovely blue ocean, it's famed for its surf breaks and backpacker atmosphere. You could be forgiven for thinking you'd been transported from the biggest city in Oz to a chilled-out beach town somewhere up the Central Coast – if it weren't for the regular ferries to the CBD at Circular Quay, that is! This area is all salt-washed surf cafés, cool outdoorsy shops, and even sea-view Airbnbs (for those willing to fork out, at least)!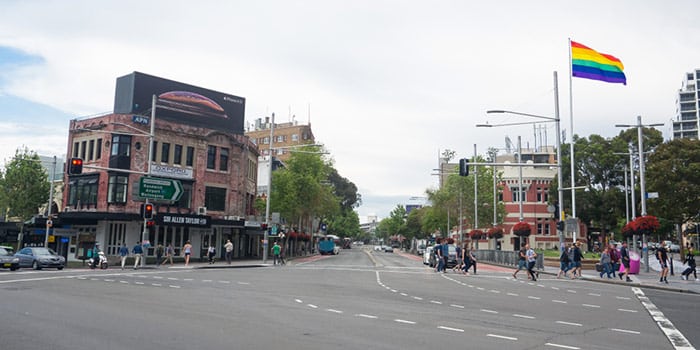 Darlinghurst
Pros
Fantastic nightlife
Great annual events
Hipster eateries and cafés
Cons
Can be loud
Gets busy on holidays when there's an event on
Downright bold and brilliant, Darlinghurst is one of Sydney's most rambunctious neighborhoods. It pulses with life in the evenings and on the weekends, and comes with the town's most vibrant set of LGBTQ bars. It's also where major festivals take place, like carnival in early spring. Darlinghurst also takes a little influence from its cool and collected next-door neighbor: Surry Hills. That brings a showing of stripped-down hipster cafes and fusion food outlets.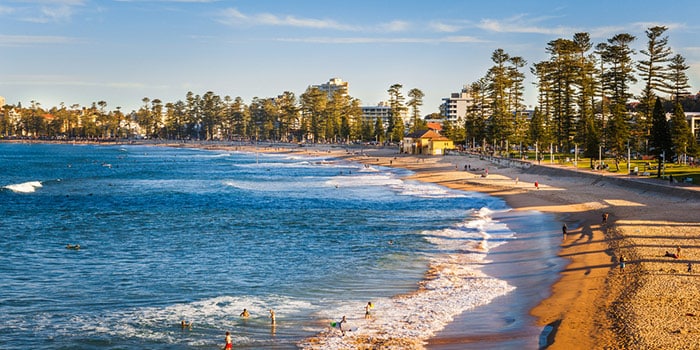 Manly
Pros
More relaxed than south Sydney
The chance to stay by the beach
Good beginner surfing
Cons
Quite far from the heart of the city
Manly can be expensive
Manly is your chance to see the stunning beaches of the Sydney area without the same crowds and energy as Bondi. It's up on the way to the lovely North Shore, over the mouth of Sydney Harbour from The Rocks. There, the beaches glow gold and the shores are fringed by tall pine trees. You can spend your days practicing your surf technique and your evenings touring local galleries or tasting Central Coast wines in the bistros.
Best Airbnbs in Sydney
Best Airbnb apartment in Sydney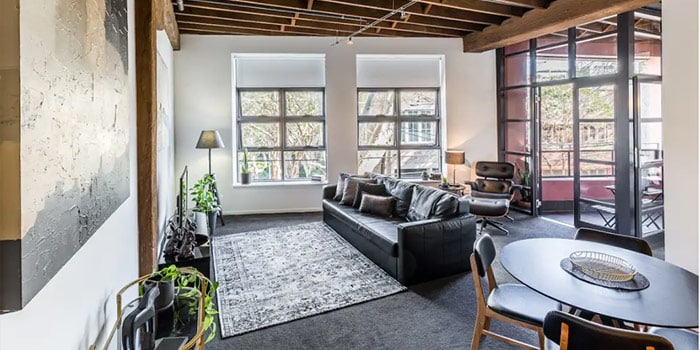 Park View Warehouse Apartment
This highly rated apartment is nestled in the streets between the CBD and Newtown, which means you can easily get to both lively nightlife quarters and the main sights. It's a creative little property with a sort of Friends-style loft vibe. Guests can laze in the open salon by the flat-screen TV or cook in the partitioned kitchen. There's also a small outdoor terrace that's positively flooded with light.
Best Airbnb house in Sydney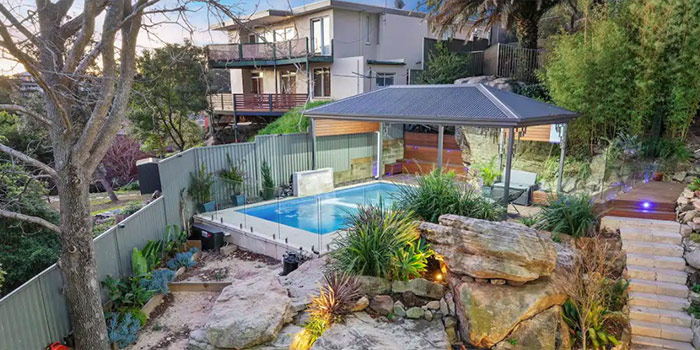 Family Resort Style Close to Sydney, Airport, Beach
There's more square meterage to spread out and relax in this sprawling mansion than you can shake your Aussie flag at. It's built over two storeys with a beautiful open back that faces a large garden. The grounds contain a big swimming pool, a pond, and stepped flower beds, not to mention plenty of outdoor eating space. Inside, you've got six bedrooms and a gorgeous open kitchen for those nights in together.
Best Airbnb for families in Sydney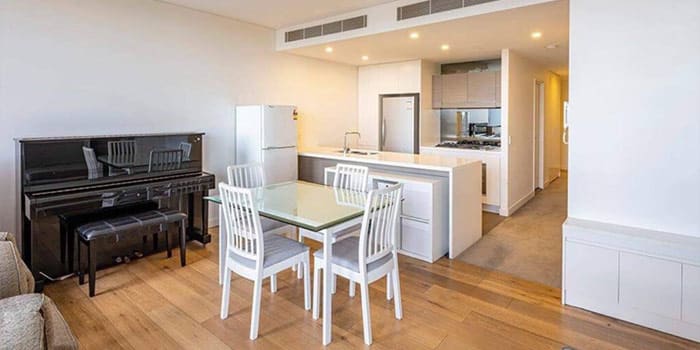 Great View Large Apartment
Family visitors to the capital of New South Wales won't have to worry about missing the mod cons if they choose this uber-contemporary apartment. It's built in the condo style, with sleek, white fittings running throughout. There's a spacious lounge-diner with a piano for anyone who fancies a twinkle on the keys, along with three separate bedrooms with varying sleeping arrangements.
Best Airbnb for large groups in Sydney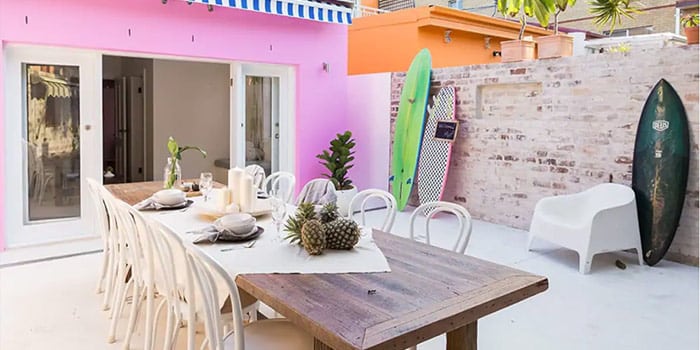 Jet Flamingo: Beach House
Wax down the surf boards and ready the rash vests, because this large villa promises to whisk you away to the buzzing blocks just behind Bondi Beach. There, you'll soak up the sun and sea right next to some of Sydney's premier waves. The property itself can sleep up to 16 people over a large indoor-outdoor space. Highlights include that lovely al fresco dining patio and a relaxed sitting room with flat-screen TV.
Best Airbnb for budget stays in Sydney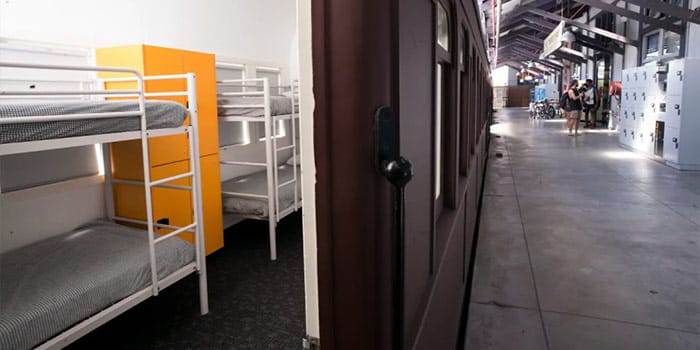 Bed in 4 Share Railway Carriage (Male Only)
Huddled between the pubs and the shopping malls of downtown Sydney, close to the CBD and The Rocks, this bargain, hostel-style accommodation will get you near to the sights without breaking the bank. It's quirky stuff – you'll actually be sleeping inside an old railway carriage! On top of that, you get access to a communal kitchen space and terrace where it should be a cinch to meet and mingle with other backpackers.
Is Airbnb cheaper than hotels in Sydney?
There's a good chance that you'll save a stack of Aussie dollars if you plump for an Airbnb over a hotel. Nightly rates are often far lower in these sorts of stays, especially if you go for a larger, multi-bed property and share it with your whole travel crew. You can also look forward to saving more by going for self-catering Airbnbs, which can cut the cost of eating out, and by looking to book for longer periods, when there are sometimes discounts of up to 50% available on Airbnbs in Sydney!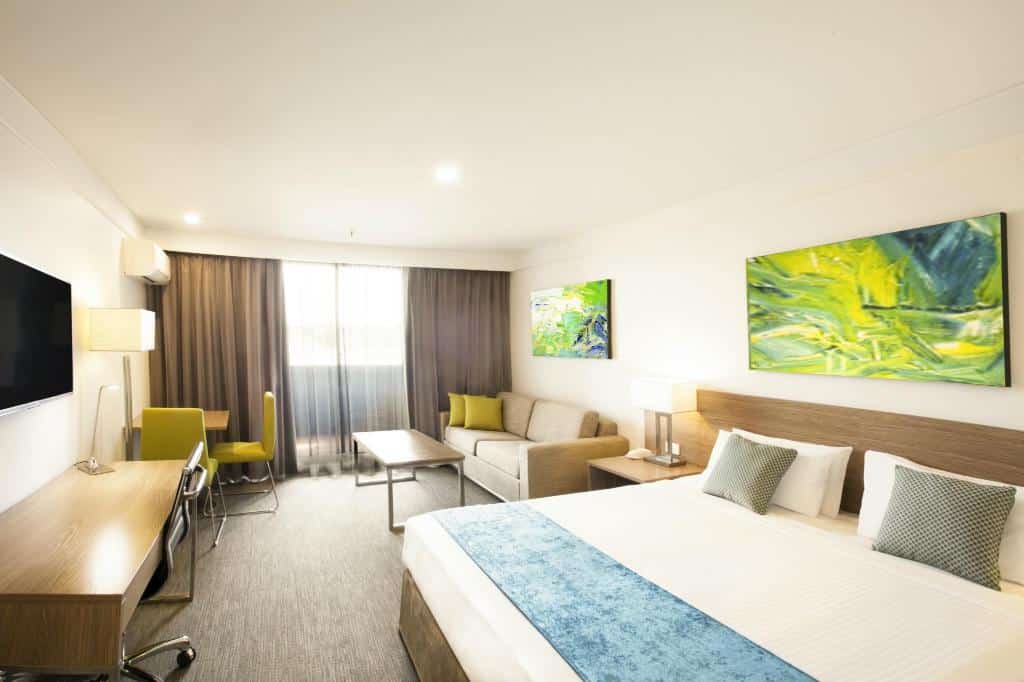 There are some downsides to picking a short-term apartment or house rental, though. Most importantly, hotels are much more hands-on when it comes to service. They offer staffed receptions and in-house breakfasts, room cleaning and room service. For those sorts of frills, you could opt for somewhere like the Metro Aspire Hotel Sydney. That's a modern hotel with clean, contemporary rooms and sweeping views of the CBD.
The warm sands and frothing surf of Sydney's eastern coastline rolls into a town of happening hipster hoods and uber-famous landmarks. There should be an Airbnb in whatever corner of the town that captures your imagination the most.
How useful was this post?
Click on a star to rate it!
Average rating / 5. Vote count: