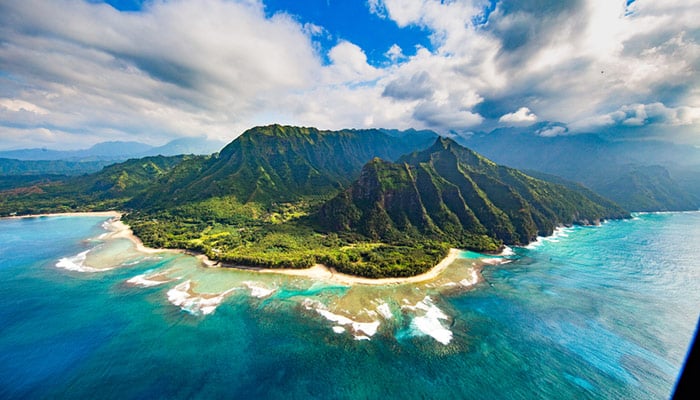 The Shangri-La of the United States lies thousands of miles out in the depths of the Pacific Ocean. A paradise of daffodil-tinged beaches that roll beneath pockets of palm trees, it's long been a place to come for no-holes-barred R&R. Golf resorts collide with deluxe honeymoon hotels, all before the vibrant resorts of Waikiki and Kailua-Kona. There are pristine coves and pearly waters where you can snorkel and watch for whales, not to mention Tiki bars with pineapple cocktails on tap. The fun extends across several of the most famous island destinations in the world. There's Maui with its surf breaks and beautiful people. There's Kauai, the home of the rugged Na Pali Coast. There's Big Island, topped by magma-belching volcanos. Welcome to the Aloha State, folks…
One way to get a little extra space to spread out and relax while traveling this corner of the US is to switch out a traditional hotel for an Airbnb. They tend to be larger, self-catering properties with a bit more privacy than in a resort. They can also take you to parts of the islands that other travelers don't often visit and give good value for money. Tempted? Read on…
In this Airbnb guide to Hawaii: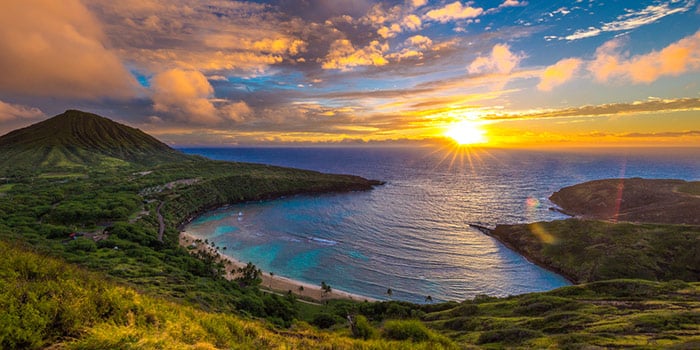 Is Airbnb legal in Hawaii?
Airbnb is a fantastic source of accommodation for travelers eager to hit the perfect waves and shimmering beaches of Hawaii. It's completely legal on the islands, although there might be a few zoning restrictions that keep the overall number of short-term lets on the down low. That won't have an impact on you as a traveler. Feel free to browse the platform and choose whatever salt-sprayed surf shack or sleek Waikiki condo you like. You can even complete the whole booking online with just a few clicks of the mouse. Easy.
Where should I stay in Hawaii Airbnb?
There are oodles and oodles of amazing places to go hunting for that Airbnb in Hawaii. We've picked out just a few of the best, starting with the hip-shaking, hula-loving, beach hub of Waikiki (1). The North Shore (2) is a whole world apart from that. Though it's still on Oahu island, it's more for the adrenaline-hungry surfers out there. Poipu (3) beckons on Kauai's southern side, with its sunny beaches and family vibes. Princeville (4) is an option in the north of Kauai, close to Na Pali and touting world-class luxury golf retreats. On Maui, we love the area of West Maui (5), which spans a whole coastline with its refined hotels and award-winning snorkeling bays. When it comes to Big Island, Kailua-Kona (6) is for those hunting R&R, but Hilo (7) is the place for intrepid adventures to tidal pools and volcanos.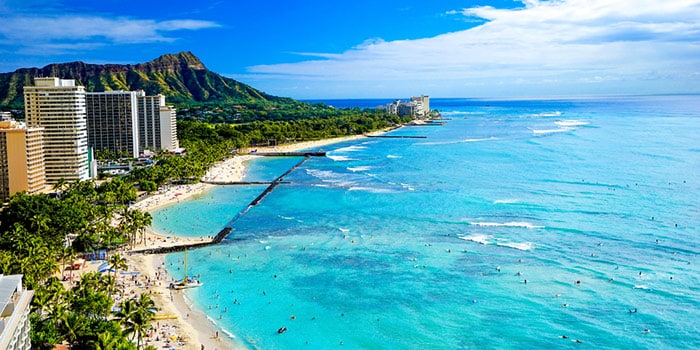 Waikiki
Pros
A real vacationing mecca
Great hotel resorts
Famous beaches
Cons
Very busy
The most touristic part of Hawaii
A great many tourists never look past Waikiki. We can hardly blame them. This is the fun-filled, vacationing heart of the Aloha State. It began life as a royal retreat for the Hawaiian kings and queens. Today, it's all five-star hotel resorts with glimmering pools by cloud-white beaches. The waters are famously turquoise in these parts, and there's arguably no more a happening strip of sand in the region than uber-famous Waikiki Beach. Come here to sip cocktails in elegant hotel bars, cruise on a longboard over the mellow waves, and shop your way through Honolulu's coolest malls.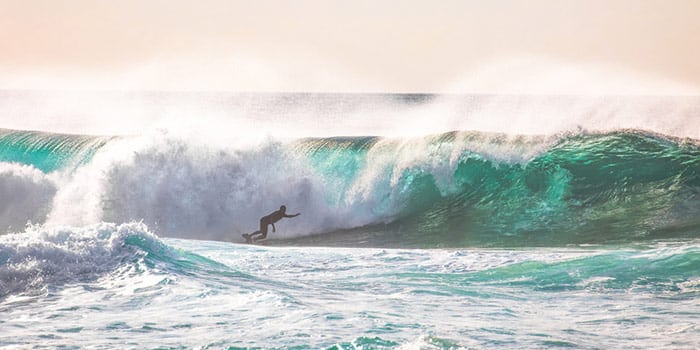 The North Shore
Pros
The surf is legendary
Lovely beaches that are less busy than in Honolulu
Polynesian culture
Cons
The surf is too hard for beginners
Harder to reach from the airport than, say, Waikiki
The North Shore is the general name for the topmost edge of northern Oahu island. Surfers the globe over will know this one as the home of legendary spots like the unforgiving Banzai Pipeline. Don't even think about paddling out to those unless you're a pro. (We'd recommend finding a good place on the beach to watch the masters at work.) But it's not all gnarly waves, either. The North Shore is also an immersive, less-trodden part of Hawaii that's got fascinating heritage draws like the Polynesian Cultural Center, along with quaint B&Bs and wilder beaches.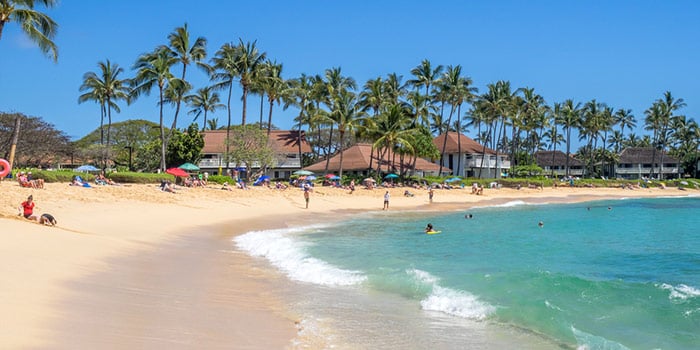 Poipu
Pros
Great for families
Protected beaches
Fantastic and reliable weather
Cons
Busier than the northern beaches of Kauai
It's a long, winding drive to Na Pali

Poipu is among the series of much-loved vacation towns on the sunny south coast of Kauai. It's known for its fantastic weather, which means oodles of blue skies and balmy temperatures for much of the year. To make the most of that, you've got the award-winning Poipu Beach on the doorstep. It's been named the best in the whole of the US many a time and offers protected swimming lagoons that are great for families. Poipu is a fine base for getting to the so-called Coconut Coast on the east of Kauai too, but the iconic Na Pali Coast is probably a little too far. Expect bigger crowds here than up north.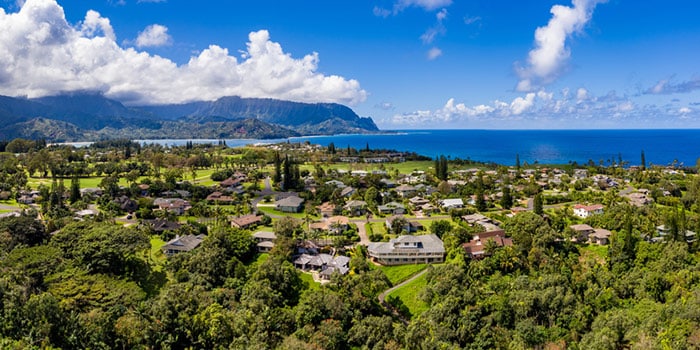 Princeville
Pros
Very luxurious
Good location near the stunning Na Pali Coast
Golfing
Cons
Expensive
Unpredictable weather
The northern end of Kauai takes a turn for the dramatic. The sinewy peaks of volcanic mountains rise like shark fins all over, there are lush rainforests shimmering in 10,000 shades of green, and the beaches look like something out of Castaway. The piece de resistance here is the Na Pali Coast, with its hulking summits dropping into a pearly ocean. Princeville sits to the east of that, beckoning with a surprising mix of prestigious golf clubs and some of the most luxurious vacation rentals in all of Hawaii.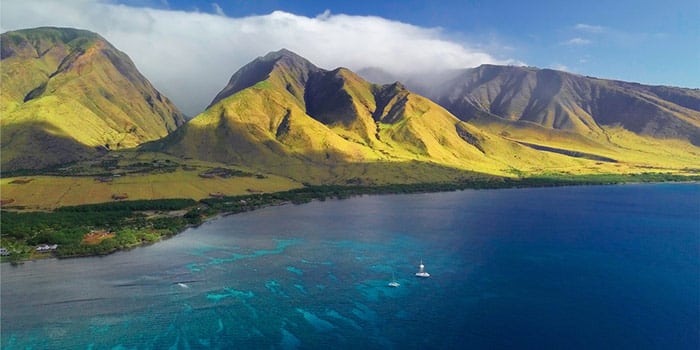 West Maui
Pros
The whole area is really beautiful
Good mix of different resorts
The beaches are spectacular
Cons
Some places can be expensive midseason
A car is needed to venture out from your resort
If you're dreaming of that Hawaiian paradise of palm-threaded beaches and hibiscus-scented coves topped by looming peaks, West Maui has you covered. The whole coastline of this region is linked by the Honoapiilani Highway, which hits a zenith at the gorgeous gold-and-black beaches of Kaanapali. Further south is stunning Wailea Beach and its fringing of craggy volcanic reef. Go there for endless inlets of beautiful sand, coastal walking routes, and world-class snorkeling.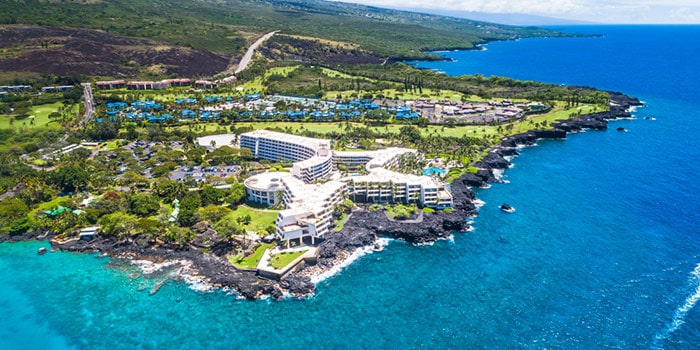 Kailua-Kona
Pros
Top snorkeling territory
Good for adventurers
Fantastic golf courses nearby
Cons
You'll need a car to get around
The larger resorts will cost lots!
Kailua-Kona sits on the western side of the Big Island (named because it's the largest island in the whole Hawaii chain). It attracts adventurous travelers with the promise of reef-ringed snorkeling bays like King Kam Beach and access to the magma-carved Kau Forest Reserve. Those outdoorsy gems lie to the more rugged south, while the north of town is a long strip of upscale resort hotels backed by some of the best golf courses this side of Pebble Beach.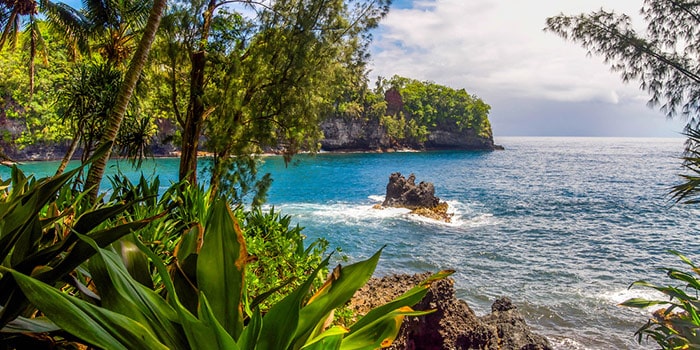 Hilo
Pros
Not so touristy
Affordable
Close to the Hawaii Volcanoes National Park
Cons
Short on pristine beaches
Unforgiving landscapes
Hilo might have the main airport on the Big Island, but it's also way less touristic than its compadres on the pretty west shoreline. That's a tad surprising, considering just how close the jaw-dropping vistas of the Mars-like Hawaii Volcanoes National Park are. Hilo also sports off-the-beaten-track draws like the koi ponds and Zen gardens of the Liliʻuokalani Park, along with a truly untamed coastline to the north; a symphony of rock-ribbed cliffs and jungle-topped bluffs. The accommodation tends to be cheaper, too, and there are some wonderful eco lodges for those who want to be immersed in Hawaii's wilder corner.
Best Airbnbs in Hawaii
Best Airbnb apartment in Hawaii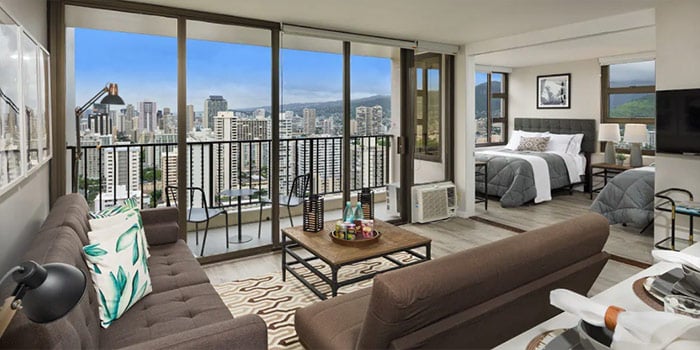 Incredible 1 Bedroom at Waikiki Banyan
You'll be in the very beating heart of Waikiki – Hawaii's most vacation-ready spot – if you pick this soaring condo-style apartment. It's actually located inside the resort of the Waikiki Banyan, which means you're literally steps from the Kuhio Beach and the bustling promenades. The pad has sweeping views over Honolulu city and access to a chill-out deck with two pools and a duo of hot tubs. Nice, eh?
Best Airbnb house in Hawaii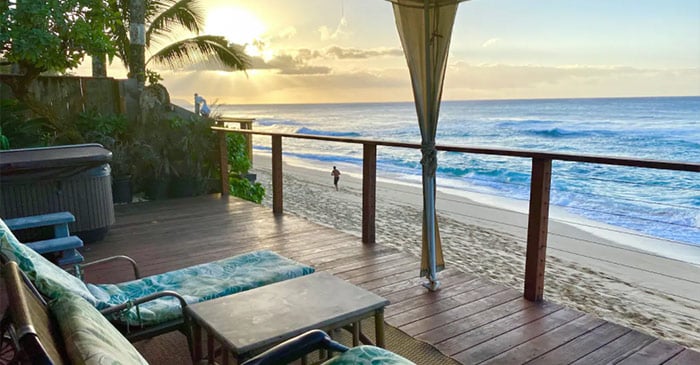 Hawaii Oceanfront Beach House
Just a stone's throw north-east of the iconic Banzai Pipeline surf break, this gorgeous family home makes the most of its location on the Oahu North Shore with a beautiful wooden deck that gazes straight over the Pacific Ocean. There's even a hot tub there for good measure. Inside, meanwhile, is simply done, with a fusion of Caribbean and Polynesian styles, along with a master bedroom that has huge window views of the white-sand beaches below.
Best Airbnb for families in Hawaii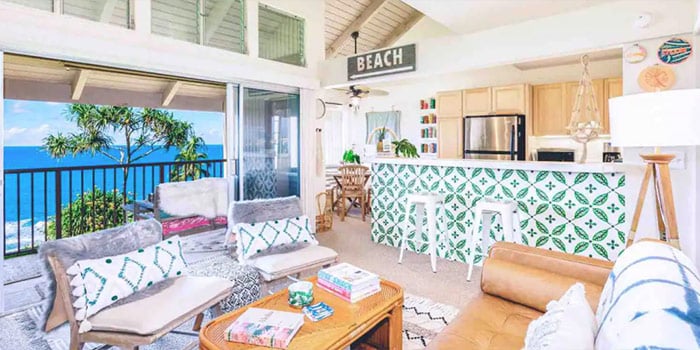 The Surfshack
There's enough space for five people in this deluxe condo flat on the edge of Princeville in northern Kauai. Channeling the easy-going Aloha vibes of the local surf culture, it's packed with wicker tables and shell lights, and opens onto a gorgeous sun terrace where you can sit and smell the Pacific salt. The location puts you close to some of Hawaii's best golf courses, but also within reach of the once-in-a-lifetime Na Pali Coast.
Best Airbnb for large groups in Hawaii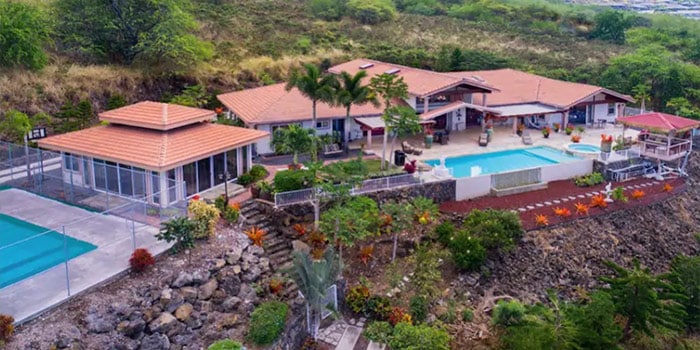 Quintessential Blend of Luxury
It's not just size and capacity (expect room for up to 16 people across five bedrooms) that this sprawling Big Island estate brings to the table. The pad also oozes luxury. There's a sweeping infinity pool perched on a patio with 180-degree views of the Pacific Ocean, not to mention an on-site tennis court, and five whole acres of land all to yourself!
Best Airbnb for romantic stays in Hawaii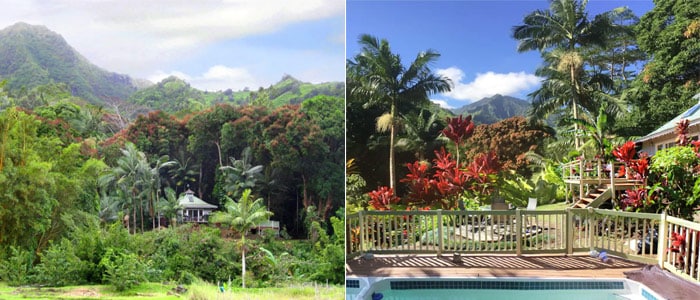 Romantic Garden Cottage
You'll be able to escape to the lush rainforests and primeval peaks of northern Kauai with your other half by booking this amazing retreat in Hanalei. It's a standalone cottage that brims with tropical charm with its timber roof and sprawling deck areas. The views are jaw-dropping, and best enjoyed from the private on-site swimming pool.
Is Airbnb cheaper than hotels in Hawaii?
We'll level with you – there's rarely such a thing as super-cheap accommodation in Hawaii! This is one of the most-coveted vacation spots in the USA, after all. That said, there's a good chance that you'll be pleasantly surprised by the price of Airbnbs, especially when compared to the deluxe hotel resorts of the Aloha State. They often come with more affordable price tags, can be in less-popular areas that tend to be cheaper, and can have pretty generous discounts for long-term stays of anything over a week.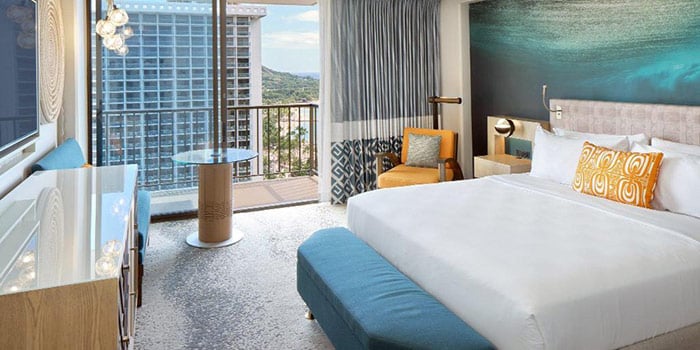 The downside of an Airbnb is that it's not going to have the same luxury service that you might be used to in Hawaii's hotels. With daily housekeeping, on-demand room service, and dedicated shuttles running to the beaches and the malls, the Waikiki Beachcomber by Outrigger does offer that sort of pampering. It's a four-star hotel right on the shoreline of enticing Waikiki. You can hardly go wrong…
Ready the hibiscus garlands and prep the hula skirts, because this guide is all about helping you plan the perfect trip to the sun-kissed, wave-washed Aloha State of Hawaii.
How useful was this post?
Click on a star to rate it!
Average rating / 5. Vote count: