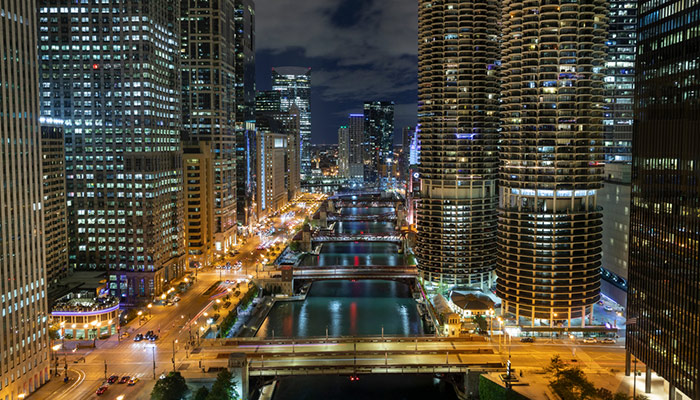 Chicago is one of the greatest metropolises in the United States. In the heart of the Midwest, it's known for its great industrial legacy, its moody jazz music, its cloud-splintering Art Deco skyscrapers and its fat pizza pies. A trip here is a whirlwind of delights. One moment you'll be staring up at the soaring Willis Tower. The next you'll be roaring on home runs in the hallowed ground of Wrigley Field. Priceless works abound in the world-famous Art Institute of Chicago, there's more sightseeing and culture than anyone can handle within The Loop (the bustling heart of the town), and you've even got the beaches and state parks of Lake Michigan to explore on the outskirts.
Tempted by a trip to the Windy City? Be sure to check out Airbnb. There are thousands of listings on the popular sharing service that promise a stay with a difference in this Midwestern megalopolis. Booking is a cinch, with everything done online before you even arrive…
In this Airbnb guide to Chicago: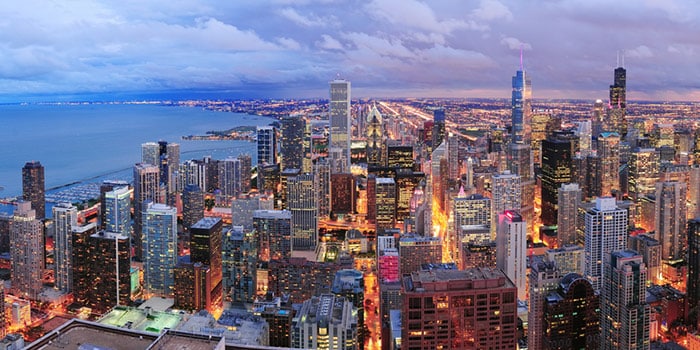 Is Airbnb legal in Chicago?
It sure is. There are some rules in place, though. Short-term letters all have to register with the local authorities in Chicago. Hosts should display their registration number on their online page, so potential guests can easily check that everything's legit before they press book. You might want to steer clear of listings that are classified as 'registration pending' for added piece of mind. These are places that have applied for a permit but aren't yet accepted, although they seem to be routinely used without many problems. Apart from those concerns, you're free to browse, book and enjoy all the Airbnbs that the Windy City has to offer!
Where should I stay in Chicago Airbnb?
Ever heard of The Loop (1) ? It's Chicago's bustling, buzzing, beating heart. Around that, the chic and jet-setter areas of River North (2) can offer something a tad more refined, while the Near North (3) Side pushes just a little of the suburban feel. Old Town (4) has that down to a T, with pastry kitchens and kitschy little coffee joints. Then comes Wrigleyville (5) – the sportster's mecca. Wicker Park (6) is to the north-west of The Loop, touting vintage threads and hipster bars. Andersonville (7) has a touch of Scandinavian character but also brings small-town America to the table. The South Side area of Bronzeville (8) is perfect for those interested in African American culture and Civil Rights history.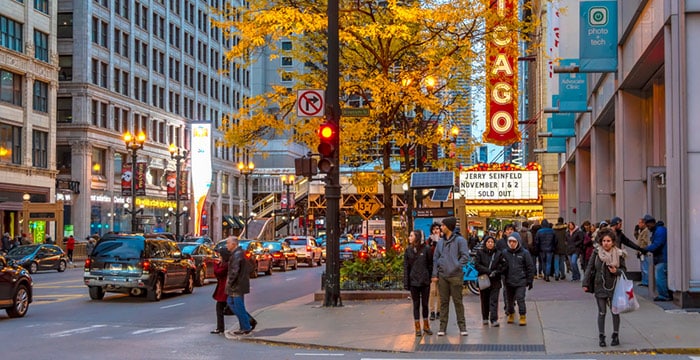 The Loop
Pros
The sightseeing
Theatre shows
Art galleries
Cons
The busiest part of town
It's packed, so Airbnbs aren't too numerous
Every traveler who's hitting Chicago for the first time should know of The Loop. A frenetic mishmash of Art Deco skyscrapers and uber-modern blocks, it encompasses all the most famous areas of downtown in one hit of world-class sightseeing, eclectic dining, and activity-filled days. Airbnbs can be hard to come by, because the place is the stomping ground of some of the city's most prestigious attractions. The Art Institute of Chicago beckons with its Picassos in these parts, for example, while the Auditorium Theatre and Cadillac Palace Theatre bring a little bit of Broadway to the Windy City. Put it this way: You won't get bored!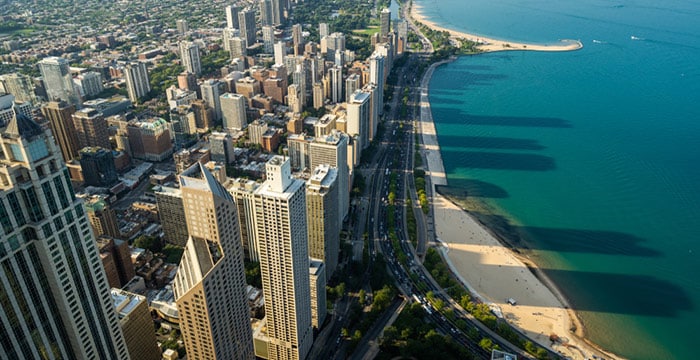 Near North
Pros
The best of both worlds – city and suburbs
Well linked to The Loop
Lots of eating options
Cons
It's a big area, so might be hard to navigate
Near North isn't the cheapest
The Near North Side bridges the gap between the Chicago River and the Old Town. It's a cosmopolitan little dash of the city, which offers a transition from tram-rattling hubbub to something more suburban. Essentially, the further north along the Lake Michigan shoreline you go, the more chilled things will be. Still, expect excellent transport links to iconic sights like the Willis Tower and get ready to experience a lived-in district that's bursting with condos, steakhouses, sandwich delis – you name it.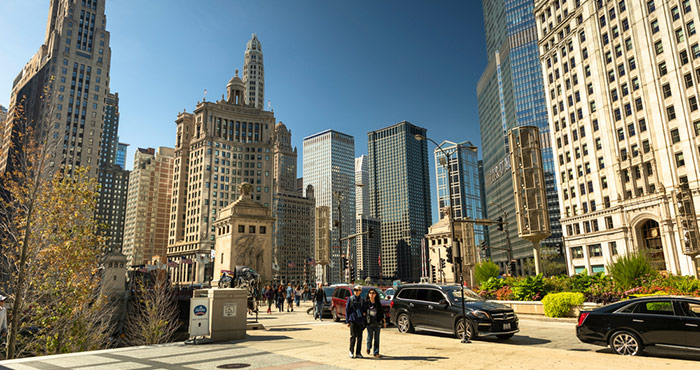 River North
Pros
High-class dining
Upscale shopping
Close to everything
Cons
You'll pay extra to be here
Really busy
No culture vulture or shopaholic in Chicago could possibly miss River North. This is where the action happens on the retail front. Mosey down to the south end of the so-called Magnificent Mile to see what we mean. There are designer names bursting from the department stores there, along with jewellers and haute fashion outlets. Food wise, River North is a doozy. Artisan food halls and cookery studios in theMART mall mean it can be hands on. Or just dip into one of the Michelin-starred restaurants for something truly special.