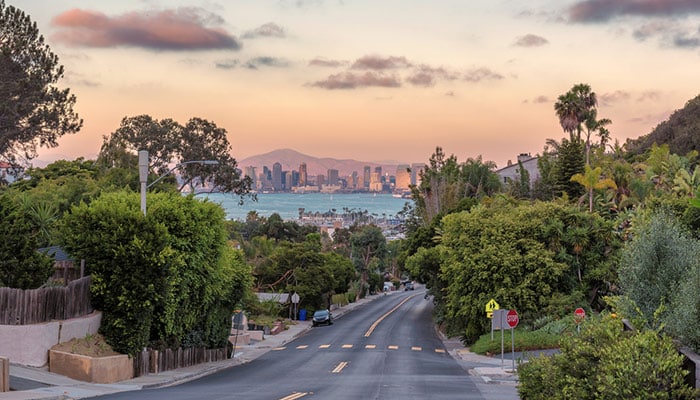 Surf washed and sun kissed, San Diego is the last city in California before the Mexican border. With over 300 days of clear skies every year and endless neighbourhoods that but right up to the cool waters of the Pacific Ocean, it's an easy going and relaxed metropolis. Hotspots include the zoos and picnic spots of Balboa Park, sandy Coronado, and the immersive Gaslamp Quarter. They come studded with happening West Coast microbreweries and Tex-Mex taquerias, salt-washed cafés by the sea, and palm-threaded promenades that whiz with roller skaters. Life is very much lived outdoors in these parts, whether in the al fresco surf bars, on the waves of La Jolla, or amid the chapparal-topped scrub of the Laguna Mountains. Be sure to pack the sun cream!
Airbnb in San Diego has risen to become a major source of accommodation for travelers passing through this part of the USA. Some estimations have it that there are over 11,000 listings on offer in the city. They range from affordable private rooms in suburban households to sleek penthouse apartments in the downtown. This guide can help you choose the one that's right for you in the area that's right for you…
In this Airbnb guide to San Diego: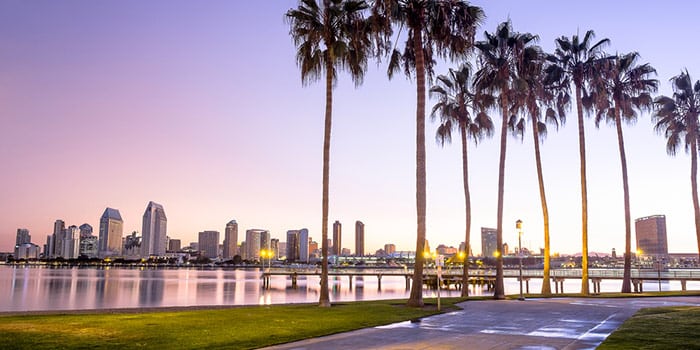 Is Airbnb legal in San Diego?
The city authorities in San Diego approved a new set of stricter rules around short-term holiday lets back in the middle of 2019. They dictated that online rental platforms like Airbnb must ensure that all landlords are registered with the necessary places. They also said that hosts are only allowed to rent out primary residences, or additional residences on the same property of their primary residences. For travelers, little has changed. However, you might have to pay an extra tax on arrival. You also may notice a decrease in the number of available properties, mainly because of limits on the number of days that a letting can be used for each year.
Where should I stay in San Diego Airbnb?
San Diego has all sorts of neighborhoods, each with its own unique atmosphere. Start in the Gaslamp Quarter (1) – the entertainment hub of the center – and then move to Little Italy (2), which is the place for traveling food buffs. Pacific Beach (3) and Ocean Beach (4) are both options by the sea, with the first just a tad more upscale and refined. La Jolla (5) is also worth considering if you want to feel the relaxed side of SoCal in beachside bars, while Encinitas (6) beckons the board riders with world-class surf a little further north. Shoppers and budget travelers might prefer the offering of Airbnbs in Mission Valley (7).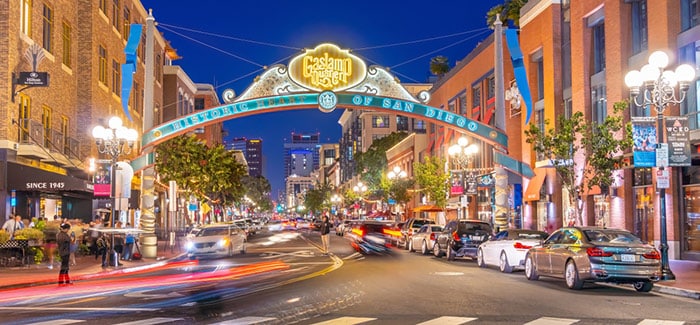 Gaslamp Quarter
Pros
Fantastic dining
Endless drinking
Great events
Historic area
Cons
Gets really busy
Very touristy
Not on the beach
The Gaslamp Quarter covers 16 blocks of downtown San Diego with pure, unadulterated entertainment. It's hardly a surprise that most first-time visitors head this way. They come in search of redbrick buildings and old saloons that date back to the late 1800s, along with myriad bars and cafés and restaurants. Seriously, the nightlife and gastronomy are endless in these parts – you've got all-American grill houses next to jalapeno-sizzling Mexicana kitchens, all topped off with jazzy piano bars and noir speakeasies. There's also a fantastic events schedule, including farmer's markets and sausage dog parades.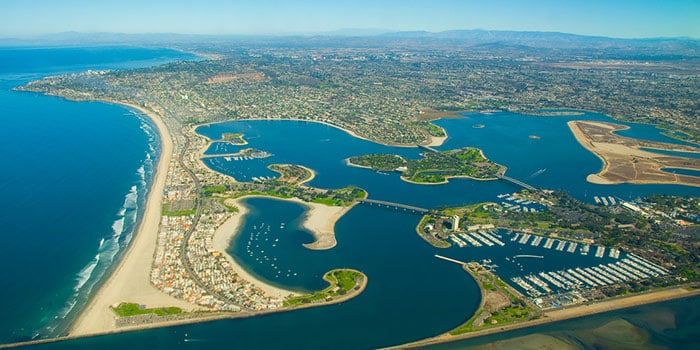 Pacific Beach
Pros
Living by the sea
Good nightlife on weekends
Eclectic crowd
Cons
Sometimes a little rowdy
It's not cheap!
Pacific Beach is the place to go to feel those classic SoCal vibes. With a perfect location between Mission Bay and the headlands of La Jolla, this is where San Diego meets the ocean with its palm-shaded boulevards and wave-washed sands. You'll never be too far from a world-class surf break here. Nor will you be left wanting for lively coastal bars (some of which get pretty raucous on weekends). The northern end of Pacific Beach tends to be better for families. The southern end has better links to the world-famous attractions of Mission Bay.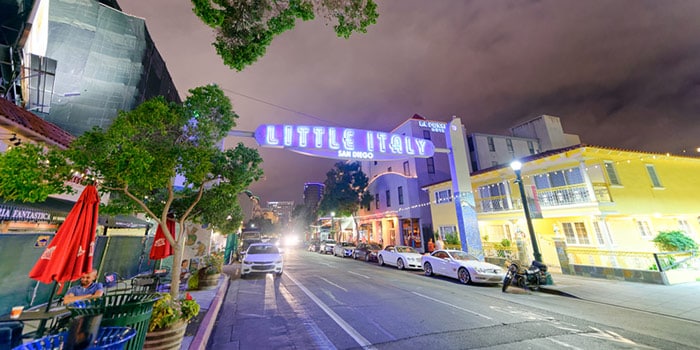 Little Italy
Pros
The best food in San Diego
Italian restaurants!
Good links to the airport
Cons
Perhaps a little too close to the airport
Not near a beach
Little Italy is a wedge of central San Diego that joins up the Gaslamp Quarter with the big city airport. If the name tells you anything, it should tell you that this part of town is replete with fantastic European food outlets – cushiony Neapolitan pizza pies mingle with rich tomato passatas in the trattoria. And it's not just the foods of Rome. Everything from spicy Indian cookhouses to hearty West Coast fine dining makes an appearance. The historic center of the metropolis is close, but the beaches are quite far. It's really one for the die-hard foodies.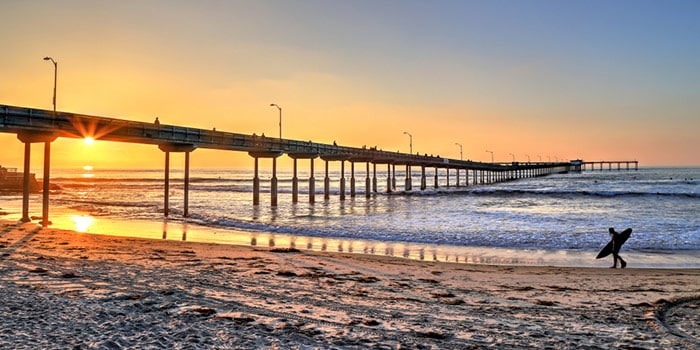 Ocean Beach
Pros
Surf right on the doorstep
Relaxed café and bar scene
Yoga studios
Cons
Getting more expensive every season
A tad cliquey
You could be forgiven for thinking that you'd left America's eighth-largest city in the dust when you hop out of the convertible and into chilled Ocean Beach. SoCal philosophy is still very much alive and kicking in these parts. Yogis pull downward dogs on their front lawns. Salty surfers stroll the streets with their boards in tow. Skateboarders weave up and down the happening promenade by the shore. Things are getting pricier every year in Ocean Beach but you're paying for a slice of the real California.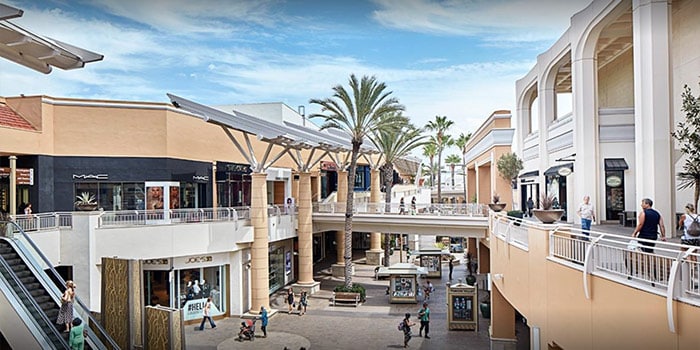 Mission Valley
Pros
Fantastic shopping
Good links to the interstate
Affordable rentals
Cons
Lots of car traffic
A bit soulless
If there's one thing that makes Mission Valley stand out from the crowd, it's the shopping. Considered to be the retail mecca of San Diego, this huge dash of Interstate 8 that shoots straight through the northern side of the center is bursting with strip malls and retail precincts. Among them are sprawling Fashion Valley (1.7 million square foot of shopping space) and Westfield Mission Valley (1.1 million square feet). You also might find that Airbnb rentals in Mission Valley are a little cheaper than elsewhere, though you'll need a car to get to the beaches and the historic Gaslamp Quarter.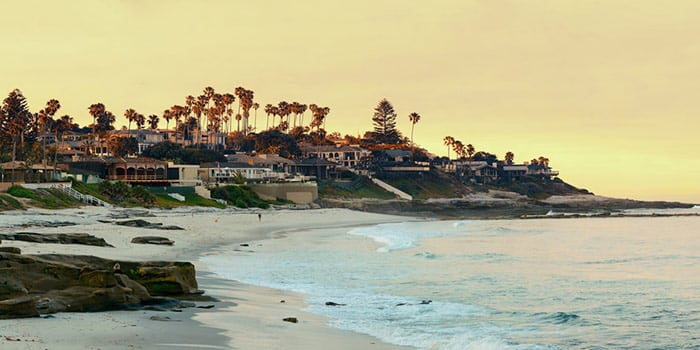 La Jolla
Pros
Stunning beaches
Beautiful coastline
Exclusive shopping and dining at The Village
Cons
Pricy
A little far from central San Diego
La Jolla is one of the many northern hoods of San Diego where the sea breezes cool the airs and the chilling can really begin. In recent decades, the area has been gentrified by urbanites looking for villas on the beachfront, but there's also a gritty side thanks to the considerable student population that also calls it home. It's all about the joys of the ocean, what with sea caves, seal colonies and surf breaks to get stuck into. At night, make for The Village, an area of La Jolla with chic bistros and romantic wine bars.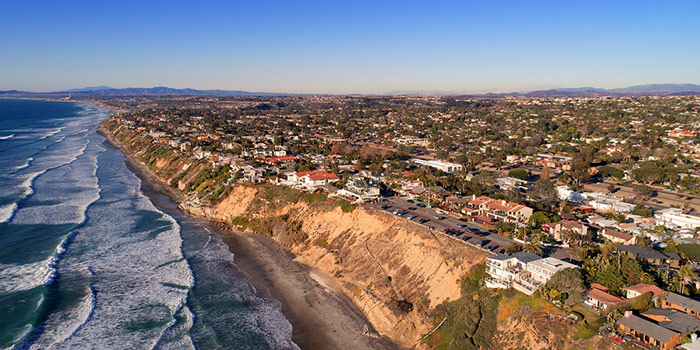 Encinitas
Pros
An original Cali surf town
Great waves
Hippy vibes
Cons
Very far from central San Diego
Can be pricy in the summer months
If you're keen to avoid the bustling heart of San Diego and really want to soak up the south California atmosphere, how about choosing an Airbnb in Encinitas? Considered one of the Golden State's original surf towns, it's on the northern extremities of the city limits, offering boulevards that cruise straight from the hills to wave-washed beaches and coves. New Age folk will love the alternative health shops and meditation retreats around Leucadia. Surfers are sure to feel at home amid the range of breaks and board shapers.
Best Airbnbs in San Diego
Best Airbnb apartment in San Diego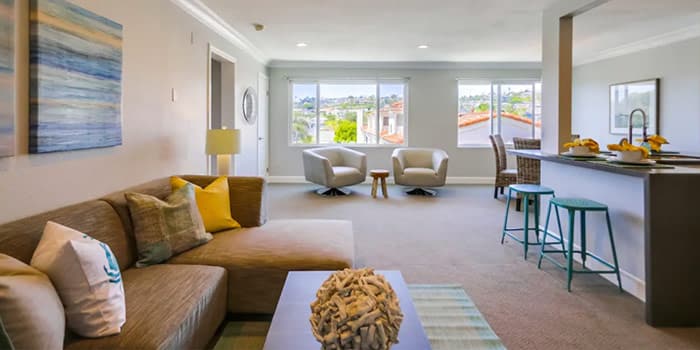 North Pb/ La Jolla – Top Floor – Views – Entire
Grab yourself a stylish piece of Pacific Beach with this beautiful apartment in north San Diego. Sandwiched between the sands and the buzzy walks of La Jolla, its piece de resistance is a lovely kitchen-dining-lounge area that's got overtones of the retro circa 1960. The pad comes with two bedrooms, space for up to four guests, a wall-mounted flat-screen TV and a dedicated Wi-Fi connection.
Best Airbnb house in San Diego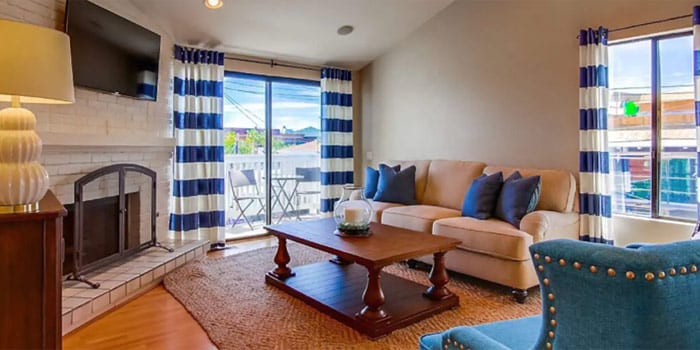 Coronado Village Townhouse
The Coronado Village Townhouse has a prime location in the leafy blocks just back from famous Coronado Beach. That's the place to be if you're keen to dip your toes in the Pacific Ocean before breakfast every morning. The property is a charming mix of styles, with functional interiors with a hint of the vintage about them. There's also a garden and a deck complete with a BBQ grill.
Best Airbnb for families in San Diego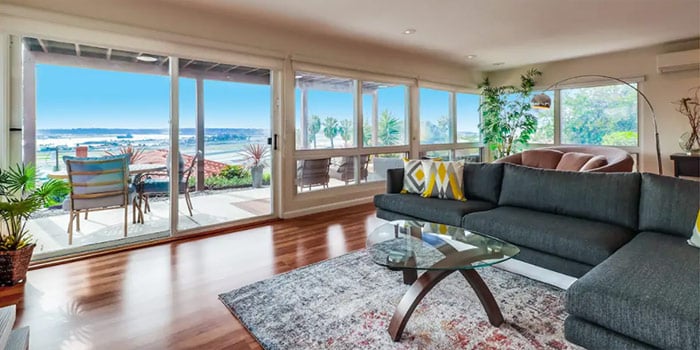 Best Value in SD! $1M Views; Great Location; Award Winner
Perched on the hills above Little Italy, this stunning house rental is perfect for family-sized groups of up to six individuals. The views should be enough to keep you busy when you're not dining out in the local Tuscan trattoria. They encompass the runways of San Diego Airport, the skyscrapers of the downtown, and even the Pacific Ocean further out west. The main communal space is great for the whole crew, with plush seating areas and boardgames included in the rate.
Best Airbnb for large groups in San Diego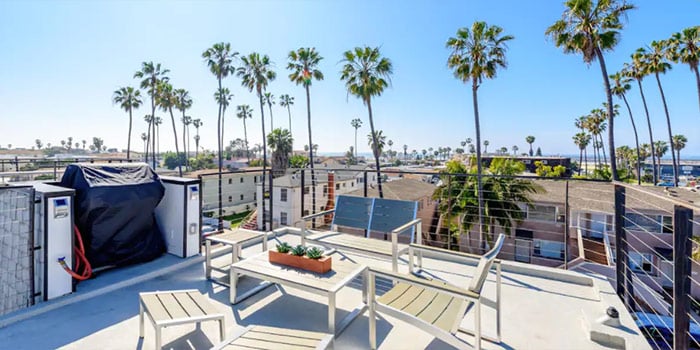 Lovely Family Getaway. A Short Walk From the Beach
On paper, this stunning casa in the very heart of vibrant Ocean Beach only has a single bedroom. Throw in the pull-out beds and sofas and it's actually got space enough for up to 11 guests. What's more, you'll enjoy a gorgeous kitchen-diner area with large windows, along with a huge outdoor roof terrace with its own family-sized BBQ. That's perfect for capping off a day on the coast.
Best Airbnb for romantic stays in San Diego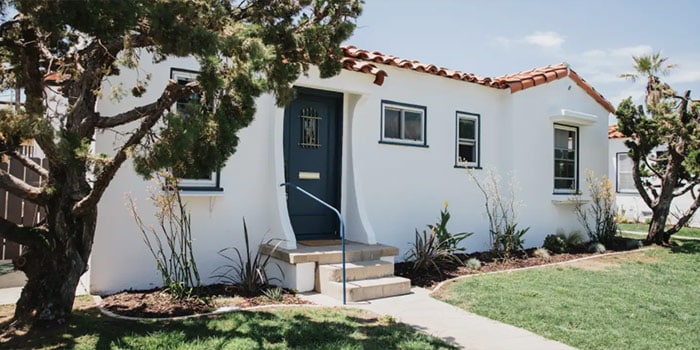 Professional Design, Renovated Home on Coronado
There's a touch of Spanish Andalusia about this whitewashed villa near Coronado Beach. Set just a stone's throw from the shore (where the sunsets are simply to die for!), it's got a stylish interior with industrial-chic furnishings and a bathroom laced with retro metro tiles. There's also a kitschy garden out front and a small kitchen with marble worksurfaces. It's great for a loved-up duo who want to be close to the Pacific Ocean.
Is Airbnb cheaper than hotels in San Diego?
There's a good chance that Airbnbs in San Diego will cost less than hotels in San Diego. It's just down to nightly rates, which tend to be lower in these privately hosted accommodations than in commercial establishments. On top of that, there are more savings to be had with Airbnbs, mainly because they often offer self-catering facilities and can be shared between larger groups. Travelers willing to stay in the sun-splashed city of SoCal a little longer might also be able to make the most of generous discounts on long-term Airbnb stays. They can sometimes hit a whopping 50% or even more!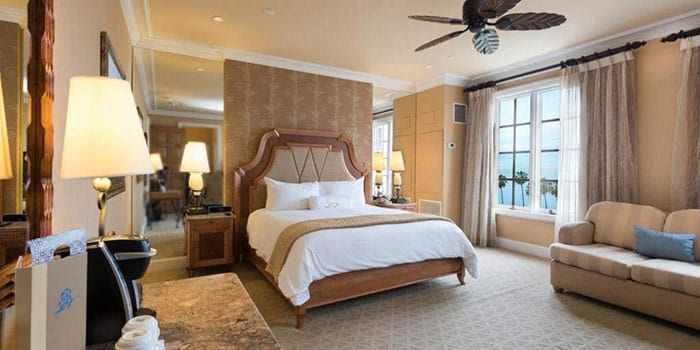 Be sure to factor in that Airbnbs don't have the same level of service you might be used to in hotels. A place like the La Valencia Hotel might be better if you're keen to be pampered with the likes of lobby lounges and room service. It's also a top-rated choice thanks to its luxurious outdoor pool and location above the picture-perfect beaches of La Jolla in north San Diego.
Southern California hits a zenith with the salt-washed city of San Diego. A favourite of surfers, skateboarders and spice-loving foodies in search of the best Mexican tacos in the US, it's a town that brims with fantastic Airbnbs and hotel choices.
How useful was this post?
Click on a star to rate it!
Average rating / 5. Vote count: