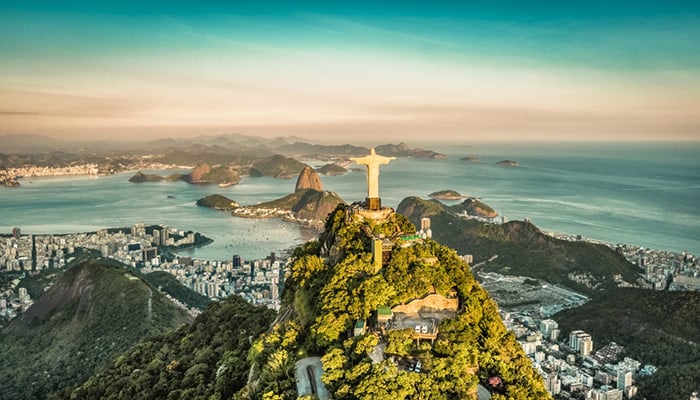 Rio de Janeiro is one full-on fiesta of a city. Spilling down from the Atlantic forests of Brazil's tropical south, it has one foot in the jungle and another in the ocean. Glittering beaches packed with tanned bodies string their way along the bairros, from the bumping beachfront of Copacabana to the jazzy quarters of Ipanema. The official Carnival of Rio de Janeiro is in February and March, but it can sometimes feel like it never ends, especially if you hit the caipirinha-fueled dance halls of Gavea or Leblon on the weekend! Elsewhere, areas like Santa Teresa offer cobbled alleys filled by Art Deco bars and painting studios that show glimpses of that Brazilian passion and creativity, while monstrous peaks like the Sugarloaf or Corcovado (the plinth of Christ the Redeemer) lurch and loom all around.
As if you needed anything more to stoke the wanderlust for a trip to Rio, we've got some enticing suggestions on the Airbnb front. These private rental stays promise to give you a little extra privacy on your jaunt to this rambunctious Brazilian metropolis. They also represent good bang for your buck. Check out this guide for extra info on where to stay and what to expect…
In this Airbnb guide to Rio de Janeiro: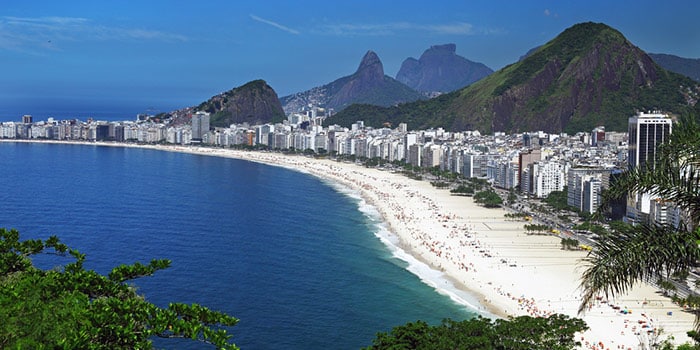 Is Airbnb legal in Rio de Janeiro?
The right to rent out your own property is actually guaranteed in Brazilian law. That means Airbnb's sharing economy flourishes in this part of the world, and it's one of the reasons there are now thousands upon thousands (around 40,000 at the last counting, apparently) of lettings up for grabs in Rio de Janeiro. So, all you have to do is focus on finding the perfect place to stay, whether that's a beach-side condo amid the bumping bars of Copacabana or an arty flat in Santa Teresa.
Where should I stay in Rio de Janeiro Airbnb?
The downtown core of Rio de Janeiro hits a zenith with the hedonistic nightlife area of Lapa (1), a land of jovial jazz bars and cocktail joints. Nearby, the hills loom up to hide Santa Teresa (2), where cobbled streets and rattling trams weave through 1920s coffee bars and art studios. Back down on the coast is where the duo of Rio's most iconic beaches make their home, from Copacabana (3) to Ipanema (4) in the shadow of the Christ the Redeemer statue. Urca (5) is an option for those looking to taste the high life of the city's A listers, while the Barra da Tijuca (6) promises more secluded beaches, reliable surf, and good links to the mountains and rainforests of the Serra do Mar.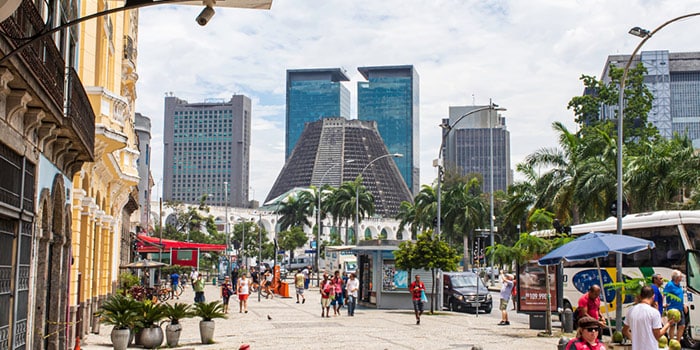 Lapa
Pros
Nightlife
Samba
Some interesting sights
Cons
Lots of traffic
Loud on weekends
Lapa is a corner of the Centro area of Rio that spreads up the hills either side of the uber-busy Av. Mem de Sá. There's an undeniable urban energy here that's not found elsewhere in the town. On weekends and during Carnival, it's positively pumping, as Bossa Nova echoes from the cocktail joints and people shake their stuff from morning until night. Some sights are also worthy of note in Lapa, like the colorful Escadaria Selarón and the hulking Carioca Aqueduct. Mainly, though, it's about the nightlife and the samba dancing. Woop!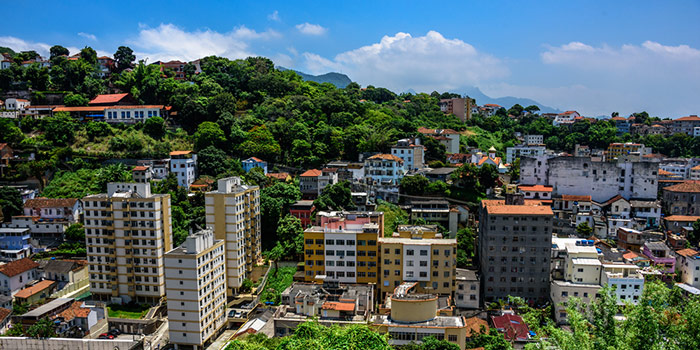 Santa Teresa
Pros
Filled with art galleries and workshops
Charming neighborhood bars
Great views
Cons
No beaches
Perhaps a little gentrified these days
Santa Teresa is the thinking person's corner of Rio. A place steeped in colonial charm and oozing creativity, it spreads along a series of high ridges and jungled hills just south of Centro. It's hardly a wonder that the district attracts plenty of travelers. It's calmer and quieter than much of the city and has a small-town air about it. The old-school noir canteens are a real treat for drinkers and foodies, while the lookout points offer some of the best panoramas across wide Guanabara Bay to the north.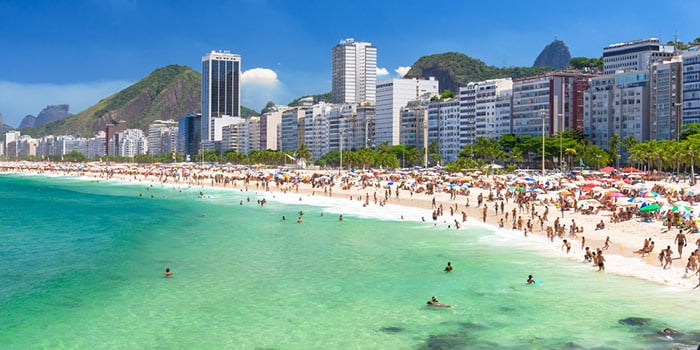 Copacabana
Pros
One of the most famous beaches in the world
Great nightlife (and day drinking!)
Swimming and sunbathing
Cons
Always busy
Reports of petty crime
An area of Rio that surely needs no introduction is wild and vibrant Copacabana Beach. Known across the planet for its rollicking ocean bars and crowds of tanned bodies, it's arguably the most famous stretch of shoreline in South America. All sorts goes on, from volleyball showdowns to football matches on the sand. You can clamber up to the Ponta do Leme on the north-east side of the bay to get sweeping views of it all. You can strut the Av. Atlântica to hit some epic cocktail bars and cantinas. You can party the night away with a cosmopolitan crowd in the nearby clubs. There's rarely a dull moment.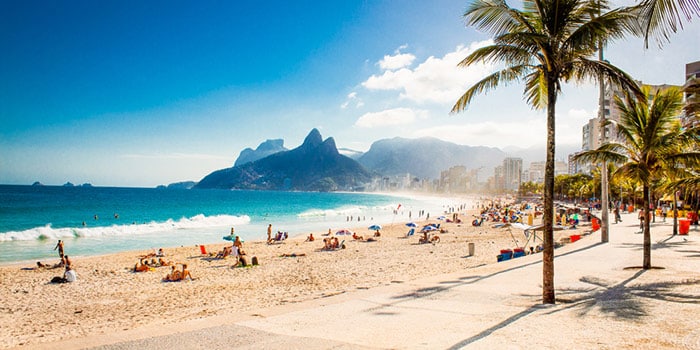 Ipanema
Pros
Very lively area
LGBTQ+ scene
It's a seriously beautiful beach with the mountains behind
Ipanema stretches from the wave-washed Pedra do Arpoador in the west to the gnarled mountains that loom above favela of Vidigal to the east. It's another of the uber-renowned beaches of Rio, made famous by the Bossa Nova sound of the 50s and its big LGBTQ+ scene. These days, the beachfront fuses together a strange melting pot of peoples and characters. It's got rollicking gay bars next to five-star hotel resorts; famous counter-culture cafes where Brazilian guerillas once met next to sleek cocktail joints for the bourgeoisie. It's filled with contradictions, but also filled with fun!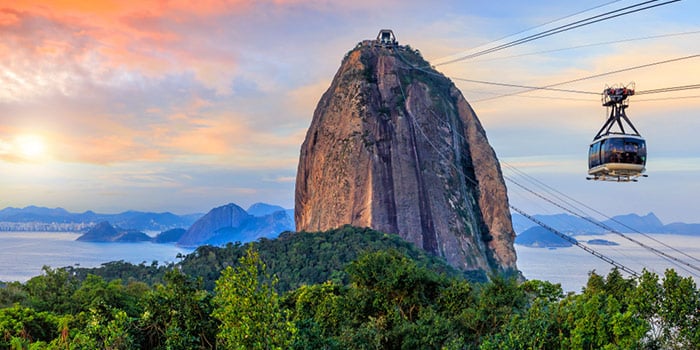 Urca
Pros
Stylish places to stay
Designer shopping
The Sugarloaf Mountain
Cons
It's expensive
Not a lot of choice when it comes to Airbnbs
Urca is like Rio's answer to Beverly Hills. You'll want to keep the eyes peeled for the Brazilian celebs as you wander the leafy streets between the grand mansions and their gated grounds – many of the country's richest people have residences in these parts. The area occupies its own headland north of Copacabana Beach. Most of it is covered by the lush jungles and ridges of the iconic Sugarloaf Mountain (don't muss a ride up that in the gondola!), but there are also hidden coves and quieter beaches. Also expect plenty of fine dining and designer shopping.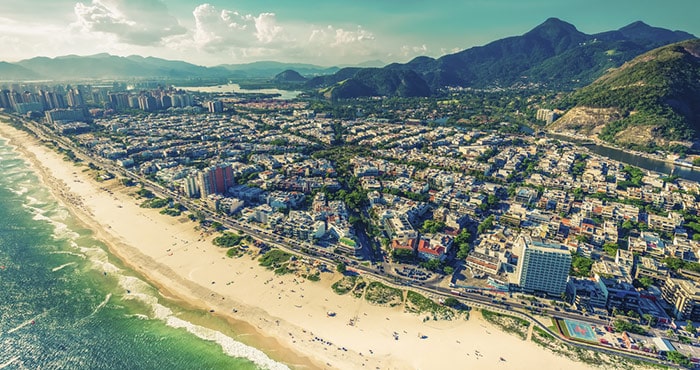 Barra da Tijuca
Pros
Not many other tourists
Great surf beaches
Proximity to the mountains and the hiking paths
Cons
Not many major sights
You'll need to travel to see the landmarks of Rio
Barra da Tijuca is a part of the big Zona Oeste, which spreads out westwards from Ipanema and the heart of Rio. It's not often visited by international travelers but is something of a hip neighborhood that the locals love. The beaches are way less busy than the ones in the downtown. They have wide sands, a lovely backing of green mountains, and some of the best surf in the city. Barra da Tijuca is also close to lots of trailheads for hiking in the Serra do Mar. High condos dot the coast, hosting most of the Airbnbs.
Best Airbnbs in Rio de Janeiro
Best Airbnb apartment in Rio de Janeiro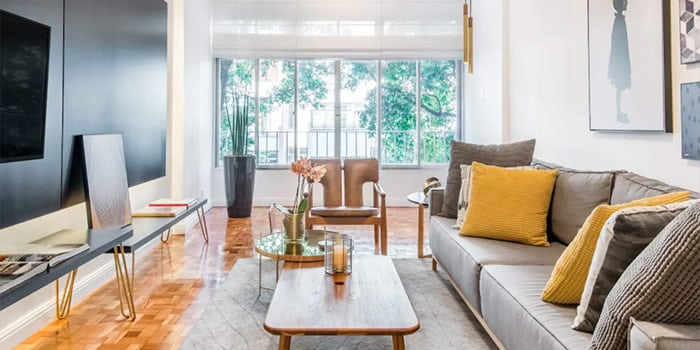 Expansive Apartment Just 3 Minutes From the Beach
At once retro and modern, convenient and luxurious, this apartment sits mere three minutes' walking from the hubbub of Copacabana Beach. However, it's the perfect counterweight to the fizzing energy of Rio inside, with art-covered walls and light-bathed living spaces. There are two top-quality bedrooms, each with air conditioning.
Best Airbnb house in Rio de Janeiro

Colonial House – in the Heart of Santa Teresa!
Head up to the artsy streets of Santa Teresa for a stay in this characterful colonial villa. It's set over two floors, which hide behind a pink-tinged frontispiece adorned with flurries of Art Nouveau. Inside, there's a cantina-style kitchen and a few bedrooms knitted together by rickety wooden decks. We also love the speckling of hammocks strewn in the outdoor spaces.
Best Airbnb for families in Rio de Janeiro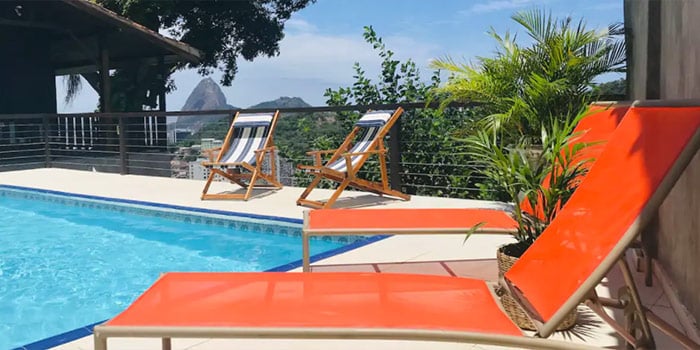 Most Charming Home With Spectacular View of Rio
This spacious family pad channels the chic vibes of the 1950s from the hills between the Sugarloaf and Corcavado. It opens onto a green patio with sweeping views of the city, has a large kitchen, and multiple breakfast terraces. The real pull has to be that swimming pool – it's the perfect place to kick back with the kids after a long day's sightseeing.
Best Airbnb for large groups in Rio de Janeiro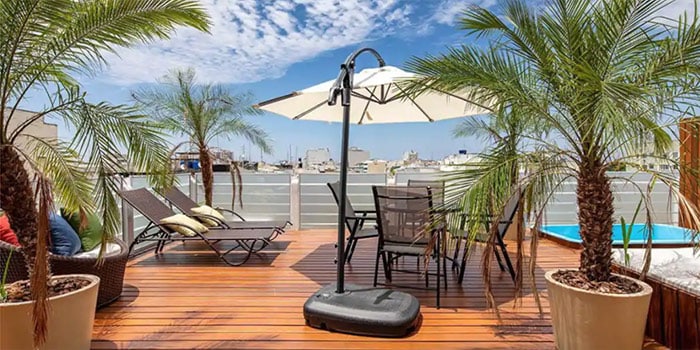 Cobertura Alto Luxo com Terraço
Alluringly positioned right between Copacabana Beach and Ipanema, this stylish apartment with a huge terrace is a great option for larger groups planning a trip to Rio. It can host up to 13 guests at once, using six separate bedrooms. There's a small splash pool and an in-built BBQ area outside, along with a cool diner-lounge that spreads into an open-plan kitchen.
Best Airbnb for romantic stays in Rio de Janeiro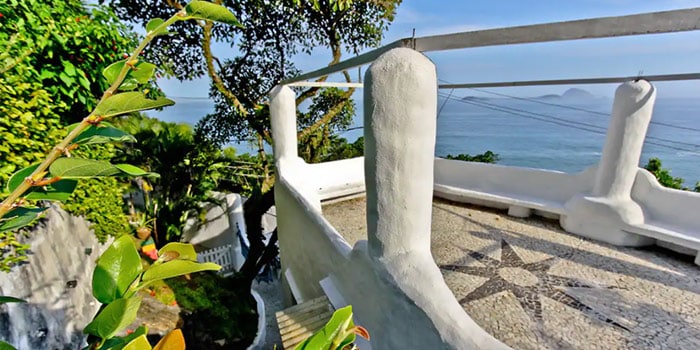 Casablanca 1
There's a whiff of the Mexicana style about this adobe pad at the far western end of Ipanema Beach. It's perfectly located if you want to get stuck into the nightlife of Gavea and Leblon (two of the town's liveliest areas), but also great for simply chilling together – a big patio and sweeping views of the Atlantic Ocean see to that!
Is Airbnb cheaper than hotels in Rio de Janeiro?
There's no doubt that Airbnbs in Rio offer great value for money. Of course, the price you'll pay depends entirely on what sort of Airbnb you go for. If it's a luxury penthouse with a pool and majestic city views, you're going to fork out more than you would for a private room in a hostel. Still, the general feeling is that rates in these short-term pads are a little less than rates in established hotels on average. What's more, there are extra savings to be had by plumping for a self-catering stay, or somewhere that lets you fit in more travelers by offering multiple sleeping spaces.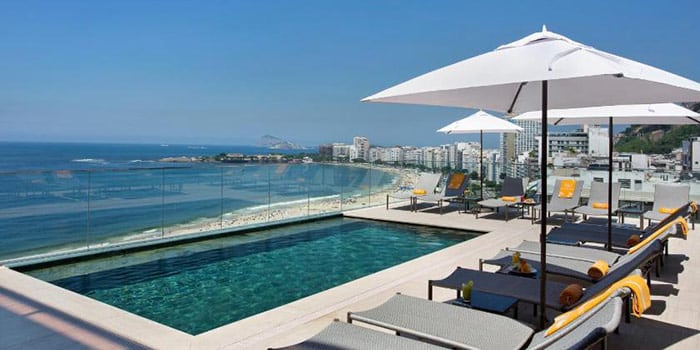 The one downside that you should consider is the lack of service that comes with an Airbnb. That's a gift for travelers who value privacy, but not so good if you're after luxury. You won't have someone at hand to clean your room each day. You won't have a dedicated concierge. There aren't sleek 1950s lobby bars playing Bossa Nova. For that sort of thing, how about the Windsor California Hotel? It offers a pool overlooking Copacabana Beach, a private spa facility, and even ocean-view suites.
Get into the spirit of the Rio Carnival with this guide to the Brazilian city on the sea. It's got tips on the top Airbnbs and the best bairros, where you'll dance to samba and taste caipirinhas all day long.
How useful was this post?
Click on a star to rate it!
Average rating / 5. Vote count: