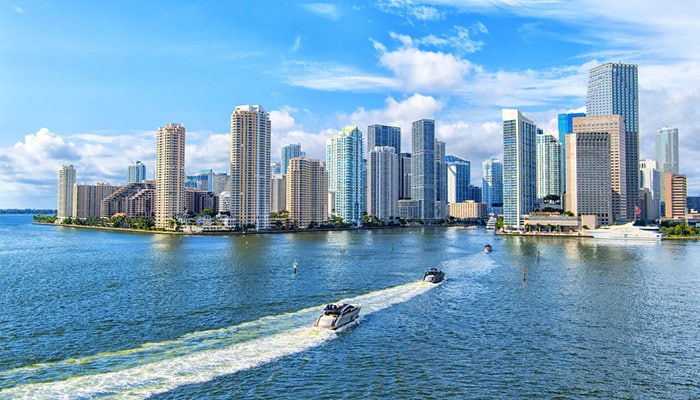 They call Miami the Magic City for good reason. Sandwiched between the lush Everglades and the sparkling Florida Keys, it's a town that really knows how to party. Get down to Miami Beach on a scorching afternoon and you'll see what we mean – there are Art Deco clubs and purring Cadillacs prowling the palm-speckled boulevards. Beyond that is a sprawling metropolis that lurches from the chic to the gritty. Head to Coconut Grove and you'll catch millionaire mansions dropping into the pearly waters of Biscayne Bay. Go to Little Havana and there are paint-peeling cantinas plumed in cigar smoke and jiving to Cuban jazz. Throw in markets, museums, and all the natural wonders of the southern Sunshine State and you've got one darn enticing destination.
Airbnb is a great source of accommodation in this happening town on the side of the Atlantic. It has hundreds of listings, which go from boutique hotel suites to high-rise condominiums to cozy beach shacks near the cotton-white sands. You also might find that Airbnbs in Miami come in cheaper than conventional hotels, leaving you with a few more dollars for those Cuban club sandwiches and tours of the Everglades.
In this Airbnb guide to Miami: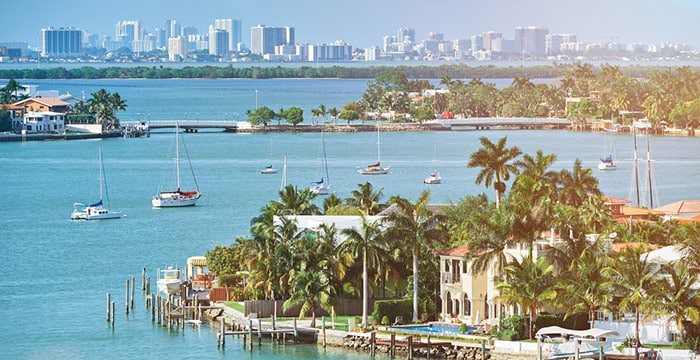 Is Airbnb legal in Miami?
Airbnb is completely legal in Miami. As a traveler looking to hit the sparkling sands and strut the seaside promenades, you can feel free to browse and book whatever surf-view condo or sleek villa you like.
Hosts do have to stick to some pretty strict rules. They're laid out by the local county authority. Provisions included in the laws mean that some areas of the metropolis have designated districts where short-term lets are allowed, and others where they're not. That's particularly true on Miami Beach, where you'll notice that a lot of the options are either clustered close together or in already established hotels. Property owners must also register their listing and display their registration number online.
Where should I stay in Miami Airbnb?
There are oodles of amazing districts in Miami that you'll want to consider when looking for that perfect Airbnb. Lots of people will try to score a pad in the immersive area of Little Havana (1). It is a corker, what with Cuban rum joints and jazz bars aplenty. Wynwood (2) and the Miami Design District (3) are better for touring the art galleries and sipping cocktails in cool bars. To have one of Florida's most famous beaches outside your door, there's nothing for it but Miami Beach (4). Then comes Coconut Grove (5), filled with history and stylish boutiques, or Downtown (6), which is grittier and more businesslike. Finally, the Upper Eastside (7) beckons with flea bazaars and parks on the side of Biscayne Bay.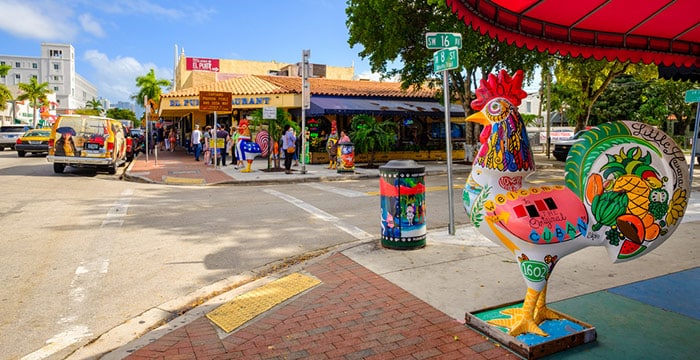 Little Havana
Pros
Oozes Cuban character
Loads of great Caribbean food
Very vibrant
Cons
Not very many Airbnbs at all
Can seem a bit touristy at points
Little Havana is famed all over the USA as one of the most characterful neighborhoods of Miami. It grew in the 1960s as a place for exiles from Castro's Cuba to settle in the United States. Many of the families are now second and third generation, but the area has kept its unique Hispanic feel. You'll see cigar-puffing oldies playing dominoes in the parks. You'll munch on fat Cuban sub sandwiches from the old-style delis. You'll get to samba your way through annual festivities like the Calle Ocho in March. On top of that, Little Havana is super close to Downtown for more shopping and nightlife.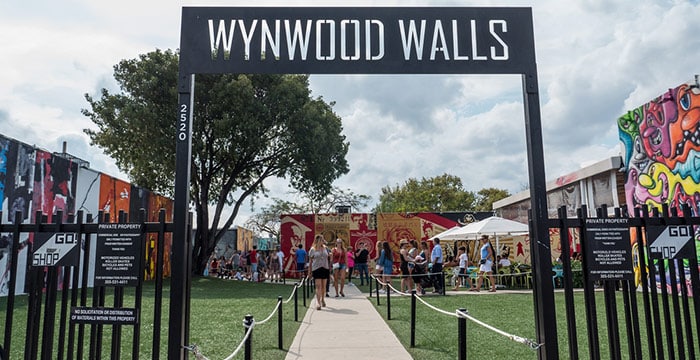 Wynwood
Pros
Creative places to eat and drink
Colorful street scenes
Lots of art
Cons
Wynwood can be expensive
Gets loud and busy on weekends
Arty Wynwood has established itself as one of the city's coolest corners. It's got sights like the Wynwood Walls graffiti murals (a whole park of kitschy street art) and the contemporary works of the Margulies Collection (a thought-provoking modern art gallery). More than anything it's about life on the buzzy streets. They're fringed with jalapeno-scented taquerias and creative microbreweries, bohemian beer outlets and artisanal bakers. You won't go hungry in these parts, whether for food or for entertainment.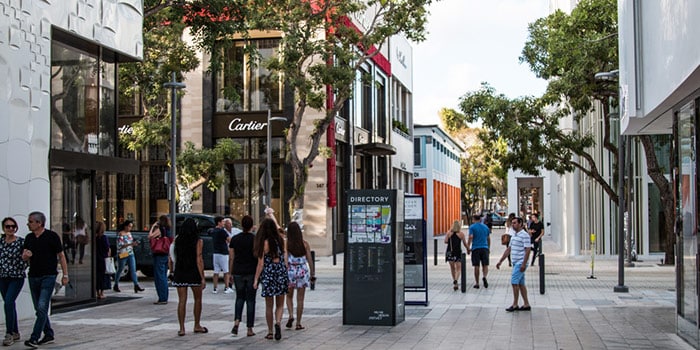 Miami Design District
Pros
Great contemporary art
Good access to Miami Beach on the 195.
High-class shopping
Cons
Can be very expensive
A little too chic for some
The Miami Design District is closely linked to nearby Wynwood (see above). Bursting with contemporary art exhibits, photography galleries, and ambitious street installations, it's an area to wander and wonder at all the culture. But the neighborhood, which spreads roughly between N Miami Ave and 2nd Avenue is also a major shopping spot. It's packed with upscale boutiques in the ilk of Louis Vuitton and Gucci, and has its fair share of elegant cocktail and champagne lounges. You might need to fork out a little more for an Airbnb that's close to all that.