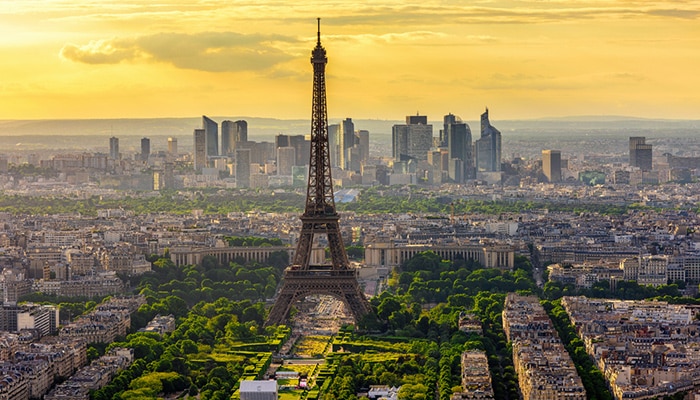 Amsterdam to Paris is a route followed by thousands of travelers every year. Backpackers, business folk, city hoppers – you name it, they're on the hunt for ways to move from the 16th-century canal rings of flower-strewn Holland to the rich art collections and romantic wine bars of the French capital. If you're among them, then be sure to read on.
This guide delves into all the ways you can trade Dutch pancakes for French baguettes. It's got info on high-speed train lines into Gare du Nord and scenic drives through Belgian backcountry, with details on cost, scheduling and more. Bon voyage!
Amsterdam to Paris by train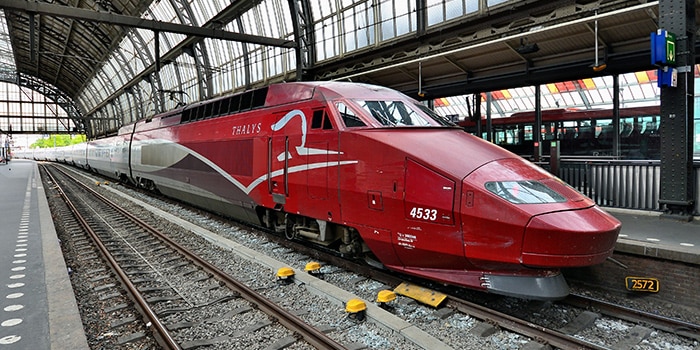 Time – 3h20
Price – $38+
Comfort – 5/5
There's hardly a more romantic and classic method to get across the Low Countries from Amsterdam to Paris than by train. This is the way folk have been traveling for decades, and there's still a distinct air of adventure about the whole thing. What's more, the route is fast and efficient, being run on the uber-quick Thalys lines that can hit speeds of an ear-flapping 300 kph. Nice.
Because you'll be riding high-speed lines between the home of the stroopwafel and the City of Lights, journeys could be as short as just 3h20. That timetable includes stops in the likes of Rotterdam, Antwerp and Brussels along the way, before the carriages pull into the Gare du Nord. That's a really convenient place to arrive in Paris, with good metro links to the monument-rich 7th arrondissement and the atmospheric quarter of Montmartre alike.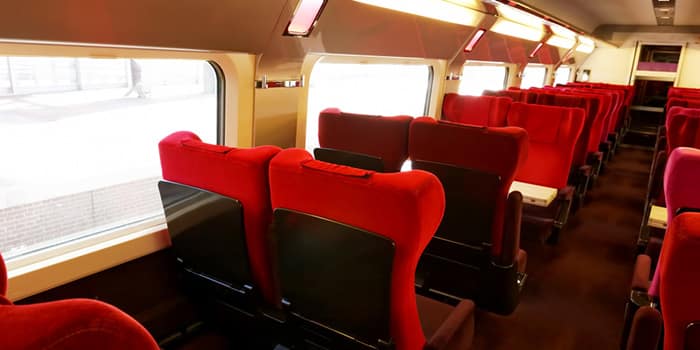 There's something lovely about watching the Dutch and Belgian countryside roll past outside the train window as you travel from Amsterdam to Paris by rail.
The Thalys trains themselves are swish and slick affairs. They have clean interiors with a trio of classes. Most passengers opt for seats in Standard, but there's extra legroom and even at-table service included in Premium. The midrange option is Comfort class, which has a two-one seat orientation and cushioned chairs – seriously, they're like being in the cinema!
One thing to remember: It's super important to book tickets on all Thalys trains as early as you can. In fact, it's especially important for popular lines like Amsterdam-Paris, which fill to bursting during peak times. Not only are pre-paid reservations 100% compulsory on these services, but you'll also see the cost of fares skyrockets if you leave it too late – jumps from around $40 in advance to more than $250 on the day aren't uncommon!
Amsterdam to Paris by plane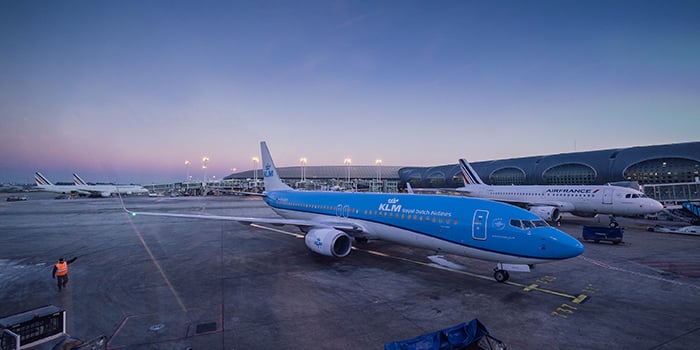 Time – 1h15
Price – $35+
Comfort – 4/5
There's no reason to discount flying from Amsterdam to Paris. There are at least three airlines who run the route regularly. They include the premium names of KLM and Air France, along with budget-orientated carrier Transavia. The first two have departures from Monday through to Sunday, with some leaving before 7am (commuters – that's for you) and others heading over to France as late as 6.40pm. Transavia, meanwhile, flies just once weekly on Thursdays, leaving The Dam in the mid-evening.
There are at least three airlines that offer flight connections from Amsterdam Schiphol to Paris, with possible departures in the morning and evening.
All flights originate at Amsterdam Airport Schiphol. That's the largest in the Netherlands, with huge terminals packed with cafés and eateries, along with direct rail links to Centraal Station (they take about 20 minutes). For arrival points, you can pick between big Paris-Charles De Gaulle or the smaller Orly Airport. The former is the better for getting to the northern districts of Montmartre and the Canal Saint-Martin. The latter is nearer the Latin Quarter and the Eiffel Tower.
It's normal for the cost of flights to vary from day to day. The higher the demand for seats, the pricier they're likely to be. That's why booking early using 12Go.co is key to scoring the early-bird fares, which can be as low as just $35. Of course, you'll need to add on a little more if you want extras like in-flight meals, speedy boarding, or checked baggage.
Amsterdam to Paris by bus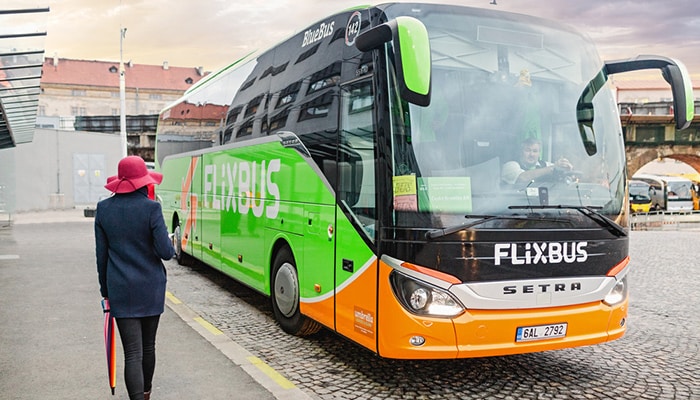 Time – 6-7 hours
Price – $15+
Comfort – 3/5
Hitting the highways of the Netherlands, Belgium and France to conquer the trip from Amsterdam to Paris by bus is the way to go if you're trying to ease pressure on the travel budget. Tickets can start at a jaw-dropping $15 for the whole ride. That's more than half what it costs for the cheapest train, and a whole load less than flying.
Taking the bus to Paris from Amsterdam should leave a few extra euros in the pocket for those red wines overlooking the Eiffel Tower.
Of course, there are some downsides. For one, the trip is a lot longer. You're looking at a total driving time of 6.25 hours. You'll also be on a coach, which typically have a little less legroom and not as many frills as their locomotive counterparts. The good news is that well-known companies that run the route – Flixbus, BlaBlaBus – have pretty clean and comfy vehicles. Basics like air conditioning and onboard toilets are common throughout. In addition to that, buses will usually stop at multiple places in the French capital. From the Place de Clichy to Disneyland Paris to Charles De Gaulle Airport, there are all sorts of destinations on the menu.
Because the bus between Amsterdam and Paris is the way to travel for a lot of budget-conscious backpackers, it's always wise to book in advance during peak seasons like the spring and summer. You can do that using 12Go.co, where you'll also be able to compare the cost of different coach companies.
Amsterdam to Paris by car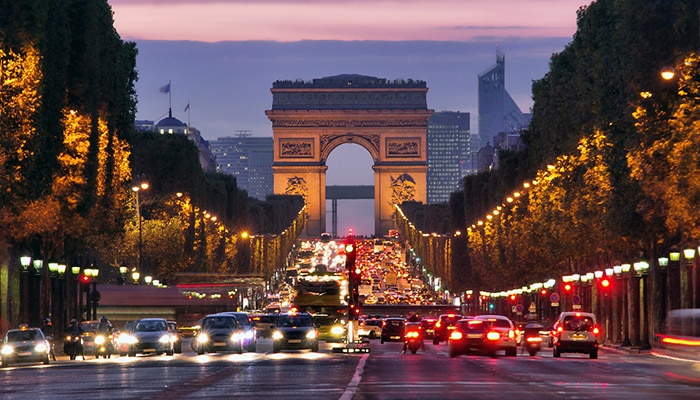 Time – 6 hours
Price – $65-100 for petrol and tolls
Comfort – 4/5
It takes an estimated 5.75 hours to drive from Amsterdam to Paris by car. That makes this mode of transport faster than the bus, but considerably slower than planes and trains. Still, it's not really about getting the A to B done when you have your own wheels. There are just too many exciting stops to make between these capitals for that…
Having your own car to take you over to Paris can offer the freedom to hit some of northern Europe's most amazing cities and attractions en route.
Some of the most enticing places include the handsome city of The Hague, with its wild North Sea beaches and proud Dutch parliament buildings. From there, you could easily drop into Rotterdam for a night in pumping electro clubs. Or, push onto Bruges, to explore one of Belgium's most enchanting medieval cities, complete with Gothic churches and some of the best frites you've ever tasted. All of the above will inevitably add time to the trip, but could also turn it into an adventure you'll never forget.
Unfortunately, renting a car in the Netherlands to take one-way across borders can be tricky or pricy, or both. For that reason, you're better off bringing your own ride. If you want to check tho, RentalCars.com is the place to go for deals on hire vehicles. Just remember to drive on the right-hand side of the road, and expect tolls once you cross the border into France.
---
Paris and Amsterdam are both up there with Europe's most chart-topping destinations. In one, you'll hop "coffee shops" and gaze at mesmerising paintings by Van Gogh. In the other, you'll scale the Eiffel Tower and glug Loire Valley wines to your heart's content. Enjoy!
---
Amsterdam to Paris FAQ
What is the cheapest way to get from Amsterdam to Paris?
Buses can't be beaten on price when you're looking to head from Amsterdam to Paris. The cheapest tickets – which are almost always booked well in advance of traveling via a provider like 12Go.co – come in at just $15 or so. Total bargain!
What is the fastest way to get from Amsterdam to Paris?
It's a close call. You might save a little bit of time by flying, but not too much. The connection in the plane is only 1h15 by itself, however that doesn't include transfers to Schiphol or journeys into downtown Paris. That's why the train is a contender, offering trips of just over three hours straight into the central hub of Gare du Nord.
How much is a train ticket from Amsterdam to Paris?
Book early and they could be as little as $38. Leave it late and you might be looking at paying over $200. That's just the reality of dynamic pricing on this route, and why we always recommend searching for seats on 12Go.co as far in advance of your holiday to Paris as you can.
Is the train from Amsterdam to Paris scenic?
Along certain sections of the Thalys line between Amsterdam and Paris, you'll be treated to beautiful vistas of Low Country landscapes. The areas west of the Dutch capital are particularly nice, with fields of tulip flowers and traditional windmills. Over in France, you'll see the striking Flanders Fields and the Somme before coming into the gorgeous station at Gare du Nord.
Is it better to fly from Amsterdam to Paris or take the train?
For getting from city centre to city centre, the train can hardly be beaten. The Thalys not only costs about the same as flying when booked in advance, it also takes about the same time, and drops you straight into the platforms of the Gare du Nord – that's downtown Paris. You'll also score kudos for choosing a more environmentally friendly mode of transport, and can sort all those tickets in advance using 12Go.co.
How much is a flight from Amsterdam to Paris?
Flights from Amsterdam Airport Schiphol to one of the main airports in Paris can cost anything from $35-150. It all really depends on when you fly (summer tends to be more expensive overall) and what airline you go with (the likes of Air France and KLM are the premium choices). Also bear in mind that checked bags will be a surcharge on top.
How long is the bus ride from Amsterdam to Paris?
Most bus companies can get you from the waffle stations of Holland to the wine bistros of Paris in under seven hours. Just be ready for that journey length to increase if you're planning on traveling at peak times. In particular, those are mid-afternoon and early morning, when traffic in and out of both capitals can get bad. To help, check schedules for a whole host of coach companies online at 12Go.co.
How useful was this post?
Click on a star to rate it!
Average rating / 5. Vote count: