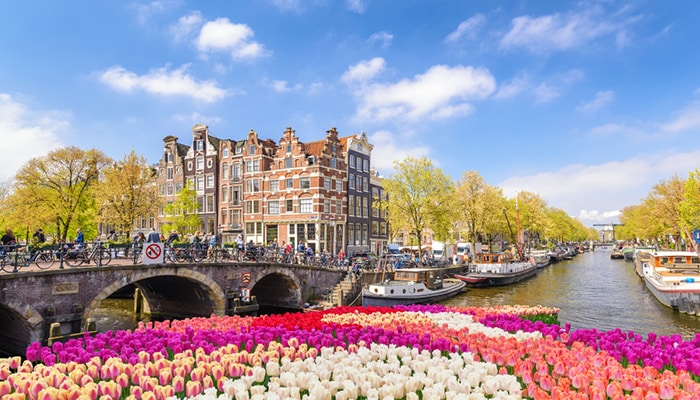 There's a sort of Yin-Yang relationship between Rotterdam and Amsterdam. One's industrial, cool, and proud of its urban design. One's a designated UNESCO World Heritage Site, with cosy cafes and artworks by the Old Masters.
We'll let you discover which is which, as you complete the easy 56-kilometre trip from city to city. It's one that's made by countless travelers – backpackers, businesspeople, commuters – every year, so you can expect plenty of transport options and a journey that won't take too long out of your Low Countries adventure.
Rotterdam to Amsterdam by high-speed train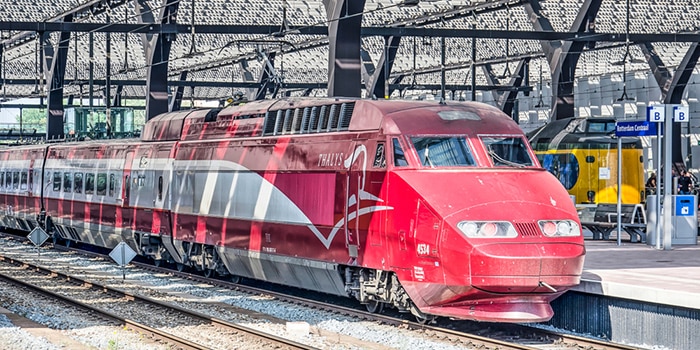 Time – 38 minutes
Price – $22.70+
Comfort – 5/5
There's great news for lovers of high-speed rail travel: Amsterdam and Rotterdam both sit on the line used by the Thalys trains that run eastwards across the Low Countries from Paris, Brussels and the French coast. They make a pitstop in the second city of the Netherlands before pushing onto the capital with a short pickup in Schiphol Airport along the way. In total, the whole trip is 38 minutes from station to station.
The high-speed link from Rotterdam to Amsterdam is quick and convenient, and also makes a stop at Schiphol Airport before arriving in the city.
The Thalys trains pass through Rotterdam Centraal every hour, starting at 8.06am and finishing just after 10pm. You can't miss them. Just look out for the pointed noses on the front carriage and the iconic red-grey livery. Onboard, these are some seriously comfy rides. They've got a duo of classes: Premium at the top (expect at-table meal service); Standard for the majority of passengers (two-two seating, air conditioning and good legroom throughout).
The journey itself whisks you on the dedicated high-speed line north-west through the middle of the Netherlands. It's not particularly eye-catching scenery en route, with the bulk of the tracks cutting through industrial flats. Still, it's fast and smooth on the Thalys. We'd only say that it's wise to book as early as you can if you want to go on the quick trains. They do start at 21 EUR ($22.70) but can more than double if bought too late. What's more, reservations are compulsory.
Rotterdam to Amsterdam by normal train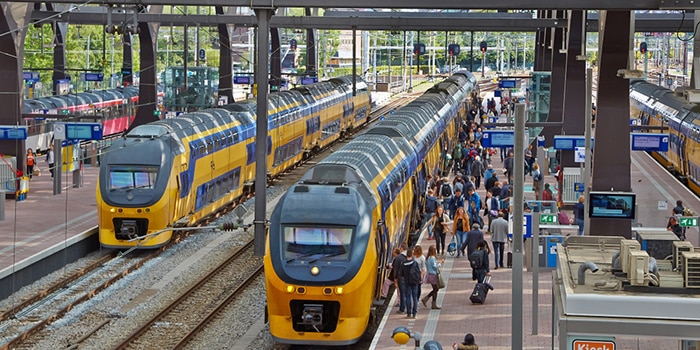 Time – 40 minutes to 1h15
Price – $19.70
Comfort – 4/5
While the high-speed trains are the fastest of the bunch, they aren't massively quicker than their InterCity or Sprinter counterparts. These are the normal services that are run by the Dutch national provider (NS). They take anything between 40 minutes and 1h15, but will complete the trip without the need for changeovers. One bonus is that they leave Rotterdam way more often than the Thalys– in fact, you'll sometimes find that departures are just five minutes apart! Another plus is that there are options leaving all night, even as late as 11pm or as early as 1am.
The normal train is the most popular way to go from Rotterdam to Amsterdam, but check out the different types to pick the one that's best suited to you.
Don't expect the trains themselves to be as stylish or as modern as the high-speed locomotives. But that's not to say these are bad. You'll basically have two types of carriage to pick from. There are double-decker IC trains or single-storey Sprinters. The first are the quickest, with travel times nearer 40 minutes, not to mention upper decks with good views of the Dutch country. The second are slower because they make stops in smaller villages and towns as they go.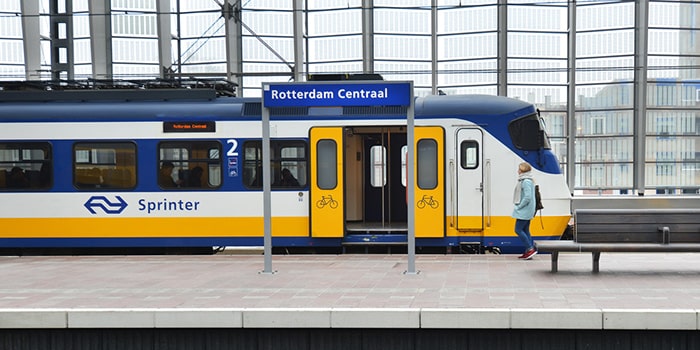 Prices will be lower for the IC and Sprinter connections, that's for sure. Starter fares are just under $20 per person, each way. That does increase as you approach the travel date, but not as astronomically as with the high-speed links. Still, booking early via 12Go.co can keep things cheap and simple, and will let you weigh up all the departure times and different schedules.
Rotterdam to Amsterdam by bus

Time – 50 minutes+
Price – $6+
Comfort – 3/5
If you're keeping a close eye on the euros to fund those Dutch stroopwafels and salted herring, there's probably no better way to travel from Rotterdam to Amsterdam than by bus. It's by far the cheapest way to make the trip, with some advance-purchase tickets (usually available a couple of months before your chosen travel date) booked via 12Go.co costing a wallet-friendly $6. Prices will vary and increase as you get closer to the day, but it's rare to have to pay any more than $10.
Buses promise great value for money, along with plenty of daily departures from the centre of Rotterdam to Sloterdijk in Amsterdam.
The company to watch out for is Flixbus. They have the best-value and the most regular links from town to town. They'll start at Rotterdam CS, which is right by the main train station. Then, they make for the A4 motorway, sometimes stopping in The Hague (another amazing Dutch town that's worth seeing if you have the time) and huge Schiphol Airport before pulling into Sloterdijk station in Amsterdam. There, you can pick up a 15-minute Sprinter train direct to the heart of the capital.
Because this is such a popular inter-city connection, you can expect plenty of bus departures every day. In fact, there are as many as four per hour, with more services laid on during the busy backpacking and travel season of summer (May to August). The trip takes anything from 40 minutes to 1.5 hours to complete on the coach, depending on what stops are on the itinerary.
Rotterdam to Amsterdam by car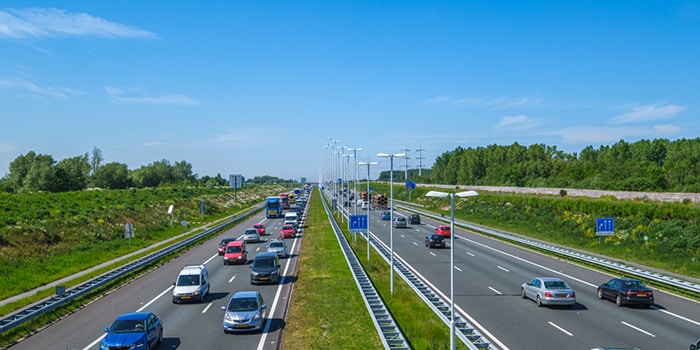 Time – 1 hour
Price – Around $30 per day for car hire
Comfort – 4/5
Modern motorways connect all of the major cities in the Netherlands, so it's also possible to plan a drive between Rotterdam and Amsterdam. For travelers who like to have their own freedom, it's a good way to go, not only because you can stop wherever you like (and there are some enticing things to see along the way) but also because hire cars can be affordable in these parts (RentalCars.com offers deals for around $70 for two full days).
The fastest route will take you north from Rotterdam to the junctions with the A4 highway. That's actually a good place for a detour into The Hague, a grand city of Gothic-style palaces and parliament buildings. Alternatively, you could push on and save your break for the handsome centre of Leiden, where canals drift past brick-fronted Flemish homes. Driving in Amsterdam is best kept to the outskirts of the city, because the core of town is left to narrow canals and cobbled streets.
Rotterdam to Amsterdam by taxi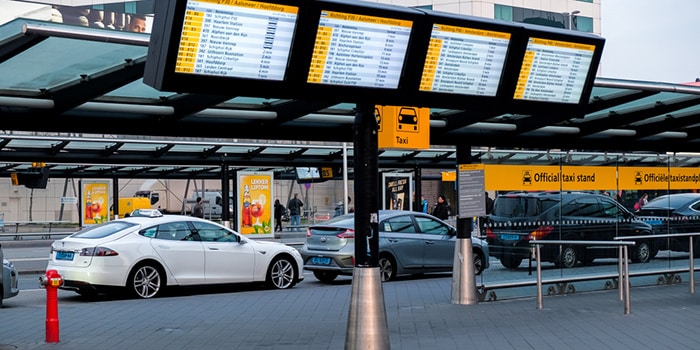 Time – 55 minutes
Price – $180+
Comfort – 5/5
It shouldn't be too hard to find a driver and a car to help you make it to the 16th-century canals of Amsterdam. The capital is only 50 minutes' drive away from Rotterdam, and it's a common way to go for businesspeople and bigger groups. The real bonus here is that you'll be collected from anywhere you like and dropped off anywhere you like. You can do a straight hotel to hotel, or a fast link from the core of Rotterdam to the airport in Schiphol – whatever you need.
The downside is obvious: The price. A transfer like this usually costs in the region of $180, but that could easily go up if you book at the last minute, want to travel during the peak summer or Christmas period, or need to go late at night. Still, it might be an option worth considering if you're in a group, because quoted rates are for the whole car, not per person.
---
Rotterdam and Amsterdam are linked by fast roads, high-speed railways, and normal train services. They offer a ticket from the cutting-edge design-mad city of the Netherlands to the historic capital and its barge-bobbing canals. It's your chance to pack two very different towns into a single holiday.
---
Rotterdam to Amsterdam FAQ
What is the cheapest way to get from Rotterdam to Amsterdam?
Flixbus has some super-bargain fares for travelers looking to go from Rotterdam to Amsterdam. If you get in there nice and early and beat the crowds to the cheapest seats, you're looking at paying just $6 for the whole ride. Not bad, eh?
What is the fastest way to get from Rotterdam to Amsterdam?
High-speed Thalys trains offer a zippy connection from Rotterdam to the canals and chip shops around Centraal Station. They can do the whole thing in just 38 minutes, making them the fastest of all the modes of transportation on this list. Book early on 12Go.co if you want to pay the discount price of around just $22 per person.
What is the best way to go from Rotterdam to Amsterdam?
On balance, the local train connections are probably the top choice. They go more frequently than their high-speed counterparts, cost less, and sometimes take only a couple of minutes more to get you to the Dutch capital. In addition, they'll whisk you straight to Centraal Station, which means they trump the cheap buses that drop you at spots outside of the Canal Ring (not ideal if you want to get stuck into sightseeing right away!).
How much is the train from Rotterdam to Amsterdam?
Not all trains that go between Rotterdam and Amsterdam cost the same. The fastest of the bunch are the Thalys and Eurostar connections. They start at around $22, but can increase in price considerably if you don't book in advance using 12Go.co. Alternatively, you can ride the IC trains or the Sprinters, which start at about $19 per person.
How much is a taxi from Rotterdam to Amsterdam?
It varies, but a normal price tag for a transfer is about $180. That might seem like loads, but bear in mind that it's for the complete ride and car, so you can share it between everyone in your group. What's more, you can nominate any collection and drop-off point you choose, which could save even more on public transport either side.
Can you get a train from Amsterdam airport to Rotterdam?
Yes. Both the high-speed Thalys and the local IC/Sprinter trains link up with the terminals in Schiphol Airport. We'd just say beware of booking on a whim – some of the services will require a change in The Hague or Leiden. Much better are the direct trains, which you can search and buy over on 12Go.co.
How useful was this post?
Click on a star to rate it!
Average rating / 5. Vote count: