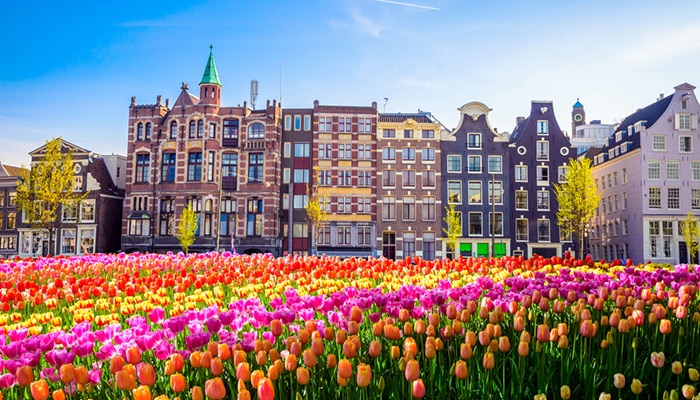 Copenhagen is the fairy-tale capital of Denmark, where cobbled alleys dusted with snow or blooming with flowers wiggle past bohemian cafés and medieval towers. Amsterdam is the first city of the Netherlands, with its barge-filled canals and enthralling Rijksmuseum collections brimming with paintings by the revered Old Masters.
Both should be on any must-do list for travelers in love with Northern Europe, which is why we've slung together this guide for getting from one to the other. It details the planes and trains and other modes of transport you can use to cover the 380 miles across the North Sea from town to town, with information on how much it will cost you and how long it will take.
Copenhagen to Amsterdam by plane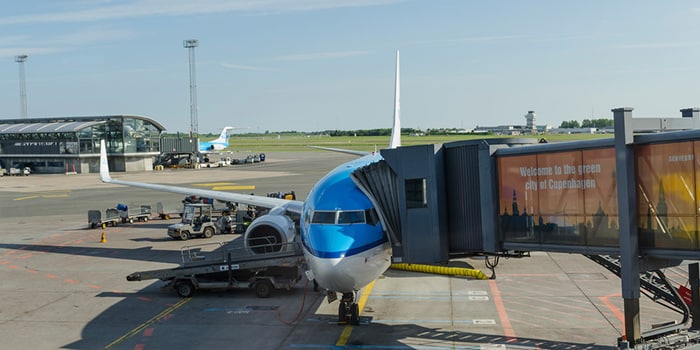 Time – 1h35 (flight only)
Price – $22+
Comfort – 4/5
With a corner of the North Sea and the whole Jutland peninsula in the way for travelers looking to go from Denmark to Amsterdam, flying can seem like the obvious choice. It certainly is efficient: You'll jet out of one town and be landing in the other after a little over 1.5 hours in the air. In total, that means journeys take in the region of three or four hours, once you've added on the extra moments needed to reach the terminals, check in your bags, go through security, and all the rest of it.
Thankfully, there's a varied mix of operators offering connections on the route. Those on a shoestring might prefer to stick with the likes of easyJet and Norwegian. They are known for their budget offering and no-frills service. However, there are also well-known flag carriers like KLM Royal Dutch on the menu. They're a good option if you want to have a wide range of departure times – they offer around seven or eight services from capital to capital per day in the summer.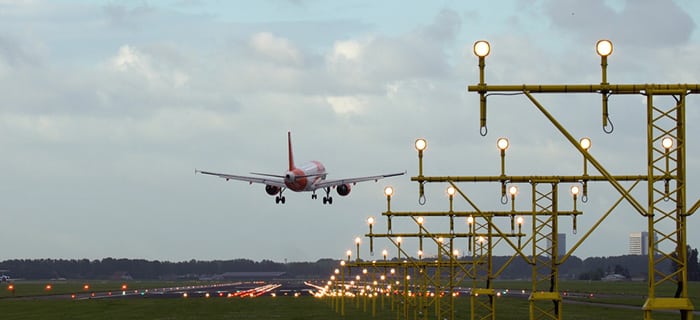 The plane is a fast shortcut over the North Sea that can get you to Denmark after just 1.5 hours in the air.
Leaving Copenhagen by plane will first mean having to transfer out to the airport in Kastrup. To do that, we'd recommend making use of the quick train line that takes you straight from the downtown of Copenhagen to the terminals. It lasts only 15 minutes and costs 36 DKK ($5.20). Once on the ground in the Netherlands, you can hop on the direct train link to Centraal Station in the heart of Amsterdam. They are comfy double decker or even high-speed lines, taking just 15 minutes and going over 170 times per day.
It's really important to book your flights from Copenhagen to Amsterdam long before you plan on traveling. Dynamic pricing models are used by most airlines, which means the cost of tickets will go up and down, but almost always be more expensive in the immediate run up to departure. As a rule, it's wise to buy online using a service like 12Go.co at least 60-90 days prior to take off.
Copenhagen to Amsterdam by train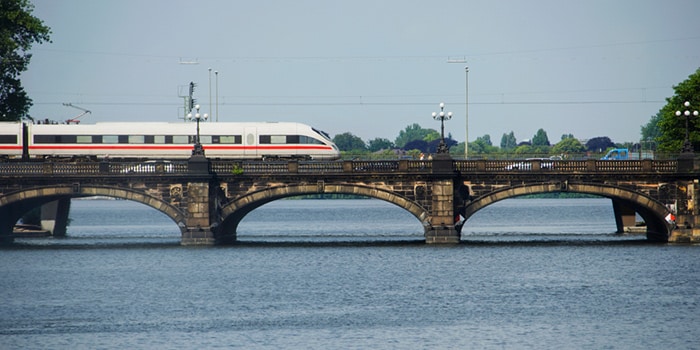 Time – 12 hours+
Price – From $54
Comfort – 4/5
Although there are trains from the Danish capital to Amsterdam, there are none that go direct. Passengers crossing this portion of Northern Europe will need to hop services at least twice. That results in pretty hefty journey times that often add up to about 12 hours. On the flip side, it's a fun, eco-friendly way to go, with nice views of the German countryside especially, and optional stops to make near the LEGOLAND® Billund Resort and the city of Odense, the gateway to rustic Funen (although you'll need to take at least a day out to see those properly).
We'd say it's a good idea to go hunting for one of the two departures from Københavns Hovedbanegård (the main station in Copenhagen) that let you do this trip with just two changeovers. They leave at either 11.26am or 7.26am and go via Hamburg and Osnabrück, both over the border in Germany. The earlier connection means an arrival into Amsterdam at just after 7pm. The later gets you in at 11pm.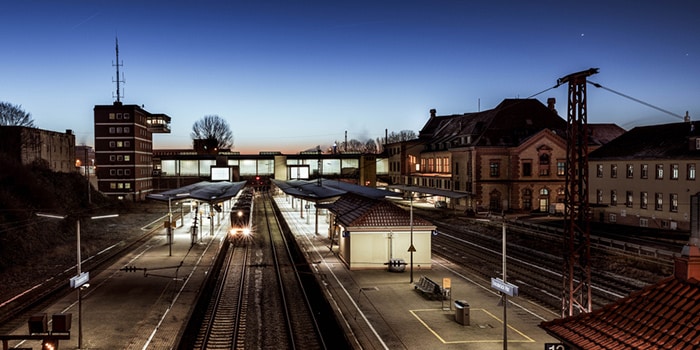 The train can be a comfortable way to move from Amsterdam to Denmark, so long as you have over 12 hours to spare for the ride!
The good news is that the whole day will be spent on modern and clean DB InterCity trains or Danish IC trains. They are some of the best regional locomotives in Europe. Onboard WiFi, efficient climate control, and in-seat power sockets are just some of the features you can look forward to. There's also a mix of seating options, including open-plan carriages and closed-off compartments for a little extra privacy. Just be sure to bring your own food for the Danish section of the ride to Hamburg (there won't be a catering car).

Booking in advance can help cut the cost of daytime rail links between Copenhagen and Amsterdam. The base, advance fare sits at around the 50 EUR ($54) mark, which is a pretty good bargain for more than 12 hours of travel. To score those deals, head over to 12Go.co and get searching as soon as you know what dates you want to be in the Netherlands – reduced fares sell out fast and are released 90 days before the departure day.
Copenhagen to Amsterdam by bus

Time – 14 hours+
Price – $45+
Comfort – 3/5
Generally speaking, the bus should be considered as a backup choice on this route. Why? Well…for starters, even advance fares are only likely to save you around $5 on the price of the train. In addition, travel times can creep up to over 14 hours, and you'll need to make changes from coach to coach along the way. Topping the lot off is the relative discomfort of the bus when compared to planes and locomotives.
Keep the bus as a good backup choice for going from Copenhagen to Amsterdam, particularly during the busier summer season.
Even so, during the busy backpacking summer months, there's sometimes no better option than the long-distance coach line. Trains can sell out and planes can be pricy, leaving this and only this. The good news is that it's still possible to get from Copenhagen to Amsterdam in a single day by coach. If you leave on one of the Flixbus services that roll out of the Danish capital at 6.10am, for example, you'll arrive into the city of canals at just before 8.30pm, provided there are no delays.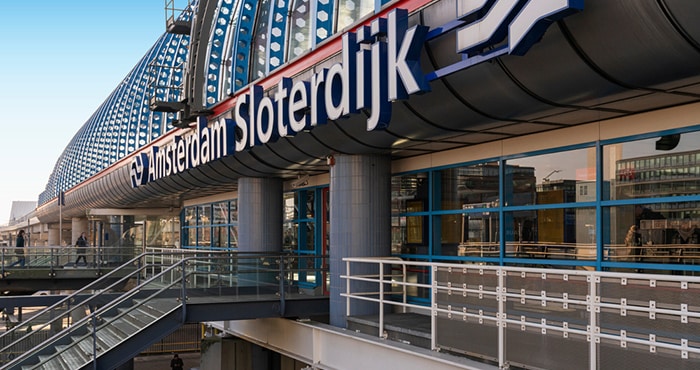 While trains are usually considered the plusher mode of transport, and flights will be far quicker, the larger coach companies still offer pretty decent service. All of their vehicles have reclining seats, air conditioning and big windows for watching the view. So, perhaps the most inconvenient thing is the need for a transfer in Hamburg station to another coach, and then getting from Amsterdam Sloterdijk station to the centre of Amsterdam itself (that takes about 22 minutes on local transport).
---
No matter whether you take to the skies and whiz down to Amsterdam or hop on a long-distance bus to cover the breadth of northern Germany and Jutland, this trip promises to be filled with excitement. After all, it's about trading the Tivoli and the Nyhavn harbours for the buzz of the Dam's canals and coffeeshops!
---
Copenhagen to Amsterdam FAQ
What is the cheapest way to get from Copenhagen to Amsterdam?
If you steal a ticket real early using 12Go.co, then flying can actually be the cheapest way to get to Amsterdam from Copenhagen. Budget-orientated carriers like easyJet offer tickets that cost just $22. Add on the price of getting to and from the airports on both sides and you're still looking at deals that beat the buses and the trains! (Just remember that checked bags will usually be extra.)
What is the fastest way to get from Copenhagen to Amsterdam?
There's no mode of transport that can beat flying on this route when it comes to speed. Copenhagen and Amsterdam are separated by an edge of the North Sea and a whole swathe of western Germany. That's covered quickest in the air, with planes offering travel times of between 3.5 and 4.5 hours in total (that's city to city, not airport to airport!). You can head to 12Go.co to compare and contrast deals and schedules on various airlines today.
What is the best way to go from Copenhagen to Amsterdam?
We'd recommend flying. It's fast – the flight itself is just 1.5 hours. It's regular – there are over 10 separate departures each day. It's cheap – book on 12Go.co at least 60 days in advance and you can seek out tickets for just $22 per person if you're lucky!
Is there a night train from Copenhagen to Amsterdam?
No longer. Sadly, the night train from Copenhagen to Amsterdam was discontinued back in 2017. However, there are day services. They link the two capitals via other cities in Germany and take around 12 hours from departure to arrival on the shortest route.
How much is a train ticket from Copenhagen to Amsterdam?
If you get searching as early as you can on 12Go.co, the cost of tickets on the trains between Copenhagen and Amsterdam can be as low as $54 per person. That's a real bargain, especially considering that they can swell to way more than that in the days before departure.
Is it better to fly from Copenhagen to Amsterdam or take the train?
In this instance, it's probably better to fly. Yes, going by train will get you straight to the city centre of Amsterdam, but it still takes well over 10 hours. The plane is a mere 1.5 hours in the air, and can even be cheaper! Still, if you're paying special attention to your carbon footprint, or want to enjoy views of the German and Danish countryside as you travel, it might be worth thinking about hitting the rails between the two cities.
How useful was this post?
Click on a star to rate it!
Average rating / 5. Vote count: