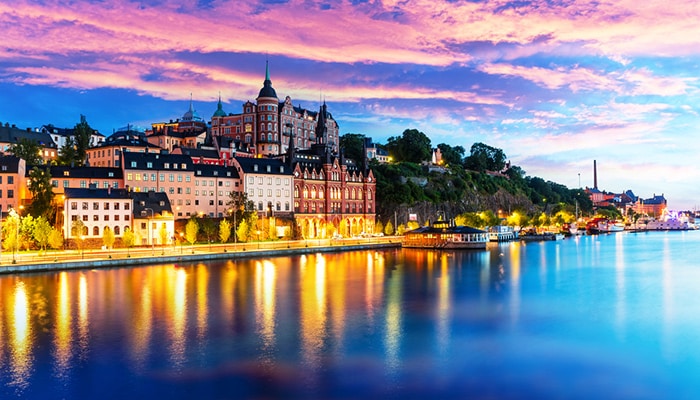 There are 530km of Scandinavian fjords and icy Baltic waters and wild Nordic forests between the two great cities of Copenhagen and Stockholm. But don't let that put you off planning a trip that sees you exploring the both of them.
This guide delves down into all the modes of transport that can help you go from one to the other. It's got you covered with the quickest routes, the cheapest routes, and the most comfortable, just so you can start looking forward to a holiday that's brimming with Viking history, Danish pastries and Swedish meatballs, and cool Scandi cafes and bars. Let's get started…
Copenhagen to Stockholm by high-speed train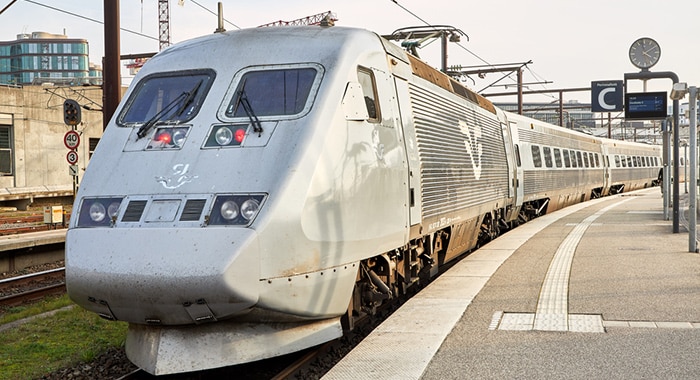 Time – 5.5-6 hours
Price – Usually around $67
Comfort – 5/5
Sweden worked to introduce high-speed rail links between the Danish capital and Stockholm way back at the start of the 90s. Thankfully for lovers of all things locomotive, they are still going strong. They use the sleek and modern X2000 tilting stock, which means you'll clock up velocities of 200 kph on some sections of the track. All trains are super-comfy, with upholstered seats set in two-two in 2nd Class and two-one in 1st Class, along with self-service bistro cars and excellent climate control throughout. There are also Øresundståg ET trains on the route, which are just a tad slower but also modern and well-equipped.
The direction the train takes between Copenhagen and Stockholm promises some great viewing. Things start particularly strong with the crossing of the strait on the Oresund Bridge (one of the largest in Europe). From then on, you'll enjoy a passing montage of the Swedish coast, with wide rivers, forests, and small Scandinavian towns and villages flitting past the window. It looks lovely at any time of the year, but is especially enchanting during the winter all dusted with snow.
The high-speed train link from Copenhagen to Stockholm is smooth and enjoyable, with options that go direct from city to city.
It takes between 5.25 and 6 hours to complete most high-speed train links up to Stockholm on the X2000 trains or the Øresundståg models. The majority of journeys involve at least one change en route, but you can do it direct if you're willing to arrive into Stockholm Södra station in the area of Södermalm (the south side of the city). Your starting point will always be big Copenhagen Central Station (also known as Copenhagen H), which sits in the heart of the town close to the famous Tivoli.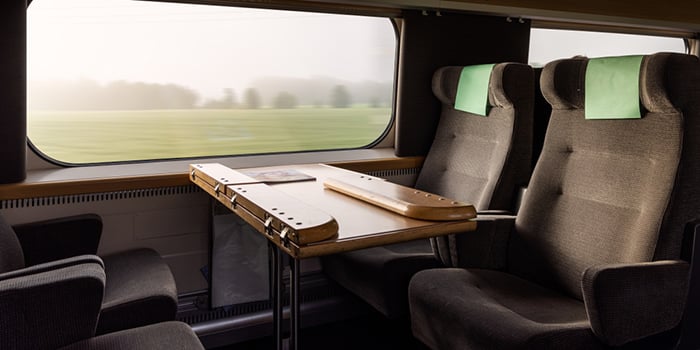 Like most European rail operators, SJ Swedish Railways and Danish railways both run a dynamic pricing model. That means you'll pay extra the later you leave it, with the best bargains found long in advance of the date of travel. It's normal for fares to be available around 90 days prior to departure, so be sure to head over to 12Go.co and reserve your seat with a few months to spare if you really want to keep outgoings low.
Copenhagen to Stockholm by plane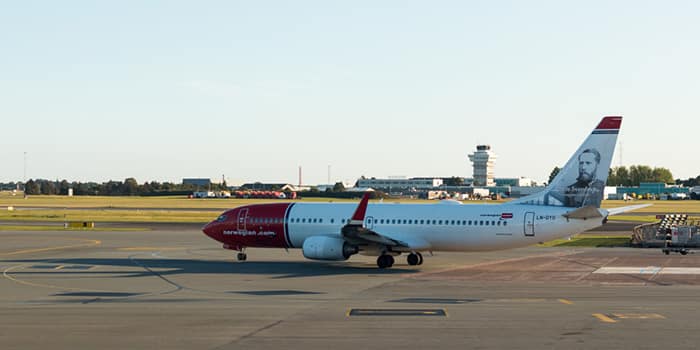 Time – 1h10 (flight only)
Price – Starting around $75
Comfort – 4/5
It should be a cinch to find direct flights between these two great Scandinavian capitals. There are as many as 22 individual departures each day during the summer. Most are run by well-known regional airlines like Norwegian and SAS (the combined Danish-Swedish-Norwegian flag carrier). They all take between 1h10 and 1h15 in the air, which puts flying up there as the single fastest way to hop from city to city, even once you've added on the time it takes to get to and from the airports…
Flying is the fastest way to swap Danish pastries for Swedish lingonberry jam, taking a little over 60 minutes in the air.
Talking of airports, the trip begins at the the largest airport in Scandinavia, Copenhagen Airport (CPH). Quick metro and train links to that – costing just 36 DKK ($5.50) – mean you can shoot out of downtown Copenhagen and be stepping into the terminals in as little as 15-20 minutes. Landings are at the huge Stockholm Arlanda Airport. It's a breeze reaching the heart of the Swedish capital from the arrival hall. Simply hop on the high-speed train that waits to take passengers into Stockholm (takes 20 minutes) or the Flygbussarna coach (takes 35 minutes).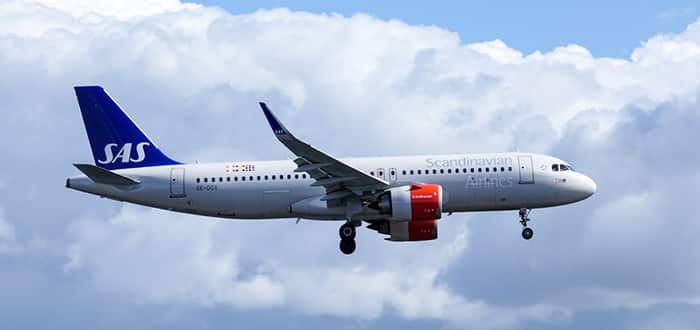 Booking short-haul links from Copenhagen to Stockholm is the same as booking any other flight. Generally speaking, the earlier you manage to score a ticket, the less you'll pay. It's normal for prices to start creeping upwards around two months before the scheduled take-off date, so we'd recommend searching on a service like 12Go.co as soon as you know when you want to travel. Also, be ready to fork out a little more for check-in baggage if you're bringing luggage in tow.
Copenhagen to Stockholm by bus

Time – 8.5-9.5 hours
Price – $32+
Comfort – 3/5
Europe's largest provider of city-to-city coach travel now offers a direct bus between Copenhagen and Stockholm. You want to search 12Go.co for the nonstop lines run by Flixbus. They take between eight and 10 hours, with one departure planned for the morning and two scheduled to run overnight, getting you into Stockholm bright and early for around 6am or 7am. You can find the Flixbus stop on Ingerslevsgade close to Copenhagen train station. Arrivals will be into the Stockholm Cityterminalen terminal in Norrmalm.
It's not unusual for the bus to be the cheapest of all the modes of transport on offer between the Danish and Swedish capitals. Book early, before the discounted fares are all gone, and you might be looking at paying as little as $32 for the whole ride. That's the good news. The bad news is that coaches aren't anywhere near as comfy as the trains, although they do have air conditioning and reclining seats.
---
There's no denying that Copenhagen and Stockholm are both among Europe's bucket-list metropolises. In one, you'll encounter sleek Scandi design and ride the looping rollercoasters of the Tivoli. In the other, you can wander the cobbled lanes of the Gamla Stan district and trace the story of a certain band called ABBA. Sounds fun, eh?
---
Copenhagen to Stockholm FAQ
What is the cheapest way to get from Copenhagen to Stockholm?
The bus. In fact, traveling by coach could see you paying just a fraction of what you'd need to fork out to fly or to catch the train. It still helps to book as early as you can, though. Head over to 12Go.co something like 60-90 days before the trip and you might score seats for around just $32 each.
What is the fastest way to get from Copenhagen to Stockholm?
Flying is still the quickest option for covering the 500km+ that lies between Copenhagen and Stockholm. The flight itself is only 1h10 or 1h15, and transfers to the airports are short, sharp and efficient. You're looking at a total journey time of about 3.5-4.5 hours from centre to centre.
What is the best way to go from Copenhagen to Stockholm?
It's a close-run thing between the planes and the trains for most travelers, but really depends on what you're after. In a hurry? Flying is surely the way to go, because travel times are just over an hour in the air. Want to see the backcountry and the coast of Sweden as you move from town to town? The train offers that with its five-hour odyssey up the shore to Stockholm.
Is there a direct train from Copenhagen to Stockholm?
There is, but not to Stockholm Central Station. The direct lines run by SJ on the fast tilting trains take you into Stockholm Södra station. That's in the hip district of Södermalm, but still really well-linked to all other quarters of the capital. If that's the way you want to go, we'd recommend booking the train as early as you can using 12Go.co to keep prices low.
How long is the train ride from Copenhagen to Stockholm?
Train rides on direct or one-stop routes between Copenhagen and Stockholm take in the region of 5.5-6 hours. The quickest options are on the SJ X2000 locomotives. Look out for those when you come to book on 12Go.co.
How much is a train ticket from Copenhagen to Stockholm?
Discount tickets can see the price of a train from Copenhagen to Stockholm drop to below $40 per person. That's a mega-great deal, which will only be on offer if you use a service like 12Go.co to book well in advance of traveling. Common midrange fares are closer to the $67 mark.
Is it better to fly from Copenhagen to Stockholm or take the train?
If you need to get to Stockholm as fast as possible, there's no doubt that flying is the option for you. Travel times from city to city are just 3.5-4.5 hours when going by air, which makes it the zippiest route of all. However, if you're keen to lower your carbon emissions, want to travel comfortably, and like to see countryside views on the way, it's worth considering the train.
How useful was this post?
Click on a star to rate it!
Average rating / 5. Vote count: