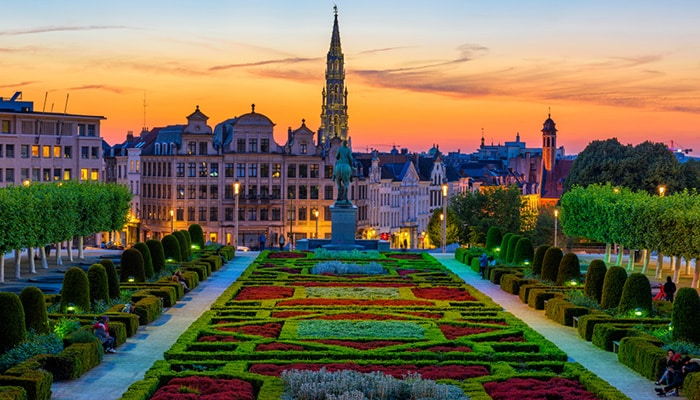 Swap stroopwafel for frites and mayo; trade Dam Square for the Grand Place; ditch Van Gogh for the Manneken Pis – that's what the trip from Amsterdam to Brussels is all about. It covers a little over 130 miles when going by road, cutting through the flower fields and windmill-dotted lowlands of the Netherlands before rolling into Belgium. It's also one of the most traveled lines in Northern Europe, popular with everyone from commuters to backpackers.
This guide runs through all the modes of transport that you can pick from on the road from The Dam to the epicentre of the EU. It's got tips on trains, buses, planes and cars, with info on prices, travel times, and more.
Amsterdam to Brussels by high-speed train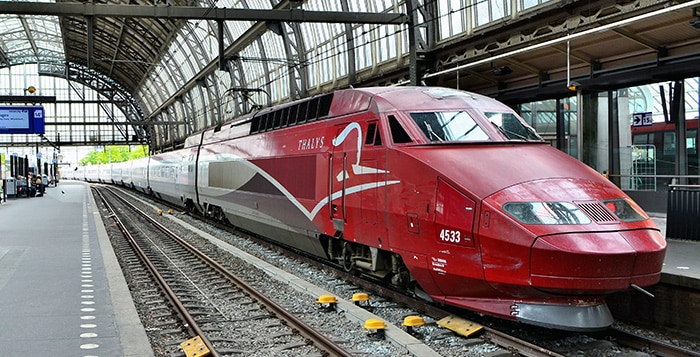 Time – <2 hours
Price – $100
Comfort – 5/5
Some of Europe's fastest and most efficient train lines link the dual capitals of Amsterdam and Brussels. Even regular riders of the railways are likely to be surprised at just how quick you can complete the 130-mile journey on the swift Thalys. Yep, in under two hours you could be stepping off onto the platforms of Brussels Midi after whizzing through the Low Countries at speeds of a whopping 186 miles per hour!
And it's not just the hastiness of the journey that makes it a doozy. You'll also enjoy the height of luxury onboard. All carriages come with climate control, spacious table seats, and WiFi connections. There's a trio of classes to pick from: Second, Comfort, and Premium. Those who fork out for the priciest fares will get at-table beer and wine service, along with enough legroom to wear those Dutch clogs as you go, if you like.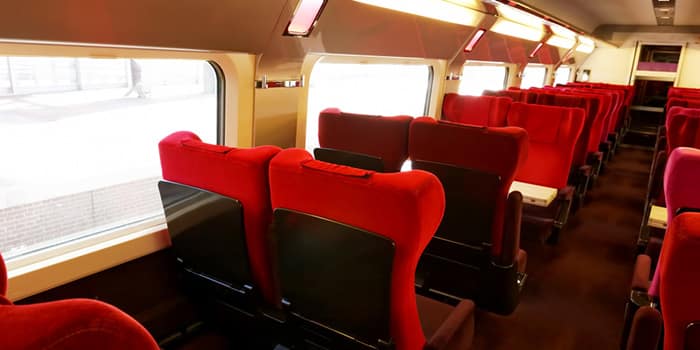 The high-speed Thalys trains from The Dam to Brussels will cost you more, but they sure are comfy and quick!
Adding to that is the relative stability of the high-speed Thalys trains. Traveling at nearly 300kph on modern rail lines, they invite passengers to enjoy a montage of wiggling rivers, flower farms and rolling European lowlands from the window, all without the usual wobbling and rattling of the carriage.
Granted, you'll pay extra for all of the above pros. Average ticket costs for the high-speed rail link between Amsterdam and Brussels sit at about $100 a pop. It's always better to book in advance to secure your reservation, using a service like 12Go.co.
Amsterdam to Brussels by regular train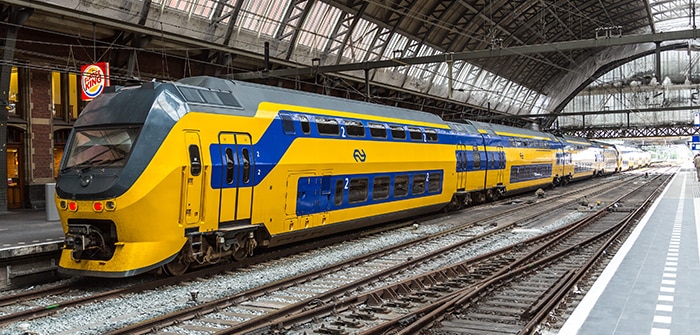 Time – <3 hours
Price – $40-50
Comfort – 4/5
Coming in at about half the cost of the high-speed train is the regular InterCity service that runs the route between Amsterdam and Brussels up to 10 times daily. They start as early as 7.25am, with options leaving almost hourly after that. The origin station is the same as on the Thalys – Amsterdam Centraal. But you'll arrive into Brussels Central instead of Brussels Midi, which is great news if you're on a sightseeing mission and have bagged a hotel near the gorgeous Grand Place.
The regular train is a little slower than its high-speed compadre, but will drop you in Brussels Central, closer to the heart of the city.
The InterCity trains got a speed boost back in 2018 when they were upgraded to faster tracks. That shortened the overall journey time to a smidgen under three hours. The main thing that slows them down are the necessary stops in other Dutch and Belgian cities. However, you can turn that to your advantage, because it's possible to buy tickets that let you hop on and hop off. A coffee on the square in Antwerp along the way, anyone?
Passengers looking at traveling on these services can choose between the wider, more spacious seats of 1st Class and the two-two orientation of 2nd Class. Both are comfortable enough and have wide windows so you can spot the creaking Dutch windmills as you ride. Booking early can help keep things hassle free at the station, with tickets available months in advance from providers like 12Go.
Amsterdam to Brussels by bus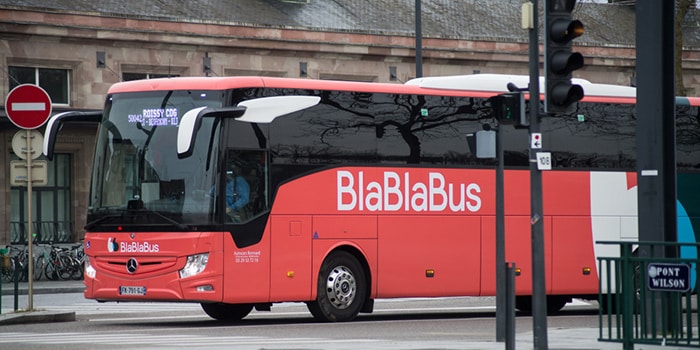 Time – 3-5 hours
Price – $11-15
Comfort – 3/5
Buses offer a reliable and regular option for trading in the city of canals for the home of the choco-topped waffle. There are lots of links every day, running from the early morning until late in the evening, and you'll be able to pick from a real Dutch flower display of different operators. Expect to spend around three hours on the road in total, though some schedules run up to five hours, including multiple stops along the way.
Buses run all the time between Amsterdam and Brussels, and they'll certainly save you plenty of moolah for those waffles and Belgian chocolates.
Top-rated companies with coaches include BlaBlaBus and Flixbus. Their vehicles tend to be comfy and modern, complete with onboard WiFi connections, personal plugs, and reclining seats. They'll take you to either Gare de Bruxelles-Nord or Brussels-South (also known as Brussels Midi), both of which are a short taxi or local bus connection from the heart of historic Brussels and the famous Grand Place.
We'd recommend searching for buses as far in advance as possible. It's normal for tickets to be available between four and six weeks before you plan to travel, but prices usually spike in the run up to the departure date. Use the search facility over on 12Go.co to get the best deals and compare fares on different dates. Expect to pay in the region of $11 for a standard ticket, making this one of the cheapest modes of transport of all between Amsterdam and Brussels.
Amsterdam to Brussels by plane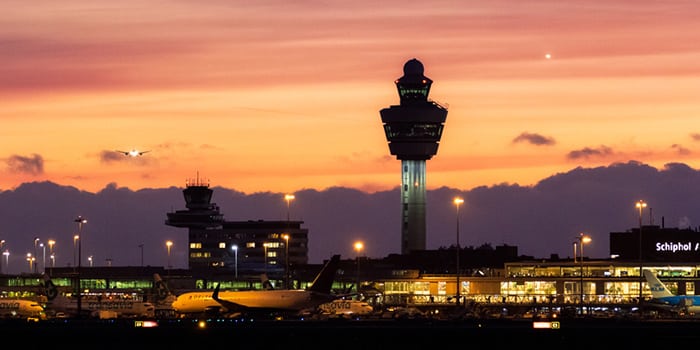 Time – 45 minutes (flight only)
Price – $120+
Comfort – 4/5
With only 200km between The Dam and Brussels, you might think there's no need for a dedicated flight connection. Well…KLM Royal Dutch think differently. They run a single daily departure from Schiphol Airport to Brussels Airport. It costs around $120-140 on average and usually leaves about mid-morning.
In the air, the journey takes a mere 45 minutes. But that doesn't actually make it the quickest link from town to town. Add on the time needed to reach the terminals on the train from Amsterdam Centraal, at least an hour checking in at the airport, and the final leg from BRU to downtown Brussels, and you'll see that total travel times are more in the region of three hours.
That said, the plane can be a comfy way to go. It's also reliable, and a great choice if the high-speed Thalys is all booked up. It's also perfect if you're looking to travel straight to Brussels Airport, for onwards links across Europe and the rest of the globe.
Amsterdam to Brussels by car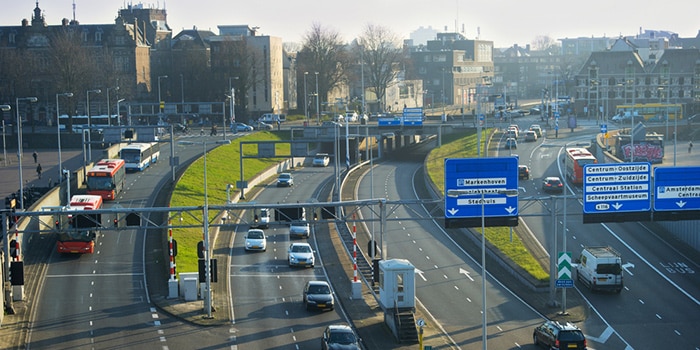 Time – 2.5 hours
Price – Anything from $20 to $200
Comfort – 5/5
Road trip time! Choose your own set of wheels and you'll cruise through the Low Countries from Amsterdam to Brussels at whatever pace you fancy. It's possible to complete the trip in just over two hours, but there are surely too many tempting stops along the way to fall for that. You've got the birding wetlands of the beautiful Biesbosch National Park, the moody jazz districts of Antwerp, and the serene backcountry of the Kalmthout Heath to explore. Why not make a day of it?
When it comes to getting a car, you've got a number of options. Some travelers will have access to their own ride. Perfect. Others will need to rent. Head over to RentalCars.com to compare the best rates for that. Typically, you're looking at paying in the region of $200 for a single day's hire, with surcharges for crossing borders and dropping off the vehicle in a different location. To save, you could consider a ride share with a service like BlaBlaCar. That might cost as little as $20, but you'll be traveling with others, so stopping off to spot Dutch waterfowl might not be on the menu.
---
The trip between Amsterdam and Brussels can be done in under two hours if you like, whizzing over the tulip fields on a Thalys train. Or, you can take your time, exploring amazing cities like vibrant Rotterdam and atmospheric Antwerp en route. The choice is yours…
---
Amsterdam to Brussels FAQ
What is the cheapest way to get from Amsterdam to Brussels?
Buses still offer the best value for money on the road between Amsterdam and Brussels. Rates for a single seat on popular coach services like BlaBlaBus sit at around the $11 mark. That's a bargain when you compare it to the nigh-on $100 it costs on the Thalys train. To secure the lowest fares, check out deals on 12Go.co at least four weeks before you travel.
What is the fastest way to get from Amsterdam to Brussels?
Thalys high-speed trains smash the route between Amsterdam and Brussels in under two hours. They have speedometers that hit a windmill-twirling 190 miles per hour on some parts of the line. That makes them the quickest option for traveling between the two capitals, because even flying will be around the three-hour mark when you factor in check-in and transfers. Be warned: High-speed trains are popular, so try to pre-book your tickets ahead of time using 12Go.co.
How much is a train ticket from Amsterdam to Brussels?
The price of a train ticket to take you from The Dam to Belgium's capital could vary considerably. That's because the average cost of a seat on the Thalys high-speed link is around the $100 mark. Meanwhile, the normal InterCity service has reservations for as little as $40. You can compare and book both options using online services like 12Go.co.
How long is the train ride from Amsterdam to Brussels?
Pick those nippy Thalys carriages and you're looking at a swift journey of just under two hours from Amsterdam Central to Brussels Midi. Go for the InterCity trains and it will be closer to three hours from start to finish, although you'll be able to get out at Brussels Central, from where you can walk to the main tourist and sightseeing area around the Grand Place.
Is there a high-speed train from Amsterdam to Brussels?
Yep. Keep an eye out for the Thalys trains that run the route between Amsterdam and Brussels. They go either hourly or two-hourly and will complete the trip in about 113 minutes. During peak seasons – the midsummer, Christmas, New Year – it's always wise to book these in advance using the likes of 12Go.co because reservations can go fast.
How long is the bus ride from Amsterdam to Brussels?
Buses usually take around three hours to drive the route from Amsterdam to Brussels. Popular companies like Flixbus and BlaBlaBus offer direct connections that don't involve changes or too many stops between the capitals. They're best booked online and in advance, so check out 12Go.co for ticketing options.
How useful was this post?
Click on a star to rate it!
Average rating / 5. Vote count: