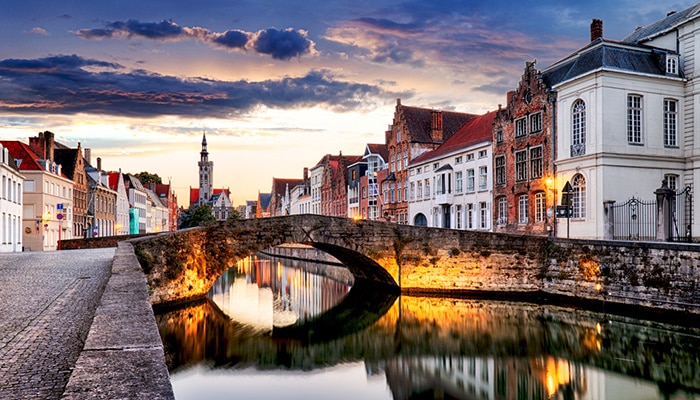 Get ready to be enchanted by Bruges. Leaving the big-city bustle of Brussels behind, you're about to be immersed in a fairy tale of haunting churches and silhouette spires, of cobbled lanes and drifting canals. It's considered to be one of the best-preserved medieval centres in all of Europe, with a good dollop of Belgian frite stalls and rollicking Irish pubs (remember the film In Bruges?) on the side.
Thankfully, you've got some convenient modes of transport at your fingertips to help you cross the 55 miles that separates the two towns. This guide has everything you need to know about getting them booked…
Brussels to Bruges by train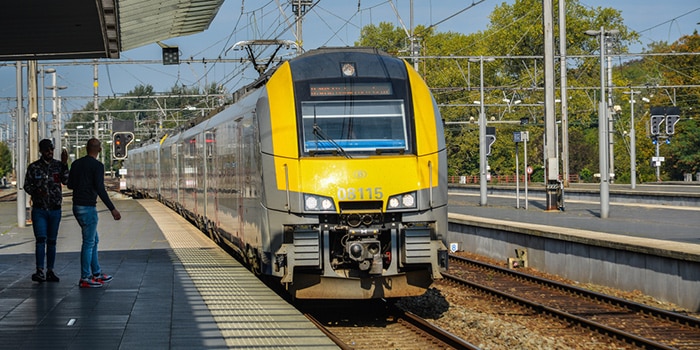 Time – <1 hour
Price – $15.50
Comfort – 4/5
The train is far and away the most popular mode of transport for getting from Brussels to Bruges. Run by SNCB on relatively fast and reliable InterCity lines, they can whisk you from the platforms of Brussels Midi to Station Brugge in just under one hour. You're looking for the regular half-hourly or hourly service to Oostende, which stops in Ghent along the way. (Don't be tempted to take the less-regular departure that goes through the city of Roesalere – it's more than twice as slow!).
Because this is such a popular commuter and backpacker route to take through Belgium, you're sure to find plenty of departures every day. They'll start early – like, seriously early (before 1am, even!). They'll finish late – you'll be able to do the trip after 11pm at night if you want. During peak hours in the morning and afternoon, the carriages could get busy, but there should also be extra services laid on to cope with the rush.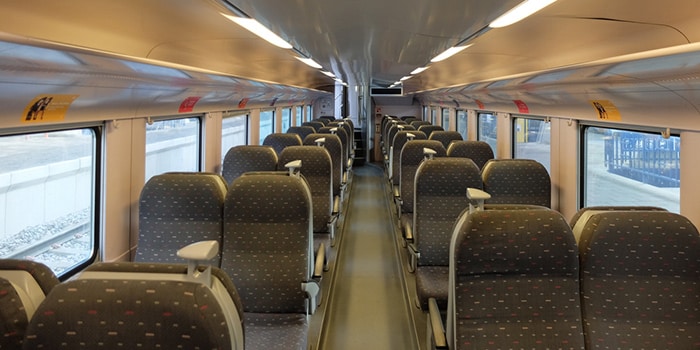 Lots of travelers opt to ride the railway north-west through Belgium to get to Bruges, taking just under an hour on the trip.
Surprisingly, booking in advance offers no advantage in terms of price. You'll always pay the local standard fare of 14.40 EUR ($15.50) for the ride, no matter if you've had your ticket stowed away for months or if you bought it at the station. That said, using 12Go.co to buy online before you even get to Brussels can help you dodge potentially long queues at the kiosks. Also be aware that travelers planning to head Bruges way fresh off the Eurostar can score Any Belgian Station tickets, which include the cost of their onward journey from Brussels.
Expect some pleasant, if undramatic, scenery. The route forks north-west through the Low Countries towards the ports of the North Sea. As it goes, there are tracts of farm fields peppered with forests and copses, along with quaint Belgian villages and windmills. Also keep an eye out for the pretty redbrick turrets that loom overhead when you pull into Ghent station.
Brussels to Bruges by bus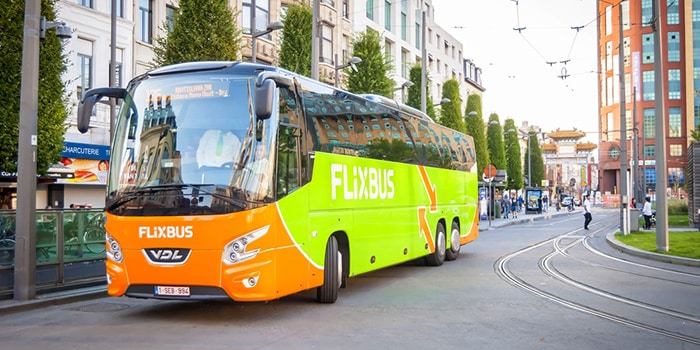 Time – 1.3-2 hours
Price – $7.50+
Comfort – 3/5
Price is pretty much the only reason you'd consider swapping the train for the bus on the way to Bruges. Coaches take longer, are generally less comfortable, and can be subject to hefty delays on the way out of the capital, particularly during bustling rush hours in the morning and afternoon. That said, with advance tickets costing as little as 7 EUR ($7.50), it might be something worth having on the radar.
There's one feature of the buses between Brussels and Bruges that make them a top mode of transport: The price.
Operators like Flixbus usually take centre stage. They have a huge Europe-wide network with quite modern coaches, boasting air conditioning and reclining seats that can help you get to the UNESCO city in comfort. The drive follows the E40 motorway north-west past Ghent (don't be surprised if there's a quick stop there to pick up extra passengers) before reaching Bruges itself. It's not overly beautiful, but you will get glimpses of the rolling flatlands of the Low Countries.
Always remember that the cost of tickets – the main bonus with coach travel between Brussels and Bruges – changes over time. The closer you get to your day of travel, the less likely you are to score a real bargain. That's why bagging a seat on one of the buses prior to your holiday using 12Go.co is a pretty darn good idea.
Brussels to Bruges by taxi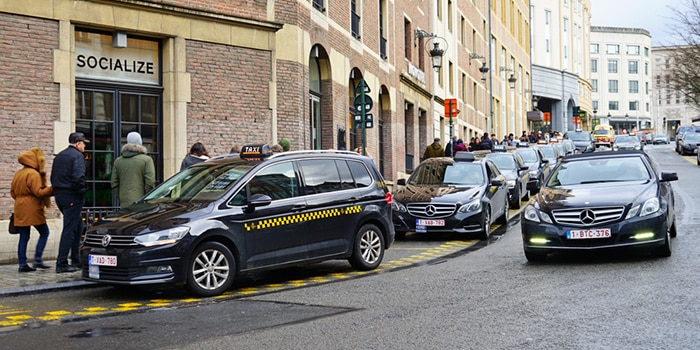 Time – 1.5 hours
Price – Around $160
Comfort – 5/5
If you're willing to drop a few extra euros on the ride from Brussels to Bruges, a private taxi could be on the menu. They usually charge around the $150-170 mark for the whole trip, which will be in an air-conditioned car with lots of legroom. The journey takes between one and two hours in total, but the length does depend on traffic. The real bonus is that you can organise to be collected from anywhere you like, and get dropped off anywhere you like, making it a prime choice for folk with lots of luggage or groups of travelers who can share the cost between them.
Brussels to Bruges by organised tour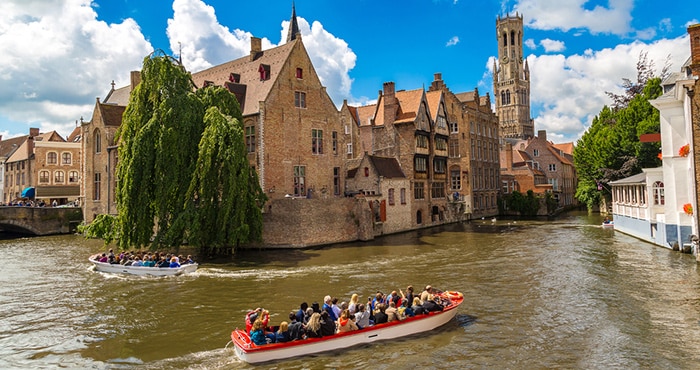 Time – All day
Price – From $50
Comfort – 5/5
Given how close Brussels and Bruges actually are (88km as the crow flies), it's hardly a surprise that there are lots of daytrips and tours on the menu. They cater to hertiage-hungry travelers who want to whiz in and whiz out of the UNESCO World Heritage Site of a town, checking off the great belfry and the handsome Flemish architecture in one fell swoop. Basically, this is the option to go for if you're keen to squeeze as much culture and sightseeing from the jaunt as you can.
The good news is that tours to Bruges usually come with a pickup anywhere you want in Brussels. That could be your hotel close to the great landmarks of the Grand Place. It could be the airport. It could be Brussels Midi train station. The choice is yours. From there, you'll head out of the capital and start to explore. Different tours mean different activities, but common points of interest include the handsome Gothic old city of Ghent and walking routes around the Bruges Markt.
Brussels to Bruges by car

Time – 1.5 hours
Price – From $50
Comfort – 5/5
Folk who are eager to get straight from Brussels Airport to Bruges, or anyone keen to explore a little bit more of Belgium at their own pace, can look to car rentals. They'll let you do the drive in about 1.5 hours; the same as in a taxi. However, they'll also give the freedom to stop wherever you want and make detours, so why limit yourself to just the A to B? The route will follow the E-40 motorway on a well-kept, modern road, offering chances for pitstops in vibrant Ghent town or more off-beat destinations like sleepy Aalst and Beernem.
You're probably looking at forking out around $100 for a full-day's rental, with surcharges added on for the cost of dropping the wheels off in Bruges, not back in Brussels. However, always be sure to check out RentalCars.com for the most competitive deals, which often include good discounts for multi-day hires.
---
Brussels to Bruges is a quick 50-mile journey across the heart of north-western Belgium. But, more than that, it's a ticket to one of Europe's most immersive medieval cities, where you'll drink frothy Trappist beers in centuries-old cellars and boat through canals past Flemish merchant houses.
---
Brussels to Bruges FAQ
What is the cheapest way to get from Brussels to Bruges?
The coach is the cost-conscious choice. However, that's pretty much all it's got going for it. The journey time can be up to two hours and the comfort level just isn't the same as the train. Still, book in advance using 12Go.co and you're looking at the best-value way to hit the medieval city of Bruges from Belgium's capital.
What is the fastest way to get from Brussels to Bruges?
The train is actually quicker than any form of road transport. It can get you stepping onto the station in Bruges in under one hour. Just look for the services going to Oostende, which you can pre-book online using 12Go.co.
How much is the train from Brussels to Bruges?
The train from Brussels to Bruges has a fixed price of 14.40 EUR ($15.50). That's good news for travelers who aren't great at pre-planning their adventures – the ticket will cost the same on the day as it will three months prior. However, we'd recommend buying online using 12Go.co to keep things simple and easy.
How long is the train Brussels to Bruges?
Trains leave all the time for Bruges from Brussels Midi. Most of them take around the hour mark, but the fastest can do the trip in a whisker under 60 minutes. None will take longer than 1h10, except for the elongated service that runs via Roesalere – an option that's best avoided.
How easy is it to get from Brussels to Bruges?
Super, super easy. Honestly, the journey will drift by in the time it takes you to wolf down a Belgian waffle (okay, maybe not that fast). That's thanks to quick train links taking just an hour. And if you can't catch the locomotives? No worries. There are also buses (the cheapest option), private taxis (good for bigger groups), and even organised tours that can help you get from A to B.
How useful was this post?
Click on a star to rate it!
Average rating / 5. Vote count: