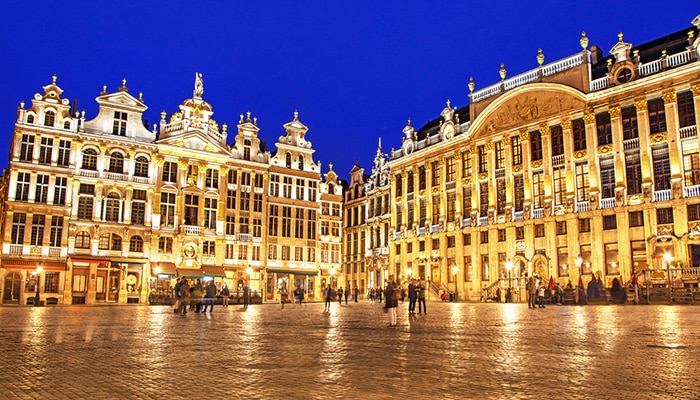 There are loads of fun and fast ways to go from London to Brussels. Some will let you munch on fish and chips beneath the Gothic tops of Big Ben at midday only to be stepping onto the eye-watering Grand Place with a chocolate-topped waffle in hand before 4pm. Others mean taking to the skies for nippy flights over to Belgium's capital. Others are about slow travel, with ferry and train connections that prioritise the journey, not the destination.
Whichever works for you, this guide has all the information needed to book tickets and get going on the 190-mile route towards the home of beer and double-fried frites.
London to Brussels by train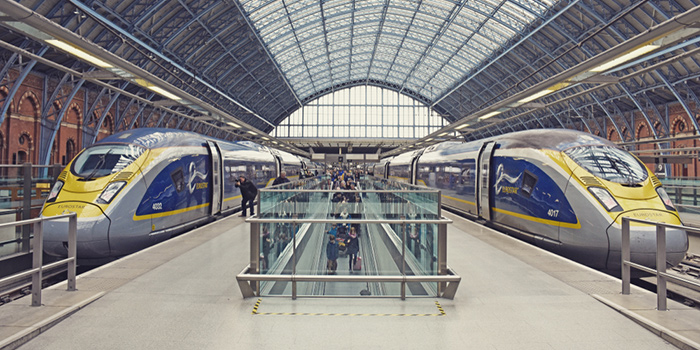 Time – 2 hours
Price – From $54
Comfort – 5/5
The London to Brussels railway line promises a fast but adventurous way to cross from the Big Smoke to the biggest city in Belgium. It will take just a minute over two hours on the speedy Eurostar, which manages to peak over 185 miles per hour on some sections of track. Yep – no sticking your head out of the window on these ones, folks!
Your journey will begin right in the beating heart of Central London, in the colossal international train station at St Pancras. Try to arrive there at least an hour before your departure, because you'll need 30 minutes to complete the international check-in procedure. The first leg of the line is straight southwards to the White Cliffs of Dover, which you sadly won't get to see before rolling into the Channel Tunnel for the crossing to France. Then, you'll whiz east, flanked by rolling wheat fields and gallery woods for a little over an hour, through Lille and across the border straight into Brussels Midi.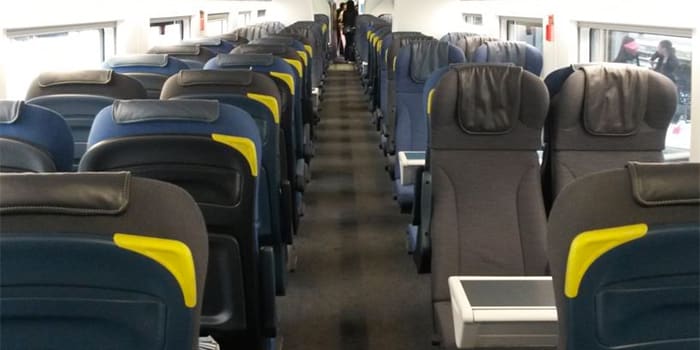 The Eurostar zooms over northern Europe to make the trip to Brussels as short as two hours.
Remember that your arrival station isn't quite the heart of the Belgian capital. However, it's normal for Eurostar tickets to include free onward rail travel to the main Brussels Central station (taking just five minutes), which is within walking distance of the tourist-favourite Grand Place. In terms of comfort, you can expect some seriously slick train interiors along the way, with wide-berth, open-plan seats and big tables, not to mention two dining and drink cars.
And the price? Well…it can be hard to tell. Passengers who book really early might score tickets for just $54 one way. Those bargains don't stick around long, however, with fares creeping up considerably when you book on the day. For transit in Business or Premier classes, tickets start at $137, which adds in legroom and comfier seats.
London to Brussels by train and boat
Time – 17 hours+
Price – $130+
Comfort – 4/5
Sometimes it's more about the journey itself, which is precisely why you might want to consider taking the long way round to Brussels. On this route, that means swapping the Channel Tunnel crossing for the vintage ferries that run between Essex and the Low Countries. You can match that connection up with trains to the coast from London, and trains through the Netherlands and eastern Belgium on the other side.
There's an element of adventure in a trip that takes you on classic cross-North Sea ferries to the Netherlands before heading towards Brussels.
A word of warning: This isn't the fastest way to go by any stretch. In fact, the whole trip is likely to take at least 17 hours. But it's hardly a drag, because a big contingent of that will be spent on Stena Line's luxurious overnight boat going from Harwich to Hoek van Holland. That offers double rooms with mattress beds and TVs to all passengers, so you'll arrive in Europe fresh and raring to go.
Train wise, you can afford to catch any connection to Harwich International quite late from London. After the boat, you'll have to hop the local transit metro to Schiedam station, where the trains depart for Brussels. With a few connections in involved, pre-purchasing tickets for each leg of this trip via 12Go.co is a wise way to go. In terms of price, you're probably looking at around $130 for everything, including that comfy private cabin on the ferry.
London to Brussels by plane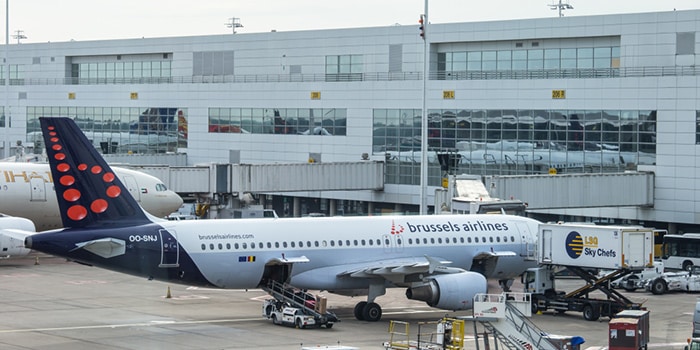 Time – 1.25 hours
Price – $55+
Comfort – 4/5
There are at least two premium airlines offering a link from London to Brussels in the skies: UK flag-carrier BA, and Belgium's-own Brussels Airlines. Both leave from the sprawling London Heathrow terminals on the south-west side of the city, arriving into the main Brussels Airport around 1.25-1.3 hours later. Of course, total journey times will be a little more than that, what with an hour's wait in departures, bag checks, and transfers (use the speedy Heathrow Express if you can!) to factor into the mix.
Base fares usually start at about the $55 mark. That's for advance-bought seats, so you'll need to get searching something like 60-90 days prior to your travel date to be in with a chance of getting the best bargains. BA and Brussels Airlines now also charge extra fees for luggage. They are typically about 40 EUR ($43) each way, although you could choose a different class to include frills like in-flight meals and increased legroom with baggage as standard.
London to Brussels by bus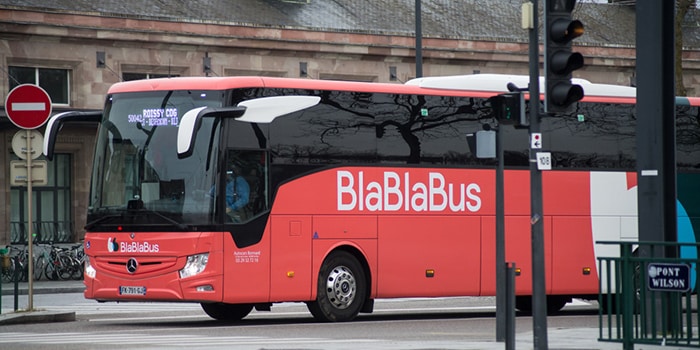 Time – 7-15 hours+
Price – $16+
Comfort – 3/5
Yep, there are coaches from London all the way to Brussels. They're up there with the cheapest options for travelers looking to do the trip on a shoestring budget. Fares can be as low as $16 for the complete ride. That includes baggage (usually around one large and one small per person) and a guaranteed seat onboard. Sadly, it doesn't include a speedy crossing to the land of beer and chocolate – even the fastest take upwards of seven hours.
We'd certainly recommend checking out the various options on 12Go.co before you book. There can be huge time differences between the services on offer. For example, popular Flixbus tout some bargain tickets, but have routes that include stops in Paris-Charles De Gaulle, meaning it will be at least 15 hours before you roll into Brussels. BlaBlaBus, on the other hand, are faster, with a straight-line link across the Low Countries once the coach is off the ferry.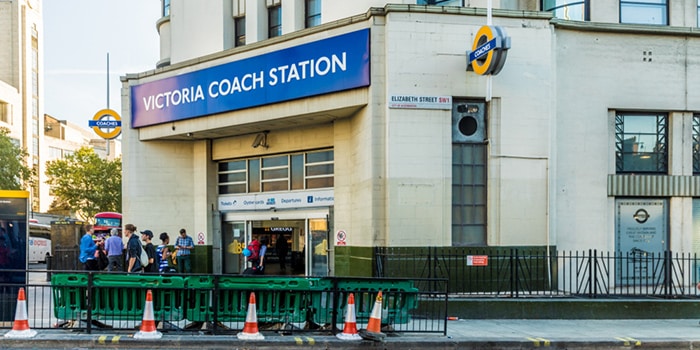 On the whole, coaches are comfy and well-appointed. They have reclining seats and ample legroom, which is great news if you wanted to smash this trip overnight (BlaBlaBus has a departure from Victoria Coach Station at 10pm that arrives in Brussels at 6.15am). There's also usually an onboard toilet, WiFi link, and good air conditioning.
---
Before you can drop the English ales and start on the Belgian Trappist beers, or swap sightings of Westminster Cathedral for the EU Parliament, you'll need to book your ticket to Brussels from London. Thankfully, there are lots of options on that count, ranging from planes to high-speed trains.
---
London to Brussels FAQ
What is the cheapest way to get from London to Brussels?
The coaches that go out of London Victoria for Brussels are probably the cheapest way to travel. However, you'll need to weigh the lower cost against a journey time that's at least seven hours one way. If you do decide to throw in with the buses, be sure to book in advance using 12Go.co to find the best deals of all.
What is the fastest way to get from London to Brussels?
The train is actually the speediest route to the chocolatiers and beer houses of Belgium's capital. Now a super-fast Eurostar line, you can use it to go from city to city in just two hours. Prices vary a lot, so try to get in there early with a booking on 12Go.co.
What is the best way to travel from London to Brussels?
That's up to you, but most travelers enjoy the experience of the Eurostar the most. For starters, it's a mere two hours from A to B. It's comfy, clean and loaded with food carts so you can really settle in and enjoy the ride. Oh, and it's relatively affordable, especially if you manage to score advance tickets using 12Go.co.
Can I take a train from London to Brussels?
Yep. The Eurostar is what the vast majority of passengers go for. It uses the Channel Tunnel to get over to northern France before whizzing through Lille and on to Brussels in just two hours. There's also a train-ferry-train link. That takes a whole night but can be something of an adventure by itself.
How much is train from London to Brussels?
The price for the main train on the Eurostar line from London to Brussels will start at about $54 per person. That's roughly comparable to the cost of a flight, especially when you factor in fees for extra baggage. You'll need to be wary that fares on the train can more than double if you leave it late to buy, which is why we always say to get onto 12Go.co and book as far in advance as you can.
How useful was this post?
Click on a star to rate it!
Average rating / 5. Vote count: