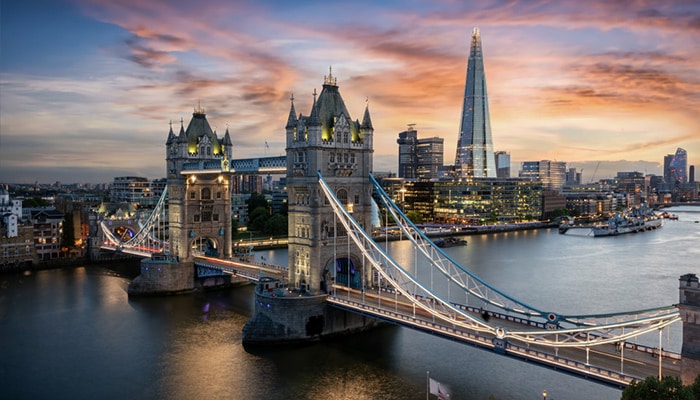 Only 220 miles separates Amsterdam and London in a straight line. But, check the map, and you'll find that a dash of the North Sea and the whole Thames Estuary also comes between the two. That means simply hopping in the car and going from A to B isn't possible.
However, you can switch 16th-century canals and handsome Flemish townhouses for the big sights of Westminster and the famous playhouses of the West End in just a few hours' travel. That's down to flights, buses, and trains, all of which can whisk you from the capital of the Netherlands to the capital of the UK without too much hassle. Here's how…
Amsterdam to London by plane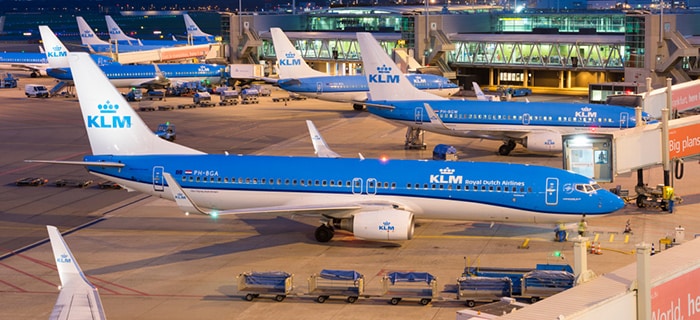 Time – 1h20
Price – $34+
Comfort – 4/5
There are more direct flight connections running between Amsterdam and London each day than you can shake a bunch of blooming Dutch tulips at. Seriously, you're looking at over 50! That means departure options in the early morning starting at 6am to get you to the Big Smoke in time to hit the work desk. It means options to leave midday, early afternoon, and even late at night, with some jets not landing in London until nearly midnight.
Generally speaking, it's budget easyJet that flaunts the cheapest tickets of all. They're regularly priced at a tempting $34 around 90 days before you travel. That said, flights with premium carrier British Airways can often be as little as $45. The most expensive options tend to be with the Dutch flag carrier KLM, but even those usually start at just $75 or so. All of the above airlines now charge extra for hold baggage, so lugging your clogs and Amsterdam snow globes back to London might mean forking out $20-30 more.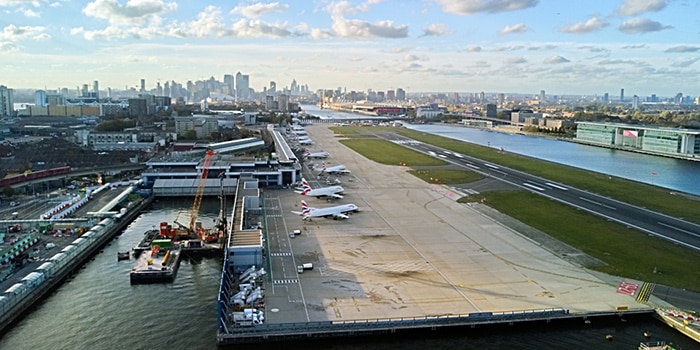 There's an abundance of flights between Amsterdam and London, shared between as many as three major European airlines.
All flight connections originate at the huge Amsterdam Airport Schiphol. One of the largest in Europe, it's major hub with sprawling terminals and plenty of amenities – from chill-out rooms to VIP lounges to champagne bars. Not all flights go to the same airport in London, however. That's a crucial point, and you'll need to decide where's best for you to land. EasyJet serve Gatwick, on the south side of the capital, but also Luton and Stansted – at least an hour's drive away from Central London. BA and KLM, meanwhile, can take you to Heathrow or London City, both of which are well-linked to Paddington and Canary Wharf respectively.
The flight itself usually takes in the region of just 1h20, but you could find routes that take as little as 1h10, or as much as 1.5 hours. It all really depends what destination airport you've chosen. Booking early is the way to score the top deals, so be sure to check out 12Go.co as soon as you know your dates of travel from The Dam.
Amsterdam to London by high-speed train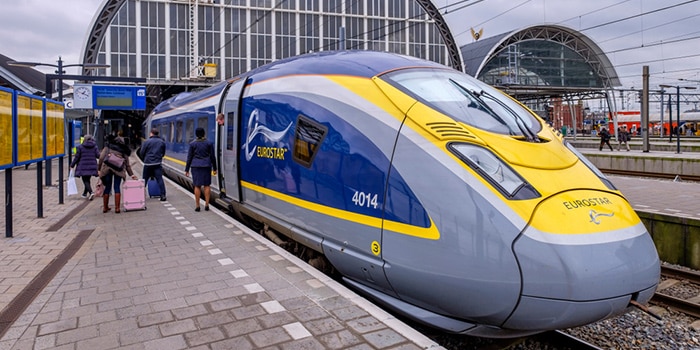 Time – 4-5 hours
Price – $80+
Comfort – 5/5
These days, there's a high-speed railway network running all the way from Amsterdam to London, which means journey times on the locomotive are cut to a mind-blowing four or five hours. There was a time when you'd have to change in Brussels along the way. No more. Eurostar now run three direct services to St Pancras International Station in the Big Smoke each day. And the best part? Tickets are still the same price as before. Nice.
The journey will skirt the coast of the Low Countries going south-west from The Dam. The rivers and wetlands of South Holland provide the backdrop first, but soon you'll be navigating the rural farm fields of eastern Belgium. There's a short stop at Brussels before the push across to northern France and the entrance to the Channel Tunnel at Calais. The crossing is about 30 minutes, which puts you on a direct line for King's Cross in the heart of London.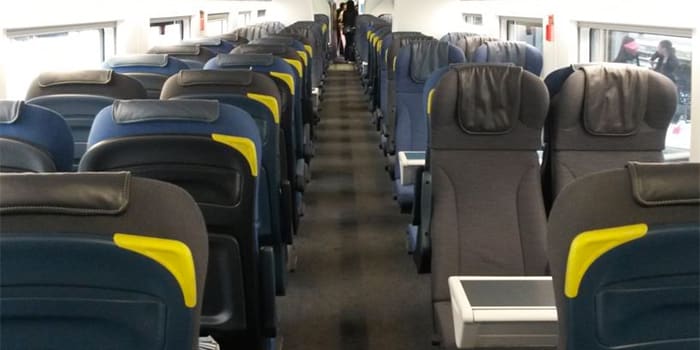 Travel in style on comfy Eurostar trains, which now go direct from Amsterdam to London.
With short journey times and no need for changes, the high-speed Eurostar is now a real competitor for flights. A lot of travelers prefer the connection because it takes roughly the same amount of time as a plane (allowing for transfers to the terminals), but also gets you straight into the heart of the big city. What's more, you get to enjoy the modern, comfy Eurostar carriages as you go. They're well air conditioned, have a spacious Premier Class with at-table service, and onboard dining cars.
You'll definitely want to book your tickets for the high-speed train long in advance. Varied pricing on the route means that the basic fare soon starts getting costlier. Try to score a seat a few months before traveling using a service like 12Go.co and you might find the trip will only set you back around $80.
Amsterdam to London by train and ferry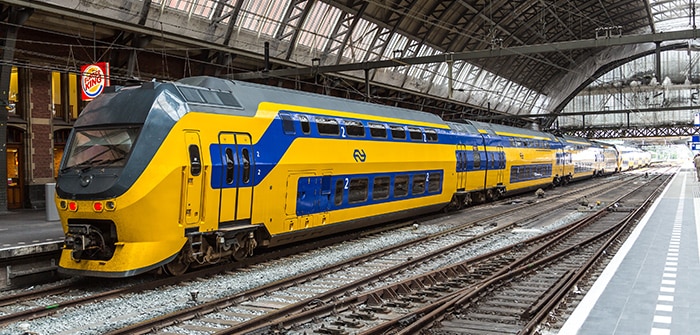 Time – Around 12 hours
Price – $56
Comfort – 3/5
A combo of trains and ferries can also help get you from the Venice of the North to the hubbub of London town. It's more of an adventurous way to travel, mainly because it involves a few changes on the Dutch side. However, it can usually be cheaper than the high-speed Eurostar, all while offering to arrive in Central London early on after a good night's sleep on the cross-sea ferry.
Make use of the regular overnight ferry service that goes from Hoek van Holland to Harwich to complete your trip from Amsterdam to London.
You'll start by catching the InterCity train service from Amsterdam to the small town of Schiedam. Then, you make a quick change to the urban metro line to get to the ferry port. You can pick up the spacious and comfy Stena Hollandica boat there, which provides all passengers with private berths that have either single or double beds. The next morning, you simply have to go from deck to train again and catch the early service from Harwich to London Liverpool Street. Bingo: You'll be walking out of the station under the shadow of the Gherkin skyscraper by 9am.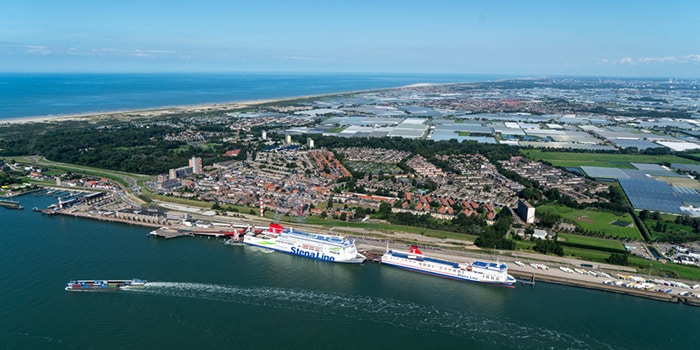 It's possible to search and book all your tickets online and in advance for this route. That's a good idea for keeping costs down, but also a sure way to keep changeovers and transfers hassle-free, especially when it comes to switching onto the ferry at Hoek van Holland port.
Amsterdam to London by bus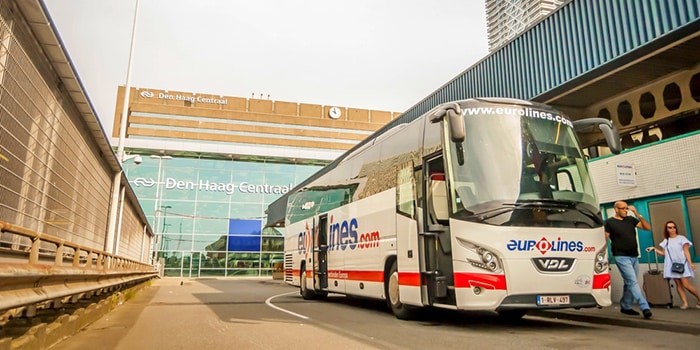 Time – 8-13 hours
Price – $25+
Comfort – 3/5
There are lots of bus companies that can whisk you from the Red Light District of The Dam to London's snaking River Thames. They usually drive the trip with stops in other major Low Country towns along the way, so you might glimpse the medieval belfries of Bruges and the jazz bars of Antwerp as you go. All modern buses tend to be well-equipped with air conditioning, onboard toilets, and reclining seats, so there's not too much of a difference in comfort levels compared to the trains.
Coaches are cheap, costing as little as $25 for the whole journey from Amsterdam to London.
That said, buses do take longer than their railway counterparts. Coaches can take up to 13 hours to go from city to city, using a combination of road and rail or ferry. Some will get to England using the Channel Tunnel to Dover. Others will use North Sea ferries from the ports on the shores of the Netherlands and Belgium.
The route you take will largely depend on what company you choose, and there are plenty. Popular names include low-cost, long-distance conglomerate Eurolines, the fleet of BlaBlaBus, and the Portuguese-owned Rede Expressos. It's a good idea to compare prices for them all using 12Go.co before you jump in and book. Expect some of the most wallet-friendly fares of all the modes of transport mentioned in this guide, with tickets starting at a mere $25 or so!
Once you're done enjoying mayo-topped chips and touring the amazing exhibits of the Rijksmuseum, why not think about popping over the North Sea to take in the delights of London. It should be easy, what with trains, planes, ferries, and coaches waiting to take you.
---
Amsterdam to London FAQ
What is the cheapest way to get from Amsterdam to London?
You might not get the same comfort traveling by coach from Amsterdam to London as you would on the plane or the train, but you should save plenty of cash in the process. That's because prices start at a mere $25 for the big buses that roll through Northern Europe to the English capital. Check times and book your seat right now using 12Go.co.
What is the fastest way to get from Amsterdam to London?
Flights are probably the fastest overall route from Amsterdam to London. But don't write-off the trains, because you can now catch a Eurostar all the way from Centraal to St Pancras, taking around 4.5 hours. That's almost what it would be on the plane when you add on the time taken to get to the terminals. You can easily compare times for both modes of transport using the booking engine over on 12Go.co.
Is there a direct train from Amsterdam to London?
There is, as of 2020. Eurostar used to go only as far as Brussels, but they recently added Amsterdam to their list of destinations accessible directly from London's St Pancras Station. That's great news because it cuts down the total travel time from city to city to the 4.5-hour mark. You'll definitely want to book in advance, though, because train tickets get expensive closer to the day of travel. Use 12Go.co for that.
How long does Eurostar take from Amsterdam to London?
Around 4.5 hours is all it takes for the direct Eurostar train to make it from the canals of Amsterdam to the Gothic cathedral spires and bustling boroughs of London. That's actually pretty darn fast, especially when you consider that planes take 1.5 hours and buses can take over 12!
How much is a train ticket from Amsterdam to London?
We always say to book as early as you can if you want to catch the direct train from Amsterdam to London. There's a dynamic pricing model in place, which means fares go up and down, but generally skyrocket if you leave it too late. Booking on 12Go.co more than 60 days in advance is wise, because that's when the base-rate tickets are on offer for as little as $80 per person.
Is it better to fly from Amsterdam to London or take the train?
Why not lower your carbon emissions and stick to solid ground? After all, the Eurostar train from Amsterdam to London takes just 4.5 hours in total (about what it is when flying from door to door). It's also comfy and modern, with onboard food service. In addition, the fare is comparable to the cost of tickets on premium airlines like British Airways and KLM. Oh, and that's not even mentioning the beautiful views of Belgium and northern France that come gratis.
How long is the bus ride from London to Amsterdam?
Buses are probably the slowest way to go from the Dutch capital to the English one. You're looking at 10+ hours on the road, with some options taking up to 13 hours before rolling into Victoria Coach Station. On the flip side, this is a cheapest method to travel, with fares dropping to as low as $25 some days!
How useful was this post?
Click on a star to rate it!
Average rating / 5. Vote count: