Whether you're a culture lover or a history buff, or you're looking for a destination with plenty of nightlife, Amsterdam has it all. From world renowned art museums to colorful markets, days spent cruising along the canals, and evenings in the bars or red light districts, there's no shortage of Amsterdam attractions. Keep reading for our list of the top 10 things to do in Amsterdam.
10. Noordermarkt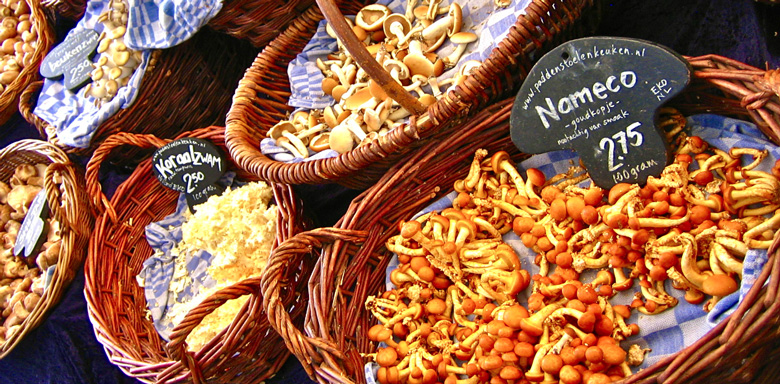 As you wander around the streets of Amsterdam you'll notice there are several squares where markets regularly take place. Each has their own appeal, such as the bright colors and beautiful aromas of the Flower Market, or the busy Albert Cuyp Market on a Saturday, but Noordermarkt often has the best reviews.
Meaning Northern Market, Noordermarkt is in The Jordaan neighborhood and the market takes place on the square every Monday plus there's an organic farmer's market each Saturday. On Mondays though, you'll be treated to a great variety of stalls. It's more than just a flea market, there are tasty cheeses on sale, numerous varieties of mushrooms that you probably didn't realize existed, jams and pastries, seafood, clothes, Dutch crafts and unique items. And, if you haven't already filled up with tasty treats at the market, you can stop at one of the cafés or restaurants that line the square for a bite to eat and a coffee before taking a look at the historic Noorderkerk, a protestant church built in the 17th century that dominates the square and provided inspiration for the square's name.
9. Amsterdam Museum

The Amsterdam Museum is a surprisingly good museum that deserves more than just a few hours of your time. This Amsterdam attraction is set within the old city orphanage and there are exhibits, including interactive exhibits for the kids, that describe what life was like for children living within the orphanage when it was open. The kids gallery is actually one of the best parts of this museum as it also includes games and tunnels to clamber through, plus kids can even try on historical clothes.
The building itself was constructed in 1580 and is large and foreboding as an orphanage but seems appropriate for housing a museum. Inside, Amsterdam Museum focuses on the history of the city, mostly from the Middle Ages right through to the present day. There's also a free audio tour that adds to the interest and there's plenty to see including art and historical items, models, photographs and more. Despite being a very interesting thing to do in Amsterdam, this museum is not usually as crowded as the likes of the Rijksmuseum or the Anne Frank House, meaning you'll have more space to be able to enjoy the exhibits!
8. Red Light District + Red Light Secrets

Amsterdam's Red Light District is one of those places you need to see to believe, and you need to visit so that you can say you've been there, even if you do nothing else but look! The largest, oldest and best known red light district in the city is De Wallen. Here, the narrow streets are lined with windows and glass doors that front one-room cabins where prostitutes make their livings. Women stand on display in the windows so anyone passing by can take a look, anytime of the day or night. Of course, by day there's a fairly different atmosphere in De Wallen so if you are just curious, come during daylight hours when you'll see all manner of people walking around, including families. If you're here for the evening, De Wallen is a lively part of the city that not only has prostitutes but sex shops, sex theatres and even a sex museum, as well as coffee shops and cafés. And, if you're really interested in knowing more about the Red Light District, visit the world's only Museum of Prostitution right here in De Wallen, called Red Light Secrets.
7. Heineken Experience

This Amsterdam attraction isn't just a tour around an old brewery; as the name suggests, it's an entire experience and you don't have to be a beer lover to enjoy it! This historic brewery in Amsterdam was the first for Heineken, opening in 1867 and operating as the company's main brewing facility until a newer and more modern brewery was opened in 1988. A few years later the historic brewery was opened as a visitor attraction and is now among the most popular things to do in Amsterdam.
Self-guided tours of the facility show you the history of Heineken and describe how the beer is made, and once you've seen how they make it you get to try it – a couple of beers are included in the ticket price and you even have the opportunity to draught your own perfect Heineken or to have your own personalized bottle of Heineken made. Stay for another beer at the rooftop bar or spend some money on Heineken souvenirs. To finish on a high note, there's a free canal boat ride to take visitors back into the city once you're done.
6. Vondelpark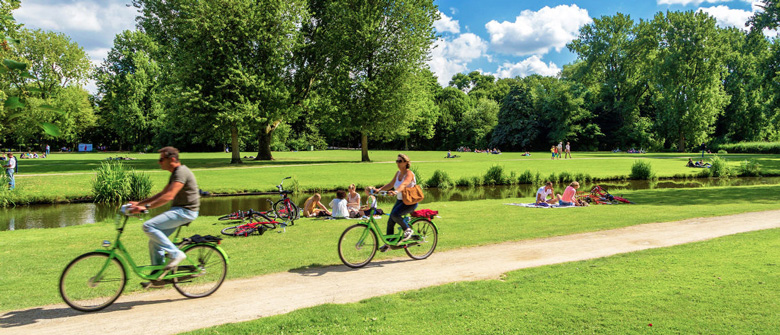 This large and very popular urban park is just a short distance from Museumplein making this a good spot to retreat to after a day at the Rijksmuseum or Van Gogh Museum. It's set over 120 acres and was opened in 1865 with the name Nieuwe Park but was renamed in honor of playwright and poet Joost van den Vondel. You'll find the park full of both locals and tourists who come out in the summer to enjoy picnics on the lawns, or use the paths to keep active, running, bicycling or roller blading. You can actually rent a bike to explore the park on two wheels, or just wander around by the water, feeding ducks.
For kids this is a great Amsterdam attraction as Vondelpark includes a kid's playground and there are kiosks around the park where you can buy waffles and drinks. In the summer, when the flowers are in bloom, Vondelpark is a veritable wash of color. During the summer months you might also catch a performance at the park's open-air theatre – it's free, though small donations are encouraged.
5. Amsterdam Canal Cruise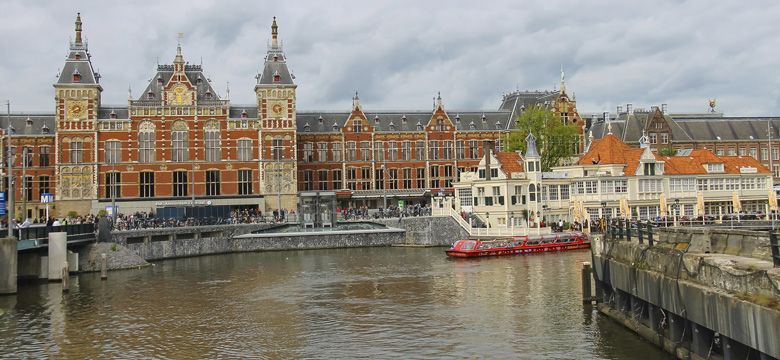 Taking a boat cruise along the canals is the quintessential Amsterdam experience! Amsterdam has been shaped by its canals, quite literally. They started building them during the Dutch Golden Age in the 17th century and eventually they formed concentric belts around the city center. These belts, or rings, have been named a UNESCO World Heritage Site and help to give Amsterdam the nickname, the Venice of the North.
While the canals look lovely from street level, the best thing to do in Amsterdam is to take a cruise and see the city from the water. You get a really different perspective of the many beautiful buildings that line the canals. In total there are around 1,550 monumental buildings to see whether you're cruising along one of the four main canals or one of the many smaller ones. Keizersgracht, or Emperor's Canal, is among the most revered. It has some of the most beautiful and expensive homes in Amsterdam lining its banks. There are countless companies offering cruises along the canals so you can always find one that fits your budget and your schedule.
4. The Jordaan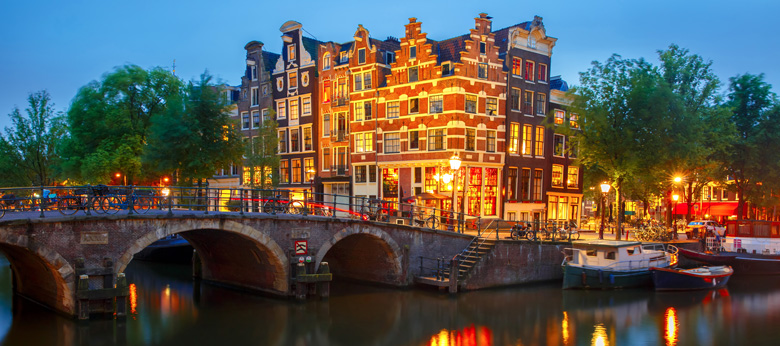 Many visitors consider The Jordaan to be one of the most, if not the most, attractive neighborhood in Amsterdam, but it wasn't always that way. The Jordaan started life as a working class neighborhood. It was here that Rembrandt spent the last few years of his life, and Anne Frank lived just on the edge of The Jordaan. The appeal of the neighborhood changed in the 1970s when it was gentrified, and since then, a visit to The Jordaan has become one of the top things to do in Amsterdam. Today it's one of the country's most expensive places to live. The Jordaan is to Amsterdam as Greenwich Village is to New York City. Filled with great little boutiques, specialty stores, art galleries and restaurants, this is the place to come for a day or evening of more upscale dining and shopping.
The Jordaan is also a lovely place just to wander around. It's very scenic with its views of canals, leafy streets and narrow alleyways. Admire the many 17th century homes and buildings and take some great photos of the assortment of bridges crossing the canals.
3. Van Gogh Museum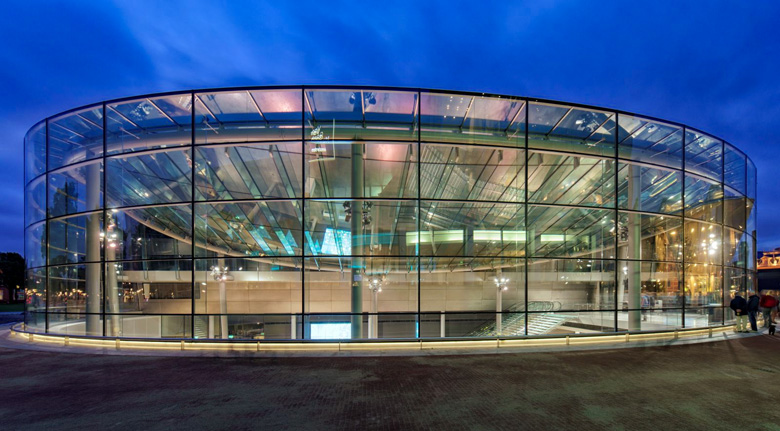 You may not already be a fan of Vincent Van Gogh but by the time you leave the Van Gogh Museum you probably will be! The Dutch Post-Impressionist painter is known around the world for some of his most famous works, including Sunflowers and Starry Night, but this museum does not just showcase the highlights of his short career, it provides visitors with great insight into the artist's entire life. It goes without saying that the Van Gogh Museum features the largest collection of his paintings and drawings in the world, and although some of the most famous pieces are not on display here, there are many excellent works of art to see all the same.
Like the other popular things to do in Amsterdam, the Van Gogh Museum gets very busy and lines to buy tickets at the door can be stupidly long. Buy your tickets online to save queuing and do make use of the audio guide as it helps you to appreciate what it is you're seeing. The interactive sections on the audio guide make this particularly interesting for kids who might otherwise be a little bored looking around.
2. Anne Frank House

The story of Anne Frank and her family is well-known around the world thanks to the moving diary she kept, but until you visit the house where many of the events took place it's hard to really appreciate just what terrible horrors this young Jewish girl went through. Visiting Anne Frank House is always an emotional experience, albeit an educational one. The museum has been built around the original house where she and her family were kept hidden. You'll see the little secret room in which they had to stay, only creeping out when there was no chance of being detected, and there are exhibits to look at and read as you wander around the different floors of the house.
If you're not sure what to do in Amsterdam, a visit to Anne Frank House should definitely be on your list. Try to buy tickets online in advance to save having to wait in a long line – even on off peak days you can wait an hour or more to get inside. Be sure to watch the short movie at the end. It's a poignant reminder of the bright future that Anne Frank (and many other children who died during the war) could have had.
1. Rijksmuseum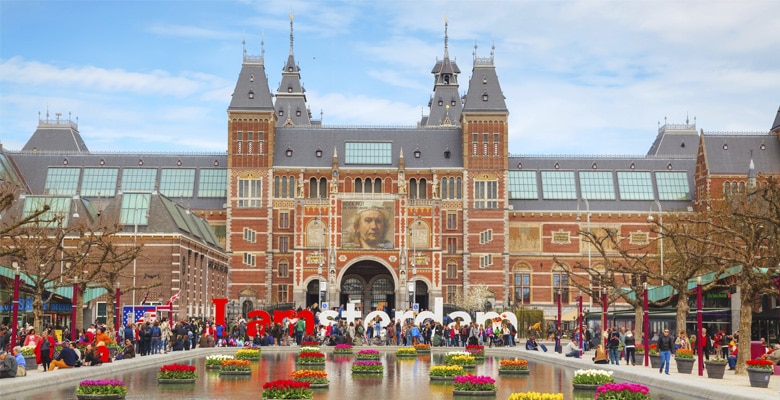 It's no surprise that the Rijksmuseum is the top thing to do in Amsterdam. It's the most visited museum in the Netherlands, and it's the country's largest art museum, filled to the brim with items that represent the arts and history in Amsterdam. And it's not only what's on display that will interest visitors – the building itself is impressive. First opened in 1885, the main building was revitalized with a ten-year renovation project and re-opened by Queen Beatrix in 2013.
If you just want a quick look at some of the highlights of the Rijksmuseum you can spend a couple of hours wandering around but be sure to check out the works of Rembrandt and Vermeer, especially Rembrandt's most famous work, The Night Watch. Really though, this top thing to do in Amsterdam deserves most of a day in order to do it justice, and to have enough time to make it around, considering the museum is always so busy. Plan to get here as early as possible and you can avoid some of the lines by buying your tickets in advance online, and another tip – start from the top of the museum and work your way down. When your feet begin to ache, stop by the café for a reasonably priced drink and snack.