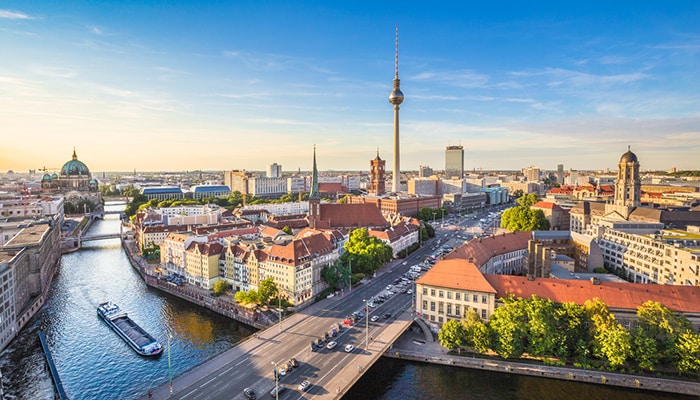 Whether you're a backpacker on a bucket-list-busting Interrail trip or a Dutch business traveler looking to hit the boardrooms of Germany's economic powerhouse, the jaunt from Amsterdam to Berlin is one that could well be on your radar. The two cities might be in neighbouring countries, but they're still separated by 360 miles of Lower Saxon rivers, Westphalian hills and Brandenburger forests. To cover that, you could plump for long-distance trains, use low-cost bus services, or even drive it yourself. Either way, this guide has all the info you need when it comes to planning the trip from capital to capital…
Amsterdam to Berlin by train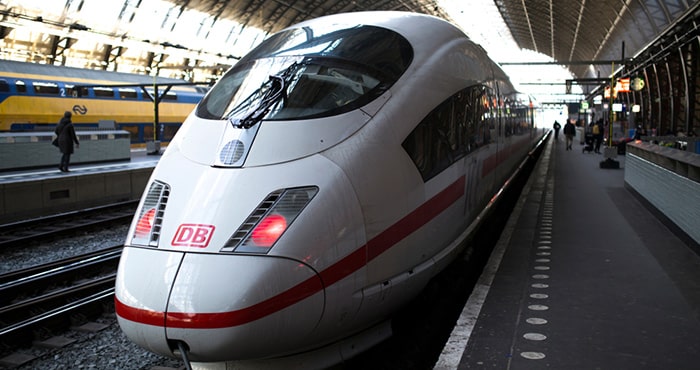 Time – 6.5 hours
Price – $45-90
Comfort – 5/5
Eco-friendly, relaxing, and taking less than seven hours in total, the train between Amsterdam and Berlin is a fine choice for travelers of all sorts. There are up to six departures each day on the route. On weekdays, the earliest is at just past 5am. The latest leaves Amsterdam Central at 3pm, but there's an extra service at 5pm scheduled for Sunday afternoons.
In total, the ride takes six hours and 22 minutes. But don't let that put you off – it's a real adventure. The railway lines weave through the suburbs of the Dutch capital into bucolic farmlands of wooded hills and rolling meadows. Once over the German border, you'll pass through the historic capital of Lower Saxon (Hannover) and navigate the reed-sprouting marshes of Westhavelland before hitting Berlin's UFO-like Hauptbahnhof.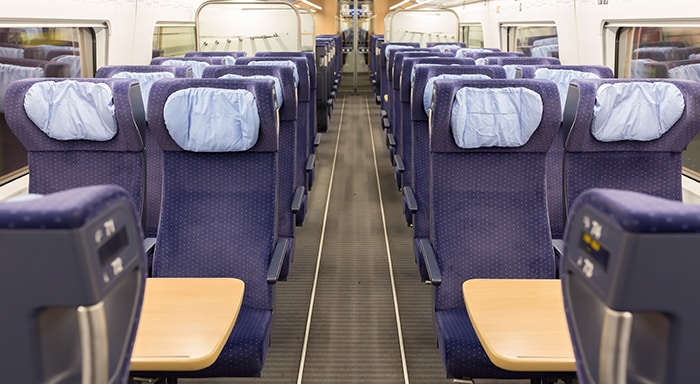 Keep one eye on the view when you're traveling from Amsterdam to Berlin by train – there's a pretty montage of Dutch and German country to cover!
There's plenty to enjoy onboard along the way, too. The trains are all run by Deutsche Bahn (DB). They have sleek interiors in air-conditioned carriages with tables and paired seating. There's also a 1st-class option for those willing to fork out a little more. That gets you access to closed compartments that seat up to six at once. All services have a kitchen car, where the menu bursts with wheat beers, Bavarian sausages, scrambled eggs – at least enough to keep you going before hitting Berlin's currywurst stalls.
Tickets for the trains between Amsterdam and Berlin are usually on offer around six months prior to your travel date. We'd recommend trying to get in there as early as possible. Booking long in advance via a service like 12Go.co means you can get the reduced sparpreis fares that are around just $45 each way. Full-price tickets will usually cost more like $85 each way.
Amsterdam to Berlin by plane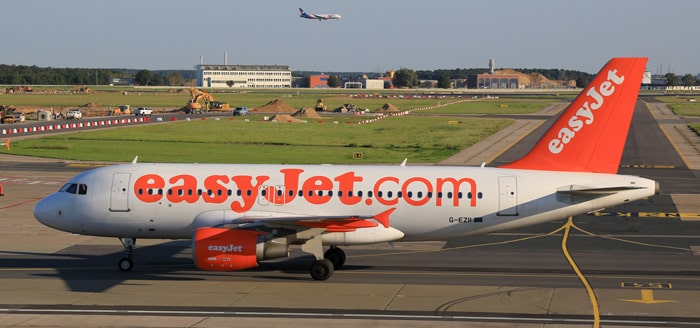 Time – 1.5 hours (flight time only)
Price – $45-110
Comfort – 5/5
The sheer size of Amsterdam's Schiphol Airport means that there are likely to be plenty of ways to get from the Dutch capital to the German one by air. They will hop straight through the skies to touchdown in either Berlin Brandenburg Airport or Berlin Schönefeld Airport, taking just 1.5 hours on average from wheels up to landing. That's the single fastest possible mode of transport from A to B on this list.
Both premium and budget airlines are in the offing. For the cheapest tickets, try to focus your search on the three daily departures with low-coster easyJet. They leave in the early morning and twice in the evening, costing in the region of just $40 a pop. KLM Royal Dutch also have a service that takes just 1.25 hours and lands in big Berlin Brandenburg Airport around the early afternoon, but that's usually more like $100 per seat. Both of the basic fares include carry-on luggage. You'll need to fork out between $20 and $40 more for the luxury of a check-in.
Flying can be both a bargain and quick, just be sure to book early and consider what arrival airport you want to get to in Berlin.
Total journey times will add up to around five or six hours when you factor in the need to hit the airport early, and transfers from the city centres to the terminals (and vice versa). On the Dutch side, there's a direct train you can use from Centraal station to get to Schiphol. From Schönefeld Airport, the S-Bahn is a convenient way to get into town. From the new Berlin Brandenburg Airport, there are many train options with The Airport Express (FEX – Flughafen Express) and many departures every hour. The train ride takes 30 minutes. There are also bus options with connections to the metro station Rudow.
Flights will almost always be cheaper when booked in advance. Services like 12Go can help you with that. You'll find that fares start to increase in price considerably in the weeks immediately before travel. The lowest rates, meanwhile, are usually available round 90 days before flying.
Amsterdam to Berlin by bus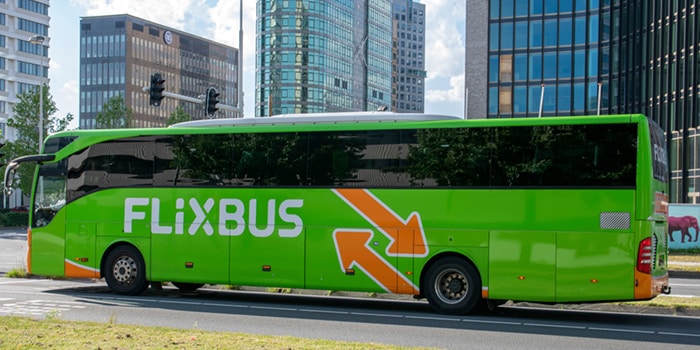 Time – 8-10 hours
Price – $30
Comfort – 3/5
There's always going to be buses linking these two fun-filled capitals of Western Europe. Some might require a changeover along the way, while others will do the route on the same vehicle from start to finish. It's not a short ride, what with more than 350 miles to cover. However, it's a popular one. So, you should have the pick of a number of different providers, including the likes of low-cost Flixbus and well-rated BlaBlaBus.
Bus links between Amsterdam and Berlin might make a few pitstops in interesting German cities as they travel.
It's common for coaches to make a number of stops on the way between Amsterdam and Berlin. Don't be surprised if you roll into the old half-timbered town of Hanover, see the Gothic spires of Bremen, and hit the station in Hamburg – they are all naturally en route to the German capital. Most of the driving itself is on modern autobahn motorways with high speed limits, but there are some pretty sections, particularly on the western fringes of the Netherlands and in the wetlands east of Wolfsburg.
Always look to sort your bus tickets in advance. Booking online with 12Go.co means you can rock up on the day of travel with an e-ticket on your phone. Simple. It could also help keep prices nice and low, especially during peak seasons like the summer and around Christmas.
Amsterdam to Berlin by car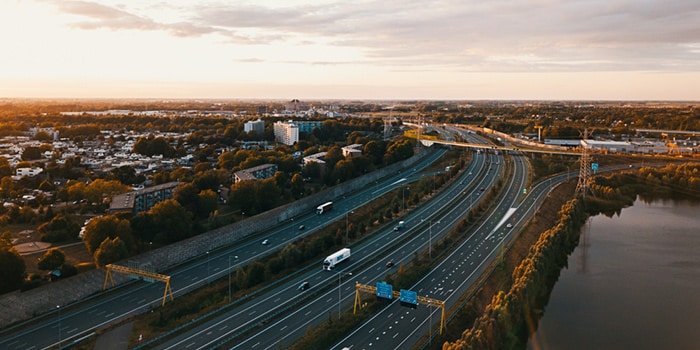 Time – 6-7 hours
Price – $200+
Comfort – 4/5
Don't expect to be able to get a car rental for less than $200 or so. Even though you only need six or seven hours to cruise down the autobahn to Berlin, you'll still have to pay a full rate for a day's hire, not to mention extra for crossing international borders and one-way travel.
On the flip side, that means you'll have the freedom of the roads and plenty of time to enjoy it! You can throw in pitstops wherever and whenever you like between the two capitals. Maybe that's a detour to the romantic castles of the Rhineland? Perhaps you're looking to pull on the hiking boots in the pastoral Belziger Landschaftswiesen meadows east of Berlin?
There's a certain sense of adventure in having your own car to get from Amsterdam to Berlin.
Roads in Germany and the Netherlands are of very high quality. That's especially true of the autobahns, where speed limits sometimes don't even exist, and good facilities make the drive a real breeze. What's more, the route is an easy one to navigate. Head east on the A2 out of Holland and then follow Bundesautobahn 2 all the way to Potsdam. There, the number 10 ring road can get you to pretty much any corner of Berlin you're looking to reach.
---
Bucket-list sights and attractions abound in both Amsterdam and Berlin. Go from one to the other and you can fill your time with UNESCO-attested canals from the 16th century one day and glimpses of the mighty Brandenburg Gate the next. Happy travels…
---
Amsterdam to Berlin FAQ
What is the cheapest way to get from Amsterdam to Berlin?
That's surely by bus. Tickets with well-rated companies like BlaBlaBus and Flixbus can start at under $30 when booked in advance using a service like 12Go.co. That's a real bargain when you consider flights can be over $100, and car rentals more than double that! Of course, buses won't be the quickest – be ready to settle in for 10 hours or more!
What is the fastest way to get from Amsterdam to Berlin?
Flying is the speediest ticket from the Red Light District to the chic boulevards of Mitte and the Brandenburg Gate. The fastest air connections (offered by KLM) complete the trip in 85 minutes. Others – like the budget flights with easyJet – touchdown in Berlin after 1.5 hours in the air. Of course, you'll need to factor in the time it takes to get back and forth to the airport, along with waits in the departure lounge on the Amsterdam side.
Is there a direct train from Amsterdam to Berlin?
Several each day, in fact. They leave either hourly or two-hourly from Amsterdam's big Centraal Station. The services are run by DB, which is Germany's national railway provider, on modern and comfortable trains. It's possible to bag your tickets up to 180 days prior to traveling, so be sure to start searching for bargains on 12Go.co right away.
How much is a train ticket from Amsterdam to Berlin?
Try to score your seat on the DB trains from Amsterdam to Berlin as far in advance of your European travels as possible. Doing that might mean you can bag one of the reduced early-bird tickets, which sell for around $45. If not, you're looking at a full-price fare of around $80-100. Not sure where to book? 12Go.co can help with ticketing.
How long is the train ride from Amsterdam to Berlin?
It's just under 6.5 hours. That includes travels right across the heart of Germany and a particularly scenic section of transit through the western Netherlands. Along the way, you'll whiz through famous cities like Hannover and Wolfsburg, and get to see lovely European countryside slipping by. On top of that, the whole trip is made extra comfy thanks to modern carriages with air conditioning and an onboard dining car.
Is there a high-speed train from Amsterdam to Berlin?
There's no high-speed train links connecting further west than Amsterdam, sadly. However, the InterCity trains that link the Dutch capital with the German one do benefit from a few sections of modern track where they can hit speeds of up to 120 miles per hour. Get ready for those after departing Wolfsburg.
How long is the bus ride from Amsterdam to Berlin?
Buses will typically take between 8-10 hours to reach Berlin from Amsterdam. That might be longer, however, if you're making extra stops or want to use the night bus, which might be as long as 13 hours. You can check all departure and arrival times online using the search tool on 12Go.co.
How useful was this post?
Click on a star to rate it!
Average rating / 5. Vote count: