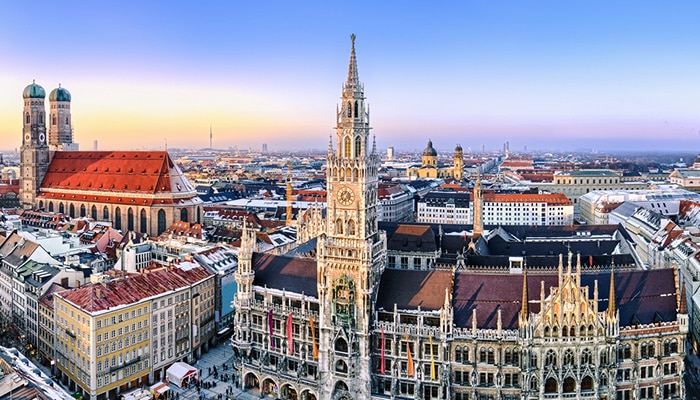 So, you're looking to swap a chic and sleek financial hub for the beer-sloshing capital of Bavaria? Excellent. Both of these enthralling cities should be on any Germany bucket list. Thankfully, they are very well connected, so smashing the 190 miles between the towns shouldn't be hard.
Whether you want to jet over to the edge of the Alps on a quick plane, take the trip slowly with your own set of wheels, or rattle southwards on the railways, you've got options. This guide runs through the pros and cons of each, with info on prices, travel times, and more.
Frankfurt to Munich by train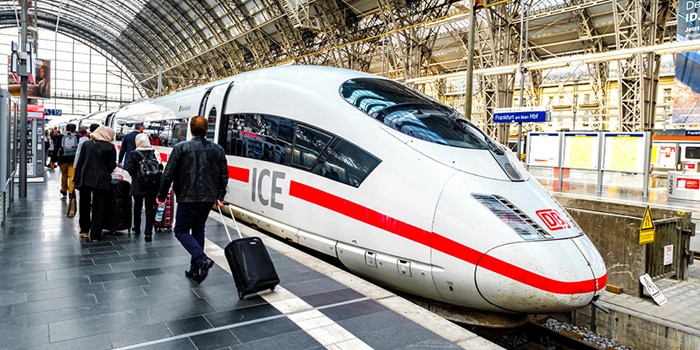 Time – 3h13
Price – $20+
Comfort – 5/5
Most days, there are trains from Frankfurt to Munich every hour. They take just over three hours to complete the trip, which means you could pick up the 8.54am departure and be pulling into the Bavarian capital just in time for a lunch of pretzels and white sausage. Services are run by national rail provider DB, on nifty ICE trains that can travel at speeds of between 175 and 186 miles per hour on some sections of the line.
The trip begins in the gorgeous Frankfurt Hauptbahnhof. It's a station you'll want some extra time in, with its filigreed exteriors built in the grand Neo-Classical style. After that, the train goes eastwards and then turns south-eastwards, heading directly through the middle of Bavaria. It's a pleasant journey with plenty to look at out of the window, especially if you're a fan of forest-topped hills and hidden country towns crowned by onion-domed churches!

The train is a comfy, quick option for doing the route through the heart of Bavaria to Munich from Frankfurt.
The trains themselves are pretty darn comfy. They have a 2nd Class that's in two-two orientation, and a 1st Class in two-one orientation. All carriages are air-conditioned (or heated) throughout, and all classes of travel have access to an onboard food cart that serves snacks, hot German food, wine, and cold beer.
With high-speed trains in Germany, it's always a good idea to book in advance. Seats can sell out and prices can skyrocket closer to your travel date. To get the best deals, you'll want to bag one of the sparpreis fares, which can be as low as $20. That's made easy over on 12Go.co, where you can search and purchase tickets long before you even arrive in the country.
Frankfurt to Munich by plane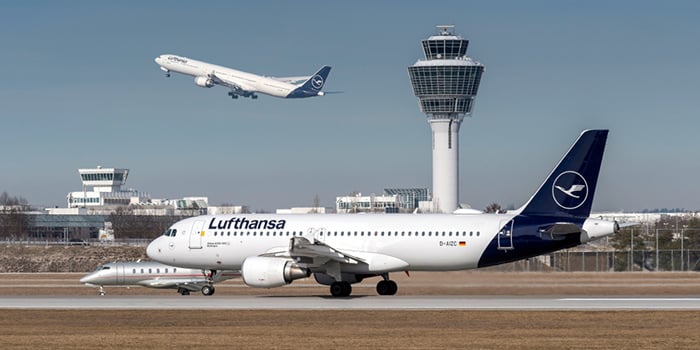 Time – 55 minutes (flight only)
Price – $140+
Comfort – 4/5
The flight from Frankfurt to Munich links two of the most important air hubs in the country. They take you from Frankfurt International Airport (the busiest in Germany) to Munich Airport (the second busiest in Germany). That's probably why there are as many as 15 departures to pick from each day. They start early – as early as 6.15am – and then go almost hourly until after 8pm in the evening. All links are run by the premium flag carrier, Lufthansa.
Flying is a quick way to move from Frankfurt to Munich, but remember you'll need to organise transfers to the airports on both sides.
Of course, these aren't ideal if you want to keep the trip as simple as can be. You'll need to organise transport to the airport on the Frankfurt side, which can be done on the direct S-Bahn for 4.50 EUR (around $5). And you'll need to transfer into the city once you've arrived in MUC – there's another S-Bahn train to help you do that, but it costs $13 per person. All of that will add time to the total journey, meaning flying might be only 55 minutes in the air, but it's around four hours from downtown to downtown.
It's also worth mentioning the price: $150 is a normal, standard rate for a one-way ticket on this route. So, it's not really a budget choice. However, flash sales and deals can be available, but you'll almost certainly have to book at least 90 days in advance of your travel date using 12Go.co to get them. Oh, and you'll have to tack on another 15 EUR ($16.20) if you're bringing checked bags.
Frankfurt to Munich by bus

Time – 6.5 hours+
Price – From $18
Comfort – 3/5
Backpackers and shoestring travelers looking to move around Germany for less might want to check out the cost of coach trips between Frankfurt and Munich. These can be mega bargains, with seats on the buses costing as little as $18 per person each way. However, that's for advance-purchase fares on certain services, so be sure to get searching on 12Go.co as early as you can to weigh up the options.
Buses are a good option if you're saving some euros for your Oktoberfest beers and bratwursts.
The trip itself is going to be longer than if you flew or hit the railways. In fact, it's almost double what the train takes, at 6.5 hours. That said, connections like the ones run by Germany's own Flixbus do go direct from Frankfurt to Munich, so there's no hassle with changeovers or waiting around in midway stations along the way. What's more, the vehicles these days tend to be pretty modern and comfy, with added frills like onboard WiFi and in-seat plugs.
Bear in mind that most of the long-distance coaches go from Frankfurt Süd, which is sat over on the south side of the Main River, a U-Bahn ride from the famous Innenstadt. Arrivals are likely to be into Munich central bus station (ZOB Munich), which puts you right next to the railway station, on western the cusp of the historic city center.
Frankfurt to Munich by car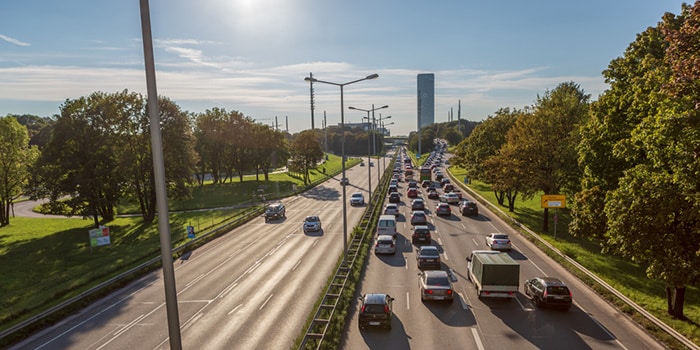 Time – 4 hours
Price – $20 a day
Comfort – 4/5
Thanks to Germany's top-class motorways and roads, it's possible to drive from Frankfurt to Munich, covering a whopping 383 kilometres, in just four hours total. Of course, that's the time it takes if you whizz down the wide autobahn without stopping. Doing that means skipping all the enticing sights and attractions that lie in the way, which is surely the main reason you'd want to hit the tarmac and do the trip in your very own ride…
A car hire could add an element of adventure to your trip, opening the famous courses of Bavaria's Romantic Road.
In fact, one of Europe's most legendary drives is on offer to those who do come this way. It's the so-called Romantic Road, which skirts the borderlands of Bavaria and Baden-Württemberg, weaving through fairy-tale towns like Nördlingen and Rothenburg ob der Tauber as it goes. You'll probably want a few days at least to conquer that, and remember that it all culminates under the gaze of the great castle at Neuschwanstein (which you won't want to miss!), some 1.5 hours to the south of Munich.

Tempted by the adventure? Get onto RentalCars.com to start searching early for the best hire deals. Thankfully, they are rarely too expensive in Germany, with average rates for a summer deal lasting three days sitting around the $60 mark, which doesn't include, fuel, tolls, and the standalone fee for driving in a single direction.
---
If your foot is a-stomping for some oompah and you simply can't stop thinking about Oktoberfest beers, be sure to start planning that trip down to Munich. From Frankfurt – Germany's buzzing banking capital – it can take as little as 3h13 minutes to go from A to B.
---
Frankfurt to Munich FAQ
What is the cheapest way to get from Frankfurt to Munich?
The absolute budget choice for getting from Frankfurt to Munich with more euros to spend on the beers is a bus. They can be priced at just $18 per person if you book in advance using 12Go.co. However, bear in mind that travel times are double what they are on the trains, while fares might not be that much lower.
What is the fastest way to get from Frankfurt to Munich?
The train is the speediest option for travelers heading Frankfurt to Munich. It can smash the whole trip in just 3h13. But that's precisely what you'd expect from Germany's high-speed, all-new ICE locomotives, which hit velocities of a whopping 186 miles per hour!
What is the best way to travel from Frankfurt to Munich?
We'd say it's the train. They offer an unrivalled level of comfort, especially if you're willing to fork out for first class tickets (hello in-seat food and drink service!). But they also give a scenic, smooth, and fast ride straight south-east to Munich. Check 12Go.co for tickets now if you want to score the best deals.
How much is a train ticket from Frankfurt to Munich?
Pre-book using 12Go.co before all the reduced fares are gone and you might be able to score a seat on the train for something like $20. Later on, you could be looking at paying in the region of triple that, or even more.
How long is the train ride from Frankfurt to Munich?
Because the trains that run on the line between Frankfurt and Munich are now all upgraded to Germany's super-quick ICE models, they travel at a monstrous 186 miles per hour. That translates to a total time spent in transit of just over three hours. Quick, eh?
Is it better to fly from Frankfurt to Munich or take the train?
We'd certainly say the trains should be the first port of call. Book early with 12Go.co and they're likely to cost a lot less than the plane (especially if you're bringing checked bags in tow). On top of that, they do the trip in only three hours, have a smaller carbon footprint, and let you see the green and forested countryside of central Bavaria.
How useful was this post?
Click on a star to rate it!
Average rating / 5. Vote count: