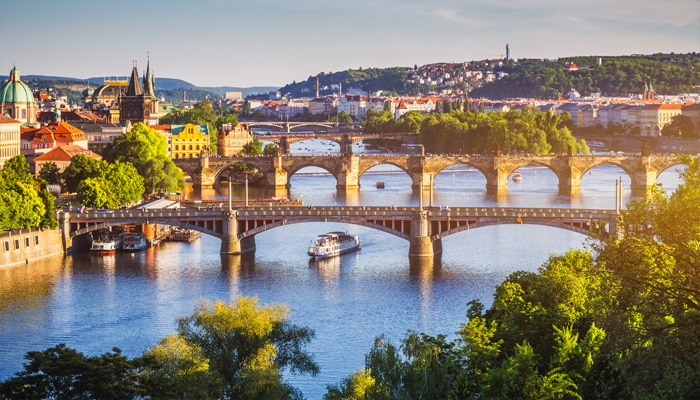 You'll get to explore two of the most immersive capital cities in Europe by making the 220-mile trip from Berlin to Prague. One fizzes with life and grand monuments, ranging from the Neo-Classical Brandenburg Gate to the hipster art installations of Kreuzberg. The other sloshes with frothy Bohemian beer and comes topped by the mighty spires of Prague Castle. But before you start planning the sightseeing, you need to plan your travel. That might be easier than you think, what with this handy guide. It's done the legwork on booking trains and buses between both metropolises, so you don't have to…
Berlin to Prague by train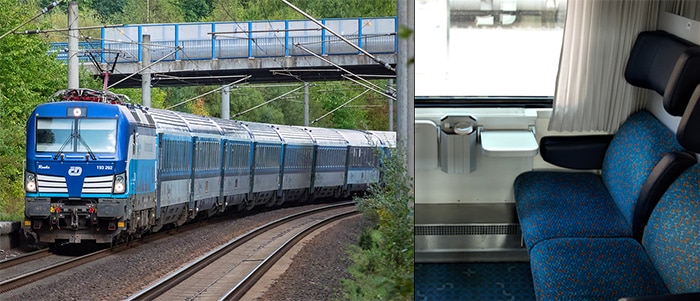 Time – 4.3 hours
Price – From $21
Comfort – 5/5
For many, the train between Berlin and Prague is the most comfortable way to travel. It goes direct from capital to capital, so there's no need to drag your bags from one platform to the next somewhere along the way. What's more, the trains used are largely modern, spacious EuroCity types. That means you'll get lots of legroom, air conditioning, and even an onboard restaurant car where you can munch on German cutlets or Czech broths while the scenery whizzes by the window.
In addition to all that, timings are convenient. There are usually two separate schedules for the winter and summer months, when the route gets really popular with backpackers making their way around the continent. Until early May, you're looking at around six daily departures. After that, there are at least seven, as the RailJet service from Czech Railways is added into the mix. The earliest you can roll out of Prague will be between 6am and 7am, while the last train of the summertime leaves at quarter past five in the afternoon.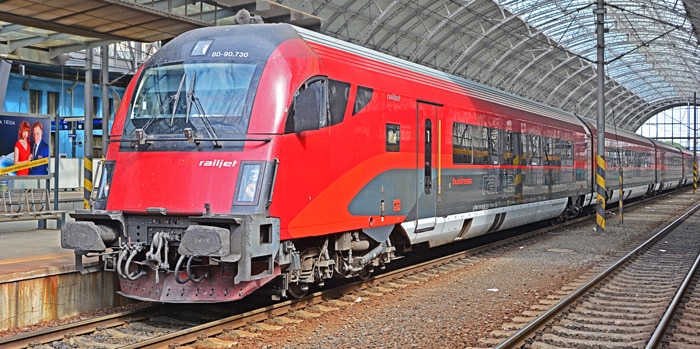 The train gets really scenic on the route out of Germany, with northern Czech mountains converging on the River Elbe.
Be sure to have the camera fully charged for the trip itself! First, you'll shoot through the green woodlands of the Dahme-Heideseen Nature Park south of Berlin. Then you stop in grand Dresden Central Station, with its vast industrial viaducts and 19th-century façade. Around the Germany-Czech border is where things get really pretty, though. The rail lines skirt the edge of the Elbe River for a while there, where the mirror-like water reflects the green hills of Saxony, all before craggy karst mountains take over in the run up to Prague.
Given the popularity of trains between Berlin and Prague, especially during the warmer months of the year, it's a good idea to bag your tickets as early as you can. 12Go.co is at hand to help with that. They let you compare the cost of travel on any given date, with departure options leaving from the German capital all throughout the day.
Berlin to Prague by bus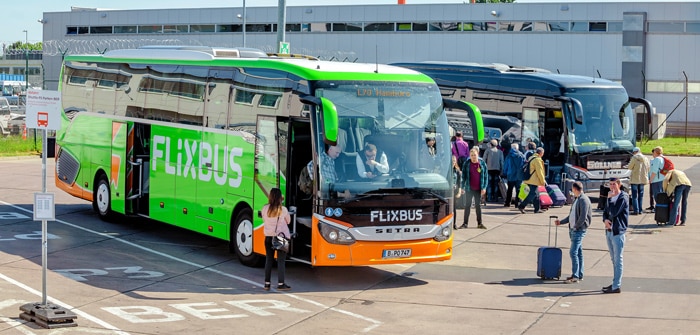 Time – 4.5 hours
Price – $15-27
Comfort – 3/5
Grab a bratwurst and settle in, folks – there are lots of bus links between Berlin and Prague to get through. Yep, this is one of the main transport connections between the two capitals, with tens of departures each day on offer. What's more, with average ticket prices in the region of just $15 if you book in advance, it's often the cheapest way to go. That should leave more in the budget for those Bohemian beer tasting sessions, eh?
Really, the biggest question is what company you choose to go with on the bus route between Berlin and Prague.
Flixbus, with their bright green buses, are one of the main operators. They've got a sprawling, Europe-wide network and a reputation for good-value ticketing. They also run nearly 20 individual services from Berlin to Prague every day in the summer months, going from the early hours to midnight. Their coaches have climate control, in-seat plug sockets, and onboard WiFi. Oh, and you'll get the pick of a number of start stations, from Berlin Central Bus Station to Alexanderplatz. Drop offs are at Prague UAN Florenc or at the main Prague train station.
RegioJet buses are perhaps the second main competitor for passengers going Berlin-Prague. They roll out of the Berlin ZOB Bus Terminal on the western side of the city as many as 10 times per day, making pitstops at the Berlin Sudkreuz Bus Station before getting Prague bound. They usually have some tantalizingly cheap rates available, especially to those who book in advance via 12Go.co. Travel times are in the region of 4.5-5 hours, while arrivals are into Prague's UAN Florenc station.
Berlin to Prague by car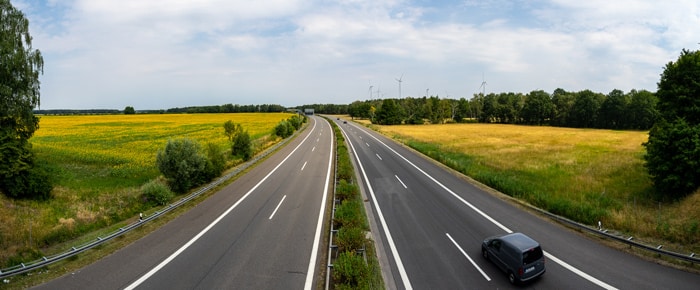 Time – 4 hours
Price – Around $40, including petrol and tolls
Comfort – 5/5
Turn that journey from Berlin to Prague into an adventure in its own right, simply by hitting the tarmac and driving. Unfortunately, renting a car on this route might be tricky. There are pretty hefty restrictions in place with German hire companies that mean their vehicles can't easily be taken into the Czech Republic. Alternative options include bringing your own wheels, or checking out ride-share services like BlaBlaCar.
Car hires can be tricky to bag, but if you have your own ride, the drive from Berlin to Prague will be a true European adventure.
The bonus is that you'll be able to stop and explore wherever you want to along the way. For travelers with a penchant for the great outdoors, that might be particularly tempting. Just south-east of Berlin is the beautiful Dahme-Heideseen Nature Park, home to wakeboarding lakes and even an alpaca farm. Closer to the Czech border is the breathtaking Labské Pískovce Protected Landscape Area. Rugged gorges and gnarled mountains abound there – it's known unofficially as the Saxon Switzerland!
Without stops, the drive from capital to capital is usually about four hours on the dot. That will shoot up in peak travel times, so try to leave Berlin outside of rush hour. Oh, and don't forget to purchase the correct vignette for driving in Czechia. They cover the tolls on the main highways leading into Prague, are compulsory for all vehicles, and cost nearly $14 per 10 days.
---
Berlin and Prague might be too close to have regular flights jetting between them, but don't despair, because there are all sorts of other ways to make the journey. They include cross-country trains and long-distance buses, all taking under five hours on average to go from A to B. Happy travels!
---
Berlin to Prague FAQ
What is the cheapest way to get from Berlin to Prague?
Buses still reign supreme for the budget-conscious traveler looking to swap Berlin for Prague. Tickets with popular companies like Flixbus and RegioJet can be as low as $15. To score them, you'll almost certainly have to travel off peak (AKA, not during the summer) and book in advance using a service like 12Go.co.
What is the fastest way to get from Berlin to Prague?
Driving is the quickest route from capital to capital – it's possible to go by car in less than four hours if you don't get distracted by the amazing mountain scenery in Saxony! Sadly, it can be a bit of a chore to find a rental company that lets you cross the German-Czech border with hired wheels. So, the next fastest option is the train, with the regular services taking about 4.3 hours from station to station.
How long is the train ride from Berlin to Prague?
It's just under 4.5 hours when there aren't any delays. That involves a pitstop in Dresden to change the driver's carriage to a Czech one prior to making the hop over the international border. And don't worry – there's enough gorgeous mountain scenery and forested Saxon peaks to keep things interesting the whole way.
How much is a train ticket from Berlin to Prague?
Those wise enough to book early might be able to score tickets on the trains between Berlin and Prague for as little as $21 in 2nd class. Those are limited, though, so get a-searching on 12Go.co if you're planning on traveling in the next 180 days. Regular tickets cost about $73 per person in standard seating, and more than $120 in 1st.
Is the train ride from Berlin to Prague scenic?
It sure is. The first section of the ride is just a primer for what's to come. For a few hours, you cruise through Germany's rolling forests and hills. There are pretty farmhouses and small towns dotting the landscape. Then it's over to grand Dresden, where the station poses for photographs. The piece de resistance has to be the area of so-called Saxon Switzerland, however. That dominates along the Czech border, with gnarled karst mountains and carved river canyons. Wowza!
Is there a high-speed train from Berlin to Prague?
There's no uber-fast service on this route. The quickest trains between Berlin and Prague are the standard-speed services run jointly by DB and Czech Railways. They complete the whole trip in a touch over four hours in total. Be sure to check detailed schedules online on 12Go.co and RailEurope.
How long is the bus ride from Berlin to Prague?
The time it takes buses to go from Berlin to Prague ranges from 4.5 hours to a little over five hours. Of course, that can change a lot with traffic, which gets bad on Friday afternoons and during rush hours (the early morning and mid-afternoon). You will also need to factor in the time it takes you to reach the station. For buses out of Berlin, that might be as much as 30 minutes, with a lot of departures leaving from ZOB on the far western edge of town.
How useful was this post?
Click on a star to rate it!
Average rating / 5. Vote count: