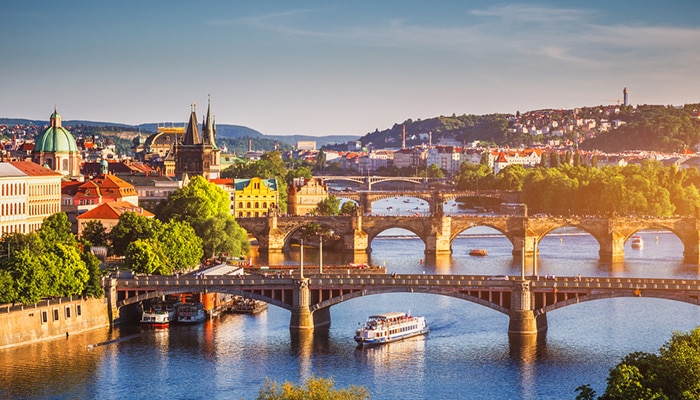 With Dam Square and the Vondelpark checked off the list, you're probably looking for the next awesome European capital to explore. There's a chance it awaits over 440 miles away, across on the eastern fringes of Central Europe. That's where Prague sits straddling the Vltava River, spiked with the mighty turrets of Prague Castle (one of the largest in the world), peppered with hearty Slavic beer halls, and touting museums dedicated to Jewish culture, Franz Kafka and much more.
It shouldn't be too hard to get there from Amsterdam. This guide outlines all your options. It reveals the prices and the travel times on planes, trains, and buses, with information on what to expect on the route. Let's get going…
Amsterdam to Prague by plane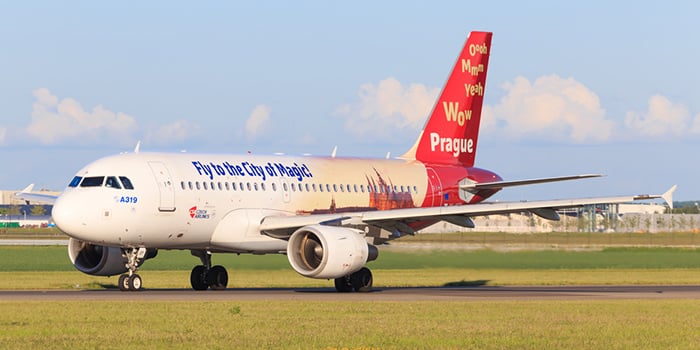 Time – 1.5 hours (flight only)
Price – $35+
Comfort – 4/5
With provinces of the Low Countries and all of Germany sitting in between Amsterdam and Prague, opting to take to the skies seems like a reasonable way to do this trip. Sure enough, there are usually around 10 direct connections linking the two capitals each day (at least during the summer high season). They take just 1.5 hours to make the hop from runway to runway, which puts flying right up top as the fastest mode of travel on this list.
Airline wise, you have the pick of three different carriers. There's the budget-orientated easyJet. There's Czech Airlines' subsidiary Smartwings. And there's KLM Royal Dutch, which is the national flag holder of the Netherlands and probably the most premium, offering spacious economy and loyalty rewards packages. Put together, there's a scheduled departure from Amsterdam around every two hours, starting at just before 7am and finishing after 9pm.
Because Amsterdam and Prague are so far apart, flying between them is the quickest mode of transport.
Price wise, easyJet are almost always the cheapest of the bunch. Search at least 60 days in advance of flying on 12Go.co and you might be able to unearth deals to the tune of $35 per person with them. KLM and Smartwings, meanwhile, are typically about double the cost. All carriers charge more for checked bags and speedy boarding, so be ready to fork out around $28 on top if you need add-ons like that.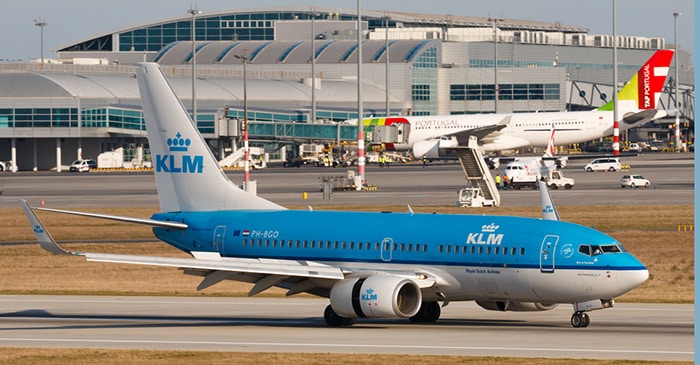 All flights from Amsterdam to Prague begin at the large Schiphol Airport. It's located a little to the south-east of the centre, but is linked by uber-regular and comfy urban trains out of Amsterdam Centraal that leave every 15 minutes. Once on the ground at Prague Airport, you can either opt to hop Bus 119 to Nadrazi Veleslavin and then pick up the metro, or catch a direct taxi/Uber for $15-30.
Amsterdam to Prague by train

Time – 12.5 hours+
Price – $55+
Comfort – 3/5
If travel is more about the journey than the destination for you, then the adventure offered by the trans-continental trains between Amsterdam and Prague might just be your sort of thing. Let's be clear – it's not going to be a quick A to B. Instead, you'll trundle across all of Germany, make a pitstop in Berlin as you go, and spend an average of about 12.5 hours on the tracks. Excited? Great. Let's take a look at the details…
You'll get to see loads of rural Germany and cross the scenic regions on the German-Czech border on this train ride.
The odyssey begins at Amsterdam Centraal station. There are direct departures at either 7am or 9am for Berlin (you need to catch these early options to leave enough time to link up with the onward trains to the Czech Republic in the afternoon). The route to the German capital is between six and seven hours, going across the breadth of northern Europe. It's a scenic enough ride, and on modern and comfy Deutsche Bahn InterCity trains with catering to boot. After that, you switch to a Czech railways EuroCity service (also comfortable) down to Prague Hlavni, which takes 4.3 hours and goes through the gorgeous backcountry of so-called Saxon Switzerland.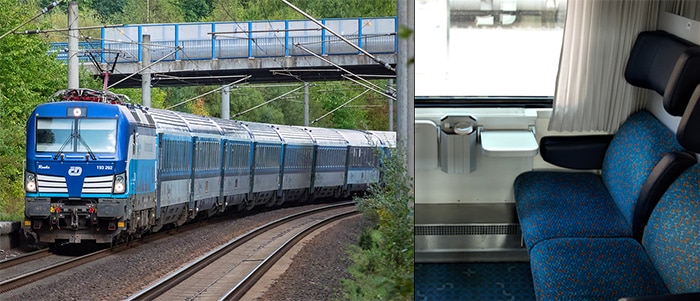 If you stagger your connections right, getting the early train leaving Amsterdam and the later leaving Berlin, you might also be able to add in a dash of sightseeing. After all, Berlin Hbf is only a short walk over the Spree River from the Reichstag Building and the Tiergarten park. Either way, we'd always recommend booking your connections well in advance using 12Go.co. Fares might start at about $55 each, but they can increase considerably closer to the date of travel.
Amsterdam to Prague by bus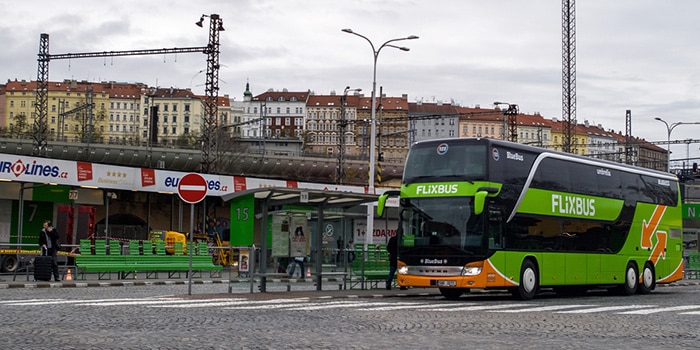 Time – 13 hours
Price – $43+
Comfort – 2/4
Thanks to the continent-wide network run by budget coach operator Flixbus, there are now a couple of direct bus links from the capital of the Netherlands to the capital of Czechia. In all, the trip is likely to take 13 hours or more, depending on traffic and other delays on route. You can choose to either go during daylight hours (for those who enjoy window watching) with the bus that leaves at 10.20am, or sleep through the trip by opting for the night-time departure at just before 10pm, which arrives into Prague at 10.40 the next morning.
Given that the prices of buses between Amsterdam and Prague can often be higher than flights and not too much lower than trains, this isn't as popular a way to travel as other methods listed here. Still, it's a good backup option for peak seasons like the summer, when tickets elsewhere might not be available. Buses can also start either in the centre of Amsterdam, at Sloterdijk station, or in Schiphol Airport, which makes them a convenient choice if you're coming off a plane in the Netherlands and want to get on the road to Prague as soon as possible.
---
Amsterdam is one of the jewels of the Low Countries, with its happening bars and coffeeshops and world-class museums. Prague beckons with enthralling literary history in the heart of Europe, along with beer halls and Slavic dumpling shops. This guide can help you see and experience both in the very same trip, taking you on speedy flight links from city to city, or more affordable long-distance buses.
---
Amsterdam to Prague FAQ
What is the cheapest way to get from Amsterdam to Prague?
Use 12Go.co to book early – like 60-90 days early – and you actually might find that flying is the cheapest of all the ways to travel from Amsterdam to Prague. That's largely down to easyJet, who offer budget tickets at around the $35 mark, not including bags. If flights aren't on offer, buses will probably be the best bang for your buck. They tend to start at about $43 per person, although you'll need to be ready to spend a whopping 13 hours on the road before arriving into Prague.
What is the fastest way to get from Amsterdam to Prague?
Because there's over 440 miles and the whole width of Germany between Amsterdam and Prague, going by plane is always going to be the fastest way to travel. Flight times on their own are about 1.5 hours, which equates to a total journey of about four hours once you've added in transfers and check in and all the rest of it.
What is the best way to go from Amsterdam to Prague?
We'd probably go by air. It's the quickest and – often – the cheapest way to move from Amsterdam to Prague, provided you book really early using 12Go.co. That said, there's a lot going for the train. It might take over 10 hours, but it's an adventure across the middle of Germany and the stunning region of Saxony in the east.
How much is a train ticket from Amsterdam to Prague?
You'll need to get two tickets if you want to take the train from Amsterdam to Prague. The first is for the ride to Berlin, and the second is for moving on to the Czech capital. The best prices are on seats booked well in advance, which you can do through 12Go.co – expect to pay in the region of $55 per person.
How long is the train ride from Amsterdam to Prague?
It's quite the trip, taking you across the Holland-Germany border and through the heartlands of Saxony-Anhalt before pulling into Berlin Hbf. Then, you'll catch another train due south through Saxony proper over into the Czech Republic. The first leg takes about 6.5 hours on average. The second takes about four hours. In total, that means trips take around 12.5 hours when you add on the changeover at the station.
Is it better to fly from Amsterdam to Prague or take the train?
If you're in a hurry and can score a good deal in advance with one of the budget carriers using 12Go.co, we'd say fly. It's the only mode of transport that can get you to Prague in a single morning or afternoon from Amsterdam. If you prefer adventure and slow travel, the train is surely the option to go for!
How useful was this post?
Click on a star to rate it!
Average rating / 5. Vote count: