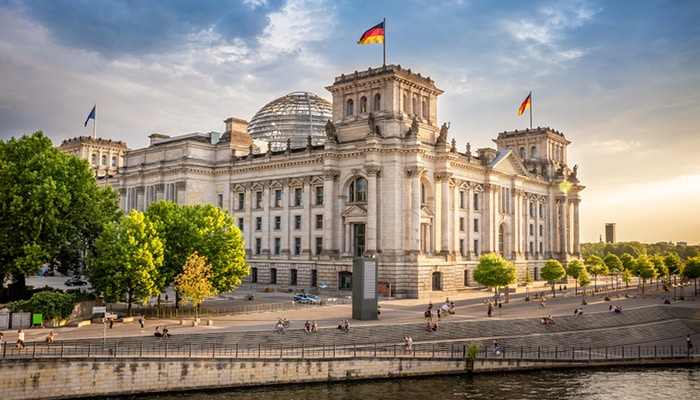 You might not know it, but Frankfurt actually rivals Berlin in size. It's the epicentre of a metro area that has a population of nearly six million. It's also the country's financial capital, and the home of its largest airport. That all means a trip from one to the other is a trip between two of the biggest players in all of Germany.
You'll go from a bustling business hub where skyscrapers tower over half-timbered beer halls to the bohemian home of techno music and the Reichstag buildings. This guide can show you how, with its info on the train links, the planes, the buses and more, all of which cover the 264 miles that separate the two towns.
Frankfurt to Berlin by train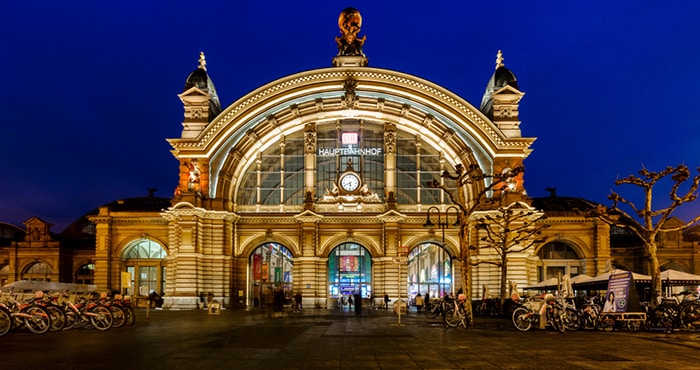 Time – Around 4 hours
Price – From $11
Comfort – 4/5
Trains are probably the most common way to go from Frankfurt to Berlin. They are used by travelers and locals alike, for leisure and business purposes. The reason for the popularity? There are many: They're comfy; they leave regularly; they take around just four hours in total. However, probably one of the most convincing features is the price, which is almost always cheaper than flying and can even give the coaches a run for their money thanks to the appearance of all-new budget trains. Let's take a look at the trip…
Things begin in the gorgeous Frankfurt Hauptbahnhof station. Try to arrive there early to take in the elaborate Renaissance Revival exteriors and the grand Neo-Classical wings that date to the late 1800s. After leaving, you'll head north-west through the very heart of Germany, passing low farm fields and clusters of hills in Hesse and then the rustic south of Lower Saxony. Expect short stops in places like Wolfsburg and Göttingen, but there's no need to transfer trains if you pick the direct options (there are plenty of those).

The majority of travelers heading to Berlin from Frankfurt will choose the train, and there are lots of reasons why…
Talking of the different trains, there are two choices on this line. The most common are the German state-run railway services with DB. They leave at regular intervals throughout the day, though you'll want to search and book the ones that don't have changeover using 12Go.co – prices on those start at around $22. There's also the budget Flixtrain, which is almost certainly going to be cheaper, what with advance fares sitting at just $11 each.
Average journeys are a dash over four hours in total. They'll take you straight to the beating heart of the German capital at Berlin Central Station. That's only a few streets off the iconic Reichstag Building, the Tiergarten park, and the bustling shopping and dining district of Mitte. But it's also connected to the S-Bahn and U-Bahn networks directly, just in case you're headed elsewhere in the big city.
Frankfurt to Berlin by plane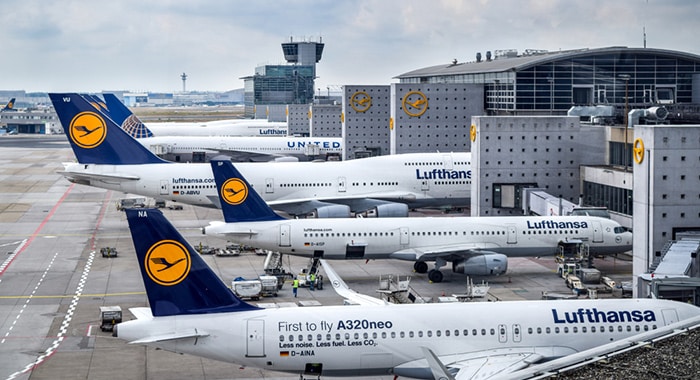 Time – 1h10 (flight only)
Price – $71
Comfort – 4/5
Given that Frankfurt Airport is the largest in all of Germany, and one of the largest in all of Europe to boot, it's hardly a surprise that there are regular flight links heading over to Berlin. They are used widely by passengers connecting off long-haul flights in and out of the country, but not so often by casual city hoppers. That's because total journey times are about the same as on the train, or even longer. So, why put yourself through the hassle of traveling to the airport and checking in bags when you could just hop on a locomotive?
There's a whole host of daily flights from Frankfurt to Berlin on offer from Germany's flag-carrying airline, Lufthansa.
Still, don't discount the plane entirely. It's a comfy way to go, offers trips from city centre to city centre that take in the region of four or five hours, and is a great backup if you can't find any suitable departures with the trains. What's more, it's good option if you aren't aiming to enter the heart of Berlin, but want to travel to the remote Baltic beaches and the wetlands of the Uckermark Lakes to the north of the capital.
There's no shortage of departures, that's for sure. As many as 16 individual flights link the two towns each day, heading over to the large terminals of Berlin Brandenburg Airport. They are run exclusively by the flag-carrier Lufthansa, starting as early as 6.15am and finishing as late as 8.15pm. Prices can vary wildly on this route. One thing's certain: They get far more unpredictable the closer you are to the travel day. So, it's definitely wise to get in early and bag your seat as soon as you can using 12Go.co.
Frankfurt to Berlin by bus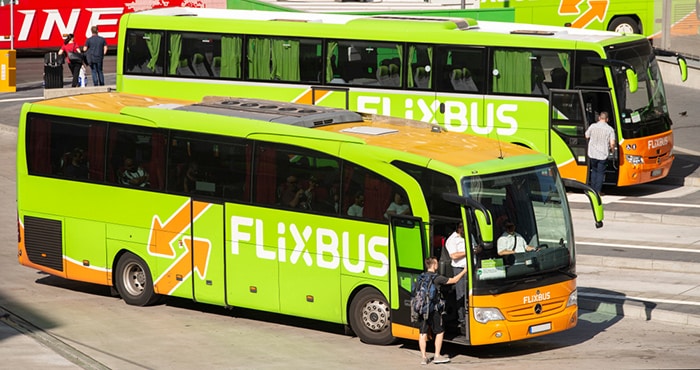 Time – 7-12 hours
Price – $10+
Comfort – 3/5
Even though the trains are often cheaper and faster, there's still a bus backup on the route from Frankfurt to Berlin. It's largely dominated by the country's own Flixbus company. They operate a Europe-wide network of cheap coach links, with plenty of connections between major cities in Germany. Unfortunately, the drive to the home of the Reichstag will take a minimum of seven hours, so this isn't the way to go if you're in a hurry to taste your currywurst!
One bonus of the buses is that they'll stop in several places around Frankfurt before getting Berlin bound. You can board at the Busbahnhof ZOB (just south of the Frankfurt Hauptbahnhof) or get on at the terminals in Frankfurt Airport (just check your chosen departure passes there). In the capital, you can choose to alight in bustling Alexanderplatz, at the Central Station, or even at Berlin Brandenburg Airport. That said, prices for the bus route are usually more than the budget Flixtrain, although advance purchases on 12Go.co could see fares selling for as low as $10 per person.
Frankfurt to Berlin by car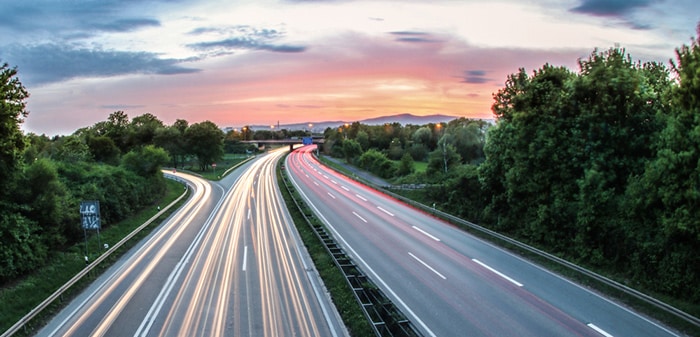 Time – 5 hours
Price – $20 a day
Comfort – 4/5
German roads are some of the very best on the continent. They're a pleasure to drive (especially those wide autobahns) and can help you complete the whole trip from Frankfurt to Berlin in just five hours. That's covering a total of 340 miles through enticing regions like Thuringia and Hesse. Come to think of it…you may want to take this one slowly, setting aside a few days to explore the sights and places that await between these two big cities. That, after all, is the freedom that comes with having a car.
Stops you might want to consider include the culture-packed city of Weimar, where totemic landmarks related to the European Enlightenment await, or the meadows and forests of the lovely High Fläming Nature Park. For a 72-hour car hire via RentalCars.com, you'll be paying around $60, with a set add-on fee for traveling in one direction. It's also possible to organise to collect your wheels in the city centre of Frankfurt, so you won't have to travel out to the airport before hitting the highways.
---
Choose any one of the above methods to hop between two of the biggest and most bustling cities in Germany. They're sure to keep you going with their sleek banking districts, gleaming government buildings, beer-sloshing bars, and iconic urban monuments!
---
Frankfurt to Berlin FAQ
What is the cheapest way to get from Frankfurt to Berlin?
With the arrival of the low-cost Flixtrain on the railway lines, it could just be the locomotive. They can cost as little as $11 per ticket, although there are sometimes buses that will be priced at just $10 (but that's at least a seven-hour trip). The best way to check which one's the winner for you is to head over to 12Go.co and get a-searching.
What is the fastest way to get from Frankfurt to Berlin?
Probably by rail, but only because the flight will take longer when you add on transfers to the terminals and going through security. On the direct trains, you can complete the trip in just over four hours, stepping off the carriages straight into the Mitte district of downtown Berlin. Easy.
What is the best way to travel from Frankfurt to Berlin?
Most travelers will opt for the trains. They are convenient and can be affordable – so long as you book in advance using 12Go.co. They also take just over four hours to go from city to city, offering some pretty nice views of central Germany to keep you entertained as you ride.
How much is a train ticket from Frankfurt to Berlin?
There are two options with two different prices. The cheapest is the low-cost Flixtrain service, which has prices that sit at a meagre $11. Then there are the DB trains. They're a little comfier and go more regularly, but begin at $22 per person. One good way to weigh up your options and the cost of fares is to enter your dates and search over on 12Go.co.
How long is the train ride from Frankfurt to Berlin?
The best trains connect Frankfurt Hauptbahnhof to Berlin Central Station in 4h12 minutes. They are the ones that go direct without any changes needed. However, they do make stops along the way, in towns like Göttingen and Wolfsburg, for example. It's wise to book ahead using 12Go.co if the rail is the way you want to travel, because prices can creep upwards.
Is it better to fly from Frankfurt to Berlin or take the train?
Generally speaking, the train trumps the plane. Overall, journey times on the railways will be about the same or a tad faster than in the skies, but will be less hassle and typically cheaper. However, going by air does help you reach the countryside of north-eastern Germany, and can be super-convenient for travelers connecting through Frankfurt and wanting to get to Berlin straight away.
How useful was this post?
Click on a star to rate it!
Average rating / 5. Vote count: