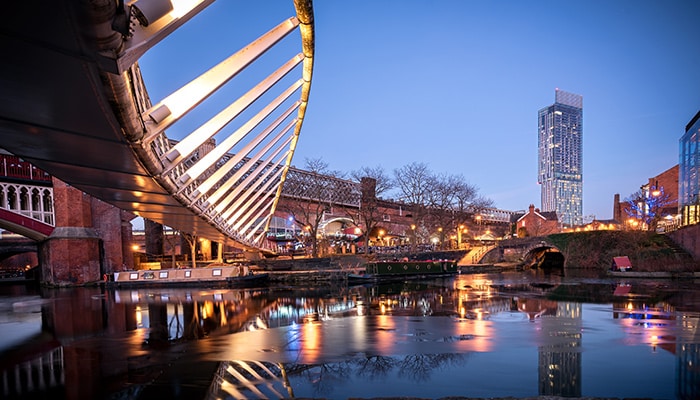 It's around 208 miles from the English capital to the unofficial capital of The North, on a route that crosses the heartlands of the United Kingdom. It means going from a buzzing megacity where Big Ben and the soaring Shard keep watch, all the way to an atmospheric town of old Victorian industrial quarters transformed into bohemian nightlife hubs.
You can make the trip on the train, by car, or even by airplane, which means there are plenty of departure times on offer from the Big Smoke, from early morning until late at night. Let's take a look at all of the various modes of transport and their ups and downs…
London to Manchester by train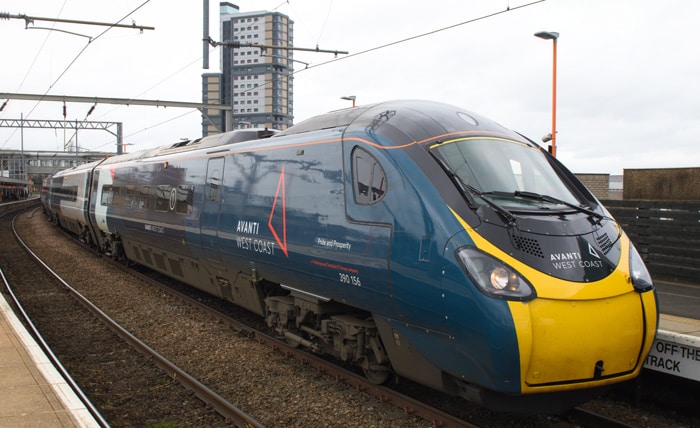 Time – 2 hours
Price – $30
Comfort – 5/5
The railway line that runs between London and Manchester is one of the busiest in the UK. It's frequented by business travelers on their daily commute and sightseers looking to trade Westminster for the Northern Quarter. The upshot? Expect more than 80 departures every day. They start as early as 5.15am and run until nearly midnight. Peak hours are the middle of the morning and the mid-afternoon, when tickets spike in priceand it can be a jostle for free seats.
Manchester-bound trains leave the big metropolis from London Euston. It's the main terminus for the West Coast Line, conveniently placed a few blocks from St Pancras Station and linked to the London Underground network by the Northern Line and the Victoria Line. Once you're all aboard, the train will pass through the Home Counties and then the Midlands, where rolling English countryside and gallery woods abound. Just over two hours later, you'll be pulling into Manchester Piccadilly.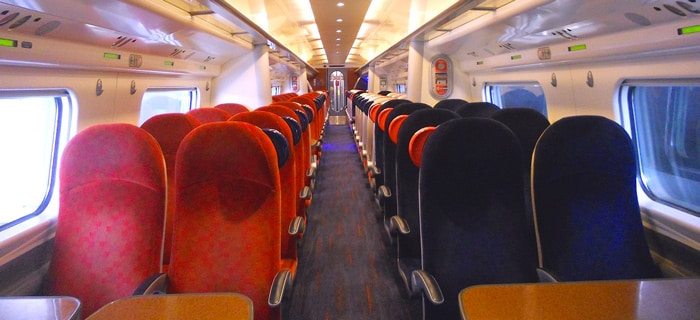 Fast and regular, trains between London and Manchester can also be atmospheric and fun, conjuring the feel of the old Victorian era.
Services on the route are currently run by Avanti West Coast. They offer two seating classes: 1st and 2nd. There can be a hefty price difference between them, but benefits of forking out a little extra include speedy WiFi connections, in-seat power sockets, and complimentary coffee and tea while traveling.
Generally speaking, train tickets for London to Manchester connections are available for purchase on 12Go.co about three months before the date of travel. Those will be the cheapest advance fares, starting at just $30. We recommend bagging them ASAP – it's not long before the low-cost seats sell out and prices skyrocket, sometimes to over $180 or more!
London to Manchester by plane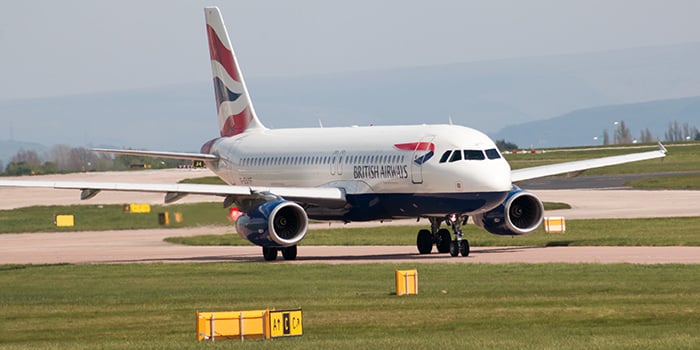 Time – 1 hour
Price – $55-100
Comfort – 4/5
British Airways still run several direct flight connections between London and Manchester. Some go from sprawling Heathrow Airport on the south-west side of the capital, but there are also options jetting out from the runways of more central London City Airport. Expect to find about five each day, with the first at about 6.45am.
Despite the train often working out a little quicker from city to city, the plane is still a speedy way to go. Total journeys are in the region of about three hours when you factor in airport bag drops and transfers. Crucially, they'll all take you straight to Manchester Airport, which is perfect if you're heading up north to catch connecting flights, or had your heart set on exploring reserves like the Peak District National Park or the rugged North Wales coast.
Flights are a great option for travelers who want to explore the greater region of The North, from the Peak District to the Yorkshire Dales.
Don't go thinking you can waltz into the terminals and score a bargain ticket – most fares on the day are colossal compared to what you can book in advance. In fact, we'd recommend checking out 12Go at least 90 days prior to take-off, when it's normal to see seats on the route selling for between $55-65. Remember, though, that doesn't include baggage with BA, so you'll have to pay extra if there's luggage in tow.
London to Manchester by bus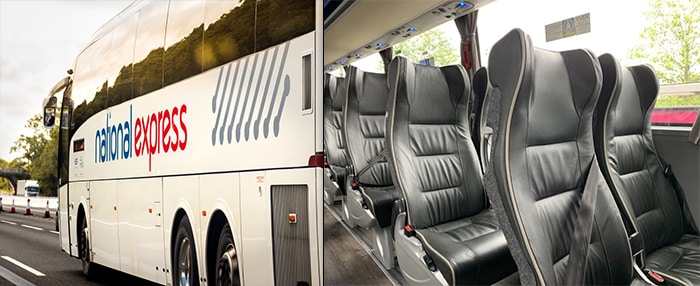 Time – 4 to 5 hours
Price – $7+
Comfort – 3/5
If you're willing to sacrifice the legroom of the train and the speediness of a flight to save a few pounds for your pints in the Northern Quarter pubs of Manchester, it's likely that bus travel is the way to go. Coaches leave from Victoria Station tens of times throughout the day. They'll usually take 4.5 hours or so to get to the self-proclaimed capital of The North, what with stops in Manchester Airport and Stockport along the way.
Major companies to watch out for include National Express and Megabus. Both run modern, air-conditioned coaches with two-two seat orientation and toilets onboard. However, the Express is considered the more premium option, although Megabus routes tend to stay cheaper for longer. Oh, and talking of price – be sure to book early. Fares increase considerably in the run up to your travel date. 12Go.co is the perfect place to look, with easy comparison of ticket prices across major coach providers leaving London at different times.
London to Manchester by car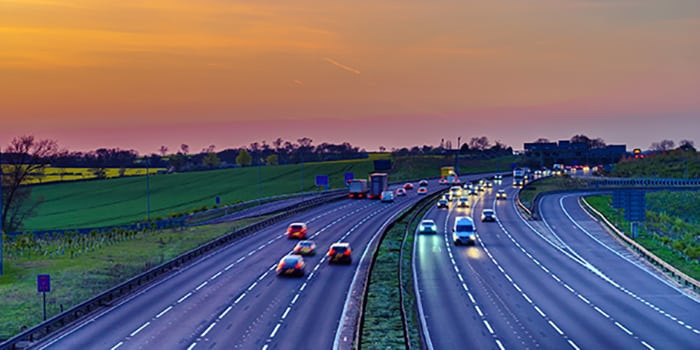 Time – 4 hours
Price – $125, plus petrol
Comfort – 4/5
Okay, so the drive from London to Manchester probably has a few too many temptations en route for you to complete the journey in just four hours. That said, if you can resist making pitstops and simply keep the pedal down (within the speed limit, of course!) on the M40 or M1, it is doable. On the flip side, if you do have the time, get ready for picnics in the bucolic Chiltern Hills, walks through the medieval centre of Oxford, and strolls in the wooded valleys of the Cannock Chase as you go.
In fact, given the speed of the train and the abundance of flight connections, driving from London to Manchester is often done for the adventure alone. Tempted? You can check out the price of hire cars over on RentalCars.com, but expect to pay in the region of $125 for a day, including the cost of one-way travel from an airport in London to Manchester Airport.
---
Take the train, hop a plane, or drive yourself from London to Manchester. The trip promises to be an odyssey through the pretty heart of the United Kingdom, past dales and moors and forests. And the end point? A gritty, fun-filled city with rambunctious bars and enthralling industrial history. Nice.
---
London to Manchester FAQ
What is the cheapest way to get from London to Manchester?
Buses are the travel type that save the most. They can cost only a few bucks more than a bag of chips and a beer in one of England's hearty pubs. That means paying around $7-15 is the norm. To get the top deals, head over to 12Go.co long in advance of traveling and look for budget coach companies like Megabus.
What is the fastest way to get from London to Manchester?
You could be forgiven for thinking that those nippy one-hour flights from London to Manchester are the speediest options. But, add on the time it takes to reach the airport and get from the terminals to Manchester's centre, and you're looking at about three or four hours in total. That makes trains – which last just over two hours – usually the quickest choice of all.
How much is the train from London to Manchester?
That depends on how well you can plan your travels in advance. Early-bird bookers get the top deals by a long shot. Hit 12Go.co about 12 weeks prior to hopping on the train in Euston and you'll find fares could be around $30. Buy later and you might be looking at paying $200 or more!
How do I get from London to Manchester by train?
That's simple. Head over to 12Go.co and enter your travel dates. Then it's just about picking what departure time suits you and booking. The journey itself should be a breeze. There are no stops and no changeovers, not to mention as many as 88 services linking the two cities per day. You can also make use of digital tickets, stored on your smartphone. Easy.
Is it better to fly from London to Manchester or take the train?
The main difference between flying and taking the train from London to Manchester is the arrival point. Planes take you into the runways of Manchester Airport, which is perfectly suited for drives out to the scenic Peak District. Trains, meanwhile, go to the city itself, where pubs, music clubs, and the roaring football stadiums beckon. Trains are also more eco-friendly and can be cheaper when booked long in advance on 12Go.co.
How much is a flight from London to Manchester?
That really depends on how good you are at ferreting out a deal. The cheapest tickets of all usually sell for about $55. Those are typically on offer around 60-90 days before the jets are due to hit the skies, so you'll want to be ready to press purchase on 12Go.co. Also remember that bags are extra on British Airways, so those cheap deals won't count if you're bringing extra luggage.
How much is a bus ticket from London to Manchester?
It almost sounds too good to be true for the budget backpacker, but bus tickets from London to Manchester start at around $7. Of course, the compromise is a four- or five-hour journey time and a little less comfort. To score the lowest prices of all, we'd recommend hitting 12Go.co as soon as you know the dates you want to travel.
How useful was this post?
Click on a star to rate it!
Average rating / 5. Vote count: