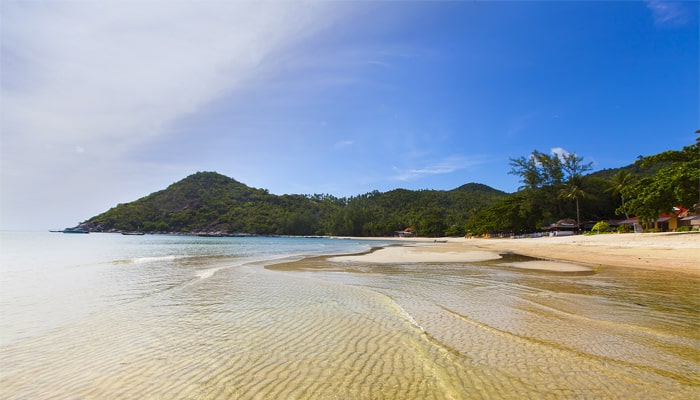 From one tropical paradise to another, the journey from Koh Samui to Koh Phangan is just a short hop over the sky-blue waters of the Thai Gulf. These islands have risen and risen to become two of Thailand's most popular holidaying destinations in the last few decades.
There's Samui, with the glistening white sands of Chaweng and the sleek spa resorts of Bo Phut. There's Phangan, the home of the pumping Full Moon Party, and hidden palm-fringed shorelines aplenty. Going from one to the other is an obvious progression of any itinerary in the region. What's more, there are oodles of ways you can go about doing the trip, including high-speed ferry links that complete the 31-kilometre hop in no time at all…
Koh Samui to Koh Phangan by high-speed ferry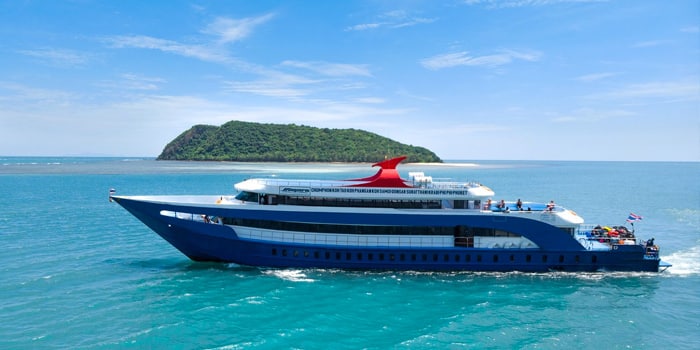 Time – 45 minutes (boat only)
Price – $6-10
Comfort – 4/5
A lot of the direct boat links that go between Koh Samui and Koh Phangan fall into the high-speed category. However, they aren't actually the quickest way to go from pier to pier in these parts (for that, check out the catamarans below). Still, they do manage the trip in 40-45 minutes on average, so it's never going to take a huge chunk out of your beach time down in Haad Rin.
Swap Samui's shimmering beaches for Phangan's jungle-fringed coastline in just 45 minutes with high-speed ferries.
Look out for the services run by Songserm and Seatran Discovery. They are the most reputable companies offering tickets on the cross-strait journey. There's little difference between the two, only Songserm's boats depart from the Nathon Pier on the west side of Koh Samui, while Seatran Discovery runs its connections from the popular hotel and bungalow area of Bangrak in the north.
The hardest part of these is usually in getting to and from the piers either side of your ferry ride. Luckily, you can simplify all that by choosing one of 12Go.asia's combo trips. They cost a little more – around 22 USD in total – but promise a pickup and a drop-off at any accommodation on both islands. You'll have a driver waiting in the lobby of your hotel on the Samui end, and a taxi waiting to whisk you off to you party pad in Phangan at Thong Sala port. Easy, eh?
Koh Samui to Koh Phangan by catamaran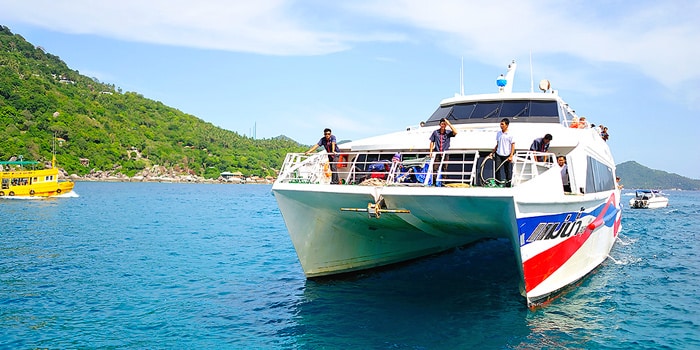 Time – 30 minutes (boat only)
Price – $13 with a hotel pickup
Comfort – 5/5
One of the main reasons to opt for the catamaran connection between Koh Samui and Koh Phangan is that it's run by Lomprayah. They're among the most reputable tour companies with ferry routes in the Thai Gulf, boasting top-rated customer service, efficient ticketing, and fast loading and unloading times at the ports.
Catamarans are fast and comfy options for whizzing out of Koh Samui for Koh Phangan.
Granted, their prices aren't the lowest going. You'll pay around $13-14 for the ride from shore to shore. However, you do get the benefit of comfy transport, one of the fastest links between the islands, and the pick from two departure points. There's Nathon Pier in the west and Pralan Pier close to the hotel strips of Maenam. 12Go offer convenient combined transfer and ferry tickets that should make it a breeze to get from your bungalow to any of the above.
In total, Lomprayah runs five services to Koh Phangan each day. The earliest leaves around 8am. The latest goes at 5.30pm. Because the catamaran is a high-speed option, the trip across the water to the arrival point at Thong Sala is a mere half an hour. That means less time tapping your feet; more time lapping up the rays on Haad Rin's lively beachfront.
Koh Samui to Koh Phangan normal ferry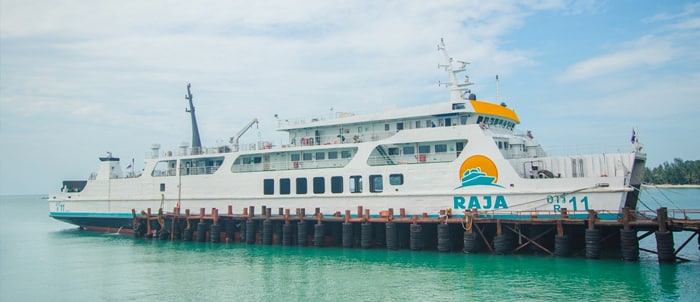 Time – 1.5 hours
Price – $5
Comfort – 4/5
If you enjoy breezy boat rides with views of glinting tropical beaches and swaying palm trees, you might prefer the longer trip that comes by choosing the normal ferry. These slower boats leave from the south-western corner of Koh Samui, at the pier of Lipa Noi. They're larger than their catamaran compadres, and take around 1.5 hours before docking into the port at Thong Sala.
The normal ferry might not be the fastest, but it's usually the cheapest mode of travel from Koh Samui to Koh Phangan.
Raja Ferry are the main company operating the route. You can book tickets with them through 12Go.asia, along with packages that include minibus transfers to and from the lobby of your hotel both sides (they cost a little extra, around $17 each way).
Generally speaking, the slow boat will be most affordable option of all for ditching Samui for Phangan. Average prices are in the region of just $5, which should leave a bit more moolah for the neon paint and bucket cocktails when the Full Moon Party gets a-pumping.
Bon voyage, folks! With as little as 30 minutes on a catamaran separating you from the fun-filled, hedonistic and downright gorgeous island of Koh Phangan, there's nothing for it but to don the sunscreen, ready the bikinis and board shorts, and get booking. See you at the Full Moon Party!
---
Koh Samui to Koh Phangan FAQ
What is the cheapest way to get from Koh Samui to Koh Phangan?
If you're watching the baht, you'll find plenty to like on the slow ferry. It's actually not that slow at all – the trip from pier to pier takes around 1.5 hours. What's more, you'll have time to wave goodbye to Koh Samui from the upper deck and watch as Phangan's palm-topped hills come into view. This option should only leave you around $5 lighter, but you may want to pay a little extra when booking on 12Go.asia, to include a transfer to the boat down in Lipa Noi.
What is the fastest way to get from Koh Samui to Koh Phangan?
Catamaran boats offer the speediest way to leave behind one island for the next. They whizz across the glinting waters of the Thai Gulf from the north shore of Koh Samui to the pier of Thong Sala in less than 35 minutes. It usually takes a little longer than that, though, thanks to transfers from hotels to the port. All in, it's possible to do the trip in less than two hours if you book one of the handy combo tickets on 12Go.asia.
How do you get from Koh Samui to Koh Phangan?
Boat – obviously! We're talking two islands here, folks. That means riding one of the ferries that runs across the 31 kilometers of crystal-clear Thai Gulf is always going to be the transport of choice. Thankfully, there are a number of different companies operating the route. 12Go.asia makes it super easy to compare and contrast the lot, whether you're keen to save money for the Full Moon Party and discover the cheapest option, or simply want to arrive in Koh Phangan as quickly as possible.
How long does it take to get from Koh Samui to Koh Phangan?
That all really depends on what ferry company you choose to go with. The fastest of the bunch is Lomprayah. They have the catamaran connections, which can help you trade Samui with Koh Phangan in as little as 30 minutes. Then come the likes of Seatran Discovery and Songserm. Their high-speed ferries do the route in around 45 minutes. Finally, the slowest option is still only 1.5 hours from port to port, run by Raja Ferry. You will also want to add in an hour or so to account for taxi transfers to and from your hotel or hostel either side.
How do I get from Koh Samui Airport to Koh Phangan?
The best way to get from the airport in Koh Samui to the home of the Full Moon Party is to bag yourself a combo ticket on 12Go.asia that includes a taxi from the arrival halls to the pier. It might be better to fork out a little more and choose either the high-speed ferry option or the catamaran, only because they depart from points on the north shore of Samui, much closer to where you'll jet in on the plane. If you've booked a ferry-only ticket, then be sure to make use of the pre-paid taxi stands in the terminal. They offer rides straight to Bangrak and Nathon piers (400 THB and 800 THB respectively).
Which is better Koh Samui or Koh Phangan?
Don't ask that! Both are different. Both are awesome! Koh Phangan made its name as a Thailand's answer to Ibiza, thanks mainly to the mega blowouts that take place every time there's a full moon. Head for Haad Rin to enjoy those with around 40,000 other revelers. Koh Samui, meanwhile, is more of a family-friendly, R&R-ready relaxation hub. The east coast beaches are the most famous – Lamai to Chaweng – but the north in Maenam has lux hotels by pine-studded sands. Where you go really depends on what you're after from your Thai adventure.
How useful was this post?
Click on a star to rate it!
Average rating / 5. Vote count: