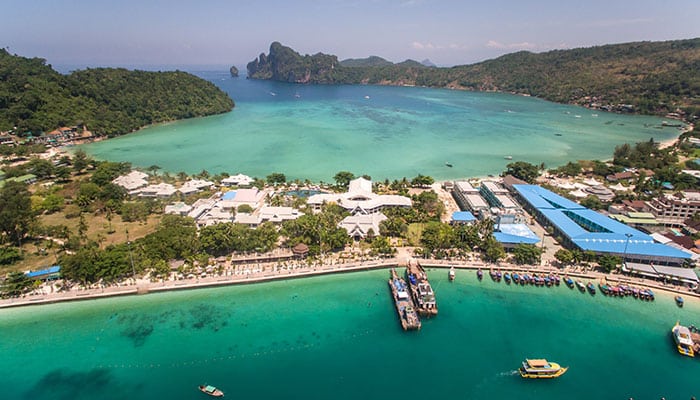 The trip from Ao Nang to Koh Phi Phi beckons when it's time to leave behind the Thai mainland for the rugged karst cliffs and gleaming beaches of the amazing Andaman Islands. It's all about trading a resort to the west of Krabi for a whole archipelago of jungle-tufted rocks out at sea. The two destinations are just 18 miles apart as the crow flies, but rugged coastal mountain ranges and sloshing saltwater sits in the way, which is why you'll probably need to combine boat travel and road travel to complete the jaunt, though not necessarily. This guide runs through all the best transport options on the menu, from the fastest to the easiest on the wallet.
Ao Nang to Phi Phi by Direct Ferry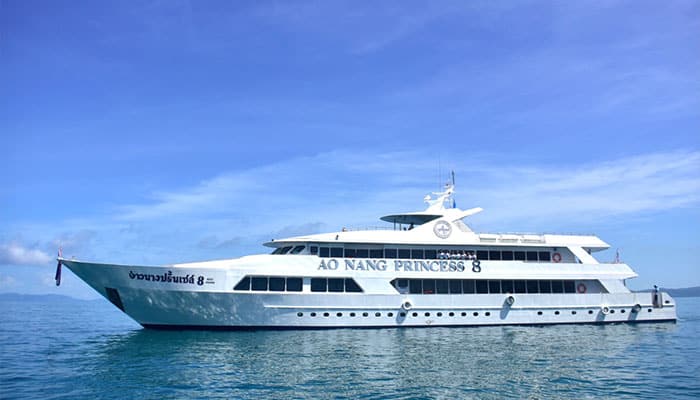 Time – 2 hours
Price – Around $14 per person
Comfort – 4/5
If you want to keep things simple and get over to Phi Phi without the hassle of hopping buses or longtail boats, then look to the ferry-only departures that go out of Noppharat Thara Pier. This is the pier that sits on the northern side of Ao Nang Beach itself. You can actually walk there from many of the hotels. From others, a quick tuk-tuk or taxi will get you right to where the boats leave in a matter of minutes, though tickets booked online via 12GoAsia typically include a pickup from most accommodations in the area.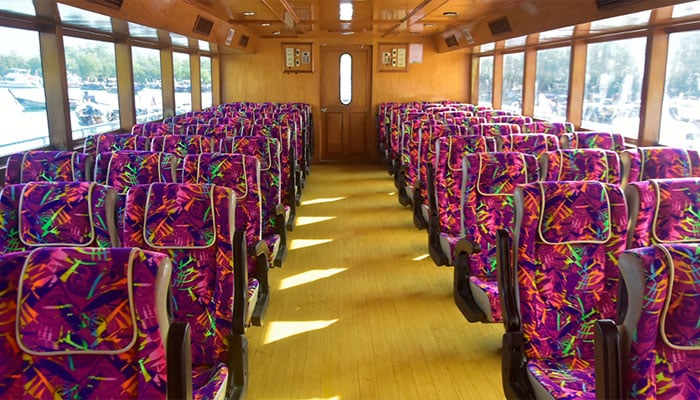 There's one daily, direct ferry from Ao Nang to Phi Phi – it's the simplest and quickest way to make this trip, but can get busy.
You'll need to be punctual for this one: There's just a single boat each day out of Ao Nang's own jetty. It leaves each morning at 9.30am. The connection is a quick one, whizzing straight across the breadth of the northern Andaman Sea from A to B in two hours. Along the way, there are some eye-watering views on offer, starting with the soaring rock stacks of southern Krabi province and ending with the looming isles of Ko Poda and Ko Kai, which sit about halfway to the Phi Phis.
The direct boat out of Ao Nang is run by Ao Nang Travel And Tour and the Ao Nang Princess Ferry. They use midsized vessels with two storeys of air-conditioned indoor seating topped off by an outdoor upper deck – claim a spot there if you want to watch islands drifting by. We'd recommend booking your ticket early in the peak season because the direct route is a popular one.
Ao Nang to Phi Phi by Taxi and Boat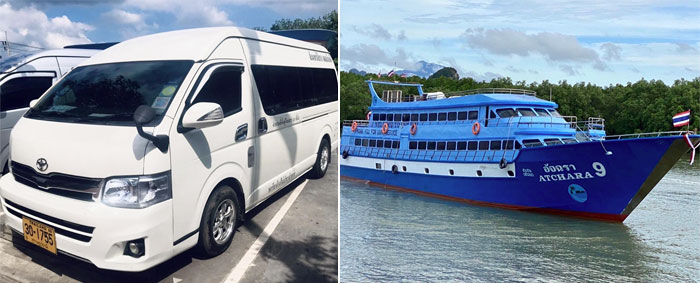 Time – 3.5 hours
Price – $15
Comfort – 3/5
The aforementioned ferry pier in Ao Nang itself isn't that big. Plus, it hosts just a single daily departure. If you want more flexibility when it comes to what time you leave, what sort of boats you travel on, and what company you book with, it's always possible to plump for the taxi-boat combo. It means first making the trip across to the Klong Jilad Pier in Krabi Town, from where oodles of other ferries both fast and slow depart for the bucket-list Phi Phis each day.
Give yourself more departure options by adding in a taxi transfer to bigger Krabi Town port before you board the boats.
You can leave early if you like – the first services wave goodbye to Klong Jilad around 8am. Alternatively, have a dip in the glistening waters of Ao Nang Beach and cruise over for the afternoon departures – other boats don't go until 2pm or even later. While you have plenty of choice here, remember that schedules do chop and change a lot, so it's always worth checking 12GoAsia for the updated list of departures for your chosen day of travel before you book.
The downside is that adding in a taxi transfer first thing cranks up that total travel time. Expect to spend something like three hours on this trip, though slow boarding and queues at Krabi port – which is almost always busier than the small port in Ao Nang – can slow things down even more. The sort of boat you get depends on what company you go with, but they are generally larger vessels with indoor and outdoor seating areas.
Ao Nang to Phi Phi by Longtail and Boat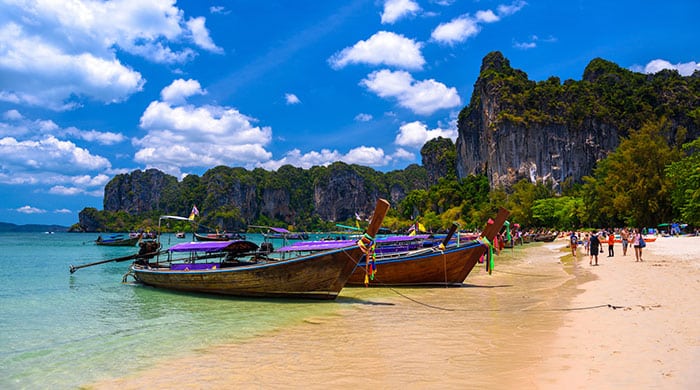 Time – 1 h 45 min
Price – $15
Comfort – 3/5
If you're starting your journey to the Phi Phis from the hidden beach escape of Railay or the climbing village of Tonsai, two of the southernmost and remotest parts of Ao Nang, then there's really nothing for it but to add on a longtail connection. These small boats will bring you around the coast to Ao Nang beach proper in about 30 minutes. Then, you'll transfer onto a minivan or into a private taxi to make it over to the port in Krabi Town or to connect with the boats that leave from Noppharat Thara Pier.
Don't be put off by the prospect of an extra half an hour's travel time. This is actually great fun. Longtails are classic Thai fishing vessels that really look the part in photos, so have the camera charged. Plus, you'll be treated to a montage of rugged karst cliffs and sea grottoes, all framed by the emerald-green waters of the Andaman Sea. Just try to push your luggage under the seats – sea spray can splash inside the boats if it's rough!
Ao Nang to Phi Phi by Taxi and Speedboat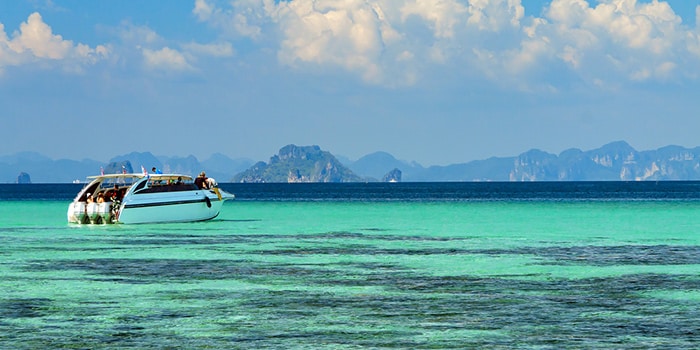 Time – 50 minutes+
Price – $26
Comfort – 2/5
In a hurry to clink mojitos on Loh Dalum Beach or party in Ton Sai village? Well…you can be stepping onto the Phi Phis in under an hour after bidding farewell to Ao Nang if you go with the speedboats. They leave from multiple ports on the southern side of the Krabi peninsula, including Railay East, and take a mere 50 minutes in all. The punctuality does cost, though – expect to fork out as much as $26 per person for this trip.
Speedboats are really only an option during the dry season (November-March) and when the weather's good. These small-hulled vessels don't do well in choppy seas. In fact, they're regularly cancelled at short notice if a storm rolls through, so be sure to check the forecast is looking at its south-Thailand best before booking.
---
You simply cannot miss the Phi Phis! This clutch of rock-ribbed isles rises from the heart of the Andaman Sea to offer up some of the most idyllic coastal vistas in the Land of Smiles. They've got glimmering beaches, jungle resorts hidden away on the karst cliffs, and a pumping nightlife scene that's legendary throughout Southeast Asia. Thankfully, the mainland resort of Ao Nang is a great jump-off point for exploring the archipelago. Pick from direct boats out of Ao Nang itself or multiple ferries both fast and slow from nearby Krabi Town port.
---
Ao Nang to Phi Phi FAQ
Is Koh Phi Phi island worth visiting?
It most certainly is! This is one of Thailand's most iconic islands. It hulks straight out of the Andaman Sea like some sleeping giant. Emerald jungles cascade off its cliffs. Karst mountains spike the skies. There are hidden beaches and coves and inlets for exploring, along with wide sands at lovely Loh Dalum Beach and Tonsai, where reggae bars front the water. It's also a national park, with teeming coral reefs and lagoons brimming with sea turtles and sharks.
How useful was this post?
Click on a star to rate it!
Average rating / 5. Vote count: