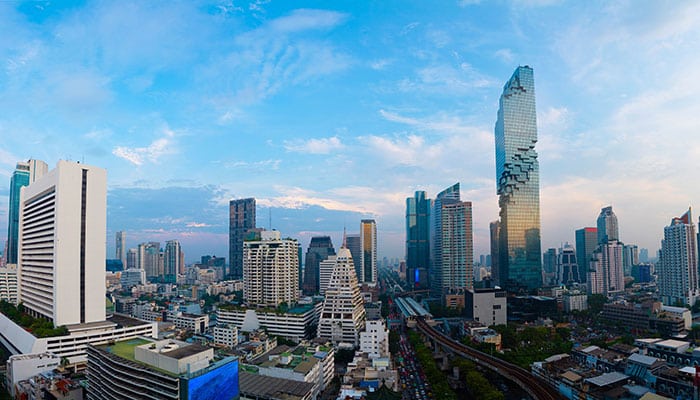 When you're done chilling on the sparkling beachfront of Haad Salad and hitting the bumping bucket bars of the Full Moon Party down in Haad Rin, it might just be time to bid farewell to the much-loved Koh Phangan. If you're headed to Bangkok, then you're in luck. There are many ways to swap the glistening gulf island with the sleepless capital of the Land of Smiles.
Thousands of travelers make the same Koh Phangan to Bangkok journey every year. There are planes, trains, and buses that can help you cover the 270 miles that lie between the two destinations. This guide has info on the whole lot…
Koh Phangan to Bangkok by Ferry and Plane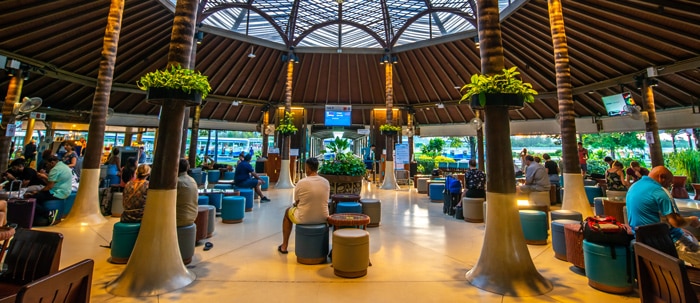 Time – Around 4.5 hours in total
Price – Approximately $145
Comfort – 5/5
Koh Phangan doesn't have its own airport. But it's right next door to Koh Samui, and that means it shouldn't be too hard to link up with the uber-frequent flight connections to Bangkok that run from there each day. In fact, this is probably now the most popular way of moving between the big city and the sun-kissed sands of just about anywhere in the gulf archipelago. It's easy to see why – the route is simple and fast, taking around just 4.5 hours from hotel to hotel.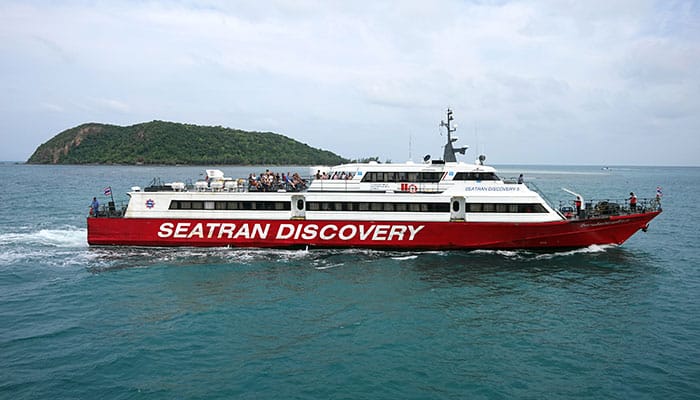 The first step will be to book a boat off of Phangan itself. That's easy enough. Several companies offer regular ferries out of the ports in Thong Sala and Haad Rin, including highly rated Seatran Discovery and Raja Ferry. They use larger boats capable of holding hundreds of passengers at once, with open-top decks and air-conditioned indoor seating spaces. You could also plump for a speedboat with Lomprayah, which takes only 30 minutes to cross over to Koh Samui. Either way, you'll want to pick a service that links up to the northern ports of either Bang Rak or Rasa Pier on the Samui side, since they are much closer to the airport.
One reason to fly is that you get to lounge around at Samui Airport, which is surely one of the most pleasant departure spots on the planet!
Once you do alight in Samui itself, it's a cinch to make it to the departure terminals. Many ferry tickets will actually include a drop-off at a place of your choice, but you can also haggle for a shared taxi near the pier – it's usually between 50-100 THB ($1.50-3) per person to the airport. And what an airport it is! One of the finest in the whole of Southeast Asia, it's half indoors, half outdoors, with al fresco seating areas and everything from massage parlors to street-food kitchens. Talk about nice places to wait for a flight!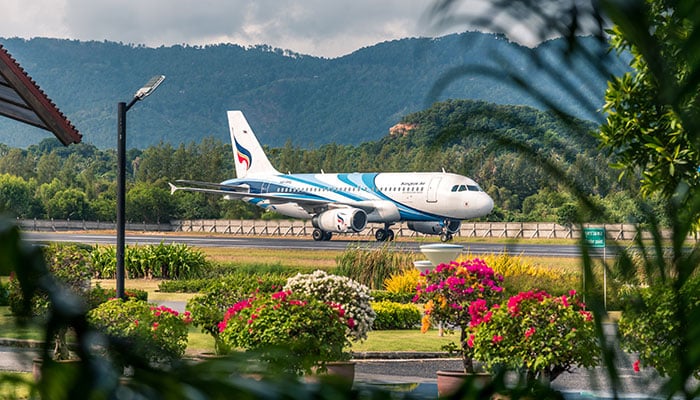 The flight in question is 1h15 minutes and takes you to Bangkok's main international hub, Suvarnabhumi Airport (BKK). All connections are run by Bangkok Airways, who have a bit of a monopoly on this route since they also own and run Samui Airport. This is likely to be both the most comfortable and the most expensive part of your trip. The planes are spacious and service includes an onboard meal. Sadly, tickets start at about $130 per person and can be more than double that in the peak of the high season (January to March).
Koh Phangan to Bangkok by Ferry and Train
Time – 17 hours+
Price – Starting at around $53 per person
Comfort – 4/5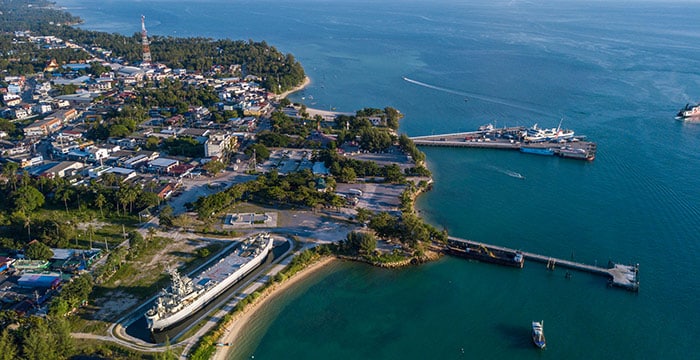 The stand-out overland route between Koh Phangan and Bangkok is via the railway. The southern mainline of the Land of Smiles runs all the way down to the port town of Surat Thani, which is where many of the main ferries and speedboats arrive after leaving the gulf islands. It's still not a short trip, clocking up something like 17 hours in total. However, it can be a romantic and fun way to go, and the trains are certainly a whole load more comfortable than the so-called VIP buses (see below).
The boats for Surat Thani leave from Koh Phangan out of the main port of Thong Sala. That's within easy reach of the party spots on the south coast of the island and the more chilled beach towns on the west coast. A taxi to the quays is usually no more than 150 THB ($4.50), but you could also book a ferry ticket that includes a pick-up at your hotel. The crossing itself takes between 2.5 hours (if you go for the Lomprayah speedboat) and 3.5 hours (on the normal boats).
You can pick between night trains and day trains out of Surat Thani. Either way, be sure to book ahead using a service like 12GoAsia because seats and beds can sell out fast.
Once back on dry land, you'll need to navigate to the Surat Thani Train Station. It can be a tricky business since the station isn't actually in Surat Thani itself but in the nearby town of Phunphin. Thankfully, there are usually plenty of buses ready and waiting at the boat pier, charging around $4-7 for the 40-mile transfer to the platforms.

One of the main decisions to make if you go with the trains is whether you'll travel by day or by night. The first leave in the early morning so might warrant a night's stay in Surat Thani after the boat trip. They are the ones to choose if you love slow travel and want to watch the nature reserves and wild karst mountain ranges of central Thailand whizz by the window. Alternatively, there are three separate night trains to Bangkok from Surat Thani each day. They leave at 6.52pm, 8.14pm, and finally at 10.27pm. The last train is the most luxurious, offering two-berth cabins with pull-out beds on modern, Chinese-built locomotives. Expect to arrive at Bangkok's main station sometime between 7am and 11am, refreshed and ready for sightseeing.
Koh Phangan to Bangkok by Ferry and Bus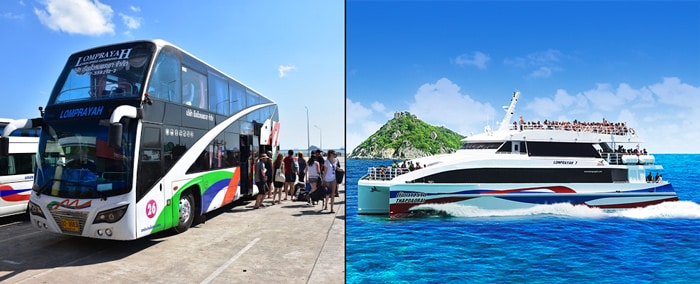 Time – 13-18 hours
Price – $45+
Comfort – 2/5
If you've dropped a few too many baht on bucket cocktails and Full Moon Party hotels, then you can always look to the budget option on the route between Phangan and Bangkok. Cue the boat and bus combo. It's the old-school backpacker way of traveling through the Land of Smiles. Connections are likely to be super-cheap, costing as little as $45 for the whole A to B. However, they aren't for the impatient out there – you're looking at travel times of up to 18 hours or more!
As ever, things begin with a boat connection off of Koh Phangan. You're looking for the same ferries that you'd take to link up with the trains on the mainland, which means the direct slow or fast boats that go from Thong Sala to Surat Thani. Popular companies that run that route include Phantip 1970 and Songserm. They get to Donsak Pier slightly to the east of the city's downtown. You could also get the Lomprayah speedboat to help chop off around two hours from the total travel time.
If you're looking to rough it like a proper backpacker then the boat-bus combo ticket to Bangkok is a doozy, not to mention the cheapest way of swapping island for city.
Once on the mainland, aim for the Surat Thani Bus Terminal on the southwestern side of the town. That should be easy if you've booked a boat-bus combo ticket from 12GoAsia since they usually include the transfer from the port to the station. There are stacks of choices when it comes to bus departure times. Day services go as early as 7.30am, while night buses leave from around 5pm onwards, promising arrival in Bangkok in the very early hours. The highest-rated coach companies to look out for include ChokeAnan and Bangkok Busline, but there are plenty of others.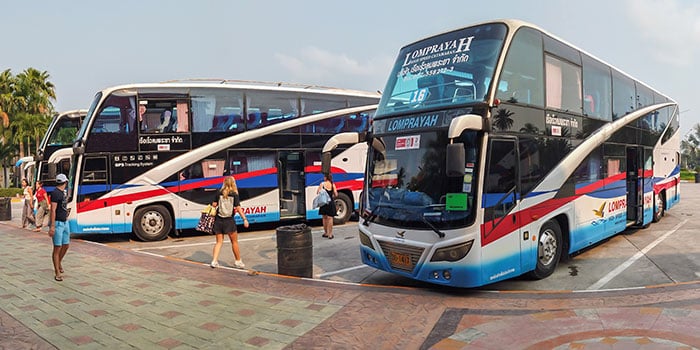 Sadly, the bus ride to Bangkok really is the weak link in this travel option. It's infamously uncomfortable compared to the flights and the trains. You might not mind that saving dosh is goal numero uno, but do be prepared – some reviews talk of leaking buses, air conditioning that simply doesn't work, and late departures and arrivals. 
Koh Phangan to Bangkok by Boat and Taxi

Time – 13-15 hours
Price – $230+
Comfort – 4/5
The final option for completing the overland portion of the trip from Koh Phangan to Bangkok is to take a dedicated taxi. They charge around $200-300 for the whole ride from Surat Thani to the Thai capital. That sounds like a whole lot, but remember that you can share the cost of this one with everyone in your travel crew. Taxis will also make those changeovers at the ports a lot easier because you can organize to have the driver collect you straight off the ferries out of Phangan.
Of course, you'll still have to spend the first 2.5-4 hours of your day on those ferries. That's a choice between the fast speedboats (run by Lomprayah) and the slower connections (run by companies like Phantip 1970). Whichever you go for, the aim is the mainland port of Surat Thani, also known as Don Sak Pier. That's where you'll hop in your own airconditioned car to start the long trip north to Bangkok. Arrival can be wherever you nominate, from BKK airport to your chosen hotel in the capital.
If a return to the soy-sizzling night bazaars of Banglamphu and the beer-clinking bars of Khaosan Road is on the cards but you're stuck down on the soft-sanded beaches of Koh Phangan, look no further than this guide. It offers info on all the major travel options on the route between the gulf's mainstay party island and the sprawling metropolis further north. There's plenty to think about before you book, too. Will it be a pricy but comfy boat and plane combo straight into the big BKK airport? Or will you channel your inner backpacker with a classic Thai VIP coach taking 17 hours but costing less than $50? The choice is yours.
---
How useful was this post?
Click on a star to rate it!
Average rating / 5. Vote count: