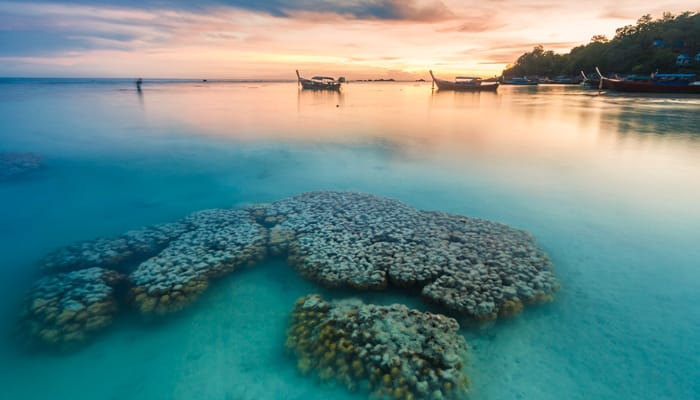 The trip from Krabi to Koh Lipe is a real odyssey. It takes you across more than 110 miles of the Andaman Sea, where deserted islands and jutting rocks tower over coral reefs and swathes of mangrove swamp. You'll go from a bustling town where tuk-tuks and beach hotels gaze across the water all the way to an island that's right on the edge of the Malaysia border, known for its sand-bottomed snorkelling lagoons and access to the stunning Tarutao National Marine Park. This guide can help you plan the trip. It outlines all the transport options, which include direct ferries and boat links with stopovers, all for a range of budgets and traveler types.
Krabi to Koh Lipe by high-speed ferry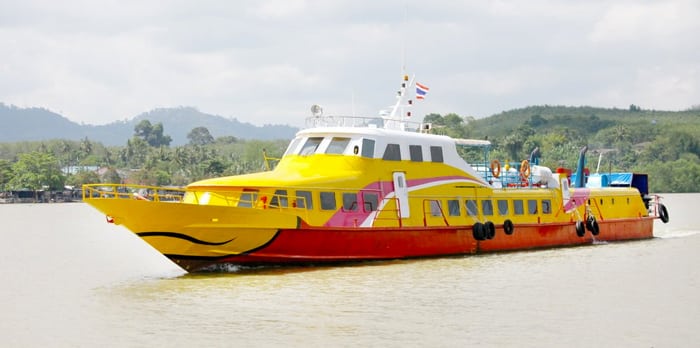 Time – 4.5 hours
Price – $80+
Comfort – 4/5
The closest thing you're likely to get to traveling in a straight line from Krabi to Koh Lipe is the high-speed ferry with Tigerline. It whizzes straight across the Andaman Sea from north to south. But it's not strictly direct. There are pitstops in other islands like Lanta or Phi Phi along the way. Those will add a little time to the trip, but you're still looking at a rather efficient four or five before you're hopping onto the sugar-soft sands of the Tarutao National Marine Park.
All departures leave from Klong Jilad Pier. That's a really easy spot to get to if you're staying in one of the bustling backpacker hostels or hotels of Krabi Town. Alternatively, it's possible to book tickets with transfers from stays in Ao Nang and even Railay (though the cost of the longtail ferry is rarely included) with Tigerline via 12Go.asia.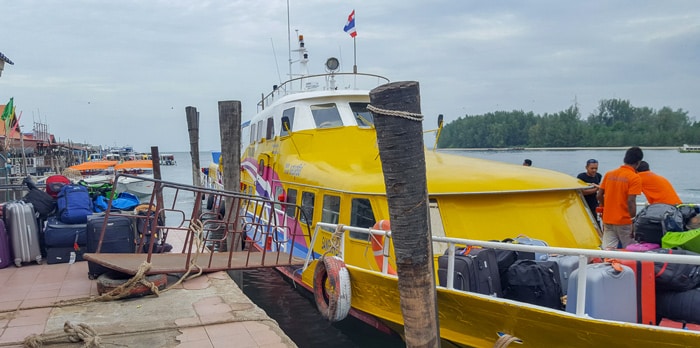 The high-speed ferry from Tigerline can help you swap Krabi for Koh Lipe without the need for long drives overland.
You'll enjoy a decent level of comfort for the journey, too. Tigerline Travel run modern, air-conditioned boats with plenty of seating and outside areas. The latter are great if you're keen to stake your place on deck and watch the Andaman Islands shoot by – some of the views en route from Krabi to Koh Lipe really are worth braving getting wet for!
Upon arrival in Koh Lipe, the ferry will pull up a little distance from main Pattaya Beach. There's no permanent harbour there, so you'll need to hop onto a wooden longtail to get to shore. There's an extra surcharge of 50 THB ($1.50) for that. Getting onto dry land has now been made easier with the construction of a plastic jetty, but you might be asked to hop straight into the water and wade onto the beach like a bona fide castaway.
Krabi to Koh Lipe by van and boat

Time – Up to 7 hours
Price – $40-60
Comfort – 4/5
It's a long way from Krabi to Koh Lipe. That's why lots of travelers choose to add in a bus connection to somewhere further south to shave off whole sections of the boat trip. Typically, you'll travel by road to either Hat Yao Pier or Pakbara Pier. The first is close to the city of Trang, while the other is the main pier with ferry and speedboat links to Lipe, linked to the region of Satun and the southern town of Hat Yai.
Of course, the total time spent driving will depend on which port you're going for. The most common place to switch to a boat is down in Pakbara. Journeys there take around three or four hours, getting longer if there's a lot of traffic leaving Krabi. Meanwhile, the trip to Hat Yao Pier takes about three hours on average. The drives can be an adventure on their own, mind you, taking passengers through remote villages and fishing communities, dense jungles and seemingly endless swathes of karst mountains ringed by rubber trees.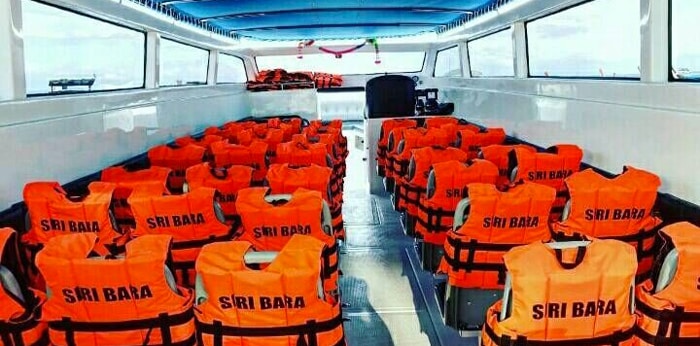 Take the bus from Krabi all the way south to either Trang or Satun and you can reduce the amount of time you'll need to spend on a ferry bound for Koh Lipe.
It's important to match up your transfer with a ferry departure for Koh Lipe so you're not left stranded on the mainland. Thankfully, that's super easy when using 12Go – the whole package of boat and bus is bundled into one booking. The only decision you have to make is what ferry connection across the Andaman Sea you'd like to take…
One option from Hat Yao Pier is the Tigerline Ferry. It's run on modern boats but only goes once a day in the early afternoon. Far more departures – all usually cheaper to boot – go from Pakbara. They include high-speed ferries with the likes of Smart En Plus and Jolly Travel. But there are also speedboats you can charter for yourself, which will be pricy but uber-fast.
Krabi to Koh Lipe by taxi and boat

Time – 4 to 7 hours
Price – $140
Comfort – 5/5
Yes, taxis will cost you a lot more than a bus link to the pier. But there are a few caveats to that. Number one: You'll be able to share the cost between your entire party, because quoted rates of around $110 or more for the drive to the port is for the entire vehicle. Number two: You're paying for extra luxury and convenience. Taxis will pick you up virtually anywhere in the Krabi area or in Ao Nang and bring you directly to the ferries, with minimal stops, and oodles of legroom along the way. Perfect.
The trickiest part of putting together a taxi and boat combo from Krabi to Koh Lipe is probably going to be linking your arrival at Pakbara or Hat Yao Pier with the ferry departures. That's why it's important to check schedules ahead of time using 12Go.asia, or simply book a joint ticket that includes both your transfer and your crossing over the Andaman Sea. There are afternoon boats offered by companies like Smart En Plus, Bundhaya Speed Boat, and the Satun Pakbara Speed Boat Club, which should help you reach Lipe in time for your evening beer on Sunset Beach.
There are coral reefs, Robinson Crusoe islands, wild, rocky coastlines, dense jungles and craggy karst mountain chains separating Krabi from Koh Lipe. But those are no obstacles to the determined traveler, who can check off this amazing journey from mainland to island in as little as five or seven hours. See you on those perfect white sands!
---
Krabi to Koh Lipe FAQ
What is the cheapest way to get from Krabi to Koh Lipe?
Skip the direct boats and go for a combination of bus links and ferries if you're keen to save as many dollars as you can for your Chang beers on the beaches of Lipe. They're the cheapest of all, with prices hovering around the $50 per person mark on average. Travel times are likely to be in the region of seven hours from point to point. Head over to 12Go.asia where you can compare and contrast all your options on the route, which include boats from both Hat Yao Pier and Pakbara Pier.
What is the fastest way to get from Krabi to Koh Lipe?
With no planes to catch straight to Koh Lipe (there's no airport on this tropical paradise of an island, thankfully!), direct ferries come in as the fastest mode of transport. They can smash the connection in as little as 4.5 hours, but usually take five or more because of choppy waters and pitstops in places like Phi Phi and Koh Lanta along the way. Just be warned that tickets aren't the cheapest, although booking ahead on 12Go usually means costs will stay as low as possible.
How do I get from Krabi Airport to Koh Lipe?
The surest way to guarantee you'll be lazing on Lipe's Pattaya Beach after jetting into Krabi Airport is to score a packaged transfer and boat ticket through 12Go.asia. Doing that means you'll have a driver waiting for you at the arrival hall with transportation direct to the boats. That might mean heading as far south as Satun to catch the ferry. Or, it might mean just a cruise across to Klong Jilad Pier to catch the high-speed Tigerline service.
How far is Krabi from Koh Lipe?
If you drew a straight line from Krabi to Koh Lipe, it would measure just over 110 miles. However, travel trips between these two hotspots of southern Thailand usually clock up far more distance than that. Take the buses, which need to drive nearly 190 miles before getting to the pier in Satun where passengers catch the boats. Even the direct ferry will travel further, what with islands and coral gardens to dodge along the way.
How many days do you need in Koh Lipe?
We'd say a minimum of five days on Koh Lipe. Some people come for less but almost always leave with a heavy heart. Put simply, this isn't the easiest island in Thailand to get to. You're looking at a journey time of about seven hours from Krabi. So, take it slow, enjoy the chilled vibes, laze on Sunset Beach – you get the idea. Of course, if you have longer to play with, Lipe will hardly disappoint. There are diving expeditions in the Tarutao National Marine Park and fun-filled nightlife to get stuck into after you're done with all the R&R.
Which month is best for Koh Lipe?
That depends what you mean by 'best'. Either December or January are the best for weather. They have dry days and loads of sun, while the Andaman Sea is still and clear. November is the start of the high season, so you might catch a few downpours still going on if you arrive then, but travel costs and hotels should both be cheaper. The crowds and the prices also tend to dip towards the end of the main season, around March and April. Summertime is monsoon, when a lot of the ferry connections from Krabi to Koh Lipe stop altogether.
How useful was this post?
Click on a star to rate it!
Average rating / 5. Vote count: