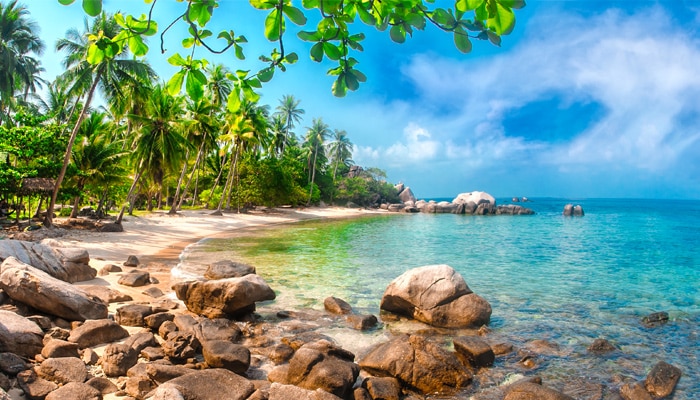 Turtle island, named after the sea turtles that swim through the crystal-clear Thai Gulf all around it, Koh Tao is a laid-back alternative to chic Samui and hedonistic Phangan. It's sat some 41 miles to the north of its Chumphon Archipelago compadres, mimicking a desert island with its coconut-strewn beachfronts and hidden coves, not to mention some of the best diving this side of the country. Boats are the obvious choice for getting between Koh Samui and Koh Tao, with a few options varying in travel time, cost, and company on the menu.
Koh Samui to Koh Tao by catamaran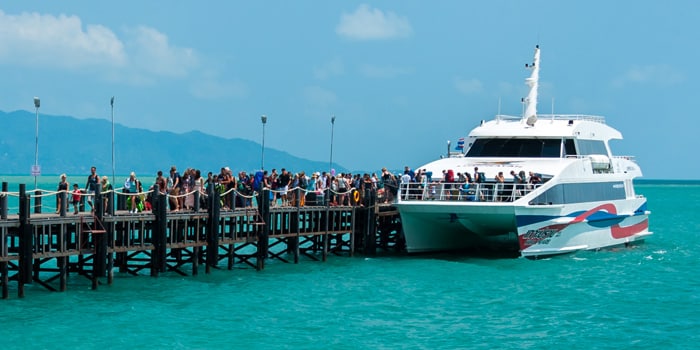 Time – 1.5 hours (boat crossing only)
Price – $18
Comfort – 5/5
The Lomprayah ferry from Koh Samui
Swap Samui's spas and sprawling hotels for the rustic vibes and bamboo beach bars of Koh Tao in under two hours – that's what's possible with the super-fast ferry service. It's operated by the Lomprayah ferry company, which is one of the top-rated ferry companies in the whole region. They offer the most modern boats, efficient ticketing (book ferry tickets online via 12Go.asia), and packages that include a transfer from the lobby of your hotel to the boat.
The fastest and most modern boats are the high speed ferries offered by the Lomprayah ferry company.
Lomprayah ferry schedule, departure point Nathon Pier
Because these are usually the most popular choice among backpackers and island hoppers crossing the Thai Gulf, there are a number of services daily. High-season months see Lomprayah's boats leaving at 8am from the Pralan Pier near the hotel strips of Maenam, with extra departures at 12.30pm. You can also catch the Lomprayah ferries at the departure time 11.15am and 5.30pm (the last service of the day) from the Nathon Pier on the far western coast of Koh Samui.

The Lomprayah ferry from Koh Samui
The boats themselves are among the best in the whole fleet going between Koh Samui and Koh Tao. They have indoor seating that benefits from air conditioning, an onboard shop for refreshments and drinks, and two large deck areas where you can watch other tropical islands shoot by as you sail. Available at a first come first serve basis, for 100 THB extra you can get access to the VIP area upstairs with more luxury seats and for 200 THB you can access the exclusive lounge where you can make the trip sitting in leather seats.
Ferry Port: Mae Haad Pier, Koh Tao Island
Like most ferry services, the Lomprayah option reach Koh Tao at the ferry port Mae Haad pier. From there, it should be a cinch to find a taxi to your destination on the island, or just choose a travel option that includes transfers.
Koh Samui to Koh Tao by high-speed ferry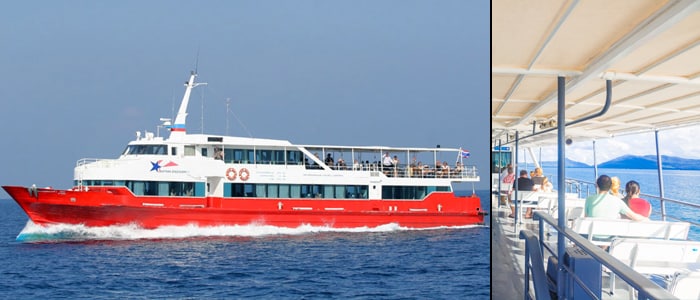 Time – 2 to 2.5 hours
Price – $18
Comfort – 4/5
Koh Samui to Koh Tao can be done in a single morning if you opt for the high-speed ferry. Despite the name, however, these rides aren't quite as fast as their Catamaran counterparts. Still, they will whisk you off one island and drop you on another in the time it takes to finish a mango sticky rice and enjoy the view of the Thai Gulf rolling by off starboard side.
Relaxing ferries from Koh Samui to Koh Tao
Slowing the journey just a tad is also a good option for passengers not too used to sea travel. These larger, slightly more tardy boats don't tend to sway and lurch as much as the Catamarans when in the water. They're better for fending off sea sickness. And they're a dash more relaxing – great news when it's the beaches of Koh Phangan and the jungle-clad peaks of the Mu Koh Angthong National Marine Park drifting by on the horizon.
High-speed ferries cost only a smidgen less than the Catamaran but make for a more relaxing ride.
Choice of Ferry operators to Koh Tao
Two main companies run connections on the high-speed ferry route. First, there's Seatran Discovery. They have the most modern vessels, with padded inside seating and big decks. They also tend to be the pricier option, but that's down to slightly shorter travel times, along with a sought-after departure point at Bangrak Pier on the north corner of Samui. Secondly, you've got Songserm. They go from Nathon Pier in the west and take just a little longer to pull up at Mae Haad Pier in Koh Tao.
Booking online
In total, there are about three services on the high-speed ferry between the two gulf islands each day. They book up fast in the high-season months between November and March, so it's always wise to book your tickets online using 12Go long before you jet off for the coral reefs and dive sites.
Koh Samui to Koh Tao by normal ferry via Koh Phangan
Time – 6 to 7 hours
Price – $20-35
Comfort – 3/5
Koh Tao from Koh Samui via Koh Phangan
Thailand's palm-fringed isles captured your imagination? Eager to explore all the paradisiacal corners the gulf has to offer? Why not put together your very own island-hopping itinerary. It's possible because loads of normal ferries link Koh Samui island with Koh Phangan, with onward connections from there to the scuba diving mecca of Koh Tao.
Stop on nearby island Koh Phangan
You can keep costs low and enjoy the journey to the full on the slow-paced boats run by Raja Ferry. They leave from Lipa Noi ferry pier on the south-western edge of the island, pulling into Thon Sala in Phangan a couple of hours later. You'll need to decide if you'll be staying a night in the home of the Full Moon Party (recommended – those shindigs are awesome!) or just the day. Both are possibilities, because the last departure to Koh Tao is at 5pm with Seatran Discovery.

Adding extra trips en route to Koh Tao
Of course, going for an island hop means adding in a transfer, spending all day traveling, and dragging your luggage around with you. It's not ideal, but does give you a chance to set foot on another of the legendary vacay destinations of the Land of Smiles. You can simplify things a little by using 12Go.asia to book and manage all the individual legs of your trip.
Koh Samui to Koh Tao by private speedboat

Time – 1.5 hours+, depending on the stops you make
Price – $1000+
Comfort – 5/5
Get from Koh Samui to Koh Tao traveling by Private boat
Calling all A-listers and jet setters, private charter speedboats are your chance to travel between Koh Samui and Koh Tao in real style. As the name implies, they are reserved for you and only you. That means the rather astronomical price can be divided up between all members of your party (it's usually based on at least four passengers, with surcharges for any extras).
Can include trips to nearby islands
Bonuses include a beach pickup right by your hotel anywhere on the island – no need for morning taxi transfers here. You can also tailor-make an itinerary for the day. Yep, this isn't just about getting from A to B, because the price usually includes stops at the Instagram-worthy Nang Yuan Island and snorkeling hotspots in Mango Bay. It promises to be a real adventure on the Thai Gulf, albeit one you'll need to fork out for!
---
Whatever way you choose to go between Koh Samui and Koh Tao, you can look forward to setting foot on one of the Thai Gulf's more authentic isles. It's famed for its diving scene, but after encountering reef sharks and brain corals, you can also get stuck into lush forests, hiking paths, and a buzzing nightlife scene. Bon voyage!
---
Koh Samui to Koh Tao FAQ
What is the cheapest way to get from Koh Samui to Koh Tao?
The ferries between Koh Samui and Koh Tao offered by Songserm is usually the most affordable option on the menu. That's because it's the slower of the two fast boats, with journey times in the region of 2.5 hours to get you to the turtle island. You can easily compare and contrast the tickets of all the popular routes mentioned in this guide over on 12Go.asia.
What is the fastest way to get from Koh Samui to Koh Tao?
If you simply cannot wait to get those dive tanks on your back and start enjoying the coral gardens and cliff-backed beaches of Koh Tao, look for the Lomprayah ferry. They offer the quickest route from Koh Samui to Koh Tao, taking a mere 1.5 hours in total on the water. Of course, you will need to factor in a little extra time to get to and from your hotel and the pier, but Tao's small size means that rarely takes ages on the far side.
How long does it take from Koh Samui to Koh Tao?
Going full throttle in a private speedboat with no pitstops for snorkeling along the way, you could do the trip in around an hour or so. However, most passengers will be on commercial ferries, the fastest of the ferry operators are Lomprayah. They complete the journey in 1.5 hours and tickets can be booked in advance online via 12Go.asia.
How do you get from Koh Samui to Koh Tao?
By boat – there's 41 miles of sparkling sea to cross before you can start exploring those resplendent coral reefs! The only thing you need to decide is what particular ferry you'll go for. Check out 12Go.asia to see the list of ferry tickets with a variety of different ferry companies.
Is Koh Tao worth visiting?
Koh Tao has been a magnet for scuba divers since anyone can remember. Coral reefs, blue sinkholes, shipwrecks, and shark-infested coves all see to that. However, underwater is just part of the pull. There are also gold-tinged beaches from Sai Daeng to pearly Sai Nuan, along with mountains draped in misty jungles, and a pumping nightlife scene with bamboo bars that rock until sunup. It's got a little something for everyone with marine passion. Answer: Yes!
How many days do you need in Koh Tao?
Leave at least five days on Koh Tao if you're planning on getting a PADI qualification – you'll need to complete training dives and other exercises which can take a while. If not, it's still a good idea to have at least three or four days here. From snorkeling in Shark Bay to hiking the rocks of Chalok Bay, there's loads to get through.
How useful was this post?
Click on a star to rate it!
Average rating / 5. Vote count: