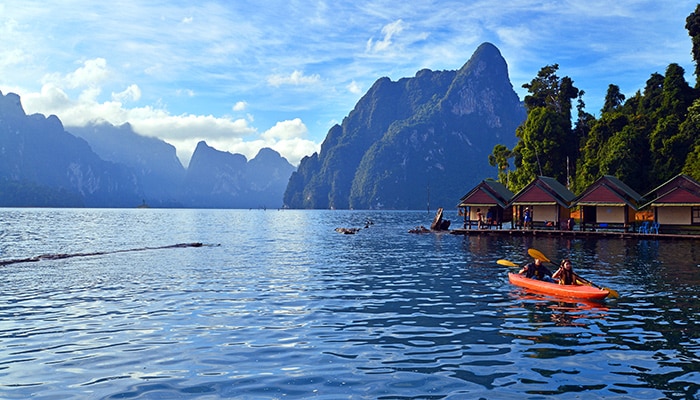 Khao Sok National Park is one of the most stunning parts of Thailand, and visitors from across the globe are attracted each year. With impressive limestone cliffs, lush rainforest, and the spectacular Cheow Lan Lake with its deep blue, crystal clear waters, there's a lot to love. As well as relaxing in some of the most amazing natural scenery on earth, there are plenty of opportunities to go hiking, rock climbing, kayaking, caving, and much more.
Hidden amid the mountains of southern Thailand, you may be wondering what is the best way to get to Khao Sok. Fortunately, the national park enjoys good road connections, and one of the quickest and most enjoyable routes is from the town of Surat Thani. Visitors can fly into Surat Thani, a small but bustling town with plenty of chances for good eating and adventure, from Bangkok.
From Surat Thani, the road to Khao Sok is around 75 miles. It traverses lush rainforest, buzzing roadside markets, and an array of rural villages. Fairly well-paved, the road winds up into the mountains, which results in typical journey times of around 2 hours, giving you plenty of time to take it all in. Here are the best ways to travel from Surat Thani to Khao Sok.
Surat Thani to Khao Sok by minivan

Time – 2 to 2.5 hours
Price – $6 – $11
Comfort – 4/5
Traveling from Surat Thani to Khao Sok by minivan is perhaps the most popular method, and for good reason. The vans are modern and comfortable with air conditioning as standard, they're cheap, and they run throughout the day. Typically 9 or 14 seater vans, they may not be as spacious as a larger bus, and if you have large luggage, you may be required to pay for an extra seat. You can check out the full terms and conditions, as well as compare ticket prices and book online at 12Go.asia.
Well paved roads ensure a pretty smooth journey through spectacular scenery. It does become windy towards the end, so beware if you get travel-sick.
Phantip is the main operator, with minivan services departing from 3 separate locations; Surat Thani Airport, Surat Thani Train Station, and Surat Thani town center, directly from the Phantip travel office. Journey times vary depending on the departure point, though it'll typically take 2 to 2 and a half hours in total. No matter where you depart from, the vans drop you off at Khao Sok Van station, close to a wealth of choices for accommodation.
From the town center, minivans run every hour, from 08:30 to 16:30. When traveling directly from the airport, vans also depart every hour, from 08:15 to 16:15. Be advised that when traveling from the train station, there are only 3 vans per day; 07:30, 08:30, and 09:30. Tickets cost $6 from the town center, $8 from the train station, and $11 for the airport transfer.
Surat Thani to Khao Sok by taxi

Time – 2 hours
Price – $50 – $101
Comfort – 5/5
Travelling to Khao Sok from Surat Thani by taxi is comfortable, flexible, and convenient. The only downside is the cost, which when compared to taking a minivan, is much higher. However, taxis free you from the minivan schedules, and can take you from wherever is most convenient in Surat Thani, to anywhere you like in Khao Sok, which is a bonus if you plan to stay outside of the main area.
Taxis are great for larger groups, and when the cost is split, they're not really that expensive, especially when you consider the convenience.
There are several taxi companies operating in Surat Thani that will make the journey, including Andaman Taxis, Ramon Transport, and Phantip Charter. Each offers a range of vehicles, from economy class to VIP, as well as 9-seat vans. You can save time and ensure the best rates by comparing your options and booking online at 12Go.
Like minivans, taxi companies operate all over Surat Thani, with many offering direct transfers from the train station or airport to your accommodation in Khao Sok. Another bonus is the fact that you can request to stop off anywhere you like along the way, allowing you to take in sights well off the beaten track. Additionally, for those traveling with young children, child seats can normally be added, either for free or a small fee, just be sure to mention it when booking.
Surat Thani to Khao Sok by taxi and minivan combo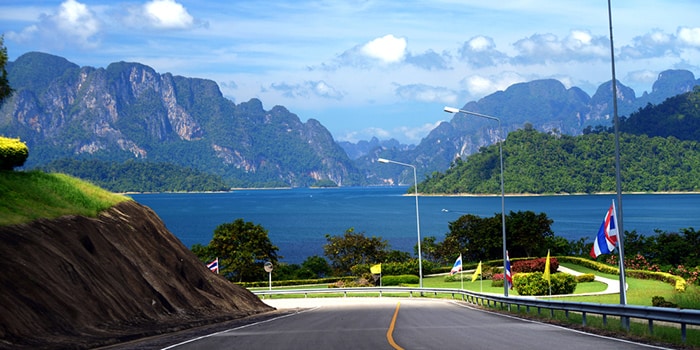 Time – 2 to 2.5 hours
Price – $11
Comfort – 4/5
For the best of both worlds, it's possible for those staying in Surat Thani Town to book a combo ticket, which includes a taxi transfer from any local hotel, to the central bus stop. From here, you can jump on one of the minivans that operate each hour between 08:30 and 16:30. Extremely affordable, this combo ticket can be booked in advance at 12Go.asia.
The combo ticket saves you the hassle of trying to find the bus station on your own, but it's worth being aware of the small print. Not all hotels are covered by this ticket, and accommodation in the following areas are not within the pickup area: Phunphin, Tha Thong Mai, Hautai, Tha Rong Chang. As with the regular minivan, you'll be dropped off at Khao Sok Van station.
However you wish to travel, be sure to enjoy the journey and take in the stunning views along the way!
---
Surat Thani to Khao Sok FAQ
What is the cheapest way to get from Surat Thani to Khao Sok?
The cheapest way to get from Surat Thani to Khao Sok is to take a minivan from the town center. Minivans depart from the Phantip travel office, the company that operates the minivans. Tickets can be booked online on platforms such as 12Go.asia, with prices starting at around $6. If you're not staying close to the departure point, you can also purchase a combo ticket, with a taxi transfer from your location to the bus station, for $11.
What is the fastest way to get from Surat Thani to Khao Sok?
Taxis are typically faster than minivans when traveling from Surat Thani to Khao Sok, but only marginally so. Since the road is fairly windy, it's difficult to go too fast, regardless of what vehicle you're in. However, minivans often stop to pick up and drop off passengers along the route. There are a number of taxi companies that make the journey, and it's best to book your ticket online at 12Go to take advantage of the best fares. It's worth bearing in mind that journeys from Surat Thani Train Station are quicker than from the town center or airport.
How do you get from Surat Thani to Khao Sok?
The only way to get from Surat Thani to Khao Sok is to travel by road. There are a number of taxis and minivans that make this route daily, and you can compare your options at 12Go.asia. The road is about 120km, and it typically takes between 2 and 2.5 hours to complete the journey, depending on the road conditions and mode of transport.
How do I get from Surat Thani airport to Khao Sok?
From Surat Thani Airport, there are several direct transfers to Khao Sok. Check online on platforms like 12Go to compare your options. The most affordable option is to book a seat in a minivan, however, these only run throughout the day, hourly between 09:15 and 16:15. For travel outside of this schedule, you can book a taxi transfer to your accommodation in Khao Sok, though the price will be far higher.
How many days do you need in Khao Sok?
Khao Sok is full of exciting things to do as well as being a tranquil place to relax. As such, you could spend a lifetime in this stunning national park and still crave more. From kayaking and ethically visiting elephants, to exploring the rainforest and its caves, you're spoilt for choice as to what you can do. A week might pass too quickly, while a month may start stretching it a bit. For those seeking tranquility, they can find it here, with long hikes and camping in the rainforest. However, those craving the hustle and bustle may be ready to move on after a week. For most people 1 or 2 weeks will give you enough time to try a lot of new things, as well as relax.
Is Khao Sok National Park worth visiting?
Khao Sok is well-worth a visit for those who love the great outdoors. With many hiking routes through virgin rainforests, climbing and caving opportunities, as well as kayaking and swimming in the mighty Cheow Lan Lake, there's always something new to do. However, it's also a great place for those looking to escape the hustle and bustle of Bangkok or Phuket, and enjoy a little tranquility amid some of the most breathtaking scenery in the world.
How useful was this post?
Click on a star to rate it!
Average rating / 5. Vote count: