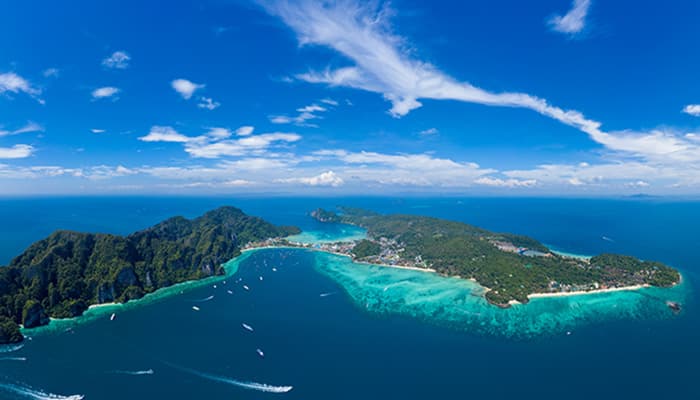 So, you're going to Koh Phi Phi? Good choice. An island of rugged karst cliffs and emerald jungles that lurches straight from the azure Andaman Sea, it's up there with the most stunning spots in all of Thailand. Thousands of travelers come this way each year in search of white sands, hotels by the beach, and cocktail bars nestled under palm trees.
A lot of them do the trip from Phuket. It's one of the closest jump-off points for the archipelago. What's more, it comes with its own airport, and plenty of boat connections running the 31 miles across Phang Nga Bay to the piers of Phi Phi. This guide can help you find, compare, and book all the transport choices currently running the route.
Phuket to Koh Phi Phi by normal ferry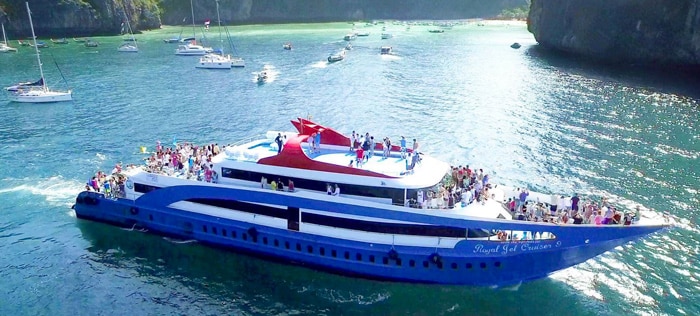 Time – 2 to 4 hours
Price – $14+
Comfort – 5/5
Just a glance at the map of Thailand's Andaman coast will reveal a stretch of about 50km of sea separating Phuket and Koh Phi Phi. Both are islands, but one's linked to the mainland by a bridge while the other languishes out at the south end of beautiful Phang Nga Bay. Thankfully, the journey from pier to pier is one of the most popular in the region, so you'll find more ferries running the route than you can poke your Chang beer at.
Of those, it's the normal-speed ferries that come up trumps for most travelers. They are big, multi-decked boats with inside and outside areas, air-conditioned seating compartments, and powerful engines. Companies like Andaman Wave Master have vessels with capacities of 450+. But they aren't the only company operating services on the route. Songserm, Seatran Phuket, Ao Nang Travel and Tour, and Phi Phi Cruiser are also popular options.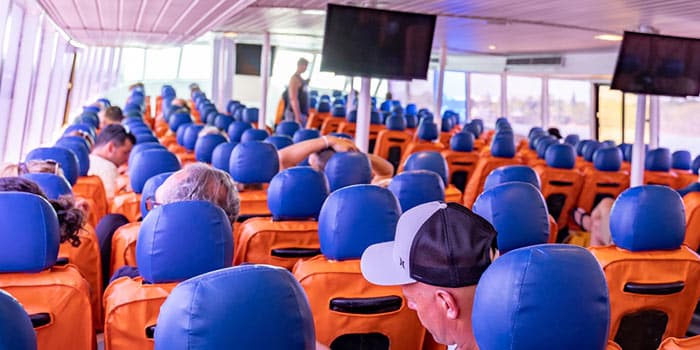 Myriad ferry companies offer departures on big boats from Phuket's Rassada Pier to Phi Phi throughout the morning and afternoon.
The vast majority of ferries depart out of Rassada Pier. Find that jutting out of the south-west side of Phuket. It's easy to reach from Phuket Town itself. However, it's usually a good idea to bag tickets that include taxi transfers if you're staying further afield – in the party mecca of Patong, say – or flying straight to Phuket Airport and want to make for Phi Phi right away. You can do that with help from 12Go.asia. Just look for the packages that include taxis on the Phuket side.
The crossing on its own takes between two and four hours. But you'll hardly get bored, because the views are lovely. To the north, you'll be able to spy out the sandbanks and coconut trees of remote Ko Yao Yai. To the south, look for the splinters of rock that rise dramatically from the Andaman Sea. Some ferries will even do a loop of Koh Phi Phi Leh when you get close to your destination – it's the island that was made famous by Leonardo DiCaprio in The Beach!
Phuket to Koh Phi Phi by speedboat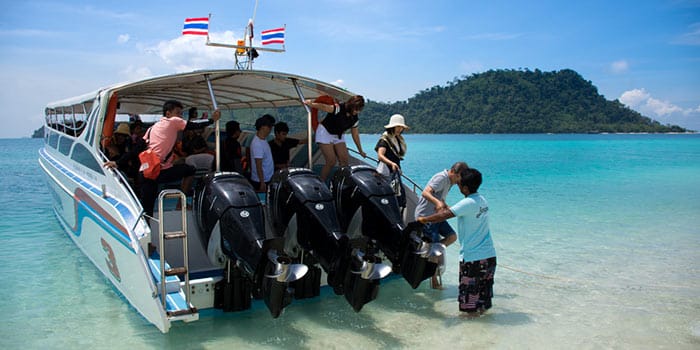 Time – Just over 1 hour
Price – $25-40
Comfort – 3/5
If you simply can't wait to photograph the paint-peeling longtail boats on Tonsai Bay and swim under the sea pineapples of Monkey Beach (one of the best on Koh Phi Phi), there's surely nothing for it but the speedboat. Fast and furious, they cost a tad more but don't hesitate for a moment. Yep, on these nippy vessels, the whole trip from Phuket to Phi Phi can be completed in a little over an hour!
But speedboats aren't only worth considering because they go faster. You'll also find that there are services running from all sorts of spots in Phuket. From Ao Chalong Pier in the south of the island to Bang Rong Pier right up north, there are plenty of departure points. That's great news if you want to skip the long transfer to Rassada Pier to catch the larger ferries, or want to dodge crowds of fellow passengers.
Less than 80 minutes is needed to swap the buzz of Phuket for the idyllic jungled hills of Koh Phi Phi when you take a speedboat.
One word of warning: Speedboats can be notoriously wobbly ways to travel. That's no different on this crossing. The Andaman might not look rough as it laps lightly into the shores of Rawai Beach in Phuket, but head out to sea and the waves always pick up. The upshot? You're almost certainly better off picking a bigger boat if you're prone to sickness and vertigo.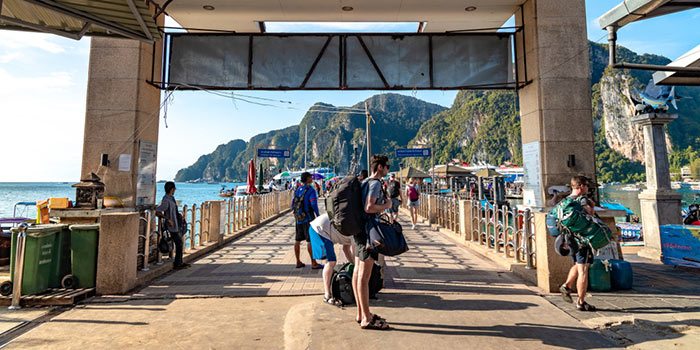 The arrival point on the Koh Phi Phi end is the same as for the main ferries. You'll alight at the pier in Tonsai. That's right on the edge of the main village, with cafés, eateries, and plenty of hotels within walking distance. Oh, and be sure to have 20 THB handy to pay the conservation fee at the docks – everybody has to.
Phuket to Koh Phi Phi by bus and ferry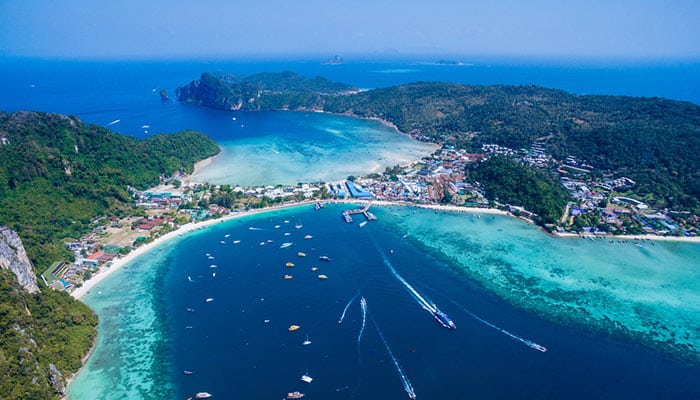 Time – 7 to 8 hours
Price – $20+
Comfort – 2/5
An alternate option that's open to travelers with plenty more time to spare is the link to Koh Phi Phi via Krabi Town. You can catch local buses for around $5 from the Phuket bus terminal. They take upwards of three hours to ring the whole of Phang Nga Bay. Once in Krabi, you'll need to get over to the port by tuk-tuk or songthaew (shared local minibuses) to connect with the regular ferries heading south across the Andaman Sea.
This route adds in changeovers and transfers, but there's a chance it could save you a little bit of cash. That said, cost differences are minor, so it's really all about the adventure. You'll get the opportunity to see remote islands like Koh Jum and the bustling fishing port of Krabi en route to Phi Phi, even if the journey might take eight hours or more.
Going to the Phi Phi archipelago is a rite of passage for any first-time visitors to Thailand. These stunning islands are famed for their rock-ribbed karst mountains and cotton-white sands. Your trip in from Phuket should be easy to organise, what with all sorts of ferries and boats both big and small running between the two.
---
Phuket to Koh Phi Phi FAQ
What is the cheapest way to get from Phuket to Phi Phi?
Strictly speaking, you might save a couple of dollars by opting to hop local buses, tuk-tuks and ferries all the way around the coast to go via Krabi. However, that could take up to eight hours, so in terms of time spent and money lost, the cheapest route between Phuket and Koh Phi Phi is surely the normal ferry service. They can cost as little as $14 each way when you book in advance through 12Go.asia.
What is the fastest way to get from Phuket to Phi Phi?
Speedboats. Just as their name implies, they offer the hastiest hop from Phuket's piers to Koh Phi Phi. The crossing alone usually takes around 1-1.5 hours on them. But you could also save time on transfers to the port, because speedboats depart out of lots of different docks peppering the east coast of Phuket island. You can search and find the one that's most convenient for you over on 12Go.asia.
How do you get from Phuket to Phi Phi?
By boat, of course! With no airport on the paradise island of Phi Phi, or any roads leading in, you're going to have to aweigh anchor to get across to the famous archipelago by sea. Thankfully, there are loads of choices. Ferries leave all hours in the mornings from piers in Phuket. Alternatively, you can bag a speedboat and do the trip in almost the time it takes to cook up a pad Thai.
How much is the ferry from Phuket to Phi Phi?
The standard rate for a normal-speed ferry between Phuket and Koh Phi Phi starts around the $14 mark. That can change in the high-season months (December to March) and from company to company. We always recommend booking your tickets as far in advance as possible using 12Go.asia, which has a nifty search feature that can help you pinpoint the cheapest boat of the bunch.
How long is the boat ride from Phuket to Phi Phi?
Don't worry, you'll almost never be on the water for more than three hours when going between Phuket and Koh Phi Phi. Even the slowest ferries on the route complete the trip in about that time. Meanwhile, speedboats can whiz across the Andaman from port to port in just over one hour, but they do cost a little extra.
What time is the last ferry from Phuket to Phi Phi?
Because ferries don't run after dark, and it takes around three hours to complete the crossing, you're likely to find that the latest possible departure from Phuket is about 3pm. This can change month-to-month as new timetables come out. That said, the standard departure times with popular companies like Andaman Wave Master and Seatran show the final ferries of the day leave Rassada Pier about 1.30pm, with scheduled arrivals in Phi Phi at 4.30pm.
How do I get from Phuket Airport to Phi Phi Island?
That's a breeze when you've booked a transfer-ferry combo ticket with 12Go.asia. Stroll out of the main arrivals exit and you can have somebody waiting with your name on a plaque (cool, huh?). They whisk you straight down to Rassada Pier to connect with the boats bound for Phi Phi. Easy. Of course, you could go it alone, but be certain to use the pre-paid taxi counter inside Phuket Airport. Oh, and the standard rate for a ride to the pier is about 700 THB/$21!
How useful was this post?
Click on a star to rate it!
Average rating / 5. Vote count: