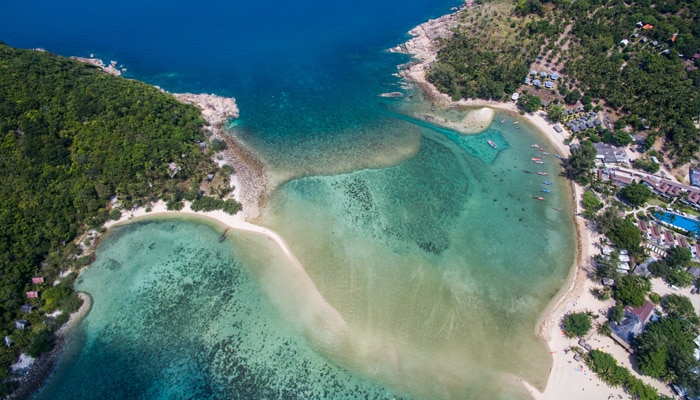 Most of the buzz and bustle in Surat Thani is actually down to travelers making their way to the resplendent islands of the Thai Gulf. That means you'll find yourself on a well-trodden route when going from Surat Thani to Koh Phangan. Buses, ferries, and plenty of tried-and-tested tour operators are ready and waiting to whisk you from the city to palm-fringed shores and Full Moon Party fire shows. All that's left is for you to choose between high-speed boats, catamarans, and VIP coaches on the 66-miles journey.
Surat Thani to Koh Phangan by bus and catamaran

Time – 3.5 hours
Cost – $26
Comfort – 5/5
Why dawdle in Surat Thani when you've got the pink-tinted sands of Mae Haad Beach to laze on? Taking a bus-catamaran combo from Surat Thani to Koh Phangan ensures there's less time waiting around and more time sunning yourself on the shoreline. That's all thanks to the speediest boat connection on the menu (the crossing on its own takes a mere 2.5 hours) and a convenient transfer from Surat Thani Airport to the pier.
From Surat Thani Airport to the soft sands of Koh Phangan in less than four hours is about as quick as you can hope for.
The journey is run by the highly rated Lomprayah tour company. They're not the cheapest, but they do get accolades for efficiency and speed. Minivan pickups are at the dedicated Lomprayah stop at the arrival terminal. From there, you go straight through to Tapee Pier, where all the swift catamarans bound for the islands go from. It's normal to find one departure in the early morning (around 8am) and another in the early afternoon (around 2.30pm).

The ferry trip itself is quick but pleasant. Boats have inside seating areas with rows of chairs and air conditioning. However, weather permitting (and it usually is in these parts!), most passengers jostle for a space on the upper or lower decks outside. Doing that lets you feel the salt spray off the Thai Gulf as you whiz eastwards towards Koh Phangan, gazing at the mainland's mangrove-fringed coast as you go.
You'll arrive at Thong Sala on the far south-western edge of Koh Phangan. From there, you can either score yourself a private taxi or songthaew (shared local bus) to wherever you're headed (expect to pay around 150 TBH to the party mecca of Haad Rin). Or, book yourself a combo ticket that includes a transfer to your hotel on the island through 12Go.asia. That's surely the easiest option of all!
Surat Thani to Koh Phangan by bus and high-speed ferry

Time – 4 to 5.5 hours
Cost – $13-20
Comfort – 4/5
The midrange option that the bulk of travelers will go for is the so-called high-speed ferry. The truth is these take a little longer than the catamaran but deserve their name on account of being quicker than the normal boat. Going from Surat Thani to Koh Phangan, you will need to seek out tickets that come with a ride to the nearby pier at Donsak. That leg will add around an hour to the length of your trip, making total travel times in the region of five hours.
High-speed ferries are fast, affordable, and run several times per day between Surat Thani and Koh Phangan.
You'll get the pick of several companies on the route. Songserm and Seatran Discovery are probably the best-known of the bunch. They both run the link direct from the mainland to Koh Phangan. They also do easy-to-manage combination tickets that include pickups at either Talad Mai Road in Surat Thani itself, or at the regional airport. It's possible to bag those in a single booking over on 12Go.
Ground transfers will typically be in 12-seater minivans or open-air shuttle busses with parallel seating. The boat, meanwhile, has comfy rows of four seats separated by a single isle inside, along with a small outdoor area out back – great for watching the islands whizz past as Koh Phangan gets closer on the horizon!
Surat Thani to Koh Phangan by VIP coach and ferry

Time – 3.5 to 4.5 hours
Cost – $15-20
Comfort – 4/5
Long-time tour runner Phantip 1970 also offers trips from Surat Thani town to the tropical isle of Koh Phangan. Instead of minibus transfers the port, they tout VIP coaches with more seating and air conditioning. It's possible to catch the ride either from a set place in the city or get a pickup from a hotel of your choice (though that will cost extra).
You'll follow the same route as the bus-ferry combos mentioned above, going the 1.5 hours eastwards to Donsak Pier before hopping onto the boat. Talking of the boat, Phantip's vessels tend to be larger and multi-decked, with plenty of room for you to walk around both inside and out during the trip. The only downside is that they can be a tad slower, clocking up travel times in the water alone of at least two hours each way.
Surat Thani to Koh Phangan bus and normal ferry

Time – 4.5 to 7 hours
Cost – $14
Comfort – 3/5
Not in a hurry to hit the hammock and start sipping your coconut-shell cocktails? No worries. Get into the slow islander vibes by choosing the standard-speed ferry from Surat Thani. Like on most journeys from the town to the tropical shores of Koh Phangan, you'll need to make the trip to Donsak Pier in minivan or coach to begin with.
Then it's over to Raja Ferry. They are a long-running service provider for links all across the Thai Gulf region, with a speciality in larger boats going between the mainland and popular holidaying destinations. Just expect these jaunts to take a little extra time – anything between four and six hours is normal, with longer waits likely in the high-season months when there are more customers. But prices are also cheap, with tickets selling for as little as $14 on the route.
Surat Thani to Koh Phangan by taxi and ferry

Time – 4 to 6 hours
Cost – $33 per person
Comfort – 4/5
You can score yourself a space in a shared minivan on the ride from Surat Thani to Donsak Pier if you really value your legroom and privacy. They will hold a maximum of 10-12 people but can also be booked for a single group of travelers to make it more of a private transfer. After driving to the port, you'll change to one of the major ferry operators – the choice is typically between the high-speed links of Seatran Discovery, or the slightly slower boats of Phantip and Raja Ferry.
Wave goodbye to the Thai mainland with the options for traveling between Surat Thani and Koh Phangan above. All of them see you take to the glistening waters of the gulf. Some go fast. Some take the trip nice and slow. All of them promise to whisk you across to a vibrant isle that beats with late-night parties, comes peppered with yoga studios, and fringed by beautiful beaches and coral gardens.
---
Surat Thani to Koh Phangan FAQ
What is the cheapest way to get from Surat Thani to Koh Phangan?
The normal-speed ferry tends to come in as the cheapest option for getting between Surat Thani and Koh Phangan. You're best off planning that as part of a multi ticket that includes a bus transfer to the port on the mainland – it is often more affordable and more convenient to book the whole trip together in a single package with 12Go.asia.
What is the fastest way to get from Surat Thani to Koh Phangan?
Lomprayah's two-hulled catamarans are typically the quickest route from Central Thailand to the isles of the Thai Gulf. They take just over two hours to cross to Thong Sala pier in south-west Phangan, which is a whisker faster than the speed boats. What's more, they leave from Tapee Pier (considerably closer than Donsak to Surat Thani centre) and are run by one of the more respected tour companies in the region, with plenty of reviews that indicate your custom is in safe hands.
How do I get from Surat Thani to Koh Phangan?
You've got a few options when it comes to trading the bazaars and big karst mountains of Surat Thani for the yellow sands and infinity pools of Koh Phangan. They all involve boarding a boat – you are bound for an island, remember? You just need to choose whether you want it to be a zippy speedboat or a slow-moving passenger cruiser, whether you want to leave early or late, and if you want to start your ferry crossing from the city itself or at nearby Donsak Pier. Search all options on 12Go.asia now.
How long is the ferry from Surat Thani to Koh Phangan?
The time you'll need to spend aboard the boat all depends on the service you choose – or are willing to pay for. The premium offering from Lomprayah promises to have you treading footprints in the sands of Koh Phangan just 2.5 hours after whizzing out of Surat Thani's own Tapee Pier. Other connections take the same amount of time but go from Donsak Pier, which is at least an hour's drive from the town. You can compare, price up, and book both options using 12Go.asia's online search tool.
How long does it take from Surat Thani Airport to Koh Phangan?
Believe it or not, 3.5 hours is all it takes to ditch the interior of Surat Thani Airport and be swimming in the pearly seas of Koh Phangan. That's just about the fastest possible, though, and only if you choose the catamaran connection that leaves from Tapee Pier. Adding an extra hour or two opens up plenty of other choices, with links to Donsak to catch boats with Phantip 1970, Seatran, and Songserm in the mix then.
How useful was this post?
Click on a star to rate it!
Average rating / 5. Vote count: